New Year trees Christmas decoration set
The New Year's Christmas tree decorations collection 2021 is a new winter story that you can write for the new year.
A Christmas tree and New Year's toys, gifts, and a family holiday in a decorated house – all these eternal values, updated with New Year's decorations for the coming 2021, traditionally delight and inspire.
In the new collection of toys, presented in sets, we offer unique and exclusive decorations that can transform your Christmas tree into a modern or traditional style.
New ideas for New Year's decoration 
The Christmas tree decorations shown in the photo are made by skilled craftsmen. Holiday decor trends are embodied in holiday balloons and pendants decorated with floral and star motifs. They are made of handmade glass, painted with rich colors and sparkles, sparkling playfully among the festive lights.
The sets contain a variety of shades for every taste:
A combination of red, green and white, with gold patterns reminiscent of the Star of Bethlehem.
Classic red with gold plaid and ornate patterns.
Elegant pink with red velvet.
Emerald green with sparkling gold.
The color of the blue water surface with a shade of champagne;
A whimsical play of reflections of transparent glass, decorated with patterns of sequins;
Powdery pink and delicate gray, as if sprinkled with real snow, etc.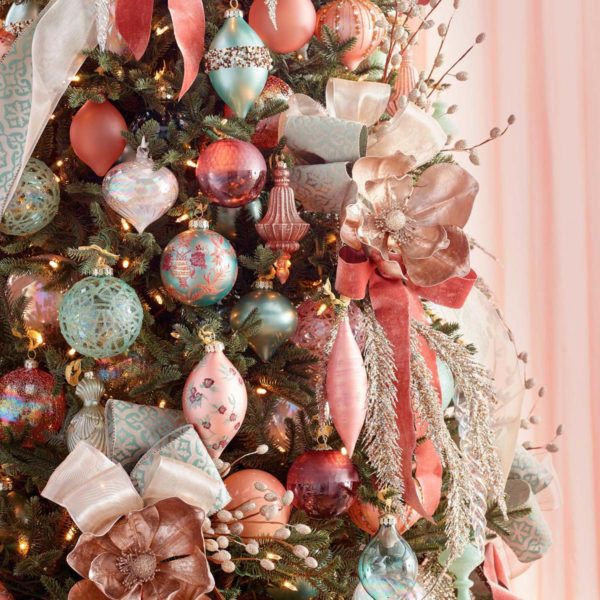 The new collection of New Year's decorations 2021 contains 60 and 40 items, providing an opportunity to maximize any decorative idea, be it a winter fairy tale or a classic Christmas. These toys are easy to dilute with additional thematic decor, which adds value and interest from professional decorators. Also, such a set of Christmas tree decorations can be a wonderful New Year's gift.
New Year's toys in the new collection
In combination with such decorations, decorative branches, and bows, figures in the form of golden snowflakes look interesting, which look like real jewelry. Purple Christmas poinsettias add a twist to a festive outfit, creating a bold statement. And every time you want to decorate a Christmas tree with them, you can be sure of the uniqueness of such decor.
Sets of ready-made Christmas tree decorations from designers are made in the same style, shade and theme, and decorating a Christmas tree with them is a pleasure.
decor for a festive beauty and your holiday is guaranteed to remain in your memory as the most modern and bright among all that you have seen so far!
---
Tags :
Christmas Tips