23 Easy Ways To Decorate Pumpkins Super Fun To Make
This easy fall project ideas is super easy Ways To Decorate Pumpkins and fun.
---
1.Floral Pumpkin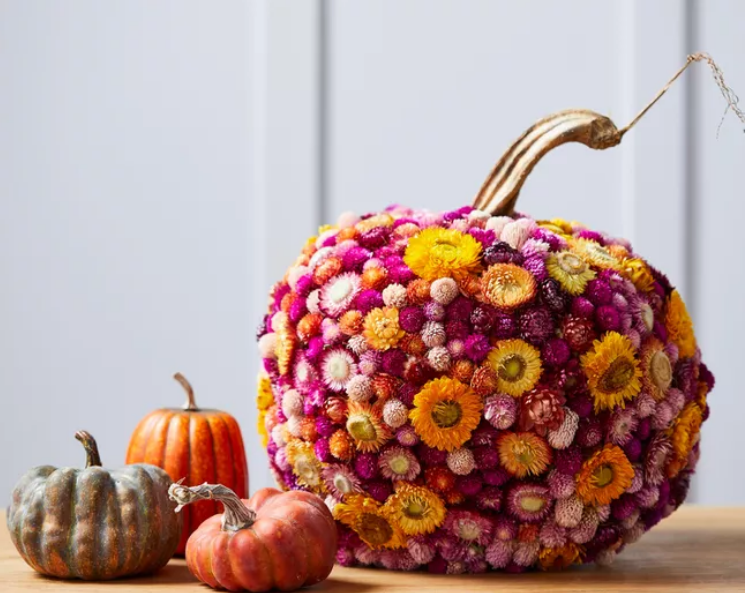 Make This Gorgeous Floral Pumpkin So Your Home Will Feel Like Fall All Year. A pumpkin covered in beautiful dried blooms will make your fall decor pop.
Get the tutorial at bhg.com.
---
2.METALLIC PUMPKINS
Skip the usual autumn color palettes and recreate these unique metallic pumpkins from Taryn Whiteaker. All you need are a few shimmery paint options and some pumpkins to decorate (real or faux!).
Get the tutorial at tarynwhiteaker.
---
3.WORDSMITH PUMPKIN
Consider this project from Lovely Indeed a minimalist approach to pumpkin decor. The neutral color palette is versatile enough to fit in any home, while the subtle, painted words will give this project a cheeky flair. Pumpkins are a staple for any spooky stoop, and we'd argue this is one DIY project you can enjoy all year.
Get the tutorial at  Lovely Indeed .
---
4.BALLOON-DIPPED MINI PUMPKINS
Balloons are a must at every birthday party, but what about adding them to your fall decor repertoire? According to Paper & Stitch, if you take mini pumpkins and cover them in colorful balloons you'll have a fun, no-fuss table decoration to remember.
Get the tutorial at Paper & Stitch.
---
5.MATTE BLUE AND GOLD PUMPKINS
This quick pumpkin paint project from Marcus Design couldn't be easier. All you need is chalk paint in baby blue and gold acrylic paint, and you're ready to adorn your pumpkins in a very unconventional, but incredibly festive way.
Get the tutorial at marcusdesigninc.
---
6.GLITTERY POLKA DOT PUMPKIN
Sure, we've all seen plain, black and white polka dot pumpkins. But it's the glittery polka dots that really snag our attention. All it takes to make these pretty pumpkins from Sugar And Cloth is some glue and loose sequins. 
Get the tutorial at sugarandcloth.
---
7.Toilet Paper Pumpkins
This easy fall project is super easy and fun to make! No sewing or skills are required.
Get the tutorial at itsalwaysautumn.
---
8.Gold Botanical
For elevated decor pieces to place around your mantel or vanity, use a gold pen paint maker to design intricate patterns on your mini white pumpkins.
Get the Gold Botanical tutorial at Lovely Indeed.
---
9.Grain Sack Pumpkins

Show your stripes! Strips of striped ribbon adhered with Mod Podge give white Lumina pumpkins the farmhouse flair of the dependable nubby fabric.
---
10.Copper Painted Pumpkins
Deck out the kitchen with these simple copper painted pumpkins that are sure to draw attention to your copper collection.
---
11.Silver Leaf Pumpkins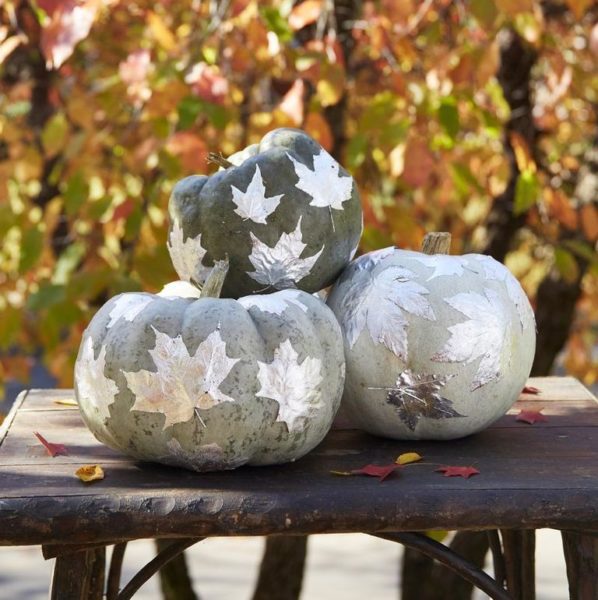 These DIY shimmering leaves look great on blue-hued or green pumpkins such as Jarrahdale, Blue Doll, Blue Moon, and Fairytale.
To make: Attach silver leaf with sizing to one side of fake or real leaves (alternatively, you can spray paint leaves silver). Once dry, spray adhesive spray on the back of the leaves and attach to pumpkins.
---
12.Stencil Painted Pumpkin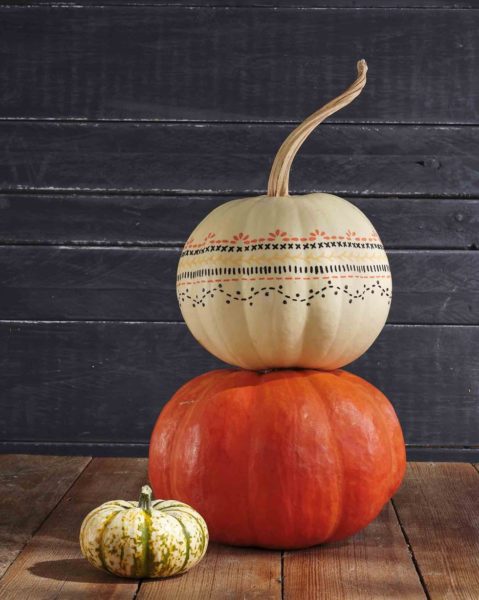 We've brought old-school country to the pumpkin! Get your paint pens out and get drawing.

To make: Lightly draw a stencil pattern around the center of a medium-size white pumpkin. Use black, orange, and yellow paint pens to cover drawing.
---
13.Whitewash Pumpkin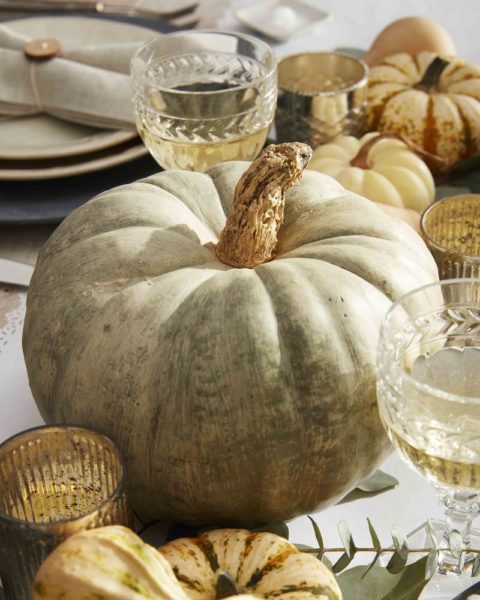 This elegant and super simple pumpkin looks antiqued with just a hint of off-white paint. Use a flat craft brush and off-white acrylic paint to whitewash a Jarrahdale pumpkin, allowing the paint to streak and not fully cover the pumpkin.
---
14.Address Numbers Pumpkin
Let revelers know they're at the right address by emblazoning your house number—and state—on pumpkins. Mark your location on a decal of your state by punching a star-shaped hole. Then apply the decal and number stickers to the pumpkins, paint, and remove the adhesive symbols when dry.
---
15.Fall Jar Pumpkin
How cute does this "jar" look? Begin by removing the stem of a medium pumpkin, but be sure to keep it on-hand.
Use wired twine to spell out "Fall"; hot-glue to pumpkin. (Feel free to spell out any other word or phrase you'd like.) Paint pumpkin and twine with light blue craft paint. Let dry completely. Place a nine-to 10-inch tart pan upside down on the pumpkin. Hot-glue the reserved stem to the center of the pan
---
16.Rainbow Painted Pumpkins
No need to venture somewhere over the rainbow for pumpkin inspiration. Bring the look to your own front porch with an assortment of bright hues lining the stairs.
Get the tutorial at The House That Lars Built.
---
17.Book Page-Covered Pumpkins
Put your stash if vintage Nancy Drew books to good use. Start by copying pages from your favorite Nancy Drew or other scary books. Tear copies into strip and adhere to pumpkins with Mod Podge.
---
18.Gold-Dipped Painted Pumpkins
You won't believe how easy it is to DIY these luxe-looking pumpkins—and neighbors won't believe they're not expensive, store-bought decorations.
Get the tutorial at Lovely Indeed.
---
19.Chevron Painted Pumpkin
Fasten tape in a zig-zag pattern around your pumpkin and paint in with any color of your choosing. Bonus points for matching your decor!
---
20.Gold Geo No-Carve Pumpkins
To make these simply beautiful pumpkins, all you'll need is a gold paint pen!
Get the tutorial at Lovely Indeed.
---
21.Glitter Pumpkins
Let your pumpkins work overtime by using them as Thanksgiving centerpieces, too. Paint faux pumpkins with glue, then roll or dip them in fall-toned glitter.
Get the tutorial at lucylean.
---
22.Subtle Glitter Pumpkin
For a chic and sophisticated look, paint gold glitter lines on a white pumpkin.
---
Paper Pumpkin

During the daytime, these paper bag pumpkin luminaries make great halloween decorations with their neutral colors and rustic textures. At night though, they take on a whole different look, flickering, shimmering, and lighting dark corners with a burning orange glow.
---
Tags :
Fall Tips