44 Fall Decorating Outdoors Ideas Embracing the Beauty of Fall
44 Fall Decorating Outdoors Ideas Embracing the Beauty of Fall
Fall Decorating Outdoors Ideas: As the sweltering heat of summer gives way to the crisp, cool embrace of autumn, nature paints a breathtaking landscape with its vibrant hues of red, orange, and gold. It's the perfect time to extend the beauty of the season to your outdoor spaces through creative Fall Decorating . Whether you have a spacious backyard, a cozy porch, or a simple balcony, there are endless opportunities to infuse your outdoor areas with the warm and inviting spirit of fall. In this article, we'll explore a plethora of ideas to help you transform your outdoor spaces into charming havens of autumnal delight.
As the season transitions and the outdoors transform into a tapestry of warm colors, take the opportunity to decorate your outdoor spaces with the same vibrancy and charm. With these creative fall decorating ideas, you can create an inviting atmosphere that captures the essence of autumn's beauty. Whether it's the warm glow of lanterns, the rustic allure of pumpkins, or the cozy embrace of seating nooks, your outdoor spaces can become havens of fall-inspired delight for all to enjoy.
---
1-Welcoming Entrance:
Set the tone for your fall decorations by adorning your entrance with a festive flair. Hang a rustic wreath made from dried leaves, pinecones, and miniature pumpkins on your front door. Flank the pathway with illuminated pumpkins, guiding guests to your door with a warm glow.
---
2-Pumpkin Paradise:
Pumpkins are quintessential to fall décor. Arrange pumpkins of various sizes, colors, and shapes on your porch steps, around trees, or in garden beds. Consider painting them with intricate designs or stacking them to create a pumpkin tower.
---
3-Cozy Seating Nooks:
Enhance your outdoor seating areas with plush cushions and cozy blankets in autumnal colors. Arrange wicker baskets filled with blankets for guests to snuggle up with while enjoying the crisp air. Create an inviting ambiance with soft lighting using string lights, lanterns, or even a small fire pit.
---
4-Nature's Bounty:
Incorporate natural elements such as hay bales, cornstalks, and dried wheat bundles. Cluster them in corners or use them as backdrop decorations. Combine these elements with pots of mums and marigolds in rich fall tones to create an authentic rustic atmosphere.
---
5-Fairy Tale Lanterns:
Craft DIY lanterns using Mason jars, leaves, and twine. Place battery-operated candles inside and scatter them across your outdoor area for a magical touch. These lanterns can also be hung from tree branches to create a captivating canopy of light.
---
6-Harvest Display:
Celebrate the season's bounty by arranging an outdoor harvest display. Fill wooden crates or baskets with apples, gourds, and mini pumpkins. Add a touch of elegance by including dried corn cobs and ornamental kale for variety.
---
7-Fall-Inspired Signage:
Craft or purchase signs that showcase fall-inspired quotes, messages, or phrases. Place them strategically around your outdoor space to infuse personality and charm. For a personalized touch, create your own wooden sign using stencils and paint.
---
8-Scarecrow Accents:
For a playful and traditional touch, introduce scarecrows into your fall decorating scheme. Position them amid your flower beds or seating areas. Customize their outfits and facial expressions to reflect your desired atmosphere – from spooky to friendly.
---
9-Hayride Aesthetic:
Recreate the essence of a cozy hayride by placing hay bales around your outdoor space. Top them with plaid cushions or blankets for a comfortable seating option that encapsulates the nostalgic spirit of autumn.
---
10-Outdoor Dining Extravaganza:
Extend your fall celebrations to your outdoor dining area. Dress the table with autumnal tablecloths, seasonal centerpieces, and tableware in warm hues. Invite friends and family to enjoy hearty meals surrounded by the breathtaking fall scenery.
Of course, let's delve even deeper into some additional fall decorating ideas for your outdoor spaces:
11-Autumnal Arbors:
Enhance your outdoor structure, such as a pergola or arbor, with fall-themed accents. String colorful leaves, mini pumpkins, and garlands made of pinecones along the beams. This creates an enchanting canopy that provides shade and adds a touch of nature to your space.
---
12-Whimsical Wheelbarrows:
Repurpose an old wheelbarrow by filling it with an assortment of pumpkins, gourds, and fall flowers. Add a scarecrow or two for a playful touch. This mobile decoration can be moved around your outdoor area to change up the scenery.
---
13-Foliage Chandeliers:
Craft or purchase chandeliers adorned with fall foliage and leaves. Hang them from your porch ceiling or a tree branch to create an elegant yet natural focal point. During the day, they sway with the breeze, and at night, they cast beautiful shadows.
---
14-Candlelit Pathways:
Guide your guests through your outdoor space by lining pathways with an array of candles or lanterns. Use different sizes and heights to add dimension. Consider placing them in glass containers filled with acorns or colored leaves for an extra touch of autumn charm.
---
15-Haystack Seating:
If you're hosting gatherings, arrange haystacks in a circle to create a communal seating area. Top the haystacks with comfy cushions and blankets for a cozy atmosphere that encourages conversations and relaxation.
---
16-Harvest Moonlight Projection:
Project images of autumn scenes, falling leaves, or even the harvest moon onto a nearby wall or a screen. This unique decoration adds an ethereal quality to your outdoor space, particularly in the evening.
---
17-Fall-inspired Topiaries:
Create topiaries using hay or straw as the base. Shape them into various forms like pumpkins, owls, or even squirrels. These fun and festive sculptures can be placed strategically around your outdoor area to add an element of whimsy.
---
18-Fairy Garden Magic:
Transform your outdoor space into a fairy garden wonderland by adding miniature fall-themed accessories. Tiny pumpkins, fairy houses adorned with autumn leaves, and even a mini scarecrow can bring a touch of magic to your garden or patio.
---
19-Autumn-Infused Swing:
If you have a porch swing, adorn it with fall-inspired cushions and blankets. Hang a wreath above it and place a basket of cozy throws nearby. This cozy nook becomes the perfect spot to enjoy a warm beverage and a good book.
---
20-Seasonal Photo Booth:
Set up a designated area with fall-themed props and backdrops for impromptu photoshoots. This not only adds a fun element to your outdoor space but also gives guests the chance to capture memories against the backdrop of fall's beauty.
Conclusion: Fall offers a unique opportunity to infuse your outdoor spaces with a burst of color and charm. From arbors and chandeliers to whimsical wheelbarrows and fairy garden magic, the possibilities for outdoor fall decorations are as vast as the autumn landscape itself. With a dash of creativity and a keen appreciation for the season's beauty, you can create an outdoor oasis that welcomes the spirit of fall and invites everyone to savor its magic.
---
Absolutely, let's continue with even more outdoor fall decorating ideas to make your space truly captivating:
21-Pumpkin Planters:
Repurpose large pumpkins as planters by hollowing them out and filling them with soil and fall plants like ornamental kale, mums, and pansies. This unique approach combines decoration with gardening and adds a burst of color to your outdoor space.
---
22-Floral Cornucopias:
Craft or purchase cornucopia-shaped baskets and fill them with a variety of fall flowers, leaves, and branches. Place them on tables, steps, or hanging from hooks for an elegant touch that symbolizes abundance.
---
23-Woodland Creatures:
Incorporate woodland animal figurines or sculptures into your fall décor. Deer, foxes, and squirrels can be nestled among your outdoor plants or placed discreetly under trees to create a whimsical woodland atmosphere.
---
24-Leaf Garland Curtains:
String colorful leaves together to create garlands that can be hung like curtains from pergolas, arbors, or porch railings. The movement of the leaves in the breeze adds a dynamic visual element to your outdoor area.
---
25-Vintage Harvest Crates:
Search for vintage wooden crates and boxes at thrift stores or antique shops. Stack them to create multi-level displays for your fall decorations. Fill them with pumpkins, gourds, flowers, and other fall-themed items.
---
26-Glowing Mason Jar Luminaries:
Decorate Mason jars with fall-themed stencils or paint and place battery-operated tea lights inside. Line your walkway or porch with these charming luminaries to create a warm and inviting atmosphere.
---
27-Harvest Garland Swags:
Craft or buy garlands made from fall leaves, berries, and mini pumpkins. Drape them along porch railings, fences, or entryways for an eye-catching and festive touch.
---
28-Rustic Wheel Decor:
Repurpose old wagon wheels or bicycle wheels as unique focal points. Hang them on walls or fences and embellish them with fall foliage, burlap, and even miniature scarecrows.
---
29-Cider and Cocoa Station:
Set up an outdoor station for warm drinks like apple cider, hot cocoa, and spiced tea. Decorate the station with autumnal tablecloths, cinnamon sticks, and mugs, inviting friends and family to savor the season's flavors.
---
30-Fall-Themed Wind Chimes:
Create wind chimes using materials like pinecones, acorns, and colorful leaves. Hang them in different areas of your outdoor space to add soothing sounds and visual interest.
---
31-Leaf Pile Play Area:
Rake up a pile of fallen leaves in a corner of your yard and let kids (and adults) enjoy the simple pleasure of jumping into the pile. This nostalgic activity brings a touch of childhood joy to your fall décor.
---
32-Hay Bale Seating Circle:
Arrange hay bales in a circular formation and top them with plaid cushions to create a cozy and communal seating area. This rustic setup is perfect for conversations, storytelling, or stargazing.
---
Certainly, let's keep the inspiration flowing with more creative outdoor fall decorating ideas:
32-Glowing Pumpkin Pathway:
Carve intricate designs or patterns onto pumpkins and place LED lights inside. Arrange them along your walkway or garden path to create a magical illuminated trail that guides visitors through your outdoor space.
---
33-Rustic Farm Stand Display:
Set up a charming "farm stand" display with crates of pumpkins, apples, and other fall produce. Add handwritten signs indicating the seasonal offerings to evoke a sense of visiting a countryside market.
---
34-Fall Foliage Canopy:
Collect fallen leaves in various colors and sizes, then string them together to create a leafy canopy above your outdoor seating area. As the leaves rustle in the wind, they'll provide an immersive experience of autumn's beauty.
---
35-Harvest-inspired Table Settings:
Elevate your outdoor dining experience by incorporating fall-themed table settings. Use burlap runners, acorn-shaped place card holders, and leaf-shaped dishes to infuse your meals with a touch of autumn.
---
36-Porch Swing Tranquility:
Adorn your porch swing with fluffy cushions and drape it with cozy blankets. Hang a few baskets filled with dried flowers or mini pumpkins nearby for an inviting spot to unwind and enjoy the fall scenery.
---
37-Rustic Wheelbarrow Garden:
Transform an old wheelbarrow into a mobile garden by planting fall flowers and greenery inside. Add a miniature scarecrow or decorative sign for a rustic, playful touch.
---
38-DIY Twig Wreath:
Collect branches, twigs, and vines to craft a wreath with an earthy and natural appeal. Embellish it with mini pumpkins, pinecones, and autumn leaves for a personalized outdoor accent.
---
39-Glowing Gourd Path Markers:
Carve small gourds to create mini lanterns. Insert LED tealights and arrange them along garden pathways or stairs for a charming and practical touch.
---
40-Outdoor Blanket Fort:
Create a cozy retreat by draping blankets over tree branches or a pergola to form a blanket fort. Fill the space with cushions, lanterns, and fall decorations for a whimsical hideaway.
---
41-Leaf-strewn Stairs:
Scatter colorful leaves along your outdoor stairs or steps for a natural and effortless fall decoration. This simple touch adds a burst of color and sets a seasonal tone.
---
42-Candy Corn-Colored Planters:
Paint terra cotta planters in the iconic candy corn colors of white, orange, and yellow. Fill them with fall plants or arrangements to create a playful and vibrant display.
---
43-Harvest-Themed Window Boxes:
Adorn your window boxes with fall flowers, trailing vines, and miniature pumpkins. The window boxes become charming mini gardens that can be admired both from inside and outside your home.
---
44-Fall-Infused Chalkboard Signs:
Find a decorative chalkboard or create your own using an old frame and chalkboard paint. Write seasonal messages, quotes, or even your daily menu to add a touch of autumn flair.
---
---
---
---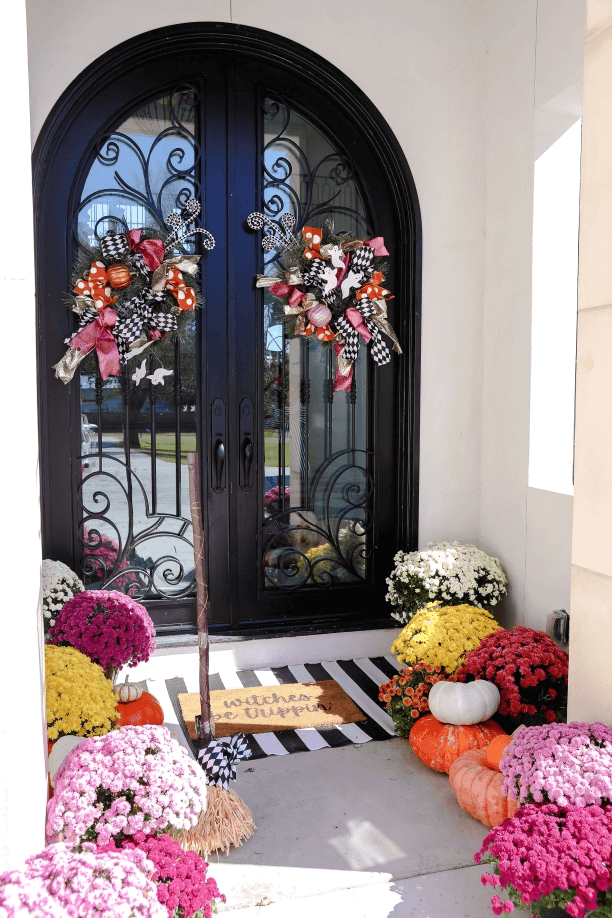 ---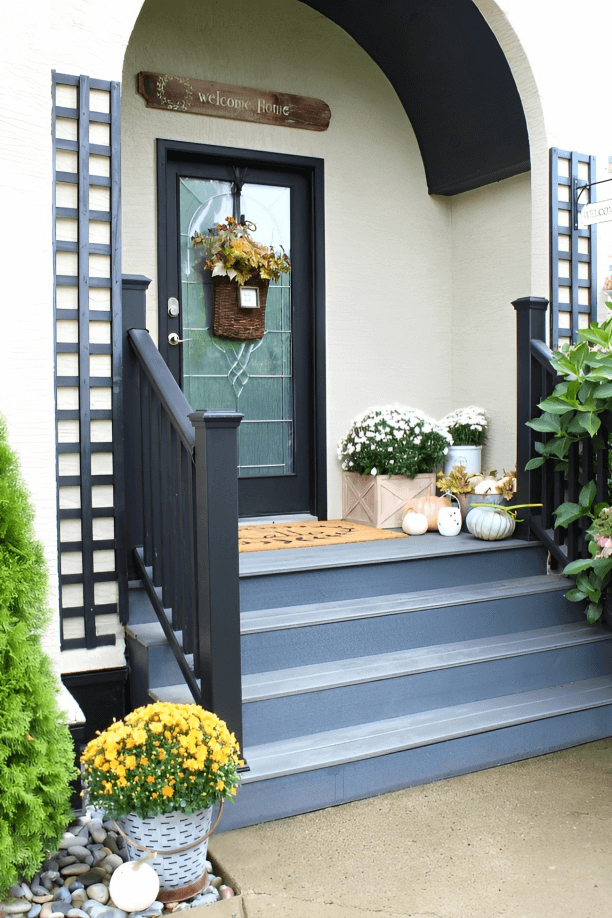 ---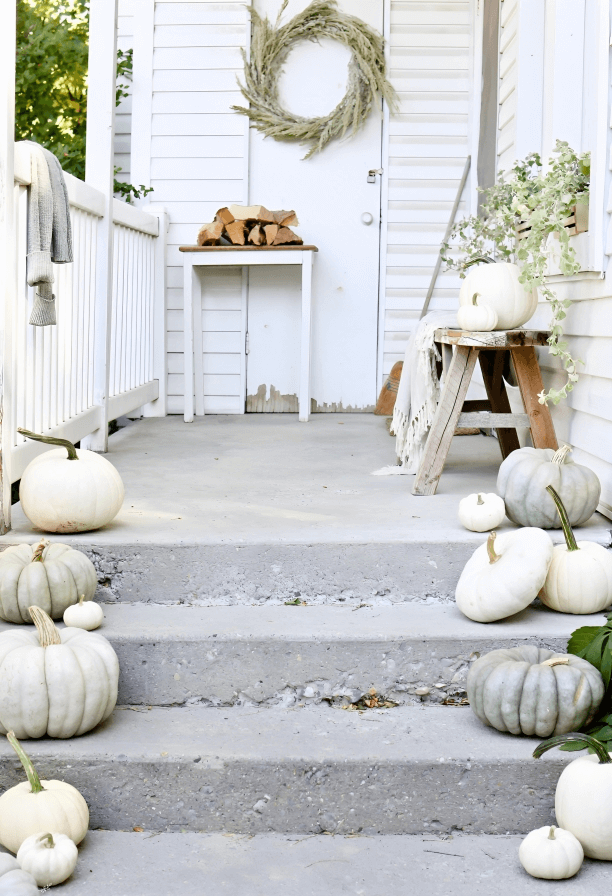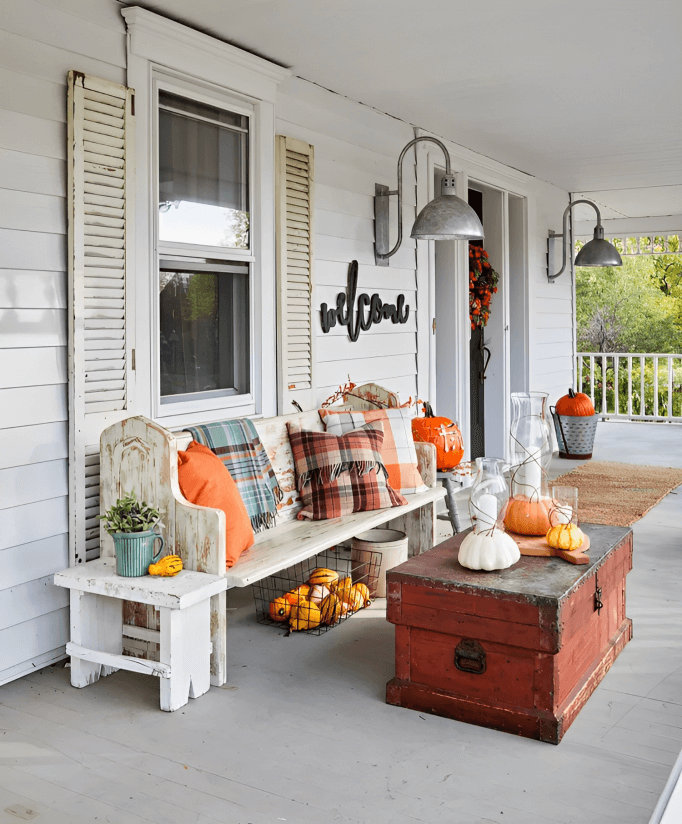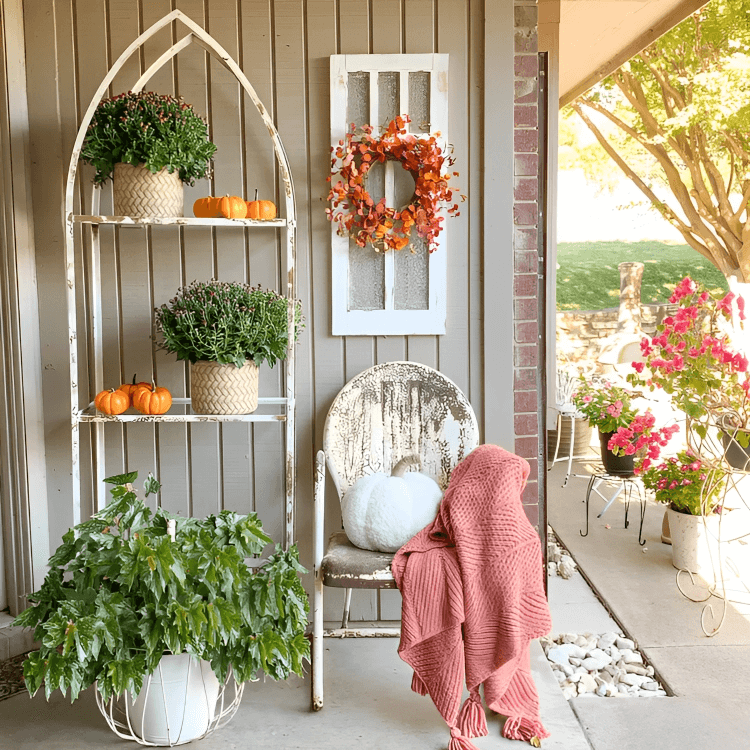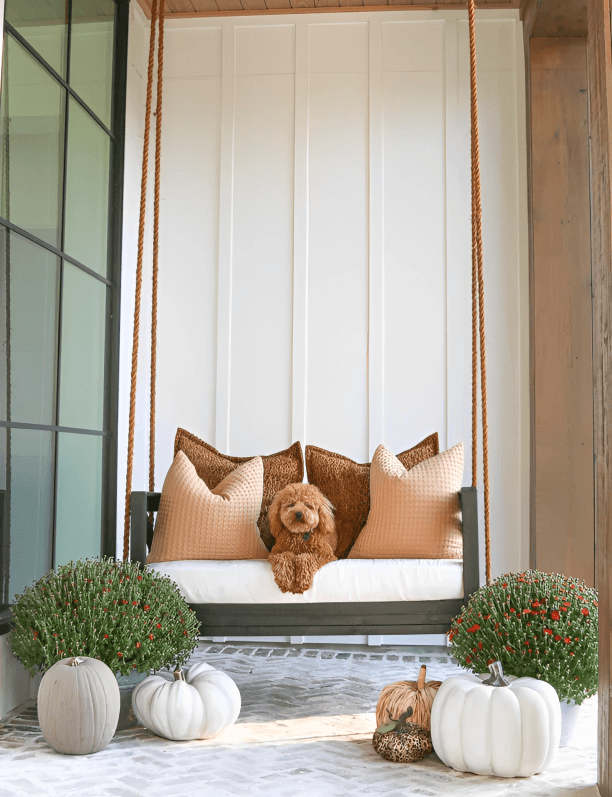 Conclusion: As the air turns crisp and the leaves begin their colorful transformation, your outdoor spaces await the creative touch of fall decorations. With these additional ideas in mind, you can bring the magic of the season to every nook and corner of your outdoor environment. From glowing pathways to rustic wheelbarrow gardens, each idea offers a unique way to celebrate the beauty of fall and create an inviting atmosphere for family, friends, and nature enthusiasts to enjoy.
Certainly, here are some frequently asked questions related to outdoor fall decorating along with their answers:
Q1: When is the best time to start decorating for fall outdoors?
A: The ideal time to start fall decorating outdoors is typically around late September to early October, when the weather starts to cool down and the leaves begin to change color. However, it ultimately depends on your local climate and personal preferences.
Q2: What are some budget-friendly fall decorating ideas for outdoors?
A: There are plenty of budget-friendly options for fall decorating outdoors. Collect fallen leaves, pinecones, and branches to create free decorations. Use items you already have, like Mason jars, baskets, and old crates, to craft DIY décor. Thrift stores and dollar stores can also be great sources for affordable fall-themed items.
Q3: How can I protect my outdoor fall decorations from the weather?
A: To protect your outdoor fall decorations from the weather, consider using weather-resistant materials like synthetic wreaths, metal or plastic pumpkins, and waterproof fabrics for cushions and blankets. Additionally, you can bring delicate items indoors during heavy rain or windy conditions.
Q4: What are some ideas for outdoor fall lighting?
A: Outdoor fall lighting can create a cozy ambiance. String lights along fences, pergolas, or porch railings. Place lanterns or LED candles in pumpkin luminaries. Consider solar-powered pathway lights or spotlight colorful fall foliage with outdoor spotlights.
Q5: Can I use real pumpkins for outdoor fall decorations?
A: Yes, real pumpkins can make wonderful outdoor fall decorations. Keep in mind that they will eventually decay, so they're best for short-term displays. If you want a longer-lasting option, consider artificial pumpkins made from materials like foam or plastic.
Q6: How do I incorporate fall colors into my outdoor décor?
A: Embrace the warm hues of fall by incorporating colors like deep reds, oranges, yellows, and browns. Use fall foliage, flowers like mums, and cushions or blankets in these shades. Create color harmony by complementing them with neutral tones like beige, tan, and gray.
Q7: What types of flowers are suitable for fall outdoor decorations?
A: Flowers like chrysanthemums (mums), pansies, asters, and marigolds are popular choices for fall outdoor decorations due to their vibrant colors and resilience in cooler temperatures. Ornamental kale and cabbage also add unique texture and color.
Q8: How can I make my outdoor fall decorations more eco-friendly?
A: Choose natural materials like leaves, branches, and pinecones for your decorations. Consider using biodegradable items or repurposing objects you already have at home. Avoid single-use plastics and opt for reusable décor that can be enjoyed for years to come.
Q9: What are some creative ways to incorporate a scarecrow into my outdoor fall décor?
A: Scarecrows add a touch of whimsy and tradition to fall décor. Place them among flower beds, seating areas, or near pumpkins. Customize their outfits and facial expressions to fit your desired aesthetic, whether it's cute, spooky, or traditional.
Q10: How can I make my outdoor fall decorations stand out at night?
A: Illuminate your outdoor fall decorations with string lights, lanterns, or LED candles. Consider incorporating items that have reflective or shiny surfaces to catch and amplify the light. Focus on creating pockets of warm and inviting illumination throughout your space.
---
With each passing day, the air grows crisper and the colors of autumn become more vivid. As you explore these myriad outdoor fall decorating ideas, consider the unique charm each idea brings to your space. Whether you're drawn to the elegance of chandeliers, the whimsy of woodland creatures, or the coziness of hay bale seating, remember that the heart of fall décor lies in celebrating the season's natural beauty and sharing its magic with those around you.
Remember that the best fall decorations are the ones that reflect your personal style and embrace the unique beauty of the season. Feel free to adapt and customize these ideas to create an outdoor space that's truly captivating and inviting during the autumn months.
Tags :
Fall Tips & Ideas