Best Fall Decor Ideas Embracing the Beauty of Autumn
Best Fall Ideas & Tips : As the air turns crisp and leaves paint the world in shades of red, orange, and gold, it's that time of the year again when we welcome the enchanting season of fall. With its warm hues, cozy textures, and a sense of nostalgia, fall invites us to transform our living spaces into havens of autumnal charm. Whether you're a seasoned decorator or just looking for some inspiration, this article brings you a curated collection of the best fall decor ideas to infuse your home with the spirit of the season.
As nature undergoes a transformation, our homes too can reflect the beauty and warmth of the fall season. With a harmonious blend of rustic elements, cozy textures, and autumnal accents, you can create a space that not only celebrates the season but also envelops you in its nostalgic charm. Whether you choose to embrace the natural bounty of harvest or infuse your space with the scents of fall, these decor ideas are sure to make your home a haven of autumnal splendor.
---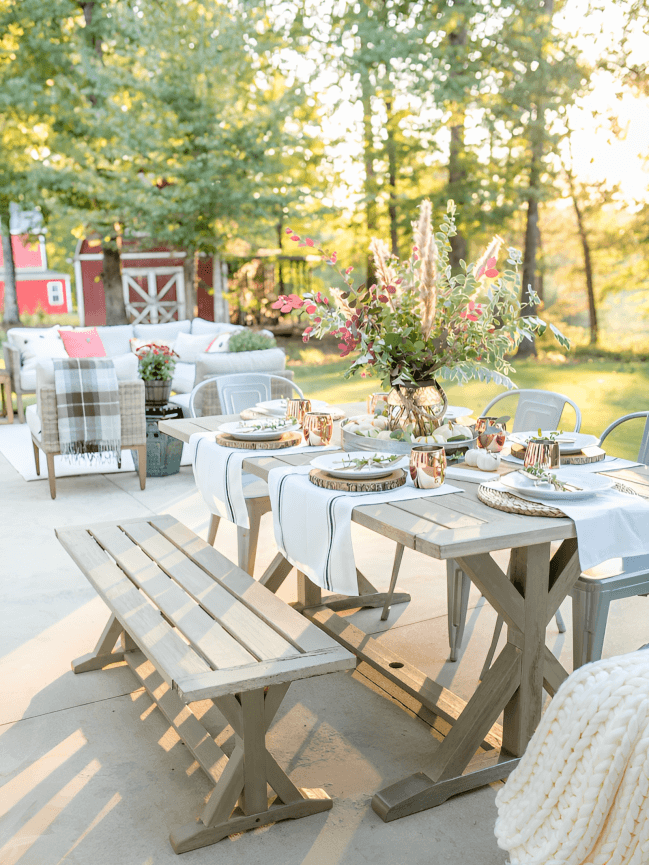 1. Nature's Bounty: Rustic Harvest Vibes
One of the most endearing aspects of fall is its association with the harvest season. Bring the outdoors in by adorning your space with rustic elements. Display an assortment of pumpkins, gourds, and squashes on your dining table or mantle. Consider using a wooden crate or a vintage basket to arrange them for an authentic touch. Integrate dried corn husks, wheat sheaves, and burlap textures for a warm, farmhouse feel.
---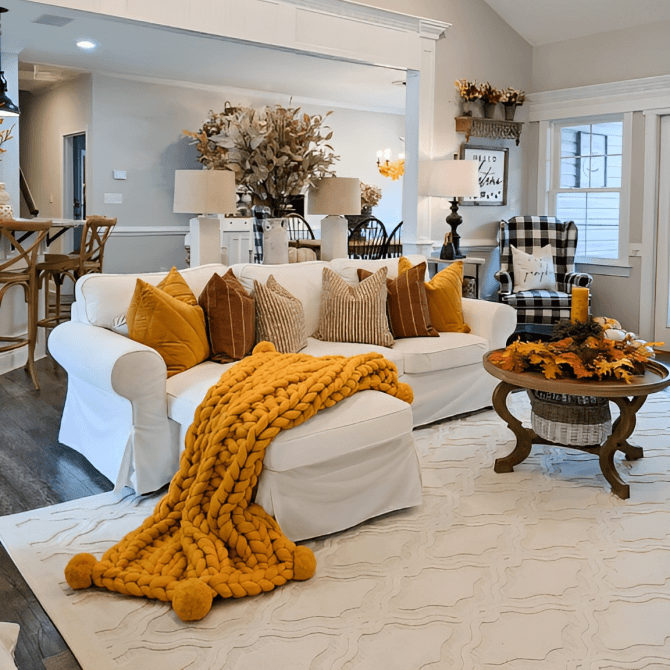 2. Cozy Corners: Layered Textures and Fabrics
As the temperatures drop, it's time to embrace the cozy side of fall. Transform your living area with plush blankets and throw pillows in rich, autumnal hues such as deep reds, burnt oranges, and earthy browns. Consider draping a faux fur blanket over your couch and adding textured cushions for a comfortable and inviting ambiance.
---
3. Luminary Magic: Captivating Candlelight
The soft glow of candles can instantly create an intimate and magical atmosphere. Opt for candles in varying heights and sizes and place them in lanterns, mason jars, or hurricane vases. Scatter them throughout your home to cast a warm and comforting light, perfect for those cozy fall evenings.
---
4. Whimsical Wreaths: Welcoming Front Doors
The entryway sets the tone for your home, and what better way to usher in fall than with a charming wreath? Experiment with wreaths made from dried leaves, berries, pinecones, and even mini pumpkins. Hang them on your front door or above the fireplace to infuse your living space with the vibrant colors of the season.
---
5. Artistic Accents: Fall-inspired Art and Crafts
Engage your creative side by incorporating DIY fall crafts and artworks into your decor. Paint or print fall-themed scenes, quotes, or botanical illustrations and frame them to create a gallery wall. Additionally, you can craft your own garlands using felt leaves, acorns, and twine, adding a personal touch to your home's autumnal aesthetic.
---
6. Tablespaces of Plenty: Elegant Dining
Embrace the beauty of fall during mealtime by creating captivating tablescapes. Layer your dining table with a burlap or linen table runner and set out fall-themed dishes, napkins, and placemats. Enhance the setting with seasonal centerpieces, such as candle-filled lanterns surrounded by mini pumpkins and scattered leaves.
---
7. Harvest-inspired Mantel Displays
The fireplace mantel provides a focal point for your living room, making it the perfect canvas for fall-inspired creativity. Arrange an assortment of pumpkins, candles, and vases filled with branches or dried flowers. Incorporate elements like mirrors, vintage frames, or fall-themed artwork to create a captivating vignette.
---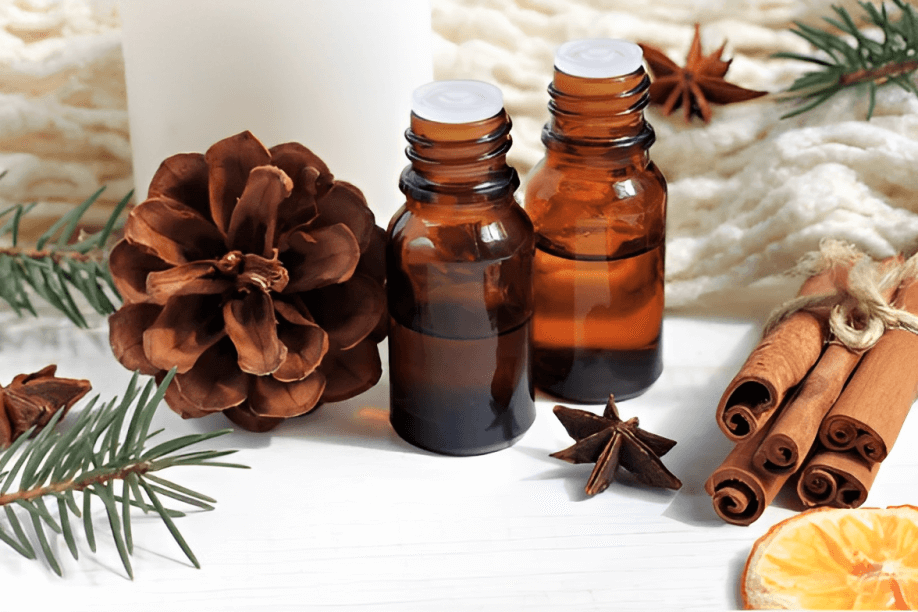 8. Autumnal Aromas: Scented Sensations
Appeal to multiple senses by introducing fall-inspired scents into your home. Light cinnamon, apple, or pumpkin spice-scented candles, or create your own potpourri using dried citrus peels, cloves, and cinnamon sticks. Not only will your space look inviting, but it will also smell like the essence of fall.
---
9. Pumpkin Paradise: Creative Pumpkin Decor
Pumpkins are the quintessential symbol of fall. Go beyond traditional jack-o'-lanterns and explore creative ways to incorporate pumpkins into your decor. Paint them in metallic hues, adorn them with intricate patterns, or carve elegant designs that reflect the season's spirit. Arrange them on your porch, in clusters on your coffee table, or even as part of a stunning centerpiece.
---
10. Moody Elegance: Deep Jewel Tones
While earthy tones dominate fall decor, don't hesitate to experiment with deeper jewel tones. Incorporate rich purples, emerald greens, and deep blues to create a moody yet elegant ambiance. These hues can be added through textiles, vases, artwork, and even by painting an accent wall.
---
11. Foliage Frenzy: Leafy Accents
Fall's charm lies in its foliage, and incorporating leaves into your decor can be a nod to nature's changing colors. Gather real or faux leaves and use them to create garlands that can be draped over doorways, mantels, or staircases. Place leaves in glass frames for a unique and delicate touch of autumn elegance.
---
12. Seasonal Transitions: Adaptable Decor
Fall decor doesn't have to be static. Consider decor elements that transition seamlessly from early fall to Thanksgiving. Swap out Halloween-specific items with more general fall pieces, like swapping spooky spider webs for rustic pumpkins. This way, your decor can evolve with the season's progression.
---
13. Farmhouse Chic: Vintage-Inspired Accents
Tap into the charm of farmhouse decor by incorporating vintage-inspired accents. Hunt for weathered crates, distressed furniture pieces, and antique frames to lend a cozy and nostalgic feel to your home. Combine these with classic fall elements for a timeless look.
---
14. Outdoor Oasis: Fall Porch Decor
Extend your fall decor beyond your home's interior by transforming your porch into a cozy outdoor oasis. Arrange a seating area with plump cushions and cozy blankets. Place potted mums, ornamental kale, and rustic lanterns to create a welcoming space where you can enjoy the crisp autumn air.
---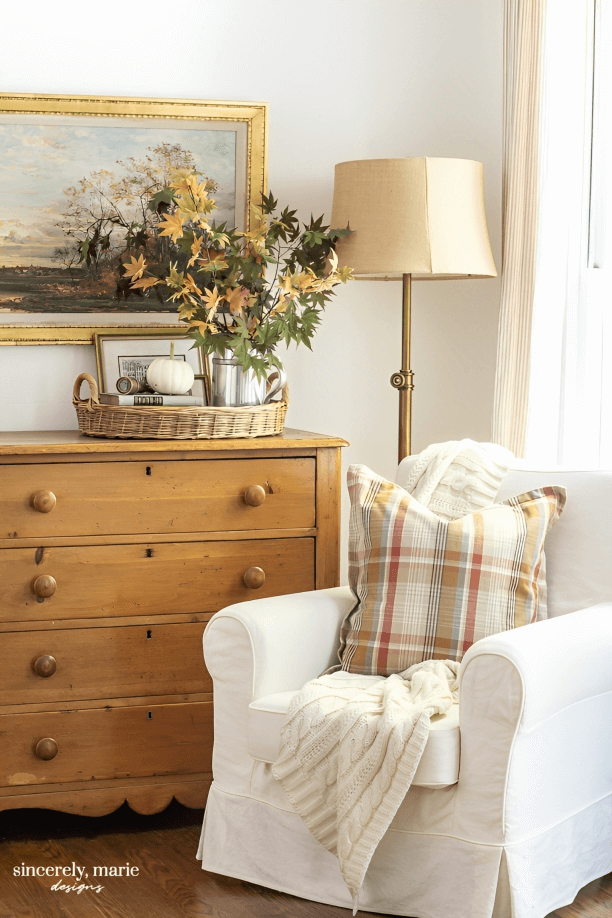 15. Minimalist Magic: Subtle Fall Touches
For those who prefer a more understated approach, minimalistic fall decor can be equally enchanting. Choose a muted color palette of soft neutrals and subtle earth tones. Incorporate just a few select fall accents, such as a single branch with leaves in a simple vase or a delicate wreath made from dried flowers.
---
16. Creature Comforts: Woodland Creatures
Celebrate fall's connection to wildlife by incorporating woodland creature motifs into your decor. Choose plush pillows or figurines featuring owls, foxes, squirrels, or deer to infuse a playful and whimsical touch into your space.
---
17. Seasonal Signage: Festive Fall Quotes
Add a touch of charm and warmth to your decor by incorporating fall-themed quotes and signage. Display wooden or chalkboard signs with phrases like "Hello, Fall" or "Gather Here with Grateful Hearts." These small touches can evoke feelings of gratitude and togetherness throughout the season.
---
With these additional fall decor ideas, you have a wealth of inspiration to transform your home into a haven of autumnal beauty. Whether you opt for rustic harvest vibes, cozy textures, or creative twists on traditional elements, the goal is to infuse your living spaces with the enchanting essence of fall. As you embark on this journey of seasonal decoration, remember that the most important aspect is to create a space that reflects your personal style and allows you to savor every moment of this magical season.
---
Q1: When is the best time to start decorating for fall?
A1: The timing for fall decor largely depends on personal preference. Many people start decorating in late September or early October, as this aligns with the official start of fall. However, some enthusiasts begin as early as late August to enjoy the autumnal ambiance for a longer period.
---
Q2: How can I decorate my home for fall on a budget?
A2: Decorating for fall doesn't have to break the bank. Consider DIY projects, such as creating your own wreaths, garlands, and candle holders using materials like twine, leaves, and pinecones. Shop for decor at thrift stores or repurpose items you already own to give them a fall-inspired makeover.
---
Q3: What are some easy ways to add fall colors to my decor?
A3: Infusing fall colors is simple and effective. Swap out lightweight summer curtains and cushions with deep-hued ones in shades like rust, mustard, and deep green. Incorporate fall-themed textiles, such as plaid throws and cushions, to instantly introduce warm and cozy colors.
---
Q4: How can I make my home smell like fall?
A4: Create inviting fall scents by using scented candles in fragrances like apple cinnamon, pumpkin spice, and warm vanilla. Simmer a pot of water on the stove with ingredients like citrus peels, cinnamon sticks, and cloves. Alternatively, use essential oil diffusers with autumn-inspired blends like orange, clove, and cedarwood.
---
Q5: Can I incorporate Halloween decorations into my fall decor?
A5: Absolutely! Halloween decorations can seamlessly blend with fall decor. Opt for items like pumpkin displays, wreaths, and spooky-themed accents. As Halloween passes, consider transitioning to more general fall decor items to maintain the seasonal ambiance.
---
Q6: How can I decorate my outdoor spaces for fall?
A6: Dress up your outdoor spaces with potted mums, ornamental kale, and pumpkins. Hang a fall-themed wreath on your front door, and consider using string lights or lanterns to create a cozy atmosphere. Incorporate natural elements like hay bales, cornstalks, and rustic signs for an authentic outdoor fall vibe.
---
Q7: What's a versatile fall centerpiece idea for my dining table?
A7: A versatile fall centerpiece could feature a wooden tray filled with a combination of mini pumpkins, gourds, and pinecones. Surround these with votive candles in varying heights, and weave in some faux fall leaves or sprigs for added texture. This centerpiece can transition well from early fall to Thanksgiving.
---
Q8: How do I store my fall decor when the season is over?
A8: When the season ends, carefully pack away your fall decor to preserve it for the next year. Use plastic bins or airtight containers to keep items protected from dust and moisture. Label the containers for easy identification. For delicate items, consider wrapping them in tissue paper or bubble wrap to prevent breakage.
---
Q9: Can I mix different fall decor styles in my home?
A9: Mixing decor styles can add unique character to your home. Combining elements like rustic harvest vibes, minimalist touches, and vintage-inspired accents can create an eclectic yet harmonious fall decor theme. The key is to maintain a common color palette and balance the different styles throughout your space.
---
Q10: How can I make a small space feel cozy and fall-inspired?
A10: In a small space, focus on adding subtle touches of fall. Incorporate warm textiles like throw blankets and textured cushions in fall colors. Use compact decor items like mini pumpkins, a single fall-themed garland, and scented candles to create an inviting atmosphere without overwhelming the space.
Tags :
Fall Tips & Ideas