Best Pumpkin Decorating ideas Amazing 25 Ideas This Fall
Tired of traditional pumpkins decorating ideas. and you looking for something new. Save yourself the time and stress with one of these inspired ideas.
1.COPPER STRIPED PUMPKINS
Pick a color for your base (or start with white mini pumpkins), then simply apply copper foil tape (or any other color, if you've got a particular color scheme in mind) along the curves.
Get the tutorial at Homey Oh My.
---
2.GLITTER STEM PUMPKINS
If there were ever a time to go to town with the glitter, Halloween would be it. You can start with a plain pumpkin or a painted one, then just cover the stem (or top) with Mod Podge glue and pour that glitter on.
Get the tutorial at  auntpeaches .
---
3.OMBRE SPIDERWEB PUMPKIS
Create your spiderweb with craft tape then dab on paint with foam pounces (that's basically a sponge, for you crafting newbs), lessening the pressure as you work your way down the pumpkin. Make sure to peel off the tape right before the paint dries.
Get the tutorial at  Plaid.
---
4.CHALK PAINT PUMPKINS
For a more muted pumpkin display that will last into November, choose neutral matte paints. These mini pumpkins would look chic in any living room.
Get the tutorial at andersonandgrant.
---
5.Plaid Painted Pumpkins
Give pumpkins a country-inspired spin by painting on a pretty (and seriously easy!) gingham pattern. Paint fall's favorite pattern onto any smooth gourd. For the best effect, choose two or three colors and use duct tape to create fine and thick lines.
Get the tutorial at kellyinthecity .
---
6.Book Page-Covered Pumpkins
Put your stash of vintage Nancy Drew books to good use. Start by copying pages from your favorite Nancy Drew or other scary books. Tear copies into the strip and adhere to pumpkins with Mod Podge.
Get the tutorial at thegraphicsfairy.
---
7.Glitter Paint Pumpkins
For something a bit more sophisticated and subtle, blast your pumpkins with glitter to create a charming front porch display. So easy!
Get the tutorial at runtoradiance
---
8.Silhouette Pumpkins
Photograph your subject from the side. Scale photo as needed, then cut out profile. Trace and cut profile from black craft paper. Using Mod Podge, adhere the cutout to a white paper circle cut to fit the interior of a black doily. Secure unit to pumpkin. Glue trim to the edge of white paper.
Get the tutorial at projectnursery.
---
9.Gem Pumpkins

Little hands can jazz up painted white pumpkins by popping on adhesive-backed jewels.
Get the tutorial at oliviaohern.
---
10.Splatter Paint Pumpkins

Flick a paint brush covered in gold acrylic paint onto a few white pumpkins — and paint the stems gold too, for an extra sparkling touch.
Get the tutorial at akailochiclife.
---
11.Bat Tree Pumpkin
Use a gold permanent marker to draw a tree on a tall white pumpkin. Add bat stickers and you're done!
---
12.SEQUINED PUMPKIN
There are so many ways to spruce up your pumpkins that don't require the mess of carving, try decorating the pumpkin with Sequins.
Get the tutorial at spraypaintandchardonnay.
---
13.Dragonfly Glaze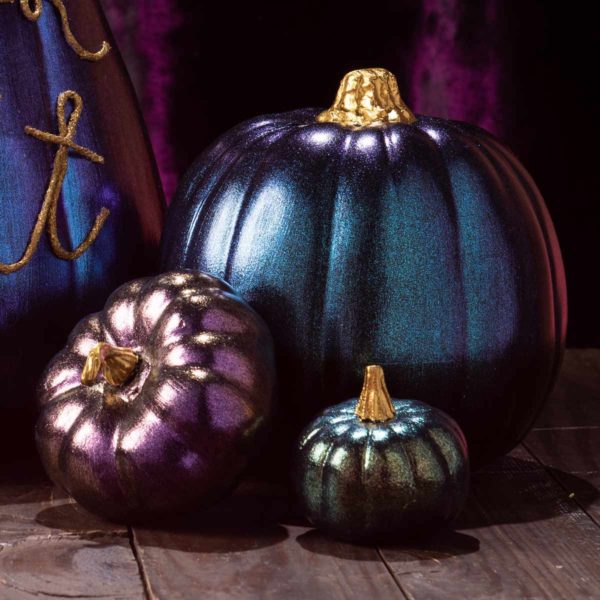 FolkArt Dragonfly Glaze will give your fall décor a little extra shimmer all season long. Paint the stem of the pumpkin gold or silver to tie the whole pumpkin together.
Get the tutorial at plaidonline.
---
14.Shimmering Boho Pumpkin Luminaries
Try some faux pumpkin carving and create some one-of-a-kind fall decor! My Shimmering Boho Pumpkin Luminaries are so shiny and turned out just gorgeous.
Get the tutorial at madeinaday.
---
15.SHIMMERING SHABBY CHIC PUMPKINS
if you like shabby cottage chic style these pumpkins would be a fun project for many of you!
Get the tutorial at thecottagemarket.
---
16.Painted Fall Pumpkin

Not all designs have to be spooky. Design a lovely fall pattern that matches the rest of your home for truly chic decor.
Get the DIY Painting Fall Pumpkin tutorial at PMQ for Two.
---
17.Decoupage Chinoiserie Pumpkins
Chinoiserie pumpkins are a beautiful addition to fall decor and they are so easy to make!
Get the tutorial at stonegableblog.
---
18.Tack-O'-Lantern
Create a tack-o'-lantern with this office store staple. Paint pumpkin desired color in a matte finish. Write letters with an erasable wax pencil, then use a hammer to tap in nail heads along the script. (The shorter the word, the more clearly it will read.)
---
19.Wrapping Paper Floral Pumpkins
Don't want to use your handwriting to paint a pumpkin? Grab your favorite wrapping paper and paste it on with Mod Podge.
Get the Wrapping Paper Floral Pumpkins tutorial at Kastles.
---
20.Quilting Stars Pumpkin

For this modern take on a classic quilt pattern, download our star motif. Determine how many stars you'll need to span the circumference of your faux pumpkin; print and cut out enough color copies of the motif, scaling if necessary. Paint the pumpkin with two coats of flat white acrylic paint; then let dry. Using the découpage technique, apply the stars in a band around the pumpkin.
---
21.Fall Foliage Pumpkin
Gather leaves from your yard, then trace them onto colorful tissue paper and use ModPodge to adhere them to a white pumpkin.
Get the tutorial at familyhandyman.
---
22.Leaf pumpkin craft

Pumpkins! You cannot have fall decor without pumpkins, just the way it is. Add in a leaf or two and you have what I call fall decorating perfection.
Get the tutorial at ourhousenowahome.
---
23.Fresh Floral Moon Pumpkin

A matte black pumpkin with a white flower crescent adds a unique twist to traditional pumpkin decor.
Get the Fresh Floral Moon Pumpkin tutorial at The Merrythought.
---
24.Autumn Paper Leaf


this post showing you a fun way to decorate a pumpkin with paper leaves!
Get the tutorial at polkadotchair.
---
25.Toilet Paper Pumpkins
This easy fall project is super easy and fun to make! No sewing or skills are required.
Get the tutorial at instrupix.
---
Tags :
Fall Tips