25 Easy & Elegant Halloween Decorations Ideas
 Easy & elegant halloween decorations ideas , no matter your budget or skill level, there's a Easy and stylish Halloween decorations ideas for you. read on for some inspiration this scary season.
---
1.Broom-Turned-Chandelier
Cast a spell over your dining room table by suspending a witch's broom from the ceiling. Carefully balance mason jars from the handle for added mood lighting.
---
2.Spiderweb Pumpkin
Let's put a spin on traditional pumpkin carving — cut out an oval shape in the front of your pumpkin instead of carving out the top. Scrap out the seeds and pulp. Spray paint the entire pumpkin black (be careful around the stem).
Then, use an awl tool to punch holes around the edge of the opening. Thread string through the holes to create a web. Finish your creepy pumpkin by hot gluing a plastic spider to the web.
---
3.Creepy Candles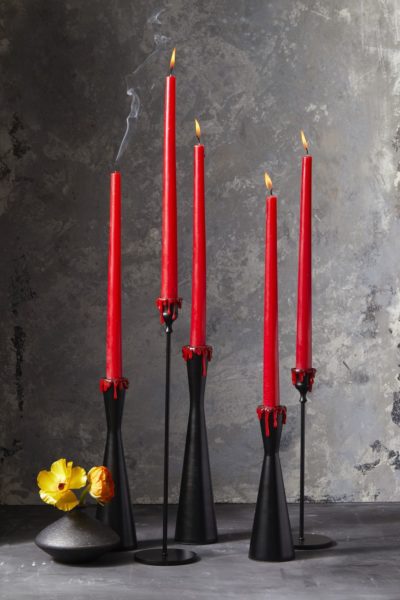 Give your home a haunted makeover with this simple DIY. Use bright red candlesticks in matte black candle holders, and then add drips of red hot glue to resemble dripping blood.
---
4.Painted Baby's Breath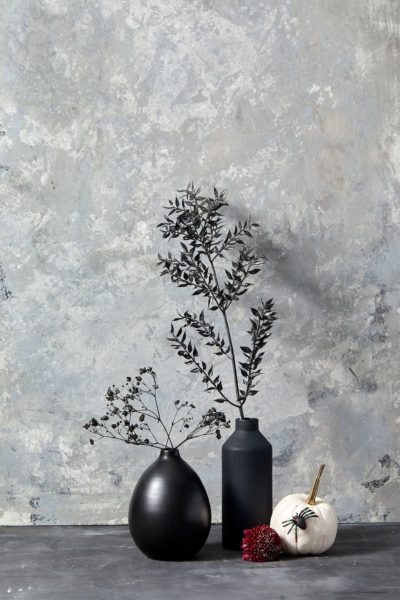 Instantly add some drama to your space by spray painting branches of dried baby's breath black and using them as your centerpiece.
---
5.Halloween Bar Cart
Wrap large helium balloons with tulle. Tie ribbon at the base and trim the skirt as needed. To dress up ordinary liquor bottles, print retro labels on sticker paper and attach.
---
6.Tombstone Chair Covers
Print out the tombstone templates and cut out designs with scissors or a craft knife so you can use them as stencils.
Place your template centered on your pillow case in the position that feels right and tape or pin the corners down to keep in place. Dip a foam craft brush in a small amount of black fabric paint and dab it gently onto the fabric where you have placed the stencils. Less is more! Let dry completely.
---
7.Snake Wreath
Spook the neighbors with this snake-laden wreath. To make it, weave plastic snakes, from large to small, between the wreath's twigs, repeating until you use all of the rubber snakes. Use hot glue as needed to attach them to the wreath.
Get the tutorial at hgtv.
---
8.Feather Wreath
Give a feather wreath a dark twist by covering a grapevine wreath form with black spray paint. Add a bit of craft glue to the ends of craft feathers and dress them up with glitter. Once they're dry, dip the quill of each feather in glue and tuck them into the wreath form. To finish the look, use wire to attach a faux black crow.
---
 9.Bug Art Display
Download and print out our Halloween bugs and ID tags artwork onto cardstock. Carefully cut out the bug shapes and tags with scissors, then fold the bugs at the joints to create dimension.
(We use a bone folder for crisp edges, but you can also use the back of a scissor or an old pen that's run out of ink!) Use a glue stick or glue dots to attach the bugs to the backing of a variety of shadowbox frames (we lined all of our frames with white paper for consistency).
Glue on the ID tags and hang your creepy crawlies with Command strips. Add extra bugs that have "escaped" to the outside of the frames and the wall using removable glue dots.
---
10.Pumpkin Diorama
If you love nothing more than an over-the-top look, fill a carved pumpkin with everything from reindeer moss and twigs to mini headstones. Don't forget the full moon (a Ping-Pong ball that you can easily hang from a thin string).
Get the tutorial at liagriffith.
---
11.Cupcake Liner Pumpkin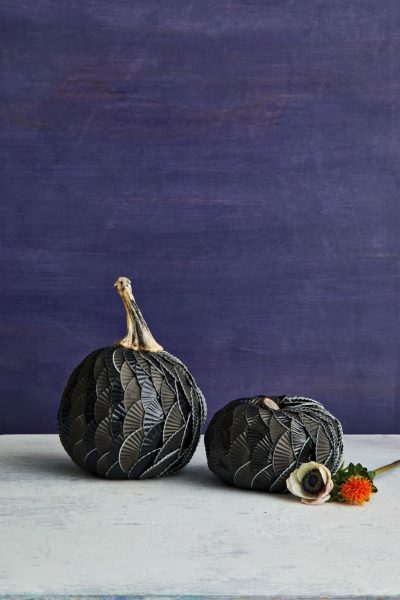 You likely have everything you need in the house already to create these stylish pumpkins. Once you gather your tools, begin by folding cupcake liners in half. Starting at the top of the pumpkin, attach a matte black folded cupcake liner as close to the stem as you can with double stick tape.
Overlap liners slightly as you fill a vertical line in to the bottom. Using the metallic folder liners, make another vertical row being sure to overlap slightly to get a nice textured look making sure the rounded edges are what show. Repeat steps until you completely cover your pumpkin.
---
12.Black Magic Frame
Coat a vintage frame in black spray paint and let it dry. Print butterfly images and Halloween-appropriate calligraphy art (think "Beware!") on card stock. Cut them out and place them on your frame. Use ribbon to hang your new creation.
---
13.Skull Centerpiece
Give your Halloween table an otherworldly touch that would make Morticia Addams proud. Put a cup inside of a faux skull (make sure it has a removable top), then use tape to create a grid on its rim. This will help your flowers and greenery to stay put. Fill ⅔ with water and place your large flowers and greenery in the grid. Complete the arrangement by adding your delicate flowers. To help your floral centerpiece last longer, be sure to remove any leaves or extra stems that sit below the water line.
Get the tutorial at honestlyyum.
---
14.Batty Staircase
Your staircase is a focal point in your house, so you might as well give it the Halloween treatment. Weave twigs through the banister, and then scatter paper bats throughout to up the spook factor.
---
15.Spider Web Pumpkin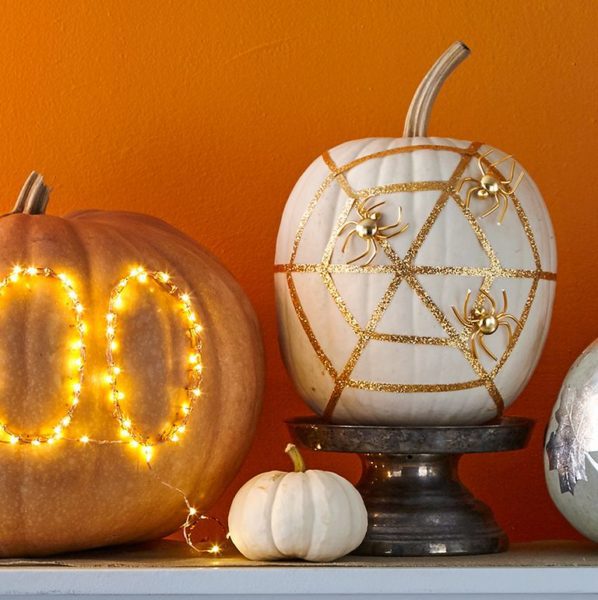 For a spooky yet glam look, use gold glitter to create a spider web on a white pumpkin. Don't forget to add a few gold spiders!
---
16.Branch Centerpiece
Just spray paint tree branches with as many layers as you need so they're completely covered. Then, let them dry and place in a vase. The best part? This Halloween-themed centerpiece is practically free since the materials come from your own backyard.
---
17.Pumpkin Mule Cups
Cut a jack-o'-lantern face out of black window clings to transform your copper mule cups into mini pumpkins. Then cheers to your crafting skills by whipping up a seasonal cocktail.
---
18.Creepy Lamp
Creepy Lamp from The Yellow Cap Cod .
---
19.Spiderweb Napkins With Sparkly Spider Napkin Rings
Wow your dinner guests with these Spiderweb Napkins With Sparkly Spider Napkin Rings. Use a pen to draw a spiderweb design on the front of cloth napkins. Let them sit for at least two hours to dry the napkins before pot them on the table.
Get the tutorial at fromscratchwithmaria.
---
20.Puff Paint Spider Web Glasses
Give plastic or glass tumblers a Halloween makeover by drawing spider web patterns with puff paint. Serve neon-colored, Halloween drinks, like orange soda, for a pop of color.
---
21.Halloween Pumpkin Box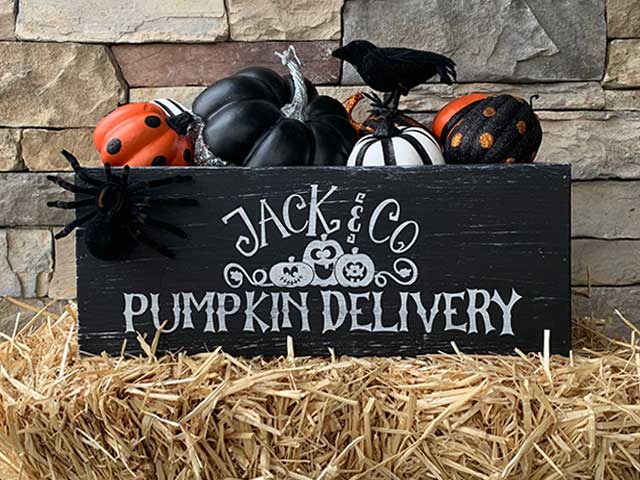 Time is flying and it's time to start putting out the Halloween decor. This week, I'm working on my front porch decorations. 
Get the tutorial at burtonavenue.
---
22.Spooky Gallery Wall
Your usual wall art just won't do for a haunted house. Have your kids to pose for spooky portraits before framing the black-and-white prints in tilted frames.
Get the tutorial at Stacy Risenmay »
---
23.Webbed Windows
Use candlelight to create dark shadows in the corners. Here, ghostly white tapers in a flea market candelabra enhance the creepiness of cobwebs and flying bats.
---
24.Halloween Tree
25.Bubbling Witch's Cauldron
Serve your party punch in this as-real-as-it-gets cauldron. Stick the cauldron inside a grapevine wreath, and then dress the sides with paper flames. Throw some dry ice inside for a smokey effect, and then see how many people dare try what's inside.
---
Tags :
Halloween