Elegant Halloween Mantel Ideas
Whether you're throwing a spooky bash or just want to add some extra flair to your home décor, these Halloween Mantel Ideas are perfect.
The fireplace mantel is an ideal spot to add holiday flair, especially with Halloween and fall decorating this time of year.
Although mantel size is based loosely on the size of the fireplace, a typical mantel gives you about 5 feet of space to decorate with seasonal candles, pumpkins, wreaths, and so much more.
If you want to go all out with Halloween mantel decorating ideas, we've amassed spooky and nostalgic Halloween mantel stylings
---
1. Farmhouse Halloween Mantel with Skeletons
Michelle's Party Plan-It knows how to "creep it real" with this black and white themed farmhouse Halloween mantel. Gotta love the Jack/Jill skeleton combo!
Get the tutorial at michellespartyplanit.
---
2. Farmhouse Statement Sign for the Mantel
I just love the simplicity of this October 31 Halloween sign, and the best part is that Mandy's Party Printables has it available to download and print for FREE!
---
3.Black and Gold Halloween Mantel
Go ahead and invest in some gold spray paint! This Halloween mantel goes glam for the holidays, without sacrificing the overall sophisticated aesthetic of your living room.
See more at A Blissful Nest.
---
4.Hocus Pocus Halloween Mantel
You don't have to spend a fortune to make your mantel look like a million bucks. With smart-looking accents like the ones found here—that "Hocus Pocus" garland is just too fun—you can achieve a spooky and sophisticated look all at once. The "Creep it Real" felt sign adds a little humor.
See more at Happily Inspired.
---
5.Witchy Woman Halloween Mantel
Though not technically a mantel, we just had to include this cute DIY fireplace craft. Mother and daughter bloggers Jeanette and Leigh of Crafty in Crosby created this pair of witch legs out of old boots, a pool noodle, and graphic Halloween tights.
See more at Crafty in Crosby.
---
6.Crafty Cat Face Garland Halloween Mantel Decor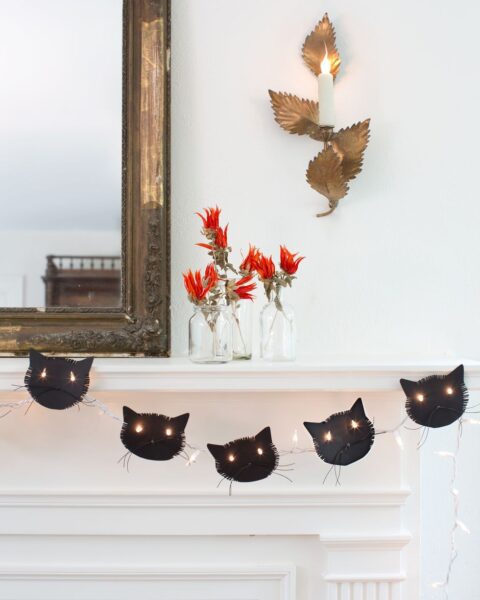 Give your mantel the perfect makeover with this black cat garland made from black card stock and string lights. Use a set of spare Christmas lights for the glowing cat eyes, as shown.
To make this at home, start by downloading our cat face template. Using a white pencil, trace the template onto black card stock and cut out the desired number of faces.
Give it some texture by fringing the sides of the cat's face and the top of its head with scissors. Then cut three pieces of black waxed twine, about 4″ long for each cat, tie them together in the center of the twine, and glue them to the cat's face as whiskers.
Finish this craft by using a standard single-hole punch to create holes for eyes toward the center of each cat's face. Hang string lights and position cat faces on 2 lightbulbs, one in each eye hole.
---
7.Pop of Green Halloween Mantel Decor
Skip the classic Halloween orange and go for a spooky pop of neon green instead.
See more at Positively Splendid.
---
8.Glam Black and White Halloween Mantel
To simplify your Halloween decorating, pick a palette and stick to it. Here, this black and white mantel is both festive and elegant.
See more at The Tomkat Studio.
---
9.Halloween Critters Halloween Mantel Decor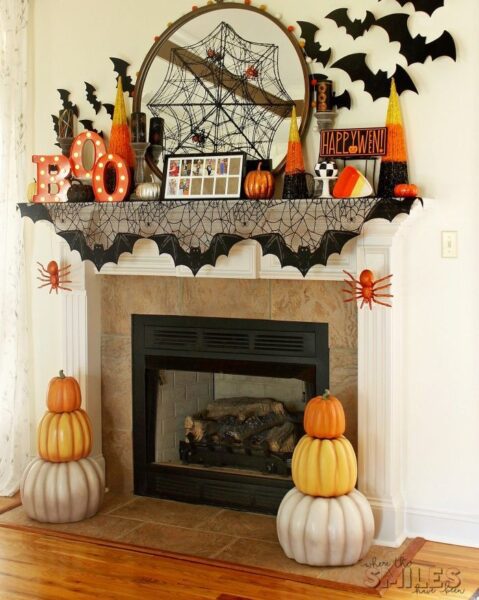 There's a lot going on around this joyous mantel, which is literally bursting with seasonal fun. We especially love the clever spiderweb (with spiders) spun over the mirror and bats taking flight around the space. Pumpkin topiaries that can stay up through Thanksgiving flank the fire box.
See more at Where the Smiles Have Been.
---
10.Autumn Chalkboard Fall Mantel
As the seasons change, so can this chalkboard framed above this pretty, natural wood mantel. For fall, write your favorite autumn quote, then fill in with pumpkins, wheat, and candles.
See more at Nest of Posies.
---
11.Colorful Halloween Mantel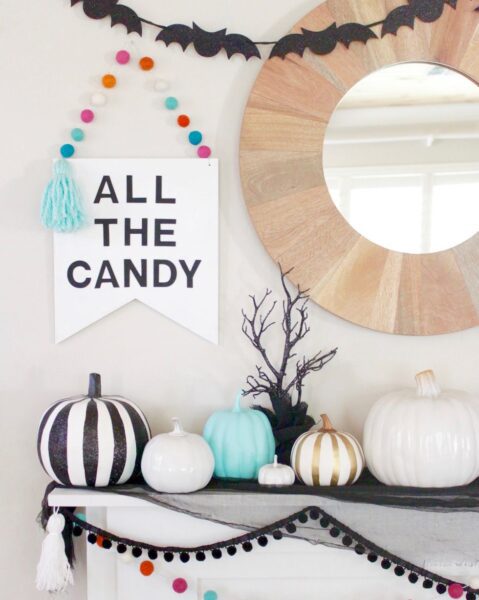 This blogger paired warm wood with bold black-and-white pieces and small pops of color for a more sophisticated and happy Halloween mantel display.
See more at Make and Do Studios.
---
12.Super Spidey Halloween Mantel
As long as you don't have arachnophobia, you're going to love this mantel themed around eight-legged creepy-crawlies. There's a lot here to enjoy, including the large web, the line of spiders marching up the side of the fireplace and the skeleton hanging out beside it all, who looks just as amused as we are.
See more at Design Improvised.
---
13.Spooky Scene Halloween Mantel
Replace family photos with cut-out silhouettes of Halloween's very best, including the Grim Reaper, Frankenstein, and Count Dracula. Stick 'em in frames, and then hang them on the wall or use them to dress up your mantel.
---
14.Web-Covered Fireplace
Change the entire look of your fireplace by applying removable wallpaper. (Note: This works best on smoother surfaces, like a tiled surround.) Then fill the hearth with something equally festive such as eerie plastic eyeballs.
Get the tutorial at A Kailo Chic Life »
---
15.Halloween Mantel
Think beyond traditional Halloween decor by styling your mantel with an eye-popping mix of brightly colored pumpkins, fresh blooms, and fun accessories. Paint pumpkins in gold or pink, then for some, snip the top off a new balloon and wrap it around the lower part of the gourd.
---
15.Cobweb Cover
For a hauntingly easy decoration, string a creepy crawling cobweb over any piece of artwork you have hanging on the wall.
Get the tutorial at homedit.
---
Tags :
Halloween