Embrace the Beauty of Autumn: Farmhouse Fall Decor Ideas to Welcome the Season"
Farmhouse Fall Decor Ideas: As the leaves turn brilliant shades of red, orange, and gold, and the air takes on a crisp, invigorating quality, there's no denying that fall has arrived. This enchanting season offers an ideal opportunity to refresh your home decor with warm and inviting elements that reflect the spirit of autumn. One decor style that perfectly complements the fall season is the timeless charm of farmhouse decor. In this article, we'll explore a plethora of creative and inspiring Farmhouse Fall Decor Ideas to help you infuse your home with the cozy, rustic, and nostalgic atmosphere of autumn.
Farmhouse fall decor allows you to celebrate the beauty of autumn in a style that's both charming and timeless. With a focus on warm colors, rustic elements, and a touch of nostalgia, you can transform your home into a welcoming sanctuary that captures the essence of the season. Whether you're decorating your entire home or just adding subtle touches, these farmhouse fall decor ideas will help you create a cozy and inviting atmosphere that embraces all the magic that fall has to offer. So, roll up your sleeves, get creative, and enjoy the process of bringing the spirit of autumn into your farmhouse-inspired living spaces.
---
1.Rustic Wreaths and Door Decor:
Start your fall decorating journey right at the doorstep with a farmhouse-inspired wreath. A wreath made of dried flowers, twigs, and fall foliage can instantly set the tone. Consider adding a personalized touch with a wooden initial or welcoming message.
---
2.Cozy Entryway:
Create a warm and welcoming entryway by placing a vintage wooden bench or an antique console table near your front door. Decorate it with cozy throw blankets, plaid pillows, and a charming basket filled with seasonal fruits or gourds.
---
3.Pumpkin Spice Palette:
Fall is all about embracing the rich colors of the season. Opt for a warm and earthy color palette that includes deep oranges, rustic reds, mustard yellows, and natural browns. Incorporate these hues into your farmhouse decor through textiles like throw blankets, pillows, and curtains.
---
4.Farmhouse Chic Tablescapes:
Dress up your dining table with a farmhouse-inspired fall tablescape. Use a burlap table runner as a base and arrange mason jars filled with fall blooms, candles in rustic holders, and wooden chargers. Add a touch of elegance with vintage-inspired flatware and dinnerware.
---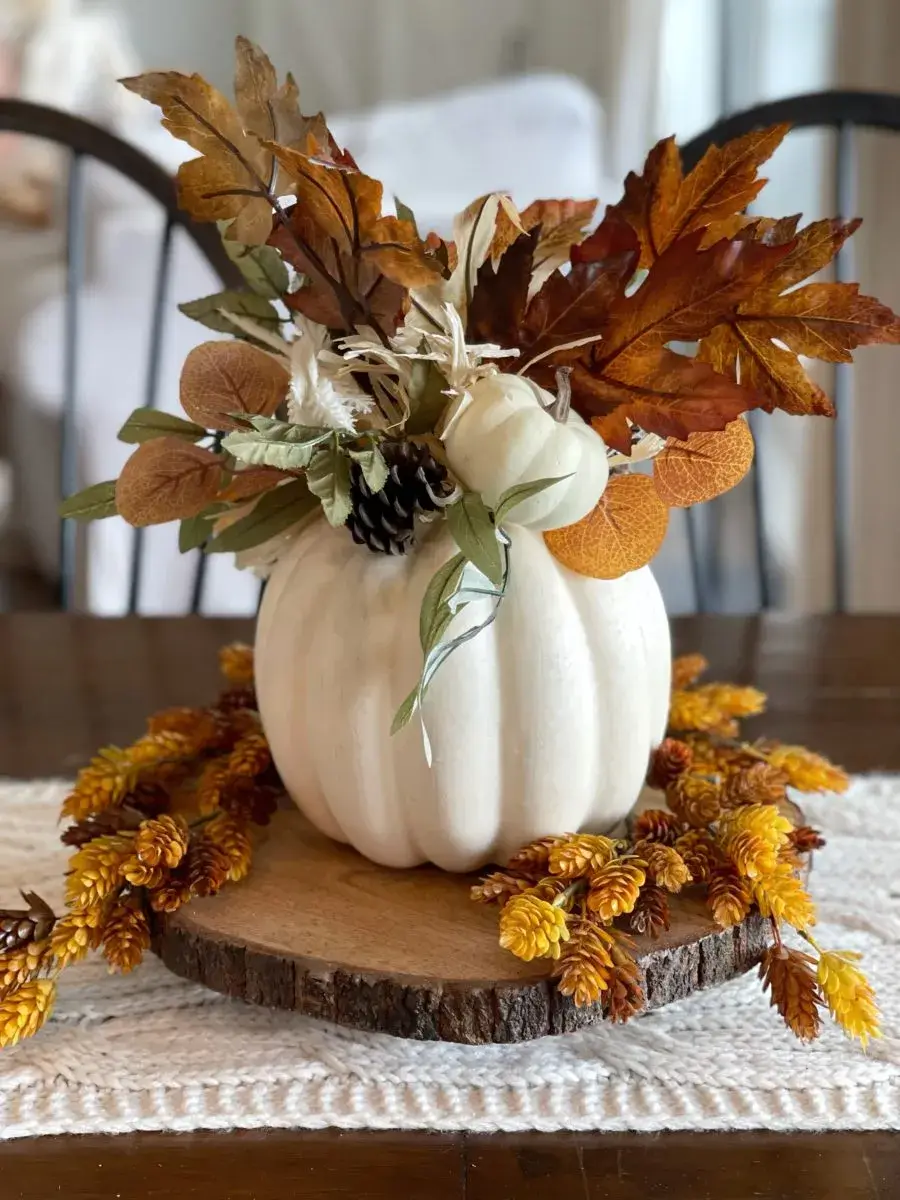 5.Harvest-Themed Centerpieces:
Create stunning centerpieces using seasonal produce. Hollow out pumpkins to make unique vases for fall flowers like sunflowers, mums, and dahlias. Combine them with decorative corn, acorns, and pinecones for an authentic harvest feel.
---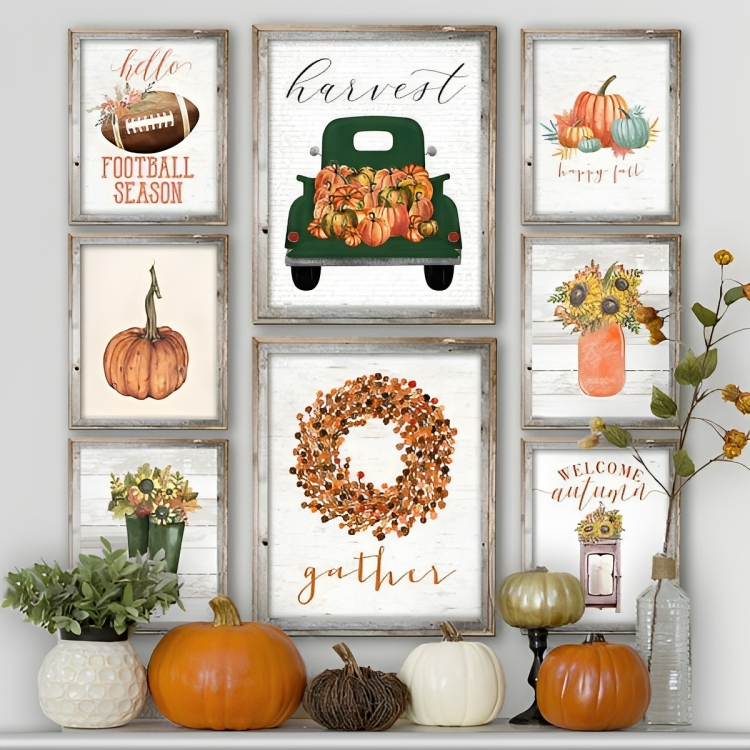 6.Farmhouse Wall Decor:
Adorn your walls with rustic farmhouse wall art that evokes the beauty of autumn. Look for wooden signs with fall-themed quotes or vintage-style botanical prints featuring leaves and pumpkins. You can also hang a fall-inspired wreath or a collection of framed family photos in rustic wooden frames.
---
7.Autumn Accents:
Enhance your farmhouse fall decor with small accents like mini pumpkins, gourds, and decorative corn scattered throughout your home. Place them in wooden crates, vintage buckets, or on open shelves for a touch of rustic charm.
---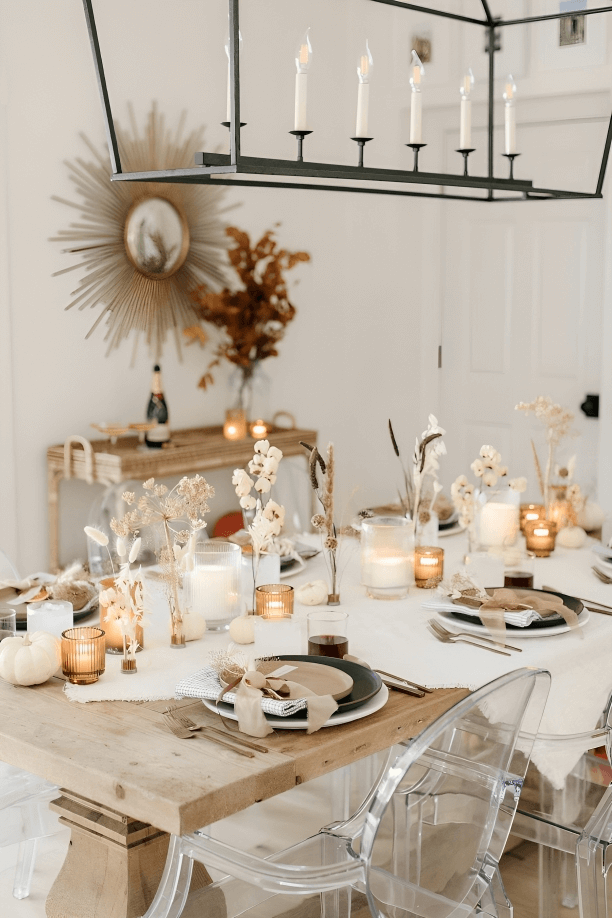 8.Farmhouse Lighting:
Swap out your regular lighting fixtures with ones that have a farmhouse aesthetic. Think about pendant lights with wrought-iron details or lantern-style chandeliers that provide cozy, ambient lighting. Incorporate candles in hurricane lanterns for a warm, inviting glow.
---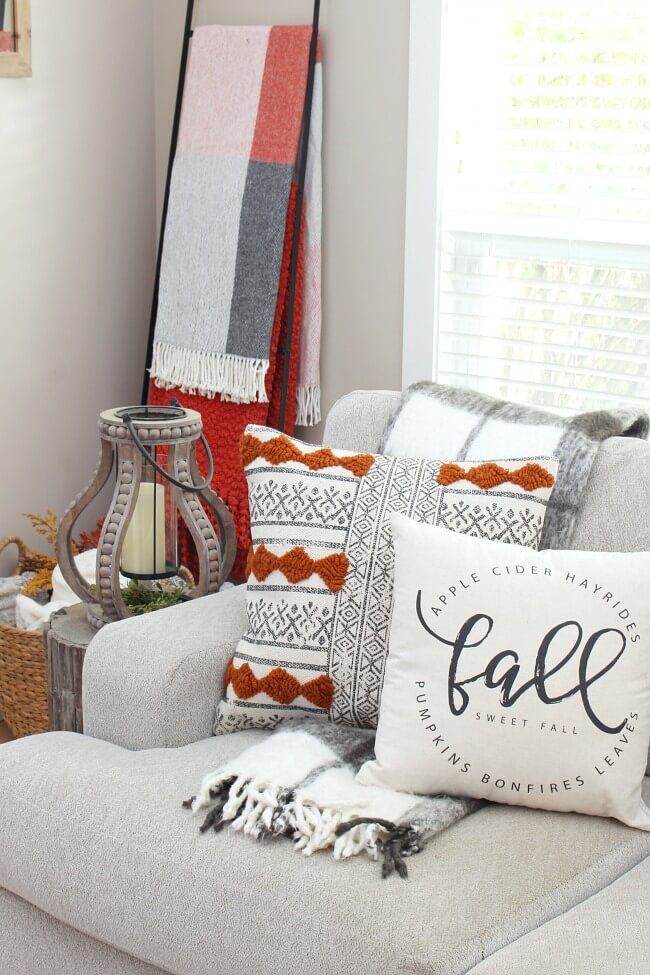 9.Cozy Textures:
Infuse your home with warmth and comfort by layering in cozy textures. Opt for chunky knit blankets, faux fur throws, and plush area rugs. These elements not only add warmth but also create a sense of coziness and relaxation.
---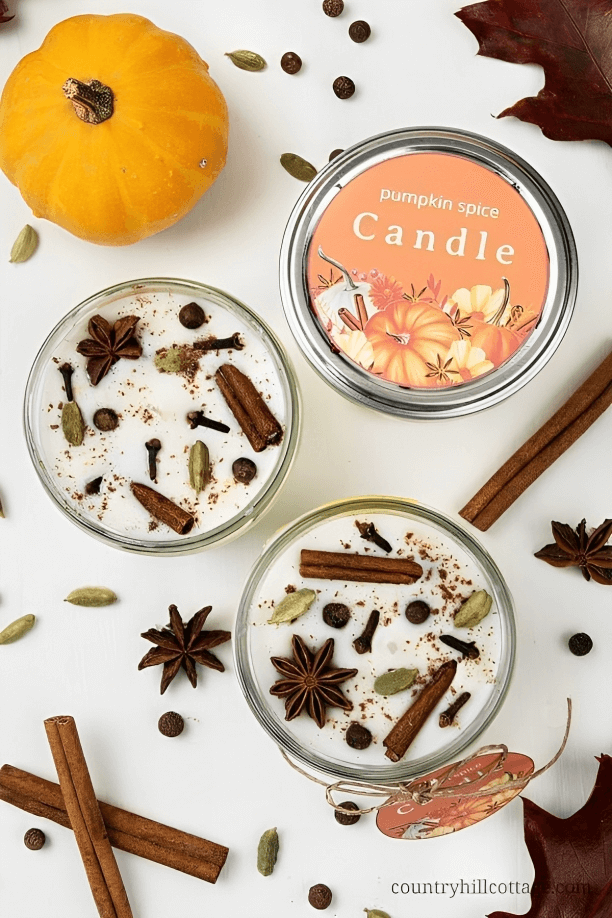 10.Seasonal Scents:
Complete the farmhouse fall ambiance with scents that evoke the season. Light cinnamon, apple, or pumpkin spice-scented candles to fill your home with the delightful aroma of fall.
---
11.Festive Farmhouse Kitchen:
Your kitchen can be a central hub for fall decor. Adorn open shelves with vintage-inspired mugs, platters, and canisters in warm fall colors. Hang a wreath on your kitchen window and add a bouquet of fresh fall flowers to your dining table.
---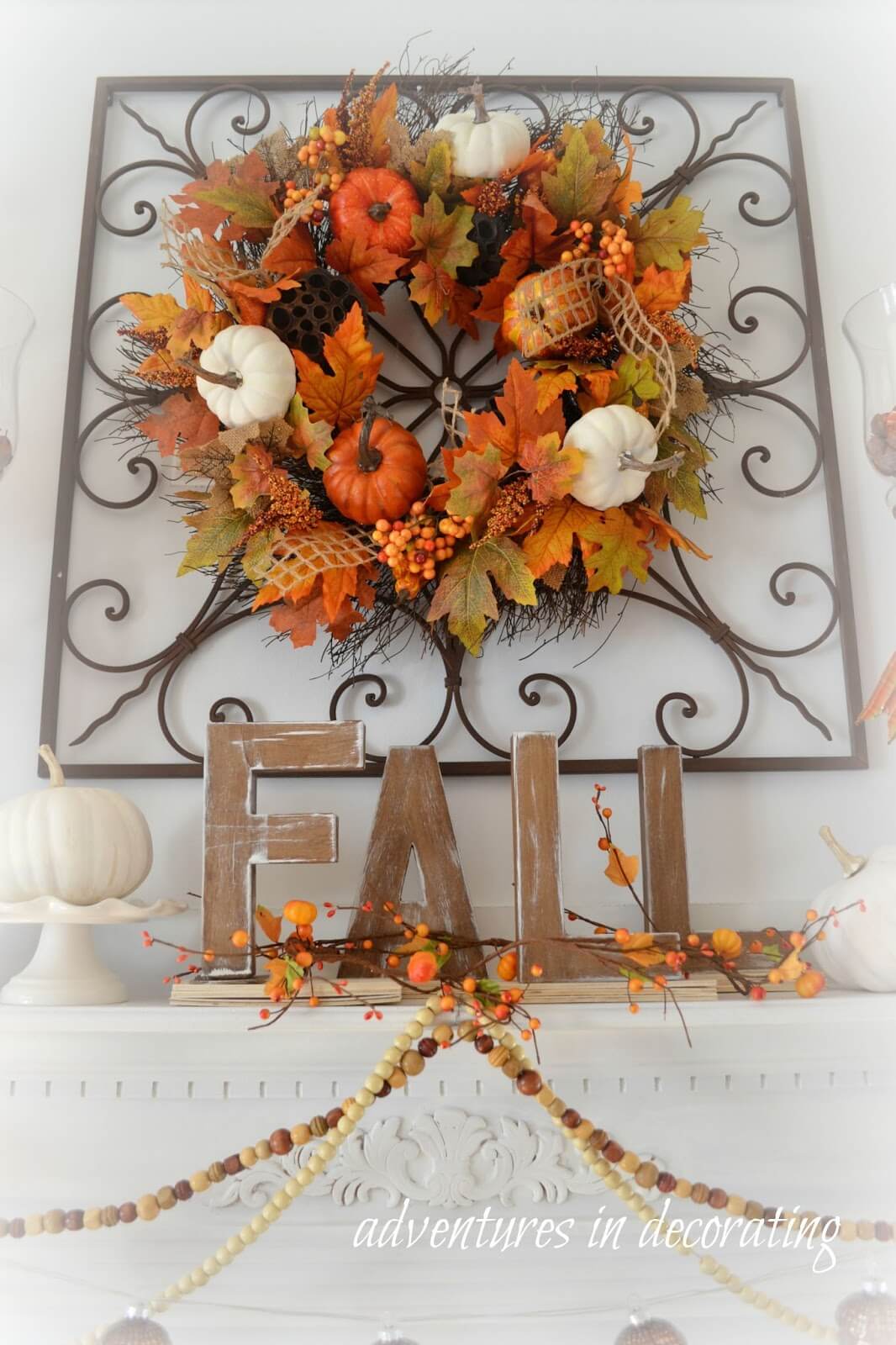 12.Farmhouse Fireplace Mantel:
If you have a fireplace, the mantel provides an excellent opportunity to showcase your farmhouse fall decor. Arrange a collection of pumpkins, lanterns, and candles on the mantel. Consider adding a rustic, distressed mirror or a large piece of fall-themed artwork above the fireplace for added impact.
---
13.Outdoor Farmhouse Decor:
Extend your fall decor to your outdoor spaces. Hang a wreath on your front door and adorn your porch or patio with cozy throws and pillows on outdoor furniture. Place pumpkins, hay bales, and potted mums to create a welcoming outdoor scene.
---
14.Farmhouse DIY Projects:
Unleash your creativity with DIY farmhouse fall decor projects. Craft your own wooden signs with fall quotes or create a rustic leaf garland using twine and artificial leaves. These handmade touches can add a personal and authentic farmhouse feel to your decor.
---
andersonandgrant
15.Vintage Finds:
Explore thrift stores, flea markets, and antique shops for unique vintage farmhouse decor pieces. Old wooden crates, enamelware, and weathered signs can infuse character and history into your fall decor.
---
16.Farmhouse Bath Retreat:
Don't forget the bathroom when decorating for fall. Swap out your regular towels for plush, autumn-colored ones. Place scented candles on the bathroom vanity and add a small vase of fall flowers or sprigs of eucalyptus for a spa-like touch.
---
17.Farmhouse-Inspired Table Settings:
Whether you're hosting a formal dinner or a casual gathering, elevate your table settings with farmhouse flair. Use natural linen tablecloths, woven chargers, and vintage silverware. Tie bundles of wheat or dried herbs with twine to serve as rustic napkin rings.
---
18.Seasonal Book Nook:
Create a cozy reading nook in your home using a comfortable armchair or loveseat. Add a blanket basket filled with throws and a small side table with a stack of autumn-themed books. This inviting corner will beckon you to curl up with a good book and enjoy the season.
---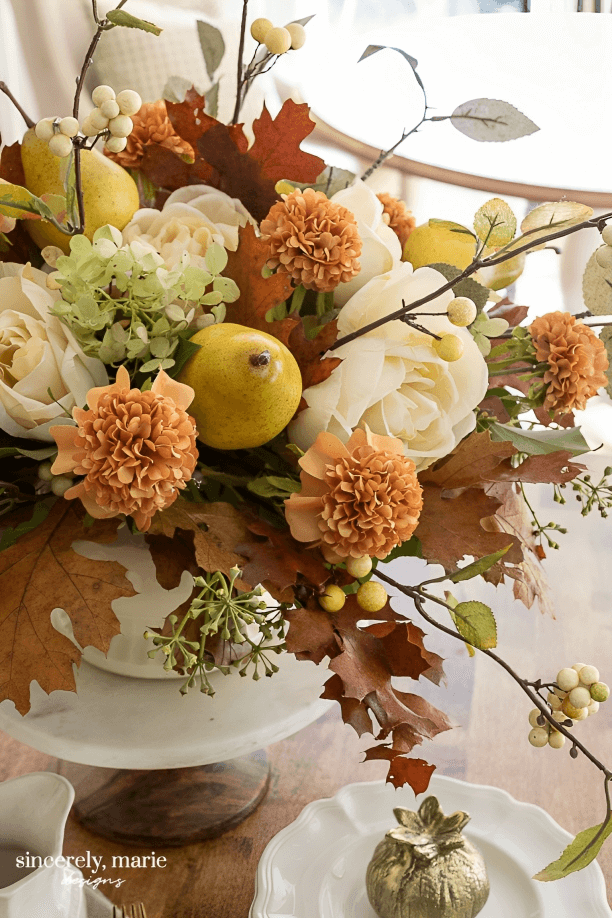 19.Farmhouse Floral Arrangements:
Experiment with different types of fall foliage and flowers to create captivating floral arrangements. Sunflowers, dahlias, eucalyptus, and branches of colorful leaves can be used to craft stunning bouquets for various areas in your home.
---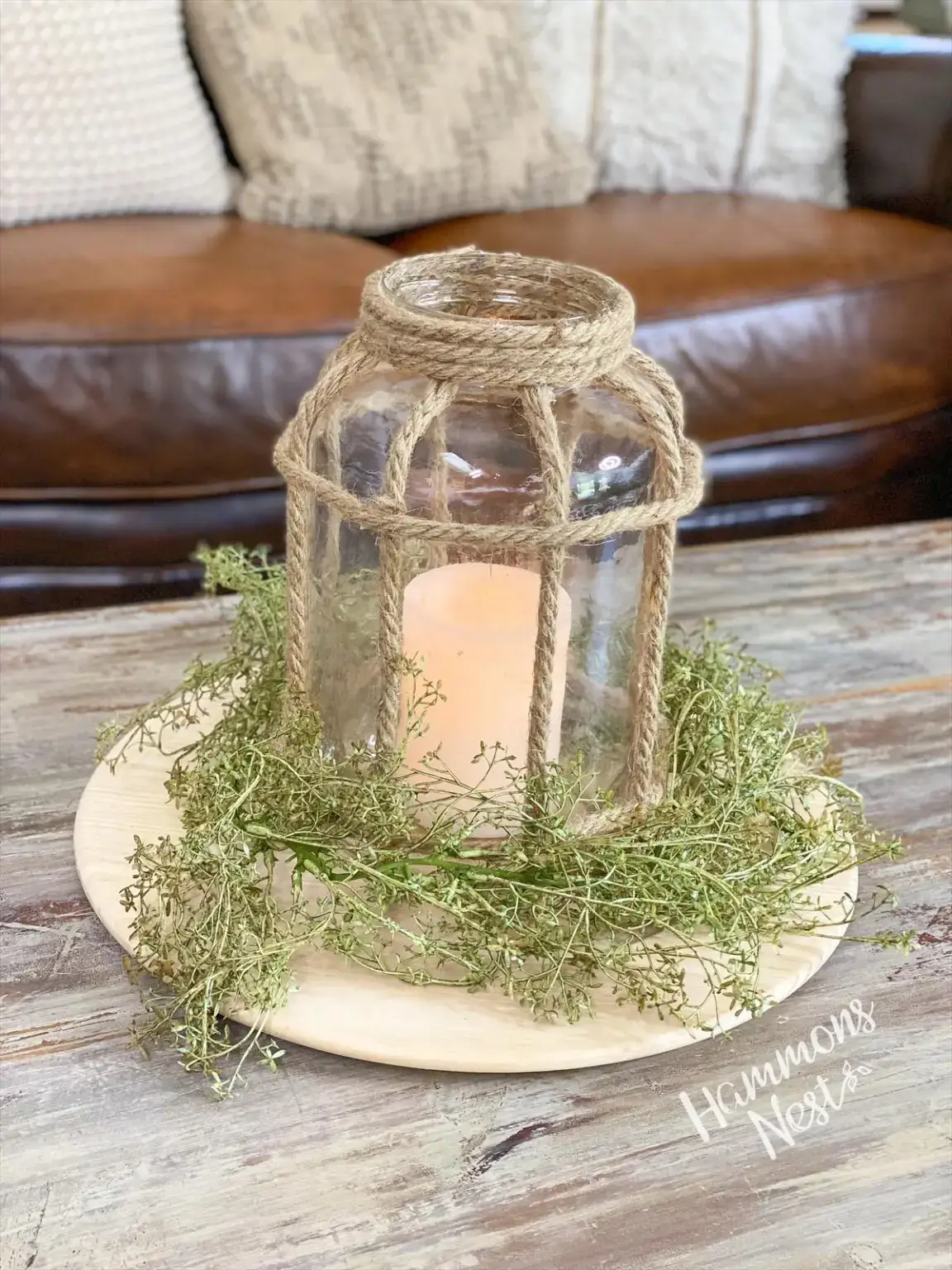 20.Sustainable Farmhouse Decor:
Consider sustainability in your fall decor by repurposing and upcycling items. Old wooden crates can become rustic shelving units, and glass jars can be used as candleholders. Not only does this approach add character, but it's also eco-friendly.
---
Conclusion:
Embracing the beauty of autumn through farmhouse fall decor ideas allows you to create a cozy and inviting atmosphere in your home. By incorporating rustic elements, warm colors, and seasonal accents, you can transform your living space into a haven of fall-inspired comfort and style. Whether you're hosting gatherings with loved ones or simply seeking a retreat from the outside world, these decor ideas will help you celebrate the magic of fall right in your own home. So, grab a pumpkin spice latte, put on your favorite flannel shirt, and let the farmhouse fall decor journey begin!
---
Certainly! Here are some frequently asked questions :
Q1: Is farmhouse decor suitable for apartments and smaller spaces?
A1: Absolutely! Farmhouse decor can be adapted to fit any space, including apartments and smaller homes. Consider using smaller farmhouse-inspired decor items, such as rustic wall art, throw pillows, and table centerpieces, to add cozy fall vibes without overwhelming your space.
---
Q2: Can I mix farmhouse decor with other styles in my home?
A2: Yes, you can definitely mix farmhouse decor with other styles to create a unique and personalized look. Farmhouse decor blends well with modern, vintage, and eclectic styles. Experiment with combining farmhouse elements like wooden furniture and rustic textiles with other decor pieces that resonate with your personal taste.
---
Q3: Where can I find affordable farmhouse decor items?
A3: You can find affordable farmhouse decor items at various places, including thrift stores, garage sales, and online marketplaces. Additionally, stores that offer budget-friendly home decor often carry farmhouse-inspired pieces. DIY projects are also a cost-effective way to create custom farmhouse decor.
---
Q4: How can I transition my farmhouse fall decor to Thanksgiving and beyond?
A4: Transitioning your decor from fall to Thanksgiving and beyond is simple. Replace some of the generic fall elements with Thanksgiving-themed items like turkey figurines, cornucopias, and gratitude-inspired decor. After Thanksgiving, you can keep the warm, cozy feel by incorporating winter elements like evergreen wreaths and holiday lights.
---
Q5: What are some safety tips when using candles in farmhouse decor?
A5: When using candles in your farmhouse decor, always prioritize safety. Keep candles away from flammable materials, place them on stable surfaces, and never leave them unattended. Consider using battery-operated LED candles for a safer alternative, especially if you have pets or small children.
---
Q6: How do I care for natural elements like dried flowers and pumpkins in my decor?
A6: To prolong the life of dried flowers, keep them away from direct sunlight and moisture. Gently dust them occasionally to maintain their appearance. For pumpkins and gourds, avoid exposing them to extreme temperatures and direct sunlight, as this can cause them to decay. Regularly inspect and replace any that show signs of aging.
---
Q7: Can I incorporate DIY farmhouse fall decor with kids?
A7: Yes, involving your kids in DIY farmhouse fall decor can be a fun and educational activity. Choose age-appropriate projects like painting or decorating pumpkins, creating handcrafted wreaths, or making leaf garlands. It's a great way to spend quality time together and add a personal touch to your decor.
---
Q8: How can I store my farmhouse decor items when not in use?
A8: Proper storage helps preserve your farmhouse decor items. Pack fragile items like glassware carefully to prevent breakage, and store them in labeled containers. For textiles, such as blankets and pillows, place them in vacuum-sealed bags to save space and protect them from dust and moisture.
---
These frequently asked questions and their answers should help you navigate your farmhouse fall decor journey with ease and confidence. Happy decorating!
---
Tags :
Fall Tips & Ideas