Embrace the Cozy Charm Fall Farmhouse Decor Ideas
Fall Farmhouse Decor Ideas: As the crisp breeze of autumn sweeps through the countryside, it's time to usher in the season with warmth, style, and rustic charm. Fall is synonymous with coziness, and there's no better way to capture that feeling than by adorning your home with fall farmhouse decor. This timeless design style beautifully blends the simplicity of rural life with the comfort and elegance of the season. In this article, we will explore a myriad of ideas to help you transform your space into a fall farmhouse haven that radiates the spirit of autumn.
Fall farmhouse decor is all about capturing the essence of autumn while embracing the simple, timeless beauty of rural living. By incorporating warm colors, cozy textiles, natural elements, vintage finds, and seasonal touches, you can transform your home into a haven of fall charm. Whether you're sipping on hot cider by the fireplace or hosting a cozy dinner party, these fall farmhouse decor ideas will create an inviting and memorable atmosphere that celebrates the splendor of the season. So, don your flannel shirt and get ready to embrace the cozy charm of fall farmhouse decor in your own home.
---
1.Warm Color Palette:
The foundation of any fall farmhouse decor begins with a warm and inviting color palette. Embrace earthy tones like deep reds, burnt oranges, rich browns, and mustard yellows. These colors evoke the changing leaves and create a sense of warmth within your space. Pair these hues with neutral backgrounds, such as creamy whites, soft grays, and natural wood tones, to maintain a balanced and cozy atmosphere.
---
2.Cozy Textiles:
Layering your home with soft and plush textiles is essential for achieving that quintessential fall farmhouse look. Swap out lightweight summer throws for chunky knit blankets, flannel sheets, and faux fur pillows. Don't forget to add rustic plaid and gingham patterns for a touch of traditional farmhouse charm.
---
3.Pumpkin Spice and Everything Nice:
Pumpkins are an iconic symbol of fall, and they fit seamlessly into farmhouse decor. Place a variety of pumpkins, both real and artificial, around your home. Whether they're stacked on the front porch, nestled on your mantel, or incorporated into table centerpieces, pumpkins add an instant fall vibe.
---
4.Natural Elements:
Embrace the bounty of the season by incorporating natural elements into your decor. Gather branches, acorns, pinecones, and leaves to create stunning DIY wreaths and garlands. Arrange these pieces in wooden crates, baskets, or mason jars to infuse rustic charm into your decor.
---
5.Vintage Finds:
Visit antique shops and flea markets to uncover vintage treasures that can be incorporated into your fall farmhouse decor. Items like weathered wooden signs, old milk cans, and vintage crockery can add character and authenticity to your space.
---
6.Seasonal Florals:
Flowers play a pivotal role in fall farmhouse decor. Swap out summer blooms for fall favorites like sunflowers, mums, and dahlias. Place them in distressed, galvanized metal containers or old milk jugs to maintain the rustic aesthetic.
---
7.Candles and Lanterns:
The warm glow of candles and lanterns creates a magical ambiance in any fall farmhouse setting. Opt for candles in autumn scents like cinnamon, apple, and pumpkin spice. Place them in hurricane lanterns, mason jars, or vintage candle holders to cast a cozy glow.
---
8.Farmhouse Furniture:
Choose furniture pieces that align with the farmhouse aesthetic. Weathered wood tables, distressed cabinets, and cozy upholstered chairs all contribute to the rustic charm of the space. Consider adding plaid or burlap cushions to chairs and benches for extra comfort and style.
---
9.Seasonal Tablescapes:
Your dining table is a focal point during the fall season, so dress it up with a captivating tablescape. Layer a burlap or linen table runner with antique dinnerware, rustic chargers, and seasonal centerpieces. Add a touch of elegance with copper or brass flatware.
---
10.Front Porch Appeal:
Welcome guests with a charming fall farmhouse-inspired front porch. Adorn it with an assortment of pumpkins, potted mums, and a cozy seating area featuring plaid blankets and pillows. Hang a fall wreath on the front door to complete the look.
---
11.Seasonal Scents:
To truly immerse yourself in the fall farmhouse ambiance, consider incorporating seasonal scents into your decor. Scented candles, potpourri, and essential oil diffusers can infuse your home with delightful fragrances like apple cinnamon, spiced pumpkin, and warm vanilla. These scents not only create a more immersive atmosphere but also evoke feelings of comfort and nostalgia.
---
12.Rustic Wall Decor:
Your walls are a canvas waiting to be adorned with farmhouse-inspired decor. Hang vintage or distressed wooden frames showcasing fall-themed artwork or rustic mirrors to add depth and character to your space. Old windows, reclaimed barn wood, and farmhouse signs with autumn quotes can also make for excellent wall decor choices.
---
13.Seasonal Tableware:
Elevate your fall farmhouse dining experience with seasonal tableware. Invest in dinnerware sets with leaf or harvest-inspired patterns, and complement them with coordinating chargers, placemats, and cloth napkins in autumn colors. Don't forget to add elegant glassware and vintage silverware to complete the look.
---
14.Hay Bales and Cornstalks:
If you have outdoor space, consider using hay bales and cornstalks to extend your fall farmhouse decor to the exterior of your home. Stack hay bales to create seating or display areas, and lean cornstalks against your porch pillars or along your garden fence. These additions not only enhance your decor but also bring a touch of the countryside to your surroundings.
---
15.Cozy Reading Nooks:
Fall is the perfect season to snuggle up with a good book or enjoy a cup of tea by the window. Create cozy reading nooks by incorporating comfortable armchairs, soft throws, and an array of pillows in autumn hues. Add a rustic bookshelf to store your favorite novels, and you'll have a charming retreat for relaxation and reflection.
---
16.Seasonal Kitchen Decor:
Your kitchen is the heart of your home, and it should reflect the warmth of the season. Swap out regular dish towels and oven mitts for fall-themed ones featuring pumpkins, leaves, or plaids. Display seasonal produce like apples and gourds in decorative bowls, and don't forget to add a vase of fresh fall flowers to your kitchen counter.
---
17.DIY Crafts and Projects:
Get creative with DIY projects that add a personal touch to your fall farmhouse decor. Craft your own wreaths, paint or distress furniture, and create custom farmhouse signs with your favorite fall quotes. Engaging in these projects not only enhances your decor but also provides a sense of accomplishment and satisfaction.
---
18.Seasonal Table Runners and Centerpieces:
Change up your table decor throughout the season by switching out table runners and centerpieces. Consider a burlap or plaid table runner as a base and top it with seasonal elements like mini pumpkins, pinecones, or a candlelit lantern centerpiece. This allows you to refresh your dining area's look without making drastic changes.
---
19.Warm Lighting:
Invest in warm and inviting lighting fixtures that complement your fall farmhouse decor. Consider pendant lights with metal or wooden finishes, Edison bulbs, and lantern-style chandeliers. The soft, warm glow they emit enhances the cozy ambiance you're aiming to achieve.
---
20.Family and Friends:
Lastly, remember that the heart of any farmhouse is the sense of togetherness and hospitality. Create an inviting atmosphere for family and friends to enjoy the fall season with you. Host gatherings, dinner parties, and game nights to share the warmth and beauty of your fall farmhouse decor.
---
In conclusion, fall farmhouse decor is not just about aesthetics; it's about creating an atmosphere that embraces the season's beauty and simplicity. By incorporating these ideas, you can transform your home into a haven that radiates the spirit of autumn, inviting warmth and comfort for you, your family, and your guests. Embrace the cozy charm of fall farmhouse decor, and let the beauty of the season fill your home with joy and nostalgia.
---
---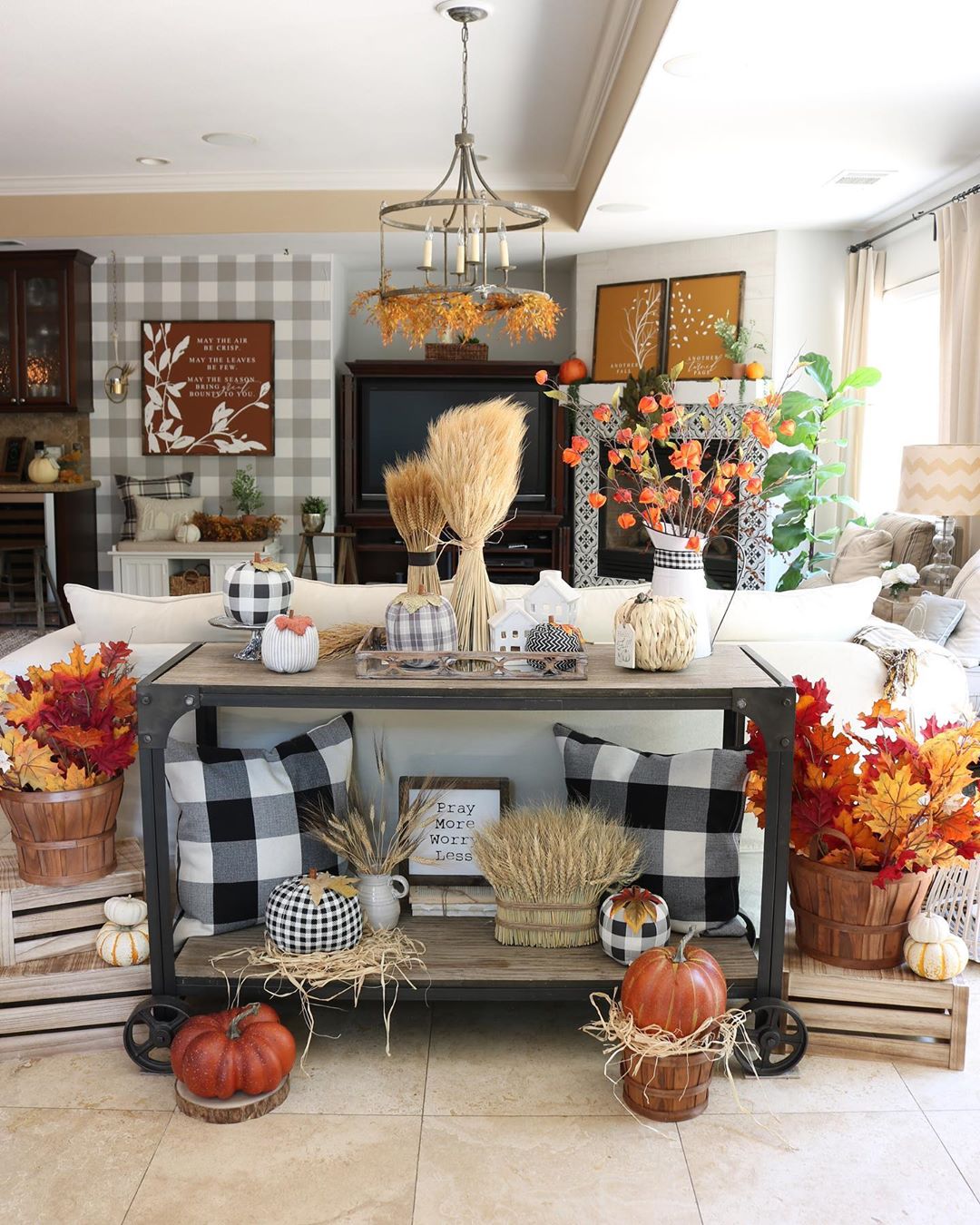 ---
---
---
---
---
---
---
---
---
Certainly! Here are some frequently asked questions related to fall farmhouse decor, along with their answers:
Q1: What are some cost-effective ways to incorporate fall farmhouse decor into my home?
A1: You don't need to break the bank to achieve a charming fall farmhouse look. Start by utilizing what you have, such as rearranging furniture, reusing existing decor items, and incorporating DIY projects. You can also find budget-friendly decor items at thrift stores, garage sales, or by crafting your own decorations using natural materials.
---
Q2: Can fall farmhouse decor work in a modern home?
A2: Absolutely! Fall farmhouse decor can be adapted to fit various home styles, including modern ones. To achieve this, focus on incorporating rustic elements, warm color palettes, and cozy textiles while maintaining the clean lines and simplicity of modern design. It's all about finding the right balance.
---
Q3: How can I make my front porch more inviting with fall farmhouse decor?
A3: To create an inviting fall farmhouse-inspired front porch, consider adding elements like pumpkins, mums, rustic seating, and a seasonal wreath on your front door. You can also incorporate cozy elements like plaid blankets and lanterns to make it more inviting and comfortable for guests.
---
Q4: What are some unique DIY projects for fall farmhouse decor?
A4: There are plenty of creative DIY projects to enhance your fall farmhouse decor. Some ideas include crafting your own wreaths using natural materials like leaves and pinecones, distressing furniture to give it a rustic look, and creating custom farmhouse signs with fall-themed quotes or phrases.
---
Q5: Can I use artificial pumpkins in my fall decor, or should I stick to real ones?
A5: You can absolutely use artificial pumpkins in your fall decor. They have the advantage of lasting throughout the season without wilting or rotting. Mixing real and artificial pumpkins can create a dynamic and visually appealing display.
---
Q6: How can I incorporate fall farmhouse decor into my bedroom?
A6: Transform your bedroom into a cozy fall farmhouse retreat by adding fall-colored bedding, plaid or gingham throw pillows, and warm, soft blankets. Consider hanging a fall-themed wreath or artwork above your bed and placing small decorative pumpkins on bedside tables.
---
Q7: What are some popular scents for fall farmhouse decor?
A7: Popular scents for fall farmhouse decor include apple cinnamon, spiced pumpkin, warm vanilla, and nutmeg. Scented candles, potpourri, and essential oil diffusers can be used to infuse your home with these delightful fragrances.
---
Q8: How can I maintain the cozy feel of fall farmhouse decor throughout the winter season?
A8: Transitioning from fall to winter decor in a farmhouse style can be seamless. Simply swap out some fall elements for winter ones, such as replacing pumpkins with evergreen wreaths, adding pinecone and snowflake accents, and incorporating cozy blankets and pillows in winter colors like deep red and forest green.
---
Q9: Can I incorporate my existing furniture into my fall farmhouse decor?
A9: Absolutely! Many existing furniture pieces can be incorporated into fall farmhouse decor. You can layer them with cozy textiles, such as throws and cushions, in fall colors. You can also use slipcovers or reupholster furniture to give it a rustic or vintage farmhouse look.
---
Q10: Are there any safety concerns when using candles in fall farmhouse decor?
A10: When using candles in your decor, it's essential to follow safety guidelines. Ensure that candles are placed on stable surfaces away from flammable materials, never leave them unattended, and consider using flameless LED candles as a safer alternative, especially if you have pets or small children in your home.
---
Tags :
Fall Tips & Ideas