Embracing the Prettiest Fall Decor with Classic Touch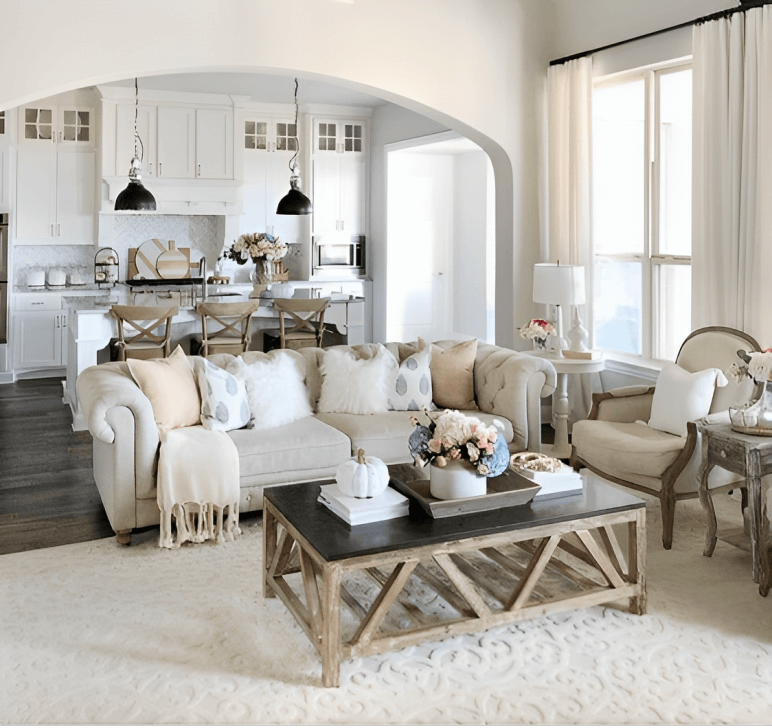 Fall Decor with Classic Touch ; As the crisp autumn air sweeps in, there's an undeniable charm in transforming our living spaces into cozy, inviting havens that reflect the beauty of the season. Fall decor, with its warm hues, rustic elements, and classic touches, allows us to infuse our homes with the spirit of autumn. In this article, we will explore the prettiest fall decor ideas with a classic twist that will help you create a welcoming ambiance that celebrates the timeless appeal of this season.
---
1.Warm Color Palette
The foundation of any beautiful fall decor scheme lies in its color palette. Classic fall colors like deep oranges, rich browns, and warm reds evoke feelings of coziness and nostalgia. Incorporate these hues through various elements in your decor, such as throw pillows, blankets, table settings, and wall art. Consider mixing in some earthy tones like olive green and mustard yellow to create a balanced and visually appealing look.
---
2.Vintage Charm
To infuse your fall decor with a classic touch, incorporate vintage and antique items. Visit local thrift stores or flea markets to find charming pieces like old lanterns, distressed wooden frames, or vintage vases. These timeless items can add character and a sense of history to your fall decor, creating a cozy atmosphere reminiscent of days gone by.
---
3.Seasonal Florals and Foliage
Fall is a season celebrated for its abundance of natural beauty. Classic fall decor wouldn't be complete without the inclusion of seasonal florals and foliage. Consider creating floral arrangements featuring sunflowers, chrysanthemums, and dried wheat stalks. Use pumpkins, gourds, and pinecones as accent pieces to enhance the overall look. These natural elements not only add visual appeal but also infuse your home with the scents of autumn.
---
4.Cozy Textiles
Fall is all about comfort and warmth, so don't forget to incorporate cozy textiles into your decor. Soft, plaid blankets, faux fur throws, and knit pillow covers can instantly transform your living spaces into snug retreats. Layering these textiles can create depth and dimension, making your home feel inviting and comforting.
---
5.Candlelit Ambiance
Candles are a classic fall decor staple that can add a touch of elegance and warmth to any space. Opt for scented candles with fragrances like cinnamon, apple pie, or pumpkin spice to create a multisensory experience. Place candles in vintage candleholders or lanterns to enhance their classic appeal and use them as table centerpieces or to create cozy nooks throughout your home.
---
6.Wreaths and Garlands
Adorn your entryways, mantels, and doorways with wreaths and garlands that showcase classic fall elements. A wreath made of dried leaves, pinecones, and acorns can instantly set the tone for your fall decor. You can also hang garlands made of colorful leaves, gourds, or mini pumpkins to add a festive touch to your space.
---
7.Seasonal Table Settings
Fall is a season of gathering and feasting, so pay special attention to your dining table decor. Incorporate classic fall elements into your table settings by using rustic table runners, seasonal placemats, and vintage dinnerware. Add an elegant touch with gold or copper accents in your flatware and glassware, creating a harmonious blend of classic and contemporary styles.
---
8.Front Porch Elegance
Don't forget to extend your fall decor to your front porch or entrance. Classic elements like cornstalks, hay bales, and a vintage wagon filled with pumpkins can instantly transform your outdoor space into a fall wonderland. Complete the look with a classic autumn wreath on your front door and warm, inviting lighting.
---
Conclusion
Incorporating classic touches into your fall decor not only adds timeless elegance but also creates a cozy and welcoming atmosphere that celebrates the beauty of the season. By combining warm color palettes, vintage charm, seasonal florals, cozy textiles, candlelit ambiance, wreaths, table settings, and front porch elegance, you can create the prettiest fall decor that pays homage to the classic elements of autumn. Embrace the warmth and nostalgia of this season by infusing your home with these timeless touches, and let your fall decor reflect the enduring beauty of fall year after year.
"Beautiful autumn decor accents add a stunning touch to the home. Take a delightful tour of mytexashouse , showcasing exquisite pumpkin-themed decorations that enhance the ambiance of the season. The decor exudes elegance and charm."
---
Certainly, here are some frequently asked questions related to fall decor with classic touches, along with their answers:
Q1: How can I create a classic fall decor look in my home without spending a fortune on new items?
A1: Creating a classic fall decor look on a budget is absolutely possible. Start by utilizing what you already have. Repurpose items like old frames, jars, or vases to incorporate classic touches. Visit thrift stores, garage sales, and flea markets to find affordable vintage and antique pieces. Also, consider DIY projects to upcycle existing decor items with fall-themed elements.
---
Q2: Are there any specific color combinations that work best for classic fall decor?
A2: Classic fall decor typically features warm and earthy colors. While the classic combination of deep oranges, rich browns, and warm reds is timeless, you can also incorporate olive green, mustard yellow, and even touches of gold or copper for added elegance. The key is to create a harmonious color palette that evokes the cozy and nostalgic feel of autumn.
---
Q3: What are some easy ways to incorporate classic fall decor into a small apartment or space?
A3: Even in smaller spaces, you can achieve a classic fall decor look. Focus on key areas like the dining table, entryway, and living room. Opt for smaller, statement pieces like vintage candleholders, a fall-themed table centerpiece, and cozy textiles like throw pillows and blankets. Hanging wreaths and garlands on walls or doors is also a space-saving option that adds a classic touch.
---
Q4: Can you suggest some classic fall scents for candles and diffusers?
A4: Classic fall scents often include cinnamon, apple pie, pumpkin spice, and warm vanilla. These fragrances can evoke the cozy and inviting atmosphere of autumn. Look for candles, diffusers, or essential oils with these scents to infuse your home with the delightful aromas of the season.
---
Q5: What are some tips for maintaining and preserving seasonal florals and foliage in fall decor?
A5: To maintain seasonal florals and foliage in your fall decor, keep them away from direct sunlight and humidity, which can cause them to wilt or fade. Dried flowers and wheat stalks are great choices as they last longer. Spritz faux leaves and pinecones with a light fragrance spray to enhance their scent and appearance. Additionally, storing decor items in a cool, dry place during the off-season can help prolong their life.
---
Q6: How can I create a classic fall table setting that's both elegant and functional for gatherings?
A6: To create an elegant and functional fall table setting, start with a rustic table runner and seasonal placemats. Use vintage dinnerware or opt for simple, classic designs. Add gold or copper accents in your flatware and glassware for a touch of elegance. Consider using cloth napkins in fall colors and decorative napkin rings. Finally, incorporate a centerpiece made of seasonal florals and candles for a classic finishing touch.
---
Q7: What are some timeless front porch decor ideas for fall?
A7: Timeless front porch decor for fall includes arranging cornstalks, hay bales, and pumpkins in an attractive manner. Use a vintage wagon or wooden crates to display an assortment of pumpkins and gourds. Hang a classic autumn wreath on your front door and add warm lighting with lanterns or string lights. These elements create a welcoming and nostalgic ambiance for your outdoor space.
---
These FAQs and answers should help you get started on your journey to creating the prettiest fall decor with classic touches in your home. Whether you're on a budget or working with limited space, there are always creative ways to infuse your living spaces with the timeless charm of autumn.
---
Tags :
Fall Home Tour