Fall Crafts for Kids That Are Easy and Fun
Fall Crafts for Kids That Are Easy and Fun
Fall Crafts for Kids That Are Easy and Fun : Fall is a beautiful time of year, and it's also a great time to get creative with your kids. There are so many fun and easy fall crafts that you can do together, no matter what their age or skill level.
In this article, we'll share some of our favorite fall crafts for kids. We've got something for everyone, from simple leaf rubbings to more complex pumpkin carving projects. So gather your supplies and get ready to have some fall fun!
Here are just a few of the many fall crafts that you can do with your kids:
---
Lia Griffith always offers some of the best DIYs, and these animal pumpkins are no exception. Create a black cat, fox, or owl mask and simply attach it to a faux (or real!) pumpkin of your choice.
---
This no-carve idea requires only some funny accessories to turn your gourds into funky pumpkin people.
---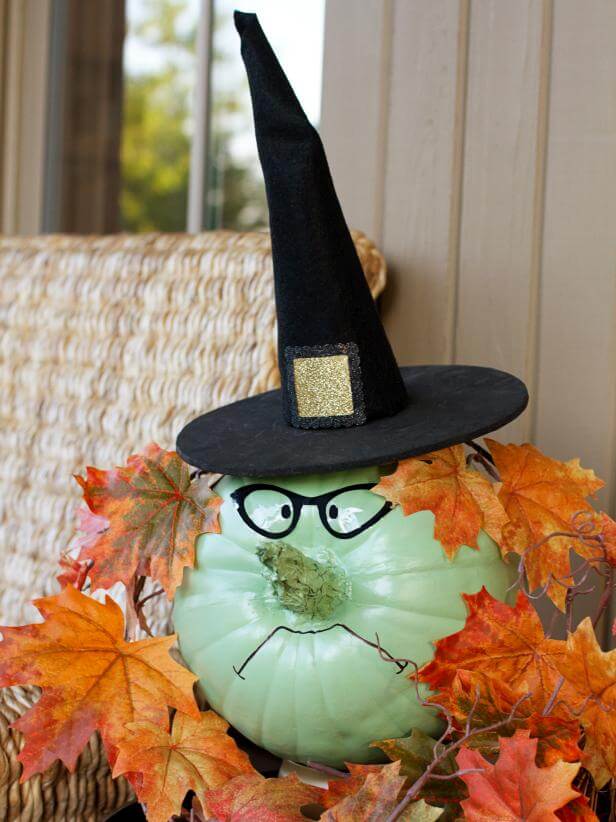 Magic up this not-too-scary witch for your front porch or entryway using a faux pumpkin and dollar store craft supplies. Create a friendly witch to welcome Halloween guests or a scowling witch to keep mischief-makers at bay.
---
Autumn weather and crunchy leaves go hand in hand with cottagecore, gnomes and toadstools. This adorable fall-themed gnome has a pumpkin body, a wooden bead nose and a floral cone hat.
---
Create a haunted gnome house in your garden this year using a pumpkin and materials you already have around the house or yard. Customize your gnome house to be as simple or elaborate as you like, and recruit the kiddos for endless hours of creative fun.
---
Try these no-carve, no mess pumpkins for Halloween. Using paint and paper, you can style them into your favorite fruit. Perfect for a DIY project for kids!
---
Use this paint-pouring technique to create gorgeous, marbled-looking pumpkins.
---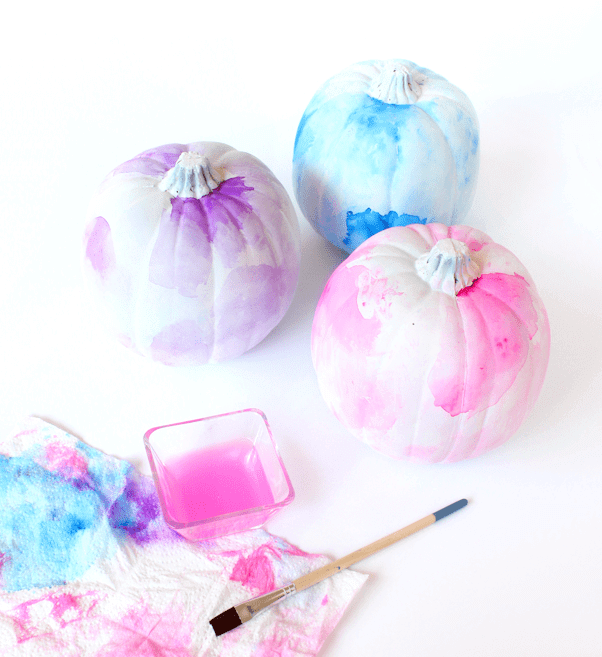 8-Watercolor Pumpkin
Stretch your painting muscles with these glamorous watercolor pumpkins.
---
These woodland creature no-carve pumpkins are the perfect way to dress up your gourds this fall. If you love pumpkins, but loathe carving them, this is the project for you!
---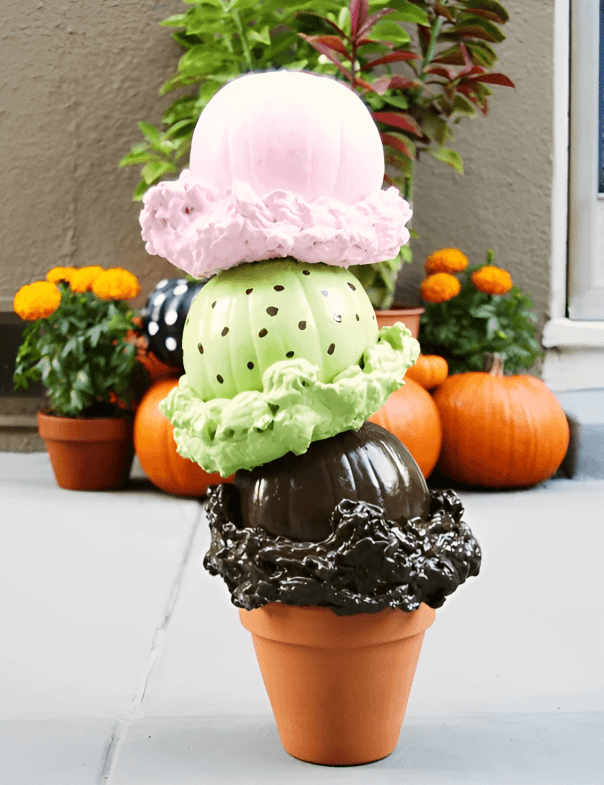 The secret to decorating pumpkins like ice cream? You just need some insulation foam! The rest is just painting.
---
11-Googly Eyes Pumpkins
As far as DIYs go, this is perhaps as easy as it gets. All you need to do is glue a pair of googly eyes onto your pumpkin. If you want to go more creepy than cute, glue a handful of eyes all over the pumpkin instead.
---
Balloons are a must at every birthday party, but what about adding them to your fall decor repertoire? According to Paper & Stitch, if you take mini pumpkins and cover them in colorful balloons you'll have a fun, no-fuss table decoration to remember.
---
I'm really loving that the horn for this sweet little unicorn is made with clay! That gives you a lot of flexibility to make this using any size gourd you like.
---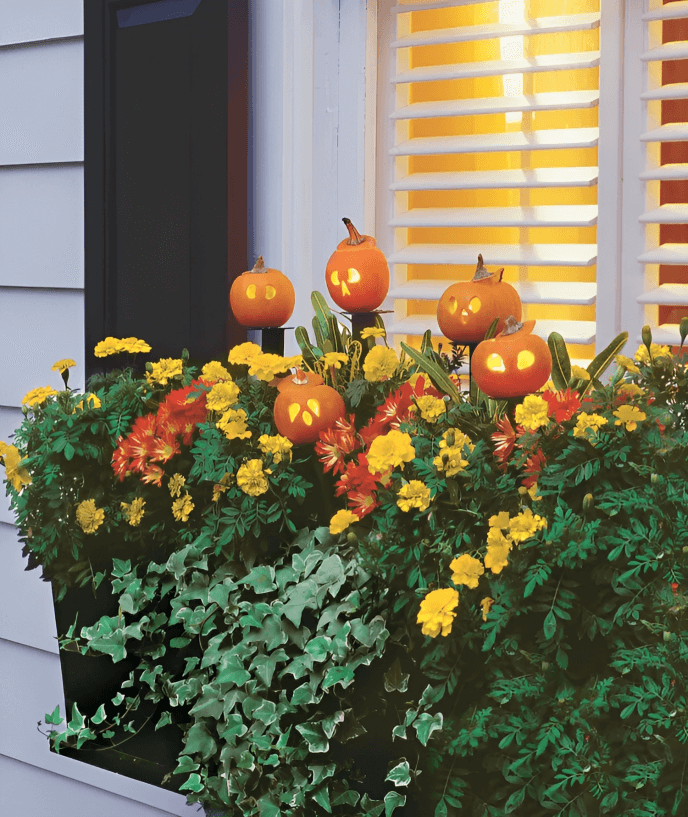 14-Put Them in Your Plants
Use mini pumpkins and get out some smaller plant stands to achieve this adorable pumpkin planter look. Get your kids on all the fun by having them help carve these little pumpkins! Add little fake candles inside and use them as votives that will light up your pumpkins and plants all night long.
---
Give your gourds some spooky Halloween colors with this fun acrylic paint pouring project! Paint pour pumpkins of every size to add a little more color to your fall decor.
---
A cute idea for decorating a pumpkin without carving it: draw these "sugar skull" owls on the pumpkins using sharpie markers. Make a whole family of owls! Trick your pumpkin.
---
Recreate your favorite emoji on your pumpkin this Halloween season. All you need is yellow spray paint, craft felt, glue, and creativity to make your texting fave come to life.
---
Got a pizza lover and a pumpkin lover in your house? Look no further than the pizza pumpkin that would also make a fun Halloween party game. It's a cinch to put together using a faux craft pumpkin, paint, and foam sheets. Customize with your favorite toppings for a kitsch pumpkin that you certainly won't see everywhere.
---
To turn your pumpkin into a sparkly glitter unicorn, you'll need a craft pumpkin, white spray paint, chunky and extra-fine white glitter, polymer clay, pink and white felt, glue, silk flowers, and a gray sharpie.
---
20-Veggie-faced pumpkin
Head to the fridge to get what you need to create these goofy and meme-able pumpkins. Affix carrots, winter-squash slices, nuts, and more using toothpicks to create eyes, a nose, and eyebrows on your pumpkin face. Then use a knife to slice in a silly smile.
---
Halloween is all about the candy, which makes this Vanellope von Schweetz–inspired pumpkin perfect for anyone—but especially for Wreck-It Ralph fans. After painting the craft pumpkin teal and allowing time to dry, hot glue plastic candies and ribbon to create the perfect pumpkin sugar rush.
---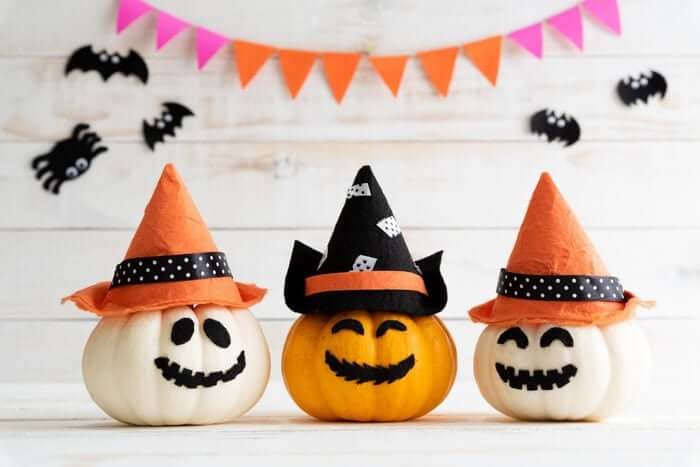 22-Witch pumpkins
I'll get you my pretty…and your little pumpkin, too! Make these cheery little pumpkin witches with inexpensive craft felt, ribbon, and mini pumpkins. Use black felt (or paper) to cut out jack-o'-lantern faces to create witches' hats and affix them to the pumpkin using hot glue.
---
There's no doubt that Dumbo the big-eared elephant is a Disney classic–so why not transform him into a pumpkin? For this craft, you'll need craft foam, spray paint, felt, ribbon, a foam circle, and hot glue.
---
Incredible is definitely the word to describe these pumpkins inspired by The Incredibles 2. After painting Edna and Jack-Jack's faces onto either real or faux pumpkins, adorn them with store-bought wigs, a pair of glasses, and a mask to complete the look.
---
If you're a fan of Archie and the rest of the Riverdale crew, show off your show spirit with this simple Riverdale pumpkin that mimics a varsity letter. Paint a craft pumpkin bright yellow, and cut out an "R" from craft felt. If you think your kids will love this craft.
---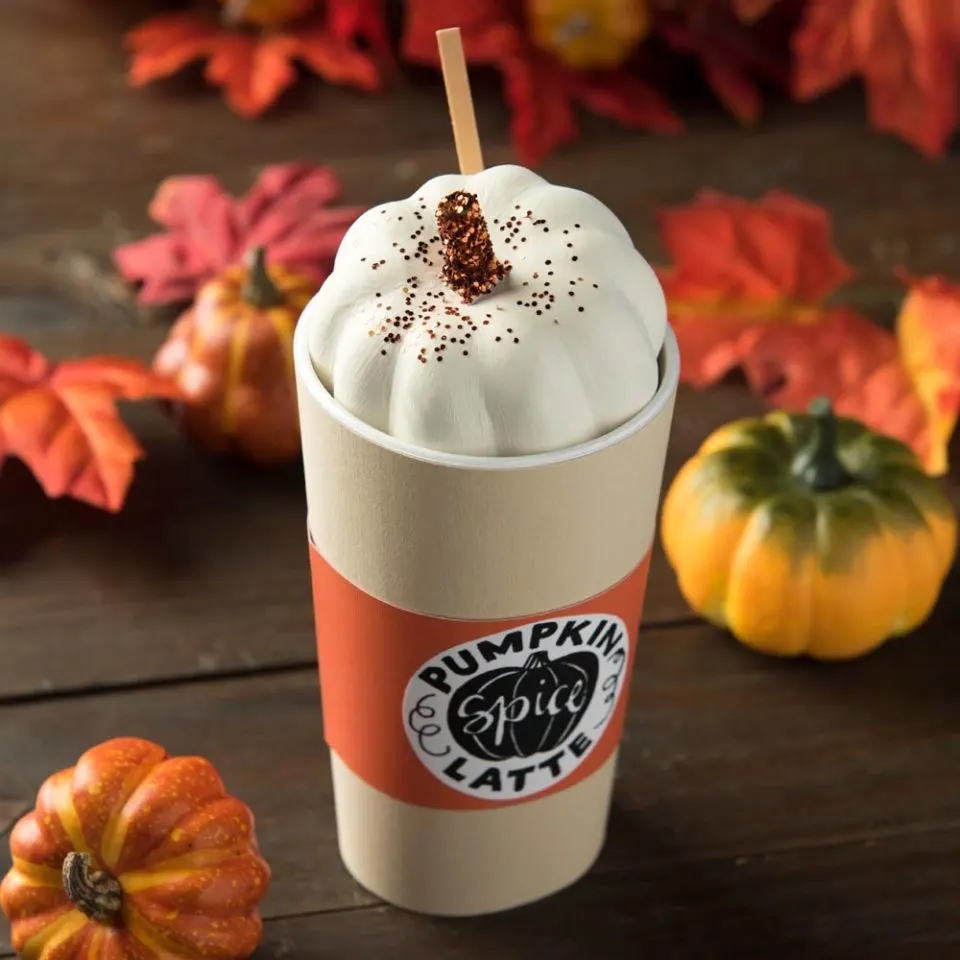 26-Pumpkin Spice Latte Gift
Give that coffee lover what they love most, a 'pumpkin' spice latte sprinkled with color and creativity. Easily transform a small gourd into a faux popular coffee drink that is sure to make you smile.
---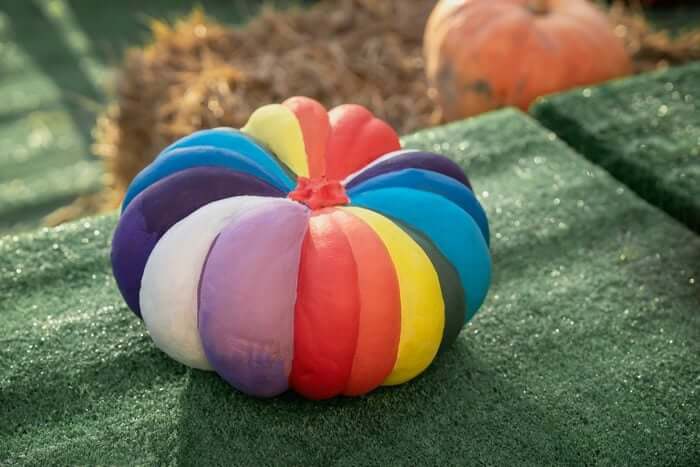 27-Rainbow pumpkin
As simple as this design is, it really is beautiful. You can never go wrong with a well-executed rainbow.
---
Everything gets spookier when the lights go down—and the same goes for pumpkins, especially when they're decorated using glow-in-the-dark paint. Spray paint either a real or faux pumpkin white before using neon glow-in-the-dark fabric paint to draw on spooky skeleton designs. Shine a black light on your dried pumpkins once the sun goes down to create the full effect.
---
29-Spa day pumpkins
Even pumpkins desire some "me time." Help them get there with this creative no-carve pumpkin painting idea. Use pale green paint to draw a face mask on your pumpkin. Top it off with a wrapped towel and add some cucumbers for an extra relaxing twist.
---
You're certainly going to want to take these pumpkins on a Trolls World Tour! After spray painting your pumpkin pink or blue and allowing time to dry, hot glue pink or blue faux fur to the top of the pumpkin in a straight line to form the troll's hair. To make the troll's adorable smiling face, use craft foam, googly eyes, and a black marker.
---
This is one pumpkin that loves warm hugs. Paint two either real or faux pumpkins white. Once dry, hot glue craft foam, pom-poms, googly eyes, and brown pipe-cleaners to form Olaf's eyes, nose, mouth, arms, and hair. Finish it off by gluing the two pumpkins together to complete the pumpkin snowman.
---
Old MacDonald had a farm…and this farm was on a pumpkin. After spray painting a real or faux pumpkin green and allowing time to dry, hot glue on a toy fence around the perimeter of the pumpkin and toy animals to the top.
---
33-Gnome House Pumpkin
Kids will enjoy making this charming gourd cottage and spotting the anticipated gnomes.
To create: Cut the bottom of a medium blue Hubbard squash, scoop out seeds. Cut door and circular window. Etch door lines with linoleum tool, insert toothpicks for window details. Lightly draw flower design, etch with linoleum tool. Attach door with toothpicks. Make lights by gluing mini glass balls to acorn caps; attach with glue. Cut bottom of a small brown or green acorn squash, scoop seeds. Cut circular window, insert toothpicks. Etch flower design with linoleum tool. Stack pumpkins, add wood round steps and ginkgo leaves.
---
Yes, you read that right: These adorable pumpkins are made from toilet paper. Use any type of spare fabric—like dish towels, scarves, or T-shirts—to wrap around the rolls and give them a more pumpkin-shaped look. Tuck the excess fabric inside the center tub and pop in a twig.
---
Pumpkins can gobble with this fun turkey pumpkin decorating idea. Paint teardrop-shaped wood cutouts in fun colors for the tail, and paint on a cute little face on one cutout for the head. Gently tap the pointed ends into your fresh pumpkin and your turkey is done!
---
36-Abstract-art pumpkin
Unleash your inner artist with this simple drip-art pumpkin. After painting a pumpkin white and allowing time to dry, drip one color at a time and let it dry slightly before you add the next to avoid muddling the colors.
---
37-Fall" Jar Pumpkin
If you can't get enough of mason jars, you'll love this idea. Remove the stem of a medium pumpkin and set it aside. Use wired twine to spell out "fall" and hot-glue to the pumpkin. Paint the pumpkin and twine with light blue craft paint. Let dry completely. Place a 9-to-10-inch tart pan upside down on the pumpkin. Hot-glue the stem to the center of the pan.
---
38-Pumpkin Candy Dispenser
Here's a prop that looks like it was taken from the vintage candy store of our dreams! Who knew pumpkins could be used for so many fun, fall-centric purposes?
Make the Dispenser: Trace the bottom of a glass bowl or storage container onto the front of a medium pumpkin. Cut out around tracing then scoop out pulp and seeds. Insert bowl, making the hole slightly bigger if necessary. Attach a piece of thick rope around the edge of the bowl with hot-glue. Fill bowl with candy.
---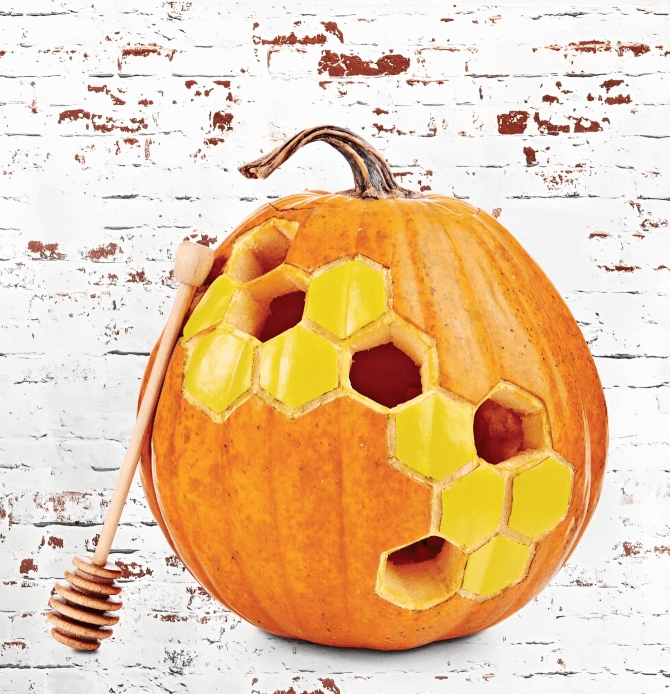 39-Pumpkin Honeycomb 
You've already seen so many of the same pumpkin carvings year after year. Here's one that'll really throw you—and your guests—for a loop!
Make the Honeycomb Pumpkin: Cut a hole in the bottom of a medium orange pumpkin; scoop out pulp and seeds. Draw a honeycomb pattern on the front; etch out. Cut out a few of the combs and paint the remaining combs with yellow craft paint. Lean a honey dipper against its side.
---
40-Pumpkin Jam Jars
You love pumpkin season. You love Mason jars. Think about it: This craft's an obvious choice!
Make the Jars: Print pumpkin and apple templates on removable tattoo paper. Attach to small white pumpkins per package directions. Remove the stems from pumpkins. Cut a piece of cardboard to fit into the opening of a wide-mouth Mason jar ring. Attach a round of gingham fabric, centering it, to the cardboard. Glue pumpkin stems in centers. Attach lids to tops of pumpkins.
---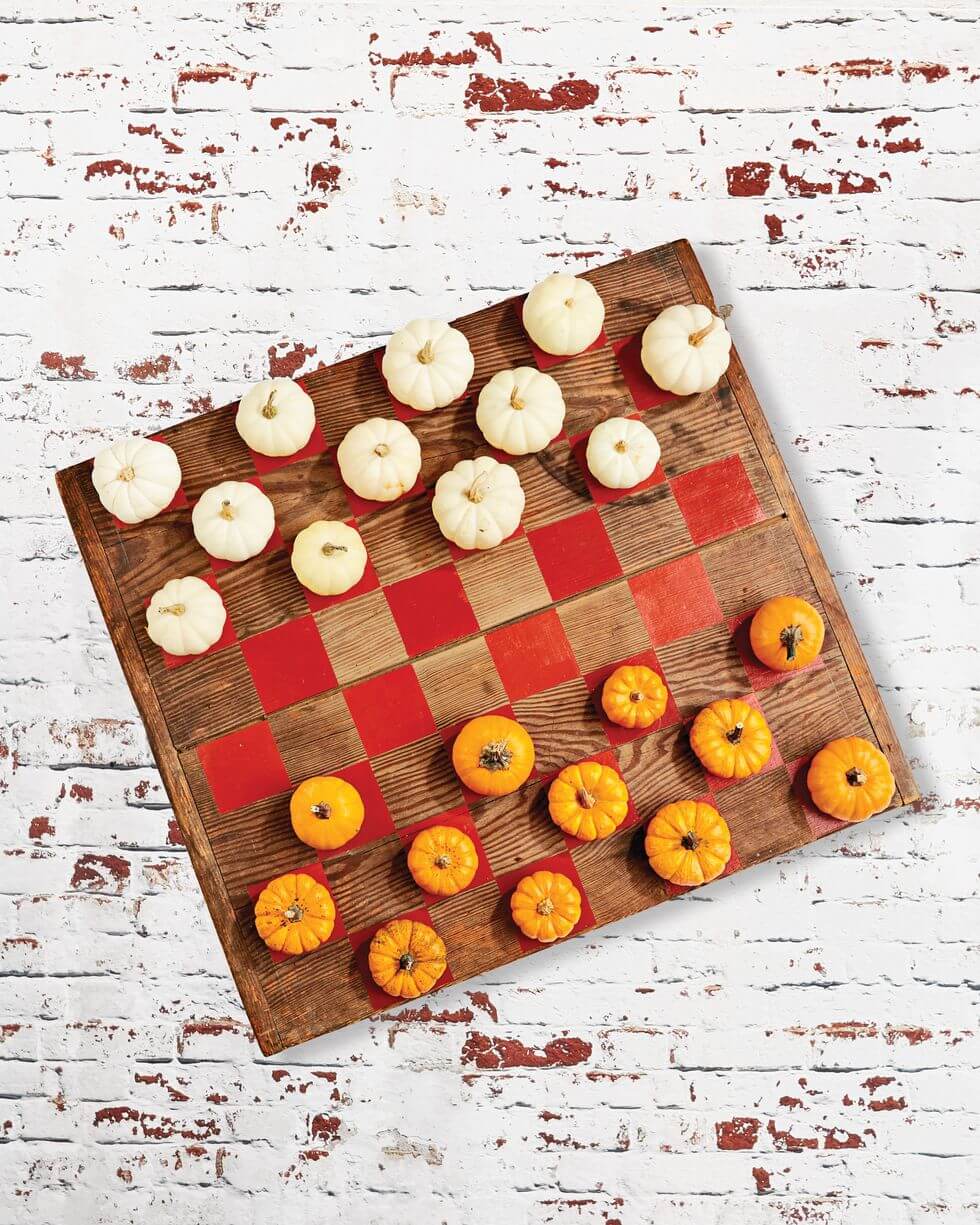 41-Pumpkin Checkers
Here's a way to play with your favorite season! We love using this sweet craft for your next family game night.
Make the Game: Paint 32 squares on a large (roughly 30-inch) wood board with burnt orange craft paint. Use mini white and orange pumpkins as game pieces.
---
42-Pumpkin Barrel
How adorable is this? We can't think of a better way to show off your apple picking finds.
Make the barrel: Cut off the top quarter of an extra-large pumpkin; scoop out pulp and seeds. Hot-glue three strips of ribbon around outside of pumpkin. Stuff pumpkin three-fourths full with Poly-Fil. Insert burlap fabric into the opening and fold over outside of pumpkin; hold in place with upholstery tacks. Fill with apples or desired items.
---
43-Crazy Characters
Utilize your favorite stickers and decals to transform your plain pumpkin into the silly character of your choice.
---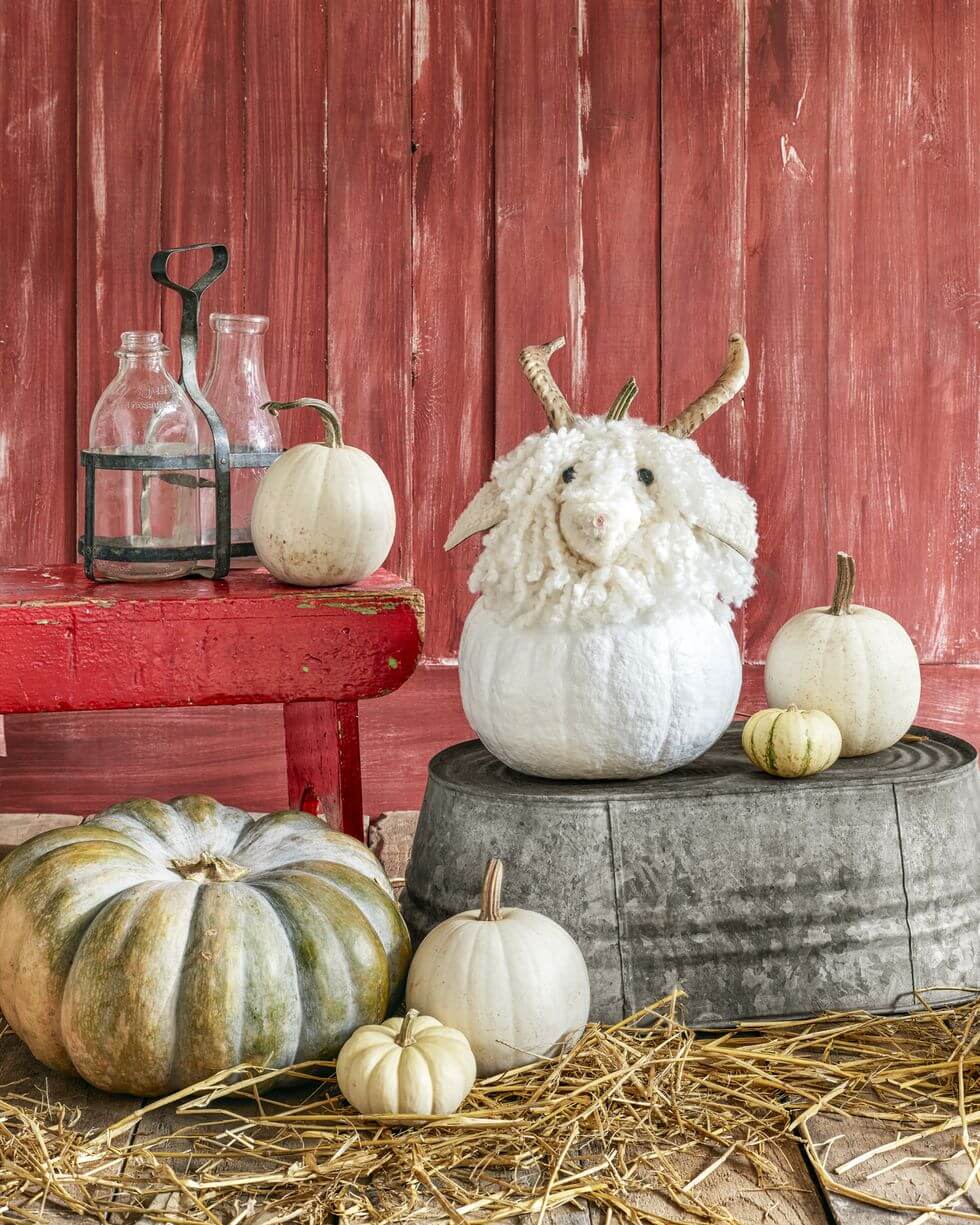 44-Sheep Pumpkin
Begin with two small white pumpkins or paint regular pumpkins matte white. Remove one stem with a knife and stack both, securing with skewers. Cut faux sheep fur into a snout, glue ends with fabric glue. Attach pink embroidery floss for the nose. Make triangular ears from the same material and glue nose and ears to top pumpkin. Create tassels by wrapping white yarn and tying off. Attach tassels to the top pumpkin with hot-glue. Add horns and black button eyes.
---
45-Cabin In the Woods 
Remove the stem from a large pumpkin. Attach two wood pieces in an inverted "V" shape using l-brackets. Add a triangular piece of wood at the roof's top corners; cover with wood-patterned paper. Fix the stem to the wood roof, creating a chimney with hot-glue. Use pinecone scales as shingles on the roof, securing with hot-glue. Insert thin wire into the chimney, wrapping batting for smoke. Place the roof on the pumpkin. Craft a 4-pane window using glued twigs. Create curtains by pleating small fabric pieces, attaching at the back. For the door, use l-brackets to attach perpendicular wood pieces. Glue twigs for the frame. Attach leaves for a wreath. Design a "walkway" using small rocks.
---
46-Butternut Squash Moose
Squash the pumpkin competition with this clever no-carve fella. Cut out a piece of white felt, and hand-stitch a border using brown embroidery floss. Attach two small light brown felt circles to the white felt piece with hot-glue to create nostrils. Hot-glue white felt piece to lower portion of butternut squash. For each eye, sew a dark button to a slightly larger white felt circle (use white thread to mimic the pupil of the eye) and glue to squash as shown. Download our moose ear patterns. Pin patterns to brown felt, and cut out two of each template. Use brown embroidery floss to sew matching pieces together, leaving a small opening. Insert cotton stuffing and hand-stitch closed. Hot-glue ears to top of the squash.
---
47-Cow Pumpkin
Old MacDonald's got nothing on you! Download our cow ear and nose templates and trace on brown leather, scaling up or down as necessary, and cut out. Download our forehead pattern and trace on a corn husk, again, scaling up or down as necessary; cut out. Hot-glue ears, nose, and forehead to the bottom of a pumpkin. Be sure to place the nose just below center. Paint two pumpkin seeds with black craft paint. Hot-glue seeds for nostrils, black buttons for eyes, and dried bunny tail grass tops for horns.
---
48-Wise Owl Stacked 
Hoo-hoo wouldn't love this wide-eyed winged pal? Hot-glue two white (lumina) pumpkins together to create the head and body. For each eye, cut out a small brown felt circle, then glue a slightly smaller yellow button on top, followed by an even smaller brown button. Hot-glue eyes to top pumpkin. Create loops from a thin twig and tie in place with wax twine to create eyeglasses shape. Hot-glue fir sprigs to glasses to create eyebrows. Spray-paint two oak leaves and a baby pinecone a similar color to pumpkin. Hot-glue leaves to pumpkin to create wings and pinecone to create a nose. Make a bow tie from ¼-inch plaid ribbon. Hot-glue to pumpkin.
---
49-Mama Pig and Piglet 
How adorable is this little family? Begin by downloading and tracing our ears and nose templates on pink felt, then cut them out. Cut out inner ear pieces (they should be slightly smaller than the felt) from patterned pink craft fabric. Use craft glue to attach the paper to the felt. Hot-glue the ears and noses to the pumpkins. Paint two pumpkin seeds with black craft paint. Hot-glue seeds for eyes for mama and small black buttons for mama's nostrils and piglets' eyes and nostrils. Twist pink pipe cleaners in coils; hot-glue one to the back of each pumpkin to create tails.
---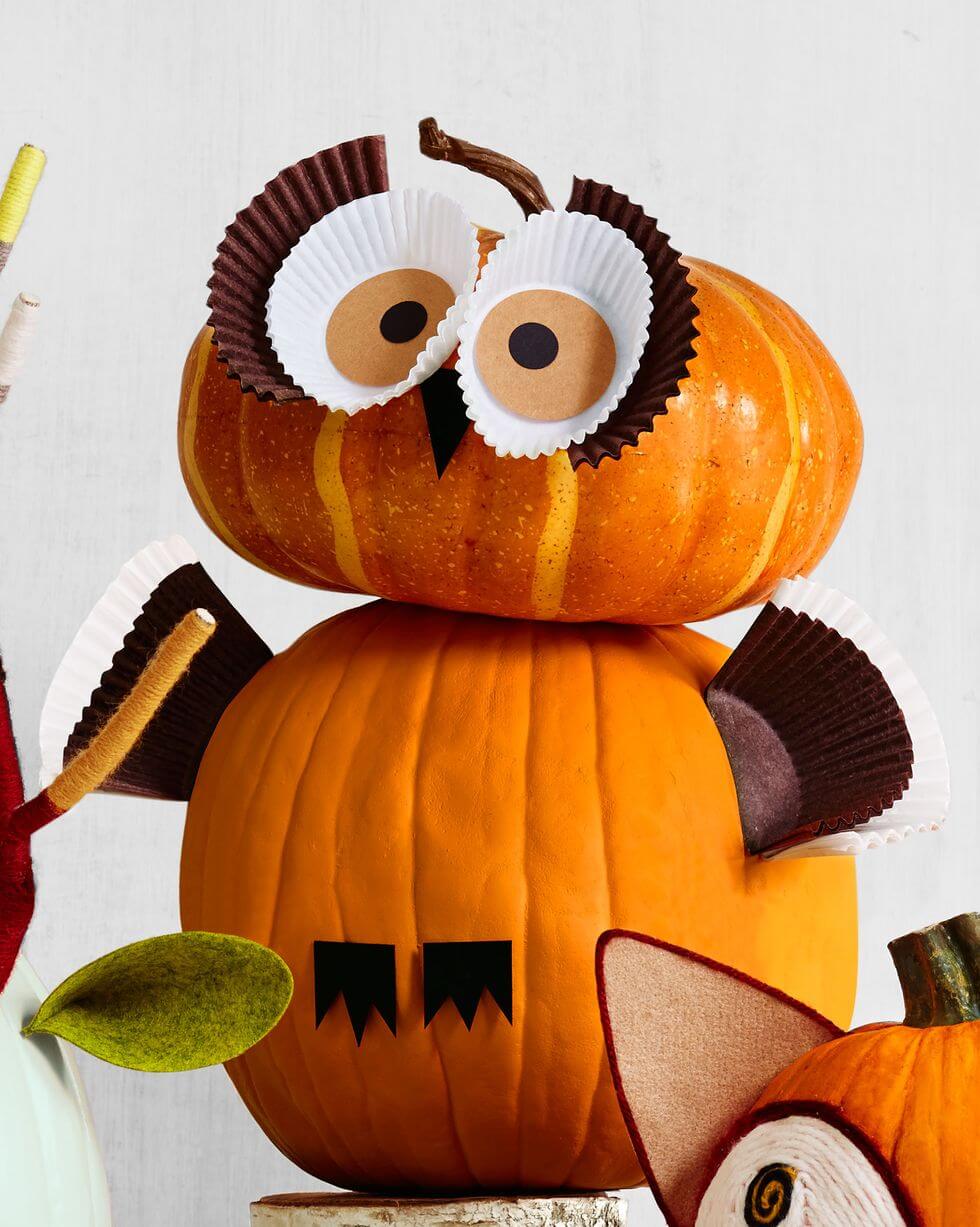 50-Owl Pumpkin
Trick-or-treaters will get a real hoot out of this wide-eyed bird. Use hot-glue to secure head and body pumpkins together.
Cut out two circles (roughly the size of a cupcake liner bottom) from light brown paper and insert them into two white liners. For the pupils, add two smaller round black dots. To create lashes, cut a brown cupcake liner in half and glue each half to the side of each white liner.
Hot-glue completed eyes to the pumpkin. For wings, cut a brown and a white liner in half and paste to sides of bottom pumpkin as shown. Cut triangle beak and feet from black card stock. Glue to body.
---
51-Elvis Pumpkin
Your guests can greet the King at your Halloween party. All you have to do is glue on some hair and sunglasses. If you want to go a step further, create a collar out of glitter paper.
---
No matter how you choose to decorate your pumpkins, have fun and let your creativity shine!
Here are some additional tips for decorating pumpkins:
Start by cleaning the pumpkin and removing any blemishes.
If you are carving the pumpkin, use a sharp knife and be careful not to cut yourself.
If you are using paint, make sure to use acrylic paint that is specifically designed for pumpkins.
If you are using a stencil, be sure to apply the paint evenly so that the design does not bleed.
If you are using string art, be sure to use a strong thread or yarn that will not break easily.
If you are using decoupage, be sure to use a decoupage medium that is specifically designed for pumpkins.
If you are using pom-poms, be sure to use a hot glue gun to attach them to the pumpkin.
If you are using fabric, be sure to use a fabric glue that is specifically designed for pumpkins.
If you are using stickers, be sure to apply them to a clean and dry surface.
I hope these ideas help you create beautiful and festive pumpkins for your Halloween celebration!
Tags :
Fall Tips & Ideas