Rustic Fall Farmhouse Decor Inspiration: Embrace the Cozy Charm of Autumn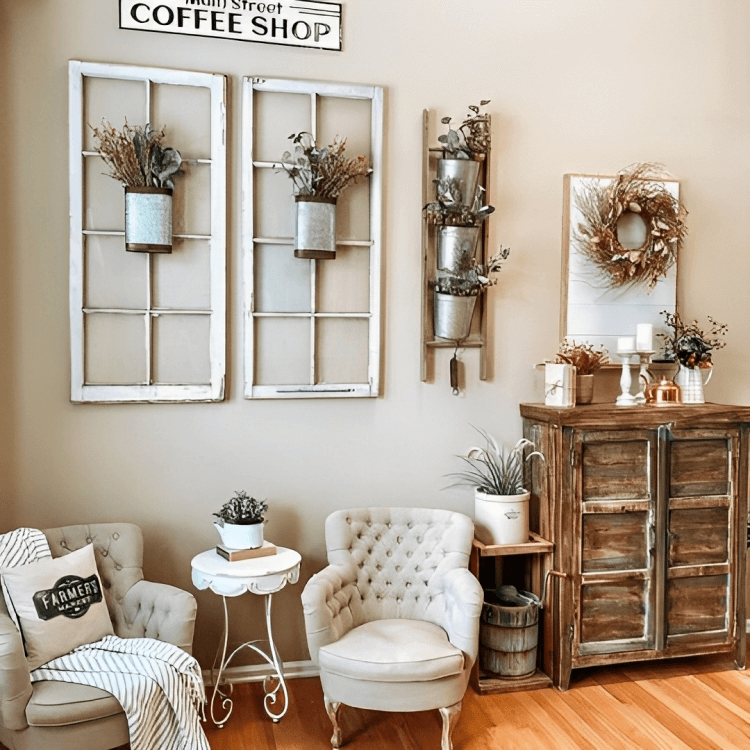 Rustic Fall Farmhouse Decor ; As the leaves turn to shades of amber and the air grows crisp, there's no better time to infuse your home with the warm and inviting ambiance of fall. Rustic farmhouse decor offers the perfect canvas to bring the beauty of autumn indoors. With its timeless appeal, rustic fall farmhouse decor blends seamlessly with the season's natural elements and evokes a sense of nostalgia. In this article, we'll explore the key elements and ideas that can help you transform your living spaces into cozy havens that celebrate the rustic charm of autumn.
---
1.Warm and Earthy Color Palette
The first step in creating a rustic fall farmhouse decor scheme is choosing a warm and earthy color palette. Think of rich, deep hues like burnt orange, rustic red, mustard yellow, and various shades of brown. These colors mimic the changing leaves and create a cozy atmosphere in your home. Combine these earthy tones with neutral shades like beige, cream, and white to balance the palette.
---
2.Incorporate Natural Elements
Autumn is all about nature's bounty, so it's essential to incorporate natural elements into your decor. Start with a rustic wooden table or reclaimed wood furniture pieces. Add warmth and texture with woven baskets, burlap table runners, and dried floral arrangements. Incorporating these natural elements helps create an authentic farmhouse feel that's perfect for the fall season.
---
3.Cozy Textiles
To enhance the cozy and inviting atmosphere of your fall farmhouse decor, layer your spaces with soft and textured textiles. Swap out lightweight summer throws and pillows for chunky knit blankets, plaid flannel throws, and woolen cushions in warm autumnal colors. These textiles not only add warmth but also contribute to the rustic charm of your decor.
---
4.Seasonal Wreaths and Garlands
Decorating your home's entryway and mantelpiece with seasonal wreaths and garlands is a quintessential part of fall decor. Opt for wreaths made from dried branches, pinecones, and faux autumn leaves. Hang them on your front door or above your fireplace for an instant touch of rustic elegance. You can also drape garlands of faux leaves and acorns along your staircase or mantel to create a cohesive fall look throughout your home.
---
5.Gourd and Pumpkin Displays
Fall wouldn't be complete without gourds and pumpkins. These iconic symbols of the season can be used in various ways to enhance your farmhouse decor. Create a striking centerpiece by arranging a variety of pumpkins and gourds on your dining table or mantle. You can also carve or paint pumpkins for a more personalized touch. Consider using different sizes and colors to add visual interest to your displays.
---
6.Candlelight and Warm Lighting
The right lighting can transform the ambiance of your space. In a rustic fall farmhouse decor, candlelight and warm lighting play a crucial role. Place candles in lanterns or on rustic candle holders to create a warm and inviting glow. Consider adding vintage-style pendant lights with warm-toned bulbs to enhance the overall cozy feel.
---
7.Seasonal Wall Art and Signs
Add a touch of rustic charm to your walls with seasonal wall art and signs. Look for framed prints or paintings featuring autumn landscapes, farm animals, or inspirational fall quotes. Wooden signs with phrases like "Harvest Blessings" or "Give Thanks" can also be a charming addition to your decor. These pieces can be easily swapped out as the seasons change.
---
8.Functional Farmhouse Kitchen
If you have a farmhouse-style kitchen, this is the perfect opportunity to embrace the rustic fall decor theme. Display decorative gourds and pumpkins on open shelves, replace your dish towels with fall-themed ones, and set your dining table with vintage-inspired tableware in autumnal colors.
---
9.DIY Projects
Get creative with DIY projects to add a personal touch to your fall decor. Craft your own farmhouse-style signs, paint and distress furniture, or create unique wreaths and garlands using natural materials you gather from your surroundings. DIY projects not only save money but also allow you to tailor your decor to your specific taste.
---
10.Seasonal Scents
Enhance the cozy atmosphere of your fall farmhouse decor with seasonal scents. Use scented candles, diffusers, or potpourri in fragrances like apple pie, cinnamon, pumpkin spice, and vanilla. These scents will not only make your home feel inviting but also evoke memories of fall traditions.
---
Conclusion
Rustic fall farmhouse decor allows you to embrace the beauty and charm of autumn while creating a warm and welcoming environment in your home. By incorporating warm color palettes, natural elements, cozy textiles, and seasonal touches, you can transform your living spaces into cozy havens that celebrate the essence of fall. Whether you prefer a traditional farmhouse look or a more modern interpretation, these ideas can help you create a rustic fall farmhouse decor that's both timeless and inviting. So, embrace the changing season, and let your home exude the cozy charm of autumn with these inspiring decor ideas.
---
"Discover the exquisite rustic farmhouse autumn decor designed by Lindsey of ourcoloradohome, which beautifully adorns her favorite living space. She has skillfully styled it to create an inviting and cozy ambiance, perfect for entertaining guests. Lindsey consistently incorporates seasonal decorations into her home to add an extra layer of warmth and charm. Take a tour of her home and draw inspiration from the inviting atmosphere she has crafted."
---
Certainly, here are some frequently asked questions related to rustic fall farmhouse decor and their answers:
Q1: What are some affordable ways to incorporate rustic fall decor into my home?
A1: You don't need to break the bank to achieve a rustic fall farmhouse decor. Start by using what you already have, such as repurposing old furniture with a distressed finish. You can also gather natural elements like pinecones, acorns, and branches from your backyard, and craft your own decor. Thrift stores and flea markets are great places to find affordable, vintage-style pieces that fit the theme.
---
Q2: How can I make my home smell like autumn using natural scents?
A2: Creating a cozy autumn scent in your home is easy. Simmer a pot of water on the stove and add ingredients like cinnamon sticks, cloves, apple peels, and orange slices. Let it simmer on low heat, and your home will be filled with the delightful aroma of fall. Alternatively, use essential oil diffusers or scented candles with fragrances like pumpkin spice, apple cider, or vanilla.
---
Q3: Can I mix modern elements with rustic farmhouse decor for a more contemporary look?
A3: Absolutely! Mixing modern and rustic elements can create a stylish and unique decor style. Consider incorporating modern furniture pieces with clean lines and minimalist designs into your rustic fall farmhouse decor. This contrast can add visual interest and balance to your overall design.
---
Q4: How can I maintain a rustic fall decor theme throughout my home?
A4: To maintain a cohesive rustic fall decor theme throughout your home, focus on consistency in color palettes, materials, and style. Use the same warm and earthy color scheme, incorporate natural materials like wood and burlap, and repeat key decor elements like pumpkins, gourds, and fall foliage in various rooms. This consistency will tie your decor together.
---
Q5: Are there any safety considerations when using candles for fall decor?
A5: Safety is paramount when using candles. Ensure candles are placed in sturdy holders on a flat, non-flammable surface. Keep them away from flammable materials, curtains, and drafts. Never leave candles unattended, and extinguish them before leaving the room or going to bed. Alternatively, consider using battery-operated LED candles, which provide a safe and flameless option for creating a cozy atmosphere.
---
Q6: How can I transition my fall decor into the holiday season?
A6: Transitioning from fall to the holiday season can be seamless. Begin by removing or swapping out specific fall elements like pumpkins and leaves with winter-themed decor like pinecones, evergreen branches, and holiday ornaments. Maintain the rustic farmhouse style by incorporating these items into wreaths, centerpieces, and mantel displays that align with the upcoming holiday festivities.
---
Tags :
Fall Home Tour