Simple Natural Fall Home Decor Ideas: Bringing the Beauty of Autumn Indoors
Simple Natural Fall Home Decor Ideas: As the leaves change their hues and the air turns crisp, there's no better time to infuse your home with the warm and cozy spirit of fall. While the vibrant colors of autumn foliage are a sight to behold outdoors, you can bring that same natural beauty indoors through simple and charming fall home decor ideas. In this article, we will explore various ways to embrace the season and create a cozy, inviting atmosphere in your home with natural fall decor.
With these simple and natural fall home decor ideas, you can transform your living space into a cozy retreat that captures the essence of the season. Whether you're welcoming guests for a fall feast or simply enjoying the warmth of your home, these decor ideas will help you embrace the beauty of autumn indoors. So, grab your pumpkins, leaves, and candles, and let the magic of fall fill your home with comfort and charm.
---
Autumn-inspired Wreaths
Let's start with the front door, where a fall-inspired wreath can set the tone for your entire home. Consider using materials like dried leaves, pinecones, acorns, and miniature pumpkins to create a stunning wreath that welcomes guests with a touch of fall magic. You can also add some cinnamon sticks or dried orange slices for a delightful scent.
---
Rustic Centerpieces
Transform your dining table into a rustic autumn sanctuary by crafting a charming centerpiece. A wooden tray or a burlap table runner can serve as the base. Arrange an assortment of gourds, pumpkins, and candles in various sizes for a rustic and inviting look. You can also include autumn leaves or fresh flowers for a pop of color.
---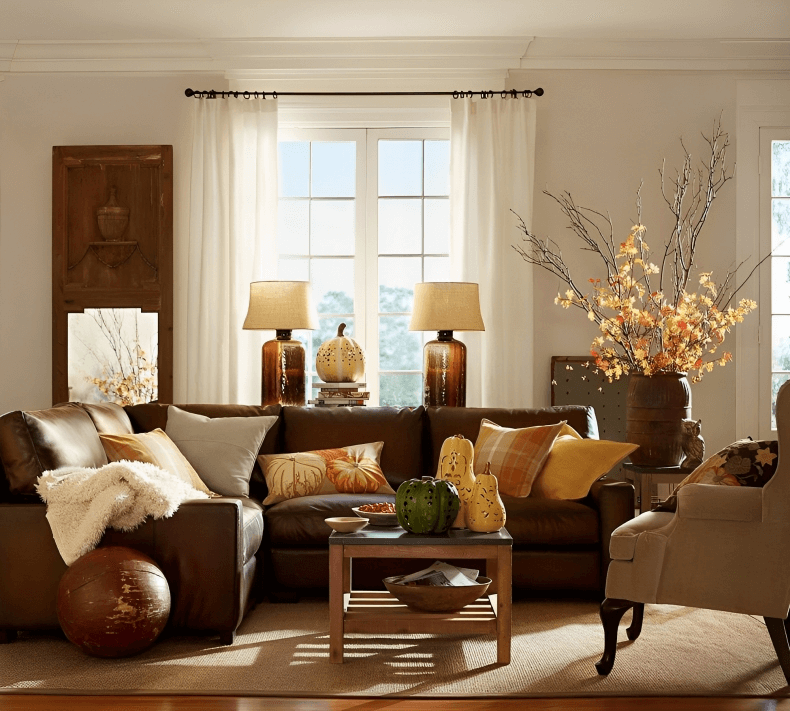 Natural Textures
Incorporating natural textures into your fall decor is an excellent way to create a cozy atmosphere. Swap out your lightweight summer linens for cozy, textured blankets and pillows in earthy tones. Consider adding a jute rug or a sisal runner to embrace the warm, rustic feel of the season.
---
Seasonal Candles
Candles are a quintessential part of fall home decor. Opt for scented candles that evoke the essence of autumn, such as apple cinnamon, pumpkin spice, or cedarwood. Place them strategically throughout your home for a warm and comforting ambiance. You can also place candles inside hollowed-out gourds for a unique touch.
---
Harvest-themed Table Settings
Set a charming and rustic fall table by using harvest-themed dinnerware, such as plates adorned with autumn leaves or pumpkin-shaped bowls. Layer your table with linen napkins in fall hues, and consider adding a personalized touch with name cards featuring dried leaves or mini pumpkins as placeholders.
---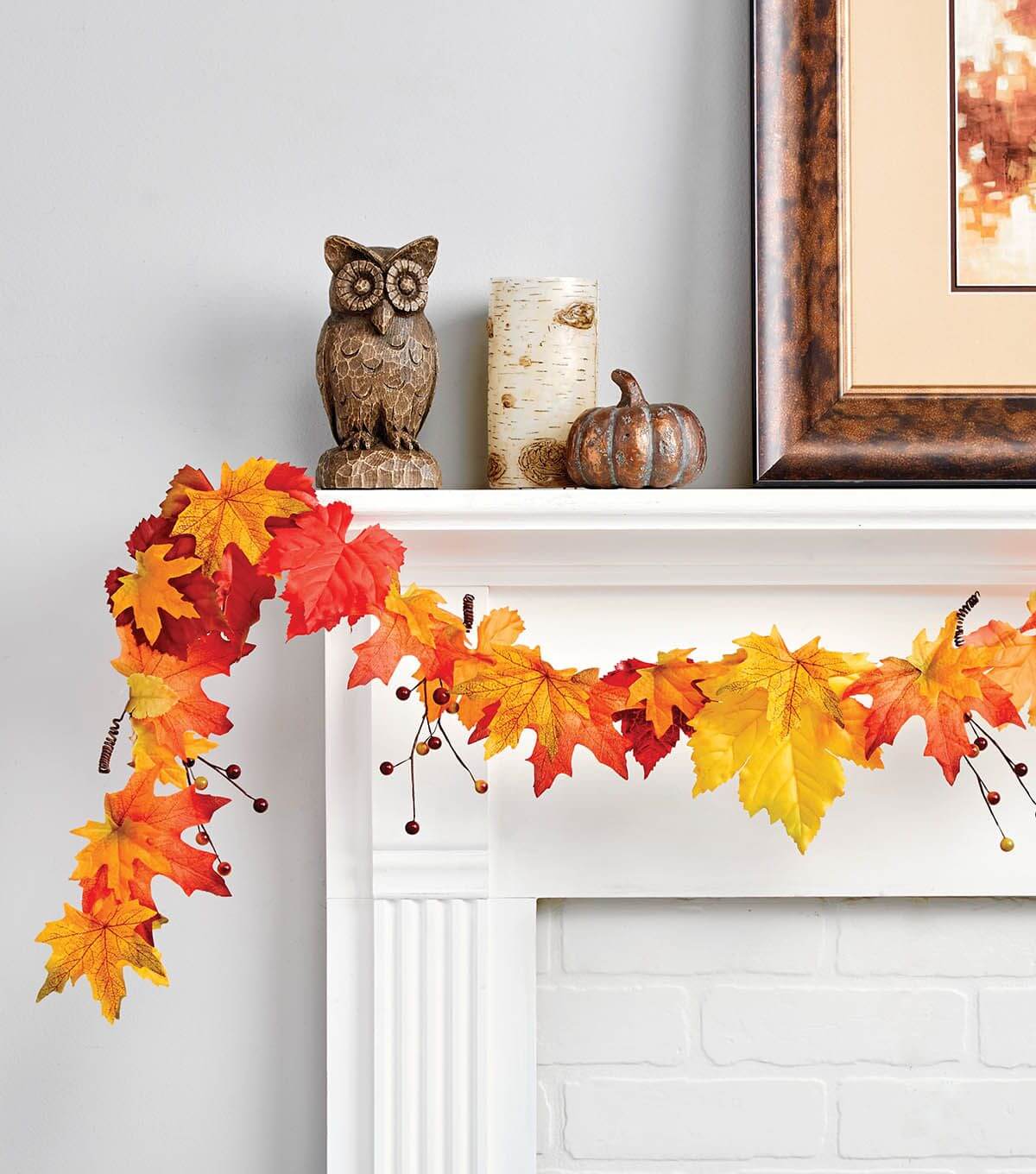 DIY Leaf Garland
Get creative with a DIY leaf garland to adorn your mantel, staircase, or window frames. Collect fallen leaves from your backyard and press them between pages of a heavy book to preserve their vibrant colors. Then, string them together with twine to create a beautiful and cost-effective fall decoration.
---
Cozy Throw Blankets
As the temperatures drop, there's nothing quite like curling up with a good book and a warm throw blanket. Choose cozy blankets in autumn-inspired colors, such as deep oranges, rich reds, and warm browns, to drape over your couches and chairs. Adding textured, knitted or faux fur blankets can elevate the cozy factor.
---
Pumpkin Displays
No fall decor is complete without pumpkins. Decorate your home with an assortment of pumpkins in various shapes, sizes, and colors. From traditional orange pumpkins to heirloom varieties, you can create stunning displays on your porch, mantel, or even as a centerpiece.
---
Fall Scented Potpourri
Enhance the sensory experience of your fall decor by simmering a pot of homemade potpourri on the stove. Combine cinnamon sticks, cloves, dried orange peel, and a dash of vanilla extract in a pot of simmering water. The comforting aroma will fill your home with the scents of autumn.
---
Seasonal Floral Arrangements
Fall offers an abundance of stunning flowers and foliage to create beautiful floral arrangements. Consider incorporating flowers like sunflowers, chrysanthemums, and dahlias in rich, autumnal shades. Pair them with branches of colorful leaves, berries, or wheat stalks for a rustic and seasonal bouquet. Place these arrangements in vases or mason jars to add a touch of natural elegance to your home.
---
Autumn-inspired Wall Art
Change up your wall decor to reflect the season by introducing autumn-inspired artwork. You can find or create paintings, prints, or framed botanical specimens that showcase the beauty of fall leaves or woodland scenes. These pieces can be rotated seasonally to keep your home decor fresh and inviting.
---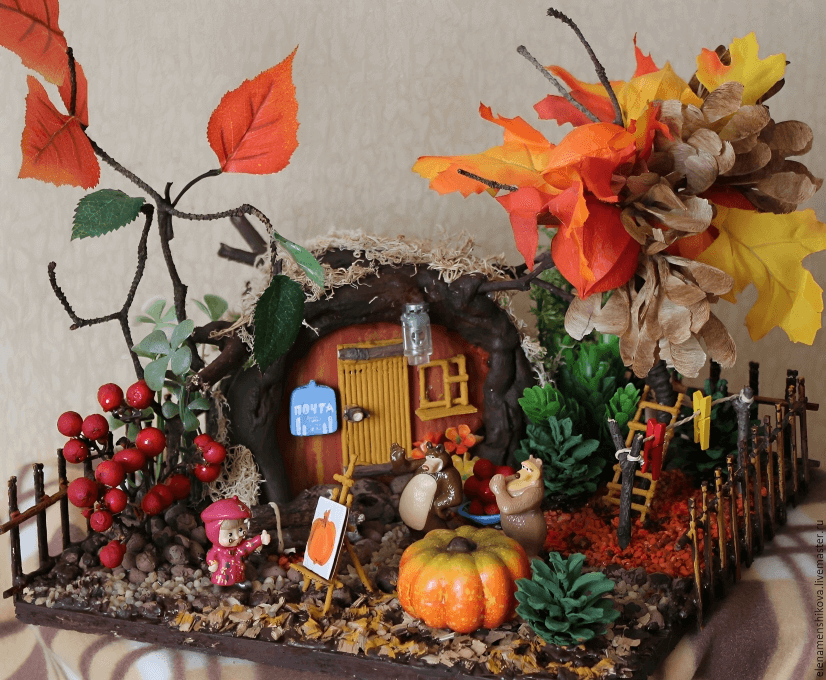 Woodland Creatures and Decor
Introduce some whimsical woodland creatures into your fall decor. Squirrel figurines, owl-themed decor, or even DIY felted forest animals can add a touch of charm to your home. These critters can be placed on shelves, mantels, or incorporated into your table settings for a delightful, nature-inspired theme.
---
Fall-themed Front Porch
Extend your fall decor to your front porch or entryway to create a warm welcome for guests and passersby. Adorn your porch with pumpkins, mums, and lanterns. Consider placing a cozy bench or chairs with plaid cushions for a charming outdoor seating area. A fall-themed doormat can be the perfect finishing touch.
---
DIY Scarecrow and Hay Bales
For a playful nod to the harvest season, craft your own scarecrow and arrange hay bales on your porch or in your garden. Dress the scarecrow in a plaid shirt, jeans, and a straw hat, and use it as a focal point in your outdoor decor. Surround it with bales of hay and pumpkins for a delightful autumnal scene.
---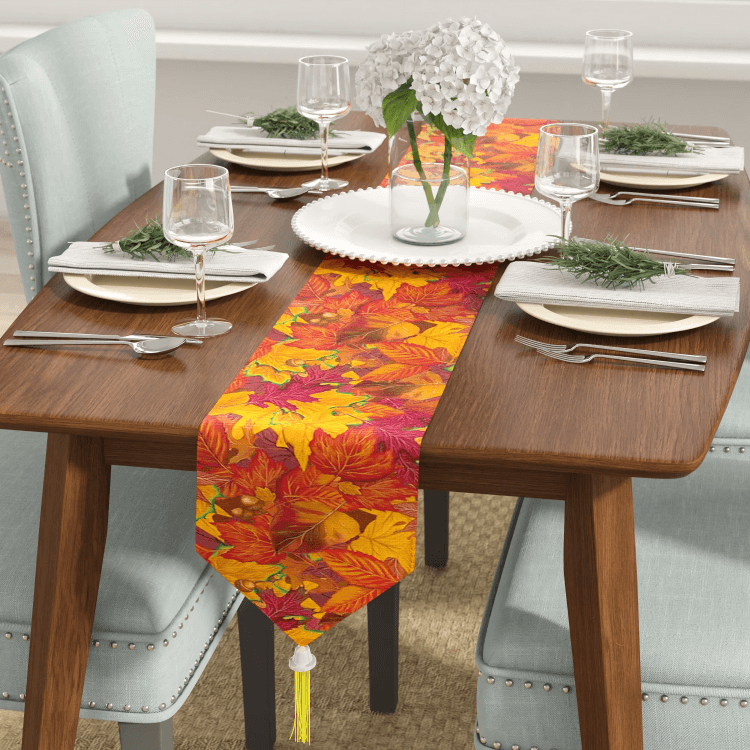 Seasonal Table Runners
Elevate your dining experience with a seasonal table runner that reflects the colors and themes of fall. Look for table runners featuring fall foliage, harvest patterns, or warm, earthy tones. A well-chosen table runner can tie together your entire dining area and make every meal feel like a special occasion.
---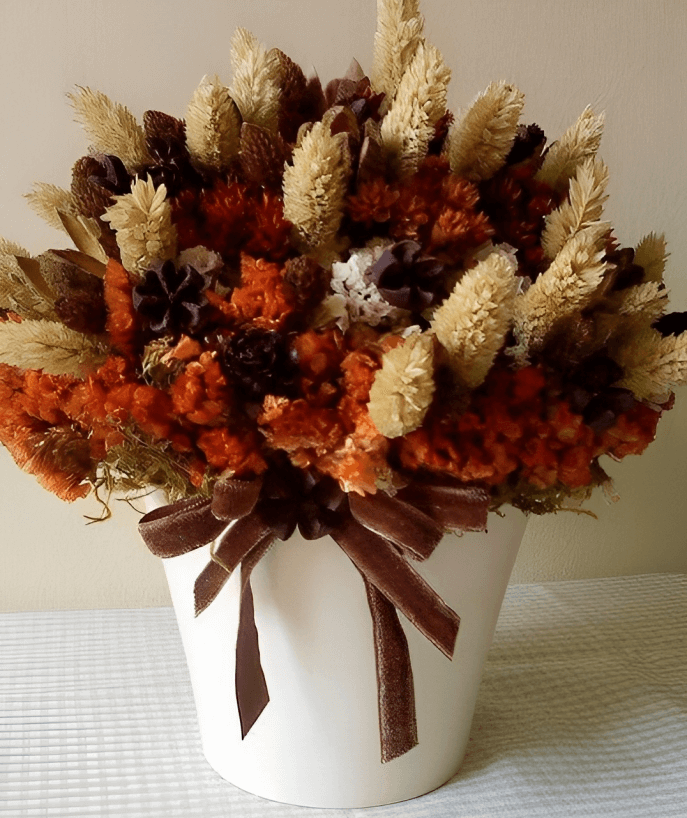 Dried Flower Arrangements
Dried flowers can add a timeless and rustic touch to your fall decor. Create dried flower arrangements using blooms like lavender, eucalyptus, or dried wheat. Place them in vintage-style vases or mason jars for a charming and long-lasting centerpiece or display.
---
Cornucopia Centerpiece
The cornucopia, or horn of plenty, is a traditional symbol of abundance and harvest. Fill a decorative cornucopia with an assortment of fruits, vegetables, and autumnal foliage for a stunning centerpiece. This classic fall symbol can be placed on your dining table or mantel to celebrate the season's bounty.
---
Conclusion
Decorating your home for fall doesn't need to be complicated or expensive. By incorporating these simple and natural fall home decor ideas, you can infuse your living space with the warmth, colors, and textures of autumn. Whether you prefer a rustic, farmhouse-inspired look or a more elegant and minimalist approach, there are endless ways to embrace the beauty of fall and make your home a cozy haven during this magical season. So, gather your materials, let your creativity flow, and enjoy the process of transforming your home into a fall-inspired retreat.
---
Certainly! Here are some frequently asked questions related to fall home decor, along with their answers:
Q1: How can I incorporate fall decor into a small living space?
Answer: In smaller spaces, it's essential to focus on subtle touches that don't overwhelm. Consider using smaller decorative items like mini pumpkins, scented candles, and compact table centerpieces. Opt for neutral or earthy color palettes to create a cozy atmosphere without making the space feel crowded.
---
Q2: What are some budget-friendly fall decor ideas?
Answer: Fall decor doesn't have to break the bank. You can use natural elements like leaves, pinecones, and branches, which are often free. Thrift stores and discount retailers are also great places to find affordable fall-themed decor items, such as candleholders, vases, and table runners.
---
Q3: Can I combine different fall decor themes and styles?
Answer: Absolutely! Fall decor is versatile, and you can blend various themes and styles to create a unique look that suits your taste. For example, you can mix rustic elements with elegant accents or incorporate both traditional and modern decor for a harmonious blend that reflects your personal style.
---
Q4: How do I preserve the freshness of pumpkins and gourds in my decor?
Answer: To prolong the freshness of pumpkins and gourds used in your decor, keep them out of direct sunlight and away from extreme temperatures. Spraying them with a clear sealer can help prevent mold and slow down the drying process. Be sure to check and replace any items that start to show signs of deterioration.
---
Q5: Are there any safety considerations when using candles in fall decor?
Answer: Safety is crucial when using candles in your fall decor. Always place candles on stable surfaces, away from flammable materials like curtains or paper decorations. Consider using flameless LED candles for a safer alternative, especially in homes with pets or small children.
---
Q6: How can I incorporate family traditions into my fall decor?
Answer: Fall is a great time to celebrate family traditions. You can display heirloom items like grandma's quilt or grandpa's old lantern as part of your decor. Additionally, involve family members in crafting homemade decorations like leaf garlands or hand-painted pumpkins to create meaningful and personal touches.
---
Q7: Can I transition my fall decor into Thanksgiving decor?
Answer: Absolutely! Many fall decor items, like pumpkins, leaves, and candles, can easily transition into Thanksgiving decor. Simply add elements like cornucopias, turkey figurines, and Thanksgiving-themed tableware to complement your existing fall decor for a seamless transition from one season to the next.
---
Q8: How do I store my fall decor items after the season is over?
Answer: Properly storing your fall decor will ensure it stays in good condition for years to come. Use clear, airtight containers to keep items free from dust and moisture. Label each container to make it easy to find specific items next year, and store them in a cool, dry place.
---
Remember that fall home decor is a creative and personal expression of your love for the season. Feel free to adapt and customize these ideas to suit your preferences and the unique characteristics of your home. Enjoy the process of decorating and the warmth and coziness it brings to your living space during this beautiful season.
---
Tags :
Fall Tips & Ideas