Vintage Farmhouse Fall Decor: Bringing Warmth & Charm to Your Home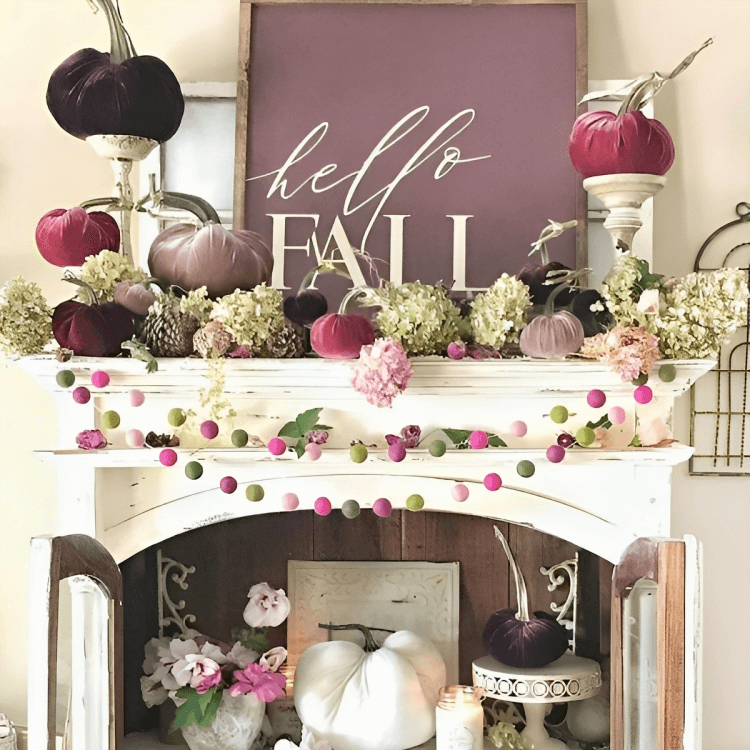 Vintage Farmhouse ; As the leaves begin to change and the air turns crisp, there's something undeniably magical about the arrival of fall. It's a season that beckons us to embrace warmth, comfort, and the beauty of nature's transformation. For many, fall is a time to celebrate the harvest, gather with loved ones, and decorate their homes in a way that captures the essence of the season. One popular and timeless approach to fall decor is the vintage farmhouse style, which seamlessly combines rustic charm with autumnal elegance. In this article, we will explore the world of vintage farmhouse fall decor, providing you with ideas and inspiration to create a cozy and inviting atmosphere in your own home.
---
1.The Vintage Farmhouse Aesthetic
Before delving into the specifics of fall decor, let's first understand what the vintage farmhouse aesthetic entails. Vintage farmhouse decor draws inspiration from simpler times, evoking a sense of nostalgia and authenticity. It typically features weathered wood, distressed finishes, and a mix of antique and repurposed items. Elements such as reclaimed barnwood, mason jars, and wrought-iron accents are hallmarks of this style. When combined with fall-themed decor, the result is a warm and inviting atmosphere that perfectly captures the spirit of autumn.
---
2.Color Palette
One of the key aspects of fall decor is the color palette. Vintage farmhouse fall decor often incorporates warm and earthy tones reminiscent of the season. Consider using colors like deep reds, mustard yellows, rich oranges, and muted browns for your decor elements. These hues will create a cozy and inviting atmosphere in your home.
---
3.Decorative Elements
a) Pumpkins and Gourds: No fall decor would be complete without pumpkins and gourds. Choose a variety of shapes, sizes, and colors to create a visually appealing display. Painted or distressed pumpkins can add a vintage farmhouse touch.
b) Wreaths: A vintage farmhouse wreath made from dried flowers, wheat stalks, or cotton bolls can adorn your front door or interior spaces, welcoming guests with rustic charm.
c) Textiles: Incorporate cozy textiles like plaid blankets, flannel pillow covers, and burlap table runners to add warmth and texture to your decor.
d) Mason Jars: Mason jars are a quintessential vintage farmhouse item. Fill them with candles, autumn flowers, or even colorful leaves to create charming centerpieces.
e) Wooden Crates and Barrels: Use wooden crates and barrels as both functional and decorative elements. They can serve as storage for blankets or as pedestals for other decor items.
f) Vintage Signage: Vintage farmhouse-style signs with fall-themed phrases or quotes can add a touch of rustic elegance to your decor.
---
4.Seasonal Florals
Incorporating seasonal florals is an excellent way to infuse life and color into your vintage fall decor. Consider arranging bouquets of sunflowers, mums, or dried eucalyptus in antique vases or pitchers. You can also create a beautiful autumnal centerpiece using a mix of fall flowers, wheat, and berries.
---
5.Lighting
The right lighting can enhance the ambiance of your vintage farmhouse fall decor. Opt for warm, soft lighting with antique-inspired fixtures. Candle sconces, lanterns, and Edison bulb string lights can all contribute to a cozy and inviting atmosphere, especially during those crisp fall evenings.
---
6.Table Settings
When it comes to fall gatherings and meals, your table settings play a crucial role. Use vintage-inspired dinnerware and flatware to set the stage. Layer your table with linen napkins, rustic chargers, and elegant glassware. Place settings adorned with mini pumpkins or personalized place cards add a thoughtful touch to your fall-themed table.
---
7.Outdoor Decor
Extend your vintage farmhouse fall decor to your outdoor spaces. Decorate your front porch with potted mums, hay bales, and a welcoming fall wreath. Arrange a cozy seating area with plaid blankets and throw pillows for enjoying the crisp autumn air.
---
Conclusion
Vintage fall decor is a timeless and charming way to celebrate the beauty of the season. With its rustic elegance and warm, inviting atmosphere, it's no wonder this style remains popular year after year. Whether you're decorating for a fall gathering or simply want to infuse your home with the spirit of autumn, the vintage farmhouse approach offers endless possibilities for creating a cozy and enchanting space. So, embrace the beauty of fall and get creative with your decor, bringing the warmth and charm of this season into your home.
We perpetually adore the charm of farmhouse decor. In our perspective, residing in the countryside is not a prerequisite for indulging in this exceptionally stylish design sense. Likewise, you don't necessarily need a barn or a backyard chicken coop. What truly matters is your appreciation for contemporary-rustic decor concepts! The captivating and marvelous farmhouse decor for the autumn season is showcased in this remarkable farmhouse tour featuring Angie Alston from angie'swreathsandmore Beautiful farmhouse decor remains at the forefront."
---
Certainly, here are some frequently asked questions related to vintage farmhouse fall decor, along with their answers:
Q1: How can I achieve a vintage farmhouse look for my fall decor?
A1: Achieving a vintage farmhouse look for your fall decor involves using elements like weathered wood, distressed finishes, antique or repurposed items, and a warm color palette. Incorporate rustic textures and cozy textiles while adding seasonal touches like pumpkins and fall florals.
---
Q2: Where can I find vintage farmhouse decor items for my fall decorating project?
A2: You can find vintage farmhouse decor items at a variety of places, including antique stores, flea markets, thrift shops, and online marketplaces like Etsy and eBay. You can also create DIY decor pieces by distressing and repurposing items you already have.
---
Q3: What are some ideas for DIY vintage farmhouse fall decor?
A3: Some DIY ideas for vintage farmhouse fall decor include painting and distressing pumpkins, creating a burlap or plaid table runner, making a wreath from dried flowers and foliage, and repurposing old crates or wooden pallets for decor.
---
Q4: Can I mix and match vintage farmhouse decor with other decorating styles for fall?
A4: Yes, you can mix vintage farmhouse decor with other styles to create a unique and eclectic look. Just be mindful of the color palette and overall aesthetic to ensure a cohesive blend. For example, you can combine vintage farmhouse elements with modern or bohemian decor for an interesting twist.
---
Q5: How can I make my vintage farmhouse fall decor eco-friendly?
A5: To make your vintage fall decor eco-friendly, consider using sustainable or upcycled materials, such as reclaimed wood or recycled glass. Additionally, focus on using natural and biodegradable items like dried flowers, organic cotton textiles, and real pumpkins and gourds.
---
Q6: What are some tips for decorating a vintage farmhouse fall table for a dinner party?
A6: When decorating a vintage farmhouse fall table, start with rustic dinnerware and flatware. Layer the table with linen napkins, textured chargers, and seasonal centerpieces. Add ambient lighting with candle sconces or lanterns, and consider personalizing place settings with mini pumpkins or name cards.
---
Q7: How can I transition my vintage farmhouse fall decor into the holiday season?
A7: To transition your decor into the holiday season, swap out some fall elements for winter-themed decor. For example, replace pumpkins with evergreen wreaths, add Christmas lights or ornaments, and incorporate red and green accents. This way, you can seamlessly transition from fall to winter without a complete overhaul.
---
Q8: Are there any safety considerations when using candles or string lights in vintage fall decor?
A8: Yes, safety is important. When using candles, make sure they are in secure holders and never leave them unattended. Consider using battery-operated LED candles for a safer option. When using string lights, ensure they are in good working condition and avoid overloading electrical outlets to prevent fire hazards.
---
These frequently asked questions and their answers should help you navigate your vintage fall decor project with confidence and creativity.
---
Tags :
Fall Home Tour