27 Spooky &Fun Halloween Coffee Bar Decor Ideas
Halloween is a time of year that stirs up a sense of excitement and creativity for people of all ages. It's the perfect occasion to transform your home into a spooky haven, and one often-overlooked space for decoration is the coffee bar. In this essay, we will delve into the world of Halloween coffee bar decor, exploring various themes, DIY ideas, and tips to help you create a bewitching ambiance right in your own home.
Transforming your home, and specifically your coffee bar, into a Halloween wonderland is a fun and creative way to celebrate this beloved holiday. By selecting a theme, embracing DIY projects, and paying attention to details like lighting and scents, you can create a captivating and cozy atmosphere that will leave both you and your guests enchanted. So, grab your cauldron, brew up some spooky ideas, and let your imagination run wild as you embark on your Halloween coffee bar decor journey. Happy haunting!
---
1. The Importance of Home Decor in Celebrating Halloween
Halloween, also known as All Hallows' Eve, is celebrated on October 31st and has a rich history rooted in Celtic traditions. Today, it's a time for fun, festivities, and an opportunity to showcase your creativity through decorations. Decorating your home for Halloween allows you to embrace the spirit of the season and immerse yourself in a world of spooky delights.
Your coffee bar, an often-frequented spot in your home, can be the perfect canvas for your Halloween decor. It's where you start your day, enjoy warm beverages, and gather with friends and family. Infusing it with Halloween charm can make your daily rituals feel even more special during this season.
---
2. Choosing a Halloween Theme
Classic Halloween
The classic Halloween theme revolves around iconic elements like pumpkins, ghosts, bats, and black cats. You can use orange, black, and white as your primary color scheme and incorporate these symbols into your coffee bar decor through tablecloths, mugs, and wall art.
Gothic Glam
For a more sophisticated twist, opt for a Gothic glam theme. This style combines deep purples, rich blacks, and touches of silver or gold. Think elegant candelabras, velvet table runners, and faux spiderwebs for a luxurious and eerie ambiance.
Vintage Horror
Embrace the charm of vintage horror movies by decorating your coffee bar with posters, old-fashioned apothecary jars filled with candy, and retro-style drinkware. A sepia-toned color palette will add an authentic touch.
---
3. DIY Halloween Coffee Bar Decor Ideas
Spooky Coffee Mug Collection
Customize your coffee mugs with spooky designs using paint markers or vinyl decals. Create unique designs like ghosts, witches' hats, or spiderwebs. Guests can choose their favorite mug to sip their Halloween-themed beverages.
Potion Station
Transform your coffee bar into a potion station with glass jars filled with colorful liquids (e.g., fruit juices or flavored syrups) labeled as "witch's brew" or "elixir of life." Include a few dry ice cubes to create eerie, smoking effects.
Floating Candles
Replicate the floating candles from the Harry Potter series by hanging battery-operated tea lights from the ceiling above your coffee bar. Dim the lights for a magical ambiance.
Spooky Coffee Art
Add a touch of Halloween to your latte or cappuccino by stenciling spooky designs on top with cocoa powder or cinnamon. Create cobweb or bat patterns for an extra dose of holiday cheer.
---
4. Tips for a Cozy and Spooky Atmosphere
Lighting
The right lighting is crucial for setting the mood. Use candles, string lights, and lanterns to create a warm and eerie glow. Avoid bright, harsh lighting, as it can detract from the spooky atmosphere.
Music and Soundscapes
Set the tone with a Halloween playlist featuring spooky tunes and soundscapes, such as eerie winds or creaking doors. This audio backdrop will enhance the overall experience.
Scented Candles
Engage all the senses by incorporating scented candles. Choose fragrances like pumpkin spice, cinnamon, or apple cider to infuse your coffee bar with delightful aromas.
---
5. Setting the Stage: Tabletop Decor
Table Runner and Linens
Choose a Halloween-themed table runner or tablecloth to instantly transform the look of your coffee bar. Opt for patterns featuring bats, pumpkins, or haunted houses. Layering black and orange linens can also add depth and contrast to the setup.
Apothecary Jars
Create an eerie yet visually appealing display by filling glass apothecary jars with Halloween candy, such as candy corn, gummy worms, or chocolate eyeballs. Label the jars with spooky names like "Witch's Warts" or "Zombie Brains."
Miniature Coffins
Incorporate miniature coffin-shaped boxes or containers to hold sugar packets, creamers, or stir sticks. These subtle details add to the overall theme and can be easily found or made with cardboard.
Halloween-themed Coasters
Invest in or craft Halloween-themed coasters to protect your coffee bar's surfaces while adding a touch of style. You can make these coasters using materials like felt, cork, or wood, and decorate them with spooky designs or quotes.
---
6. Interactive Elements
Coffee Bar Activity Station
Encourage guests to engage with your Halloween coffee bar by setting up an activity station. Provide markers and blank coffee sleeves, inviting visitors to design their own spooky coffee cup sleeves. This interactive element can be both fun and memorable.
Mystery Brew Challenge
Host a mystery brew challenge where you create unique, Halloween-inspired coffee concoctions with secret ingredients. Let guests taste and guess the components, adding an element of surprise and excitement to your gatherings.
---
7. Maintaining Safety and Comfort
Accessibility
Ensure that your Halloween coffee bar remains accessible and functional. While decorations are essential, they should not impede your ability to prepare and enjoy your favorite beverages.
Fire Safety
If you're using candles or any open flames as part of your decor, be mindful of fire safety. Keep candles away from flammable materials and use battery-operated alternatives when necessary.
Comfortable Seating
To fully enjoy your Halloween coffee bar decor, provide comfortable seating options for your guests. Cozy cushions, throws, and Halloween-themed pillows can create an inviting space to linger and sip on your spooky brews.
---
---
---
---
No source
---
---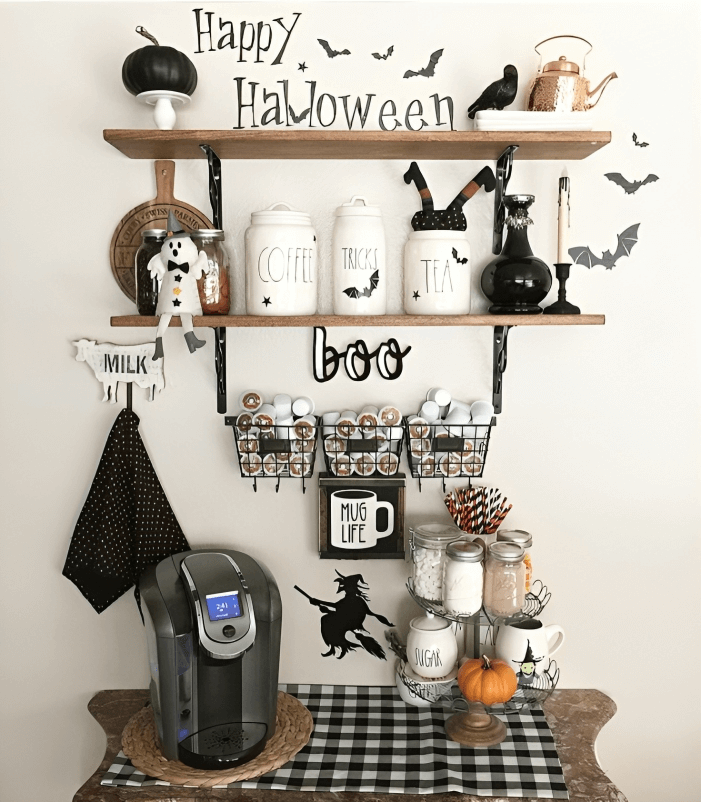 ---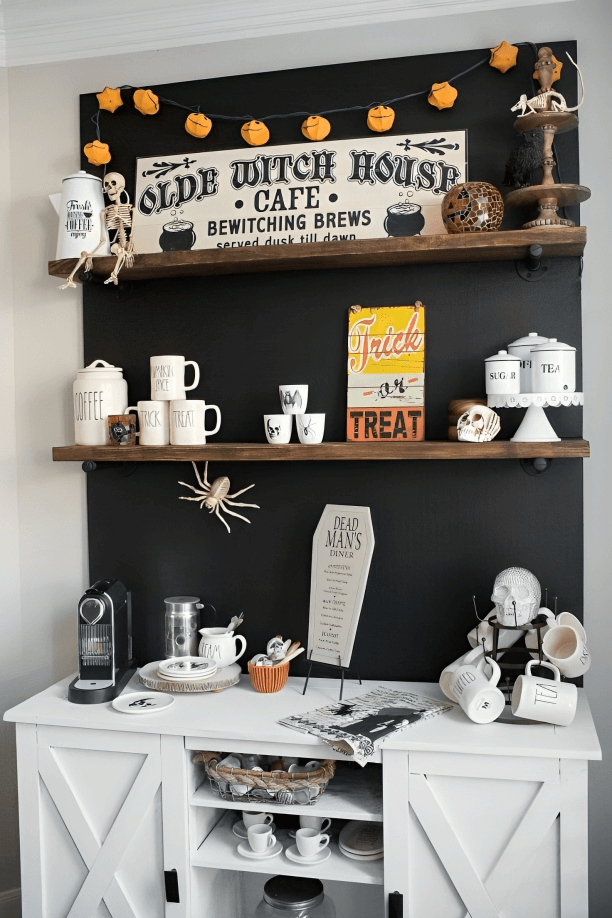 ---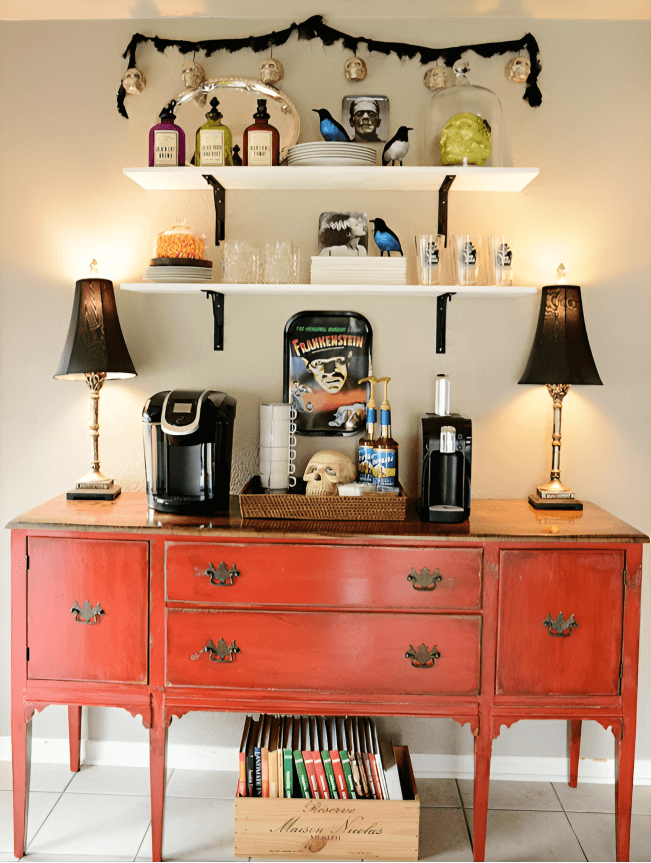 ---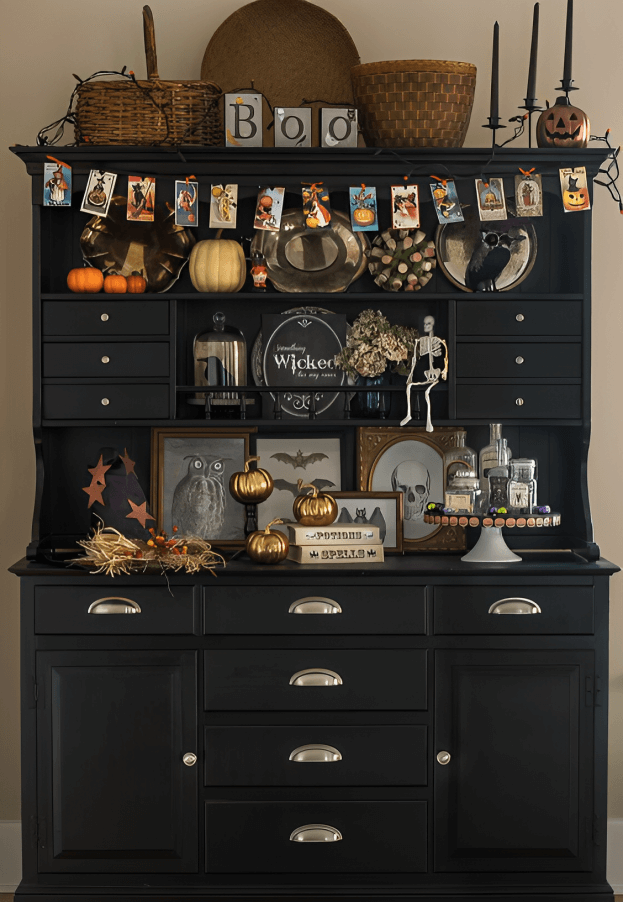 ---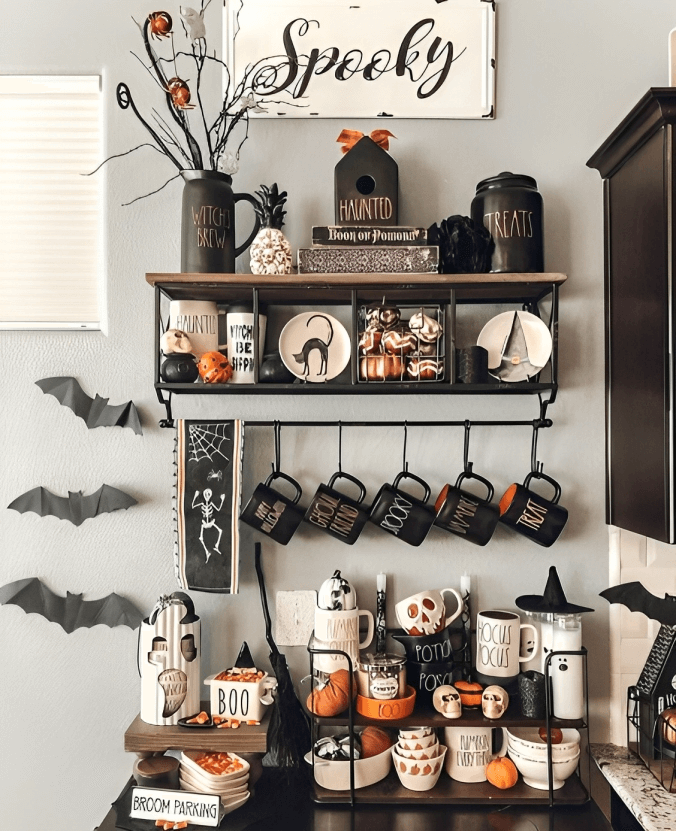 ---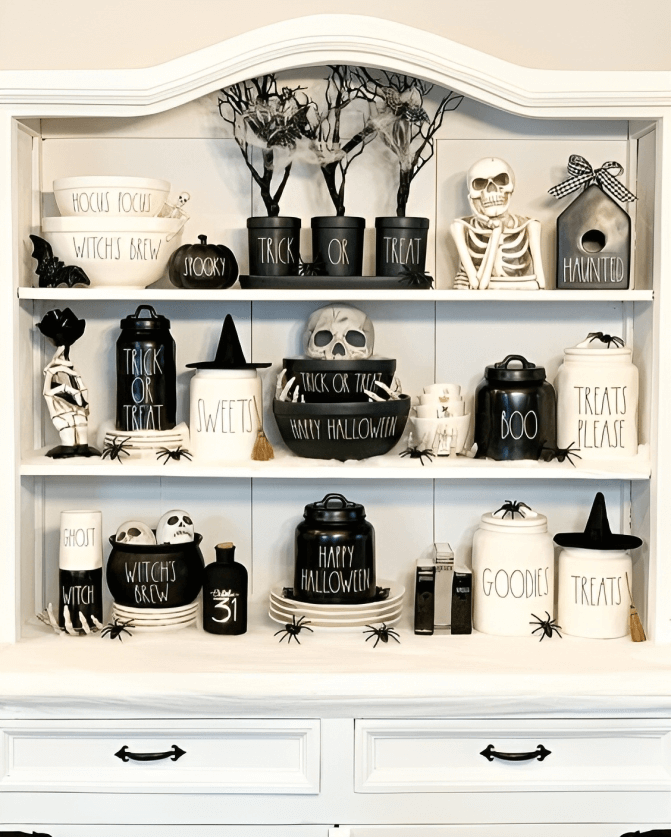 ---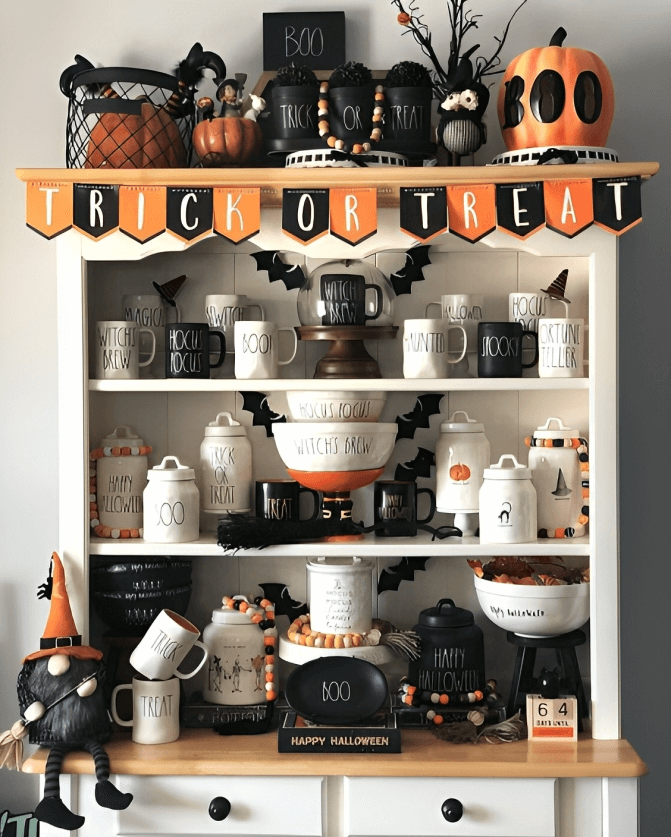 ---
---
---
---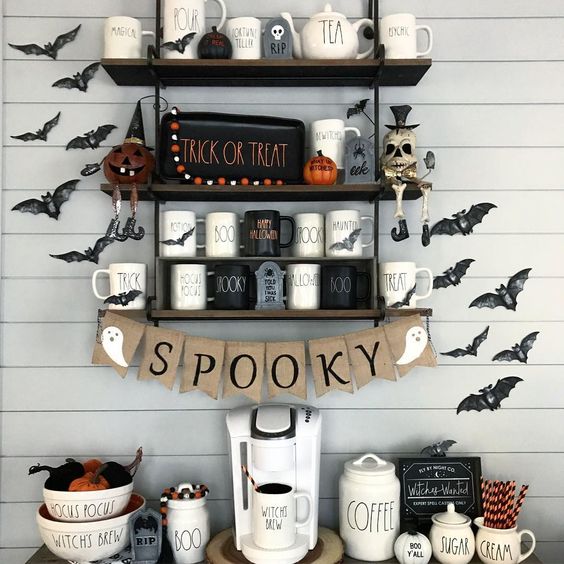 ---
---
---
---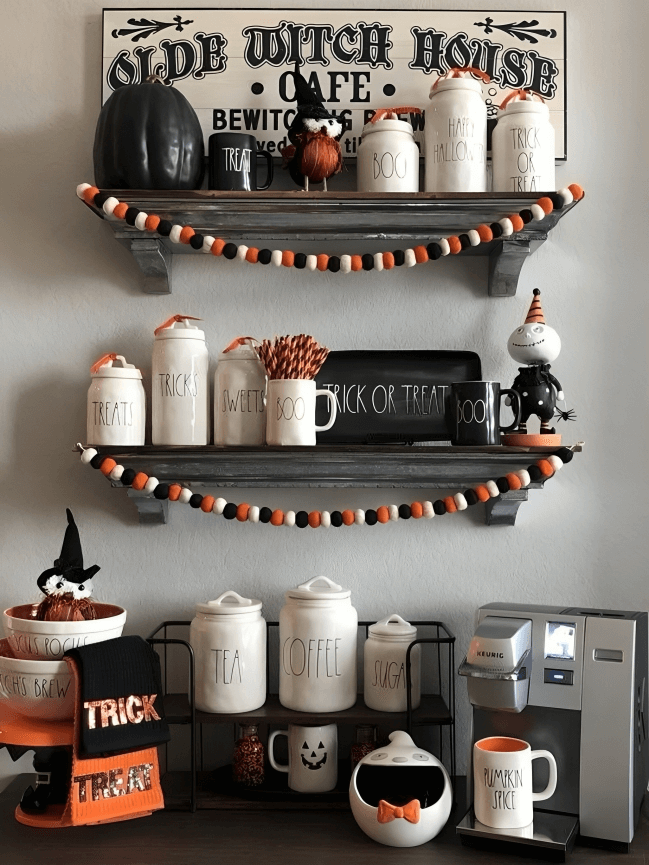 ---
---
---
---
---
---
---
Incorporating Halloween coffee bar decor into your home not only adds a festive touch to your living space but also enhances the enjoyment of the season. From choosing a theme and creating DIY decorations to considering lighting, music, and interactive elements, every detail contributes to a spooktacular atmosphere. Remember to prioritize safety and comfort while immersing yourself in the enchanting world of Halloween coffee bar decor. With a little creativity and effort, your home will become a destination for memorable Halloween gatherings and a source of inspiration for all who visit. So, let your imagination run wild, and may your Halloween coffee bar be a bewitching success! Happy haunting!
---
Here are some frequently asked questions related to setting up a Halloween coffee bar decor and their answers:
Q1: How can I create a spooky atmosphere for my Halloween coffee bar decor?
A1: To create a spooky ambiance, consider using dim lighting, candles, and Halloween-themed decorations like spider webs, skeletons, and eerie music. You can also use dry ice for a foggy effect.
---
Q2: What are some essential decorations for a Halloween coffee bar?
A2: Essential decorations include Halloween-themed mugs, spooky tablecloths, pumpkins, and Halloween signs. You can also add fake spiders, bats, and witches' hats for added flair.
---
Q3: Can you suggest some Halloween-themed coffee drink recipes for my coffee bar?
A3: Sure! Some ideas include "Witches' Brew" (green-colored coffee with whipped cream and sprinkles), "Pumpkin Spice Latte," and "Vampire's Kiss" (red velvet latte with raspberry syrup).
---
Q4: How can I make my coffee bar kid-friendly for Halloween?
A4: To make it kid-friendly, offer hot chocolate or apple cider as alternatives to coffee. Decorate with cute, non-scary Halloween elements like friendly ghosts, smiling pumpkins, and colorful candy.
---
Q5: Where can I find affordable Halloween-themed coffee bar decorations?
A5: You can find affordable Halloween decorations at dollar stores, craft stores, and online marketplaces like Amazon and Etsy. DIY decorations can also save you money.
---
Q6: Are there any safety considerations for a Halloween coffee bar, especially if I'm serving hot beverages to guests?
A6: Safety is essential. Ensure your coffee bar area is well-lit to prevent accidents. Use caution with candles and open flames. Be mindful of hot beverage temperatures, especially if kids are present.
---
Q7: How can I incorporate a Halloween coffee bar into a small space or apartment?
A7: In a small space, focus on tabletop decor and wall decorations. Use wall decals, removable stickers, and compact coffee accessories to maximize the space without clutter.
---
Q8: Can I make my Halloween coffee bar eco-friendly?
A8: Absolutely! Use reusable cups and mugs instead of disposable ones. Opt for biodegradable or reusable decorations, and consider composting any organic waste generated during your Halloween coffee bar event.
---
Q9: What are some creative Halloween coffee bar themes I can try?
A9: Some creative themes include "Haunted Mansion" with Victorian-style decor, "Hocus Pocus" inspired by the movie, or "Monster Mash" featuring classic monster motifs like Frankenstein and Dracula.
---
Q10: How early should I start planning my Halloween coffee bar decor?
A10: It's a good idea to start planning at least a few weeks before Halloween to ensure you have enough time to gather decorations, plan your menu, and make any DIY items.
---
These FAQs and answers should help you get started with your Halloween coffee bar decor and create a memorable and spooky experience for your guests.