A Classy Christmas Elegant Home Tour for the Holiday Season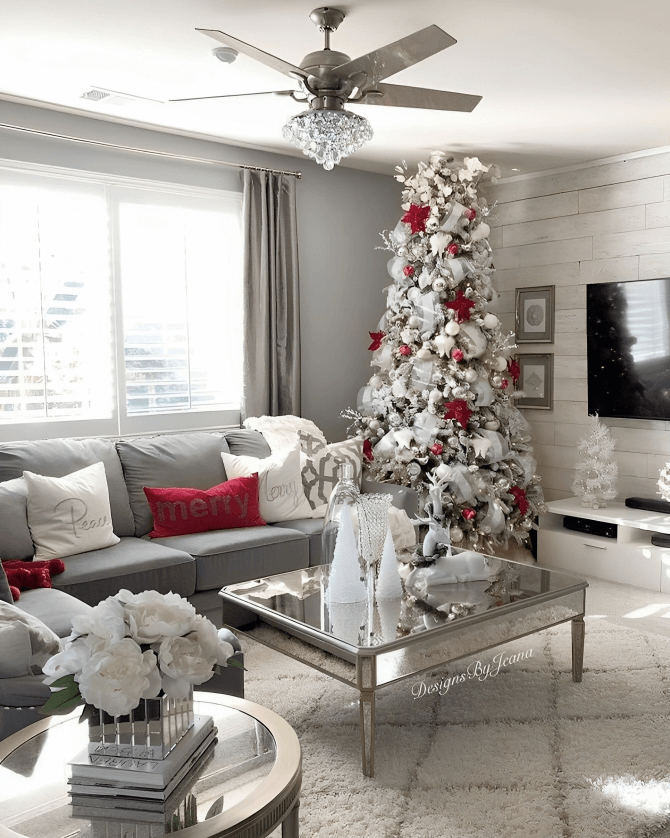 A Classy Christmas Elegant Home: As the holiday season approaches, it's time to transform your home into a warm and welcoming haven that captures the magic and charm of Christmas. While traditional decorations have their own appeal, there's something truly special about embracing an elegant and classy Christmas home decor theme. In this article, we'll explore how to infuse sophistication into your holiday decorations while maintaining the festive spirit that makes this time of year so delightful.
---
1.Classic Color Palette
The foundation of any classy Christmas home decor is a classic color palette. Opt for timeless colors like deep reds, rich greens, and shimmering golds. These colors not only evoke a sense of tradition but also exude luxury and elegance. By maintaining a cohesive color scheme throughout your decor, you'll create a visually pleasing and sophisticated ambiance in your home.
---
2.Elegant Christmas Tree
The centerpiece of your Christmas decor should undoubtedly be the Christmas tree. For an elegant touch, choose a tree that suits your space – whether it's a majestic spruce or a slender fir. Decorate it with a mix of glass ornaments, metallic baubles, and delicate, handcrafted decorations. Add strands of clear lights to create a soft and inviting glow. Top the tree with a stylish topper like a classic star or a glistening angel for that finishing touch.
---
3.Luxurious Fabrics
Introduce luxurious fabrics into your home decor to add an extra layer of elegance. Velvet throw pillows and table runners in rich, deep colors will instantly elevate the overall look. Consider draping your furniture with plush throws and adding a few faux fur accents to create a cozy yet sophisticated atmosphere.
---
4.Candlelight Elegance
Candlelight has an unmatched ability to infuse warmth and elegance into any space. Incorporate candles in various sizes and shapes into your decor. Place them in elegant candleholders, candelabras, or even floating candles in glass bowls. The soft, flickering light will create a captivating and romantic ambiance throughout your home.
---
5.Refined Table Setting
If you're hosting a Christmas dinner or festive gathering, pay extra attention to your table setting. Use fine china, crystal glassware, and polished silverware to create an upscale dining experience. Incorporate elegant centerpieces like fresh floral arrangements in gold or silver vases, or opt for a striking centerpiece made from ornaments, pinecones, and fairy lights.
---
6.Garland and Wreaths
Adorn your mantel, staircase, and doorways with garlands and wreaths made from high-quality materials. Consider using faux greenery that looks realistic and won't wilt over the holiday season. Add decorative elements like ribbons, pinecones, and ornaments for an extra touch of refinement. A well-crafted garland or wreath can effortlessly transform your space into a winter wonderland.
---
7.Personalized Touches
To make your classy Christmas home truly special, add personalized touches that reflect your family's unique style and traditions. Incorporate custom monogrammed stockings, embroidered tree skirts, or even personalized ornaments with family members' names. These details not only make your decor more meaningful but also add an element of sophistication.
---
8.Music and Scents
Don't forget to engage your senses with the sounds and scents of the season. Play soft, classical Christmas music in the background to create a serene and elegant atmosphere. Additionally, use scented candles or diffusers with holiday-inspired fragrances like cinnamon, fir, or vanilla to fill your home with delightful aromas.
---
Conclusion
Creating a classy Christmas home decor is about striking a balance between timeless elegance and festive cheer. By focusing on a classic color palette, incorporating luxurious fabrics, and paying attention to details like table settings and personalized touches, you can infuse your home with sophistication while celebrating the magic of Christmas. Remember that the true essence of the holiday season lies in spending quality time with loved ones, so create a space where cherished memories can be made in style and comfort.
"Find inspiration in these elegant home tours showcasing a classy Christmas decor. Explore these delightful home tours featuring Jeana from designsbyjeana, and discover how to create a magical holiday setting that beautifully accentuates your unique holiday style."
---
Here are some frequently asked questions :
1. How can I create an elegant Christmas atmosphere without overspending?
You can create an elegant Christmas atmosphere on a budget by focusing on a few key elements. Invest in classic, reusable decorations that you can use year after year. DIY projects can also help save money while adding a personal touch to your decor. Additionally, consider shopping for decor items during post-holiday sales for significant discounts.
---
2. What are some ideas for elegant DIY Christmas decorations?
There are many DIY Christmas decoration ideas that can add elegance to your home. You can create your own ornaments using clear glass balls and metallic paint, craft wreaths using faux greenery and ribbon, or make custom holiday-themed candleholders using simple materials like mason jars and glitter.
---
3. How can I make my Christmas tree look elegant and cohesive?
To make your Christmas tree look elegant and cohesive, start by selecting a color scheme and sticking to it. Use a variety of ornaments in coordinating colors, including glass baubles, metallic accents, and handcrafted decorations. Place ornaments strategically, evenly distributing them around the tree. Finish with a stylish tree topper and soft, clear lights for a sophisticated glow.
---
4. What are some elegant alternatives to traditional Christmas stockings?
If you're looking for alternatives to traditional stockings, consider using elegant velvet pouches or fabric bags that match your decor's color scheme. Personalize them with monograms or name tags for each family member. You can also hang small decorative stockings from your mantel or staircase railing for added charm.
---
5. How can I incorporate a modern touch into my classy Christmas decor?
To incorporate a modern touch into your classy Christmas decor, focus on minimalism and clean lines. Choose simple, contemporary ornaments and decorations in metallic finishes. Opt for a sleek, slender Christmas tree and use monochromatic color schemes like black and white with a pop of metallic for a chic and modern look.
---
6. What lighting options can enhance the elegance of my Christmas decor?
Lighting plays a crucial role in enhancing the elegance of your Christmas decor. Use soft, warm-white LED lights to create a cozy and inviting atmosphere. Place them strategically on your tree, around wreaths and garlands, and in candleholders. Consider adding dimmer switches to control the brightness and set the desired mood.
---
7. How can I make my Christmas table setting stand out as elegant and memorable?
To make your Christmas table setting stand out as elegant and memorable, use fine china, crystal glassware, and polished silverware. Incorporate a stylish centerpiece with fresh flowers or an arrangement of ornaments and candles. Add personalized name cards, elegant napkin rings, and high-quality linens to complete the sophisticated look.
---
8. How can I keep my classy Christmas decor safe from pets and children?
To keep your classy Christmas decor safe from pets and children, consider using shatterproof ornaments on the lower branches of your tree. Secure the tree to a stable base to prevent tipping. Place delicate decorations and candles out of reach. Additionally, train your pets to avoid the Christmas tree and provide childproof barriers if necessary.
---
Creating a classy Christmas home decor is all about creativity, attention to detail, and finding ways to balance elegance with the festive spirit of the season. With the right planning and a little effort, you can enjoy a beautifully decorated home that captures the magic of Christmas in an elegant and sophisticated manner.
---
Tags :
Holiday Home Tour