A Guide to Selecting the Perfect Christmas Table Centerpiece for Your Home
Christmas table centerpiece: The holiday season is a magical time of year when families and friends come together to celebrate and create cherished memories. One of the most important aspects of this festive season is decorating your home, and the Christmas dinner table takes center stage in many households. Choosing the right Christmas table decorations can transform your dining space into a winter wonderland and set the mood for a joyous celebration. In this essay, we will delve into the art of selecting the perfect table decorations for your home during the Christmas season. From traditional to modern, from DIY to store-bought, we will explore various aspects of choosing the right Christmas table decorations.
Choosing the right Christmas table decorations for your home involves careful consideration of theme, style, and personal preferences. By aligning your decor choices with your desired ambiance and paying attention to details like table linens, dinnerware, centerpieces, and personal touches, you can create a warm and inviting atmosphere that will make your Christmas dinner a memorable experience for all who gather around your table. Whether you prefer traditional, rustic, elegant, or whimsical decor, the key is to let your creativity and holiday spirit shine through, transforming your dining space into a festive masterpiece.
---
1. Consider Your Theme and Style
Before diving into the world of Christmas table decorations, it's essential to consider the theme and style you want to convey. Your choice of decorations should align with the overall ambiance you wish to create. Here are some popular themes and styles:
Traditional Christmas:

Embrace the classics with red and green color schemes, candles, and ornaments like glass baubles and pinecones. Incorporate evergreen branches and wreaths for that timeless look.

Rustic Charm:

Opt for a cozy and rustic feel with wooden elements, burlap table runners, and mason jar candle holders. Add touches of nature, like pine branches and pinecone accents.

Elegant and Glamorous:

Choose a sophisticated approach with metallic accents, such as gold or silver. Crystal or glass tableware and sleek, monochromatic color schemes can add a touch of glamour.

Nordic Minimalism:

If you prefer a minimalist style, stick to a clean and simple look with white and neutral tones. Incorporate Scandinavian-inspired decor like wooden figurines and minimalist tableware.

Whimsical and Playful:

For families with children or those who enjoy a more playful atmosphere, opt for whimsical decor like candy cane centerpieces, colorful ornaments, and Santa Claus-themed table settings.
---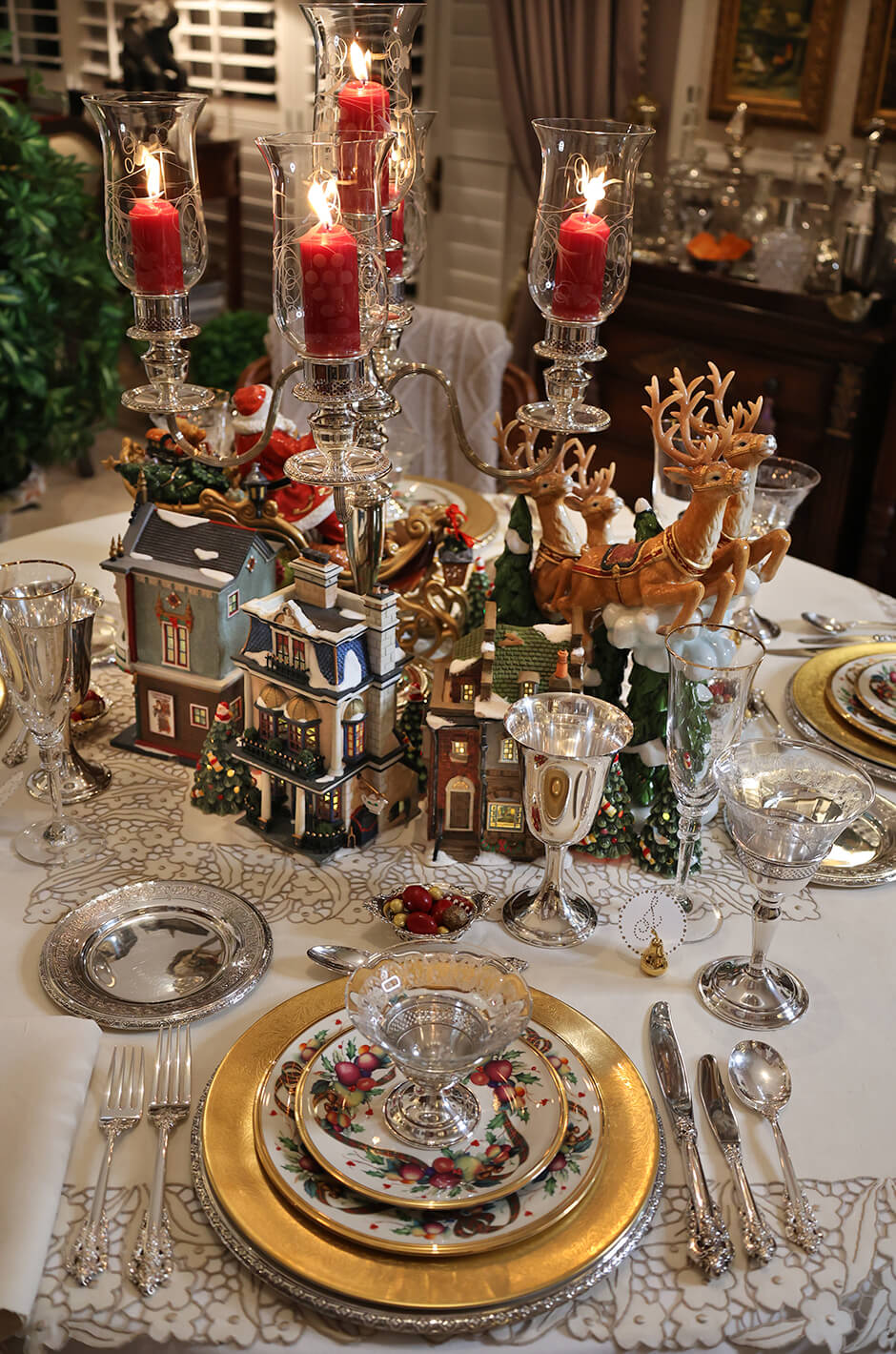 2. Table Linens and Dinnerware
Once you've decided on your theme, it's time to choose the right table linens and dinnerware to complement it. Here are some considerations:
Tablecloth or Table Runner:

Select a tablecloth or runner that coordinates with your theme. Traditional patterns like plaid or holly are perfect for a classic look, while solid colors work well for a more modern aesthetic.

Napkins and Napkin Rings:

Coordinate your napkins with your tablecloth or runner. Consider investing in decorative napkin rings to add an extra layer of elegance.

Dinnerware and Glassware:

Choose dishes and glassware that match your theme. For a traditional setting, opt for white or festive patterned plates. For an elegant look, use fine china or crystal glassware.
---
3. Centerpieces and Decorative Elements
The centerpiece is the focal point of your Christmas table, and selecting the right one is crucial. Here are some ideas and considerations:
Floral Arrangements:

Fresh or faux flowers and greenery can create a stunning centerpiece. Use flowers like poinsettias, roses, or holly, and incorporate greenery such as pine branches or eucalyptus.

Candles:

Candles add a warm and inviting atmosphere to your table. Consider pillar candles in various heights, votive candles in glass holders, or taper candles in elegant candlesticks.

Ornaments:

Hang ornaments from a small tabletop tree or incorporate them into your centerpiece. This works particularly well for a whimsical or traditional theme.

DIY Creations:

Get creative by making your own centerpieces. Craft personalized ornaments, candle holders, or even a mini winter village to adorn your table.
---
4. Personal Touches and Customization
To make your Christmas table decorations truly special, add personal touches that reflect your family's traditions and values:
Place Cards:

Create personalized place cards for each guest, incorporating their names and a thoughtful message or quote.

Custom Decor:

Consider custom decorations that celebrate your family's unique traditions or cultural heritage.

DIY Crafts:

Involve your family in crafting some of the decorations. This not only adds a personal touch but also creates lasting memories.
---
5. Lighting and Ambiance
The right lighting can enhance the overall ambiance of your Christmas table decorations. Consider these lighting options:
String Lights:

String lights are a versatile and enchanting addition to your table decor. You can drape them across the table or intertwine them with your centerpiece for a magical glow.

Candlelight:

Candlelight is a classic choice that adds warmth and intimacy to your Christmas dinner. Mix and match candles of different sizes and styles for a captivating effect.

Lanterns:

Decorative lanterns can be filled with candles or LED lights. They come in various designs, from rustic to modern, and can complement your chosen theme.

Chandeliers:

If you have a chandelier above your dining table, consider decorating it with festive elements like garlands, bows, or ornaments to tie it into your overall decor.
---
6. Table Accessories and Details
Small details can make a big difference when it comes to table decorations:
Tabletop Decorations:

Scatter small decorative items like pinecones, acorns, or holiday-themed figurines across the table to add depth and texture.

Tableware Accessories:

Invest in decorative charger plates, placemats, and coasters that match your theme and color scheme.

Tabletop Trees:

Miniature Christmas trees placed at each end of the table or as part of the centerpiece can create a cohesive look and provide additional opportunities for decorating.

Festive Drinks:

Consider serving holiday-themed drinks like spiced cider, eggnog, or mulled wine in decorative glassware or mugs.
---
7. Sustainability and Eco-Friendly Options
In an age of increasing environmental awareness, consider sustainable and eco-friendly options for your Christmas table decorations:
Reusable Decor:

Invest in reusable decorations that can be used year after year, reducing waste and saving money in the long run.

Natural Materials:

Use natural materials like wooden ornaments, cloth napkins, and real greenery to minimize the environmental impact.

DIY Upcycling:

Get creative by upcycling items you already have at home into unique and eco-friendly decorations.
---
---
---
8. Seasonal Scents and Aromas
Don't forget the power of scent in creating a festive atmosphere. Use scented candles, diffusers, or potpourri with fragrances like cinnamon, pine, or gingerbread to evoke the spirit of the season.
---
Choosing the right Christmas table decorations is a delightful part of the holiday season that allows you to express your creativity and set the stage for memorable gatherings with loved ones. By considering your theme and style, selecting appropriate table linens and dinnerware, and carefully curating centerpieces and lighting, you can create a captivating and inviting atmosphere that reflects your unique personality and the spirit of the season. Whether you opt for traditional, rustic, elegant, or whimsical decor, the key is to infuse your holiday table with love, warmth, and joy, making it a focal point for celebrating the magic of Christmas with family and friends.
---
Here are some frequently asked questions ;
Q1: How do I decide on a theme for my Christmas table decorations?
A1: Choosing a theme depends on your personal preferences and the ambiance you want to create. Consider your style, whether it's traditional, rustic, elegant, or whimsical. Think about colors, patterns, and elements that resonate with you and your family's holiday traditions.
---
Q2: Where can I find affordable Christmas table decorations?
A2: Affordable Christmas table decorations can be found at a variety of places. Consider shopping at discount stores, dollar stores, or online marketplaces. Additionally, DIY decorations can be budget-friendly, using materials you may already have.
---
Q3: Are there any eco-friendly Christmas table decoration options?
A3: Yes, there are eco-friendly options. Look for reusable decorations, use natural materials like wood and real greenery, and consider upcycling items from around your home. You can also choose LED candles to reduce energy consumption.
---
Q4: How can I make my own Christmas table decorations?
A4: Making your own decorations can be a fun and creative project. There are many DIY tutorials online for crafting ornaments, table runners, centerpieces, and more. You can use materials like paper, fabric, and recyclables to create unique decorations.
Q5: What's the best way to incorporate family traditions into my table decor?
A5: To incorporate family traditions, consider using heirloom decorations or items with sentimental value as part of your centerpiece. You can also create personalized place cards or incorporate elements from your cultural heritage into the decor.
Q6: What are some safety considerations when using candles on the Christmas table?
A6: Safety is crucial when using candles. Ensure they are placed away from flammable materials, never leave them unattended, and keep them out of reach of children and pets. Consider using battery-operated LED candles for a safer option.
Q7: How can I store and maintain my Christmas table decorations for future use?
A7: Proper storage is essential to maintain your decorations. Store fragile items in padded containers, keep ornaments in divided boxes, and pack away linens in a cool, dry place. Labeling storage containers can help you easily find specific items next year.
Q8: What's the best way to create a cohesive look with my Christmas table decorations?
A8: To achieve a cohesive look, stick to your chosen theme and color scheme. Ensure that your table linens, dinnerware, centerpieces, and accessories all match or complement each other. Consistency is key to a polished appearance.
Q9: How can I involve my family in decorating the Christmas table?
A9: Involving your family in decorating can be a wonderful tradition. Assign specific tasks based on age and ability, such as arranging ornaments, setting the table, or creating handmade decorations. It's an opportunity to bond and create lasting memories.
Q10: What should I do if I have limited space for a Christmas table?
A10: If space is limited, consider a smaller tabletop tree or a centerpiece that doesn't obstruct the view across the table. Use vertical space, like hanging decorations from the ceiling, and choose compact tableware and decor items to maximize space.
These frequently asked questions and their answers should provide you with valuable insights and guidance as you embark on the journey of selecting the perfect Christmas table decorations for your home.
---
Tags :
Holiday Tips & Ideas