Embrace the Charm of Rustic Christmas Decor for a Cozy Holiday Season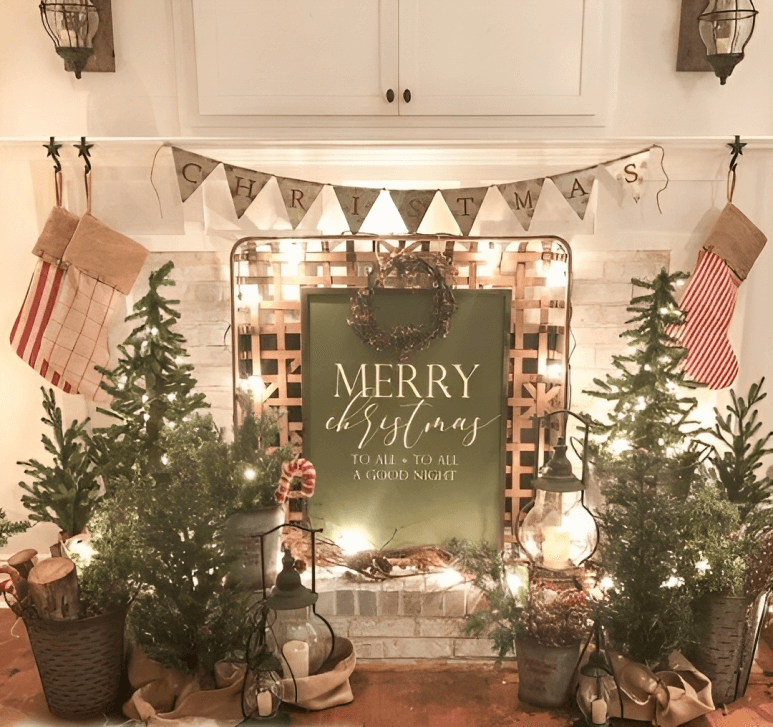 Rustic Christmas Decor : The holiday season is a magical time of year when families and friends come together to celebrate and create cherished memories. One of the most endearing and heartwarming ways to set the stage for a memorable holiday season is by adorning your home with rustic Christmas decor. Rustic decor captures the essence of coziness, warmth, and a connection to nature, making it the perfect choice for a festive and inviting atmosphere. In this article, we'll delve into the world of rustic Christmas decor, exploring its elements, DIY ideas, and how you can infuse your home with a touch of rustic charm this holiday season.
---
1.Understanding Rustic Christmas Decor
Rustic Christmas decor draws inspiration from the simplicity and rugged beauty of the countryside. It embraces natural materials, earthy tones, and a sense of nostalgia. Key elements of rustic Christmas decor include:
Natural Materials:

Wood, burlap, pinecones, twine, and jute are essential elements in rustic decor. They create a tactile and organic ambiance, evoking the feeling of being in a cozy cabin in the woods.

Earthy Colors:

Rustic decor favors a color palette inspired by nature. Think warm earthy tones like deep reds, forest greens, cozy browns, and creamy whites. These colors contribute to the inviting atmosphere of your rustic Christmas.

Vintage Touches:

Incorporating vintage or antique items such as old sleds, wooden crates, or distressed furniture pieces adds character and a touch of nostalgia to your decor.

Natural Greenery:

Fresh greenery, such as pine branches, cedar, and holly, is a hallmark of rustic Christmas decor. These fragrant elements bring the outdoors in and infuse your home with a delightful holiday scent.
---
2.DIY Rustic Christmas Decor Ideas
Creating your rustic Christmas decor can be a delightful and budget-friendly endeavor. Here are some DIY ideas to infuse your home with rustic charm:
Rustic Wreaths:

Craft a beautiful rustic wreath using grapevine, twine, and natural elements like pinecones, berries, and dried oranges. Add a burlap bow for a finishing touch.

Mason Jar Centerpieces:

Fill mason jars with small branches, pinecones, or cranberries. Place a candle inside for a warm and rustic centerpiece.

Wooden Advent Calendar:

Craft a wooden advent calendar with tiny drawers or pockets to hold small surprises for each day leading up to Christmas.

Rustic Stockings:

Personalize stockings with names embroidered on burlap or use knit stockings in earthy colors for a cozy feel.

Wooden Signs:

Create rustic wooden signs with holiday messages or quotes. You can distress the wood for an aged look.

Rustic Ornaments:

Craft your own rustic ornaments using twigs, twine, and small wooden slices. Paint or decorate them with festive designs.

Pinecone Garlands:

String pinecones together to make rustic garlands. You can leave them natural or spray paint them for added flair.

Rustic Table Settings:

Use wooden chargers, burlap placemats, and mason jar drinking glasses to create a rustic table setting for your holiday meals.
---
3.Incorporating Rustic Decor Throughout Your Home
To fully embrace the rustic Christmas decor theme, it's essential to carry it through various areas of your home:
Living Room:

Decorate your fireplace mantle with greenery, stockings, and rustic ornaments. Add cozy throws and plaid pillows to your seating area.

Dining Room:

Set the dining table with rustic place settings and a stunning centerpiece. Consider using wooden chargers and burlap table runners.

Kitchen:

Hang rustic wreaths on cabinet doors, display your vintage dishware, and create a hot cocoa station with rustic mugs and toppings like cinnamon sticks and marshmallows.

Entryway:

Welcome guests with a rustic-themed entryway. Place a wooden sled or vintage skis by the front door, and hang a rustic wreath to set the tone.

Bedrooms:

Don't forget the bedrooms! Incorporate rustic decor through cozy bedding, plaid throws, and festive pillows.
---
Conclusion
Rustic Christmas decor is a timeless and heartwarming style that evokes the warmth and nostalgia of the holiday season. Whether you're crafting your own rustic decorations or scouring antique stores for vintage treasures, embracing the rustic theme can make your home feel like a cozy winter retreat. This year, infuse your holiday celebrations with the charm of rustic decor, and create cherished memories that will last a lifetime.
Discover a Rustic Christmas Home Tour where holiday decor takes various creative forms, from timeless elegance to cozy winter charm. This particular house, appreciated for its picturesque, eco-friendly appeal, stands out as a favorite, with thanks to Jenny from bigfamilylittlefarmhouse for the inspiration.
---
Certainly, here are some frequently asked questions related to rustic Christmas decor and their answers:
Q1: What are some essential elements of rustic Christmas decor?
A1: Essential elements of rustic Christmas decor include natural materials like wood, burlap, and pinecones, earthy colors such as deep reds and forest greens, vintage touches, and an abundance of natural greenery like pine branches and holly.
---
Q2: Can I incorporate rustic decor into a modern home?
A2: Absolutely! Rustic Christmas decor can blend beautifully with modern interiors. Consider using rustic elements as accents, like adding a wooden wreath or rustic ornaments to your modern decor to create a charming contrast.
---
Q3: Are there any specific DIY projects suitable for beginners who want to try rustic Christmas decor?
A3: Yes, there are many beginner-friendly DIY projects for rustic decor. You can start with simple crafts like creating pinecone garlands, making burlap bows for wreaths, or filling mason jars with holiday-themed items and candles.
---
Q4: Where can I find rustic decor items for Christmas if I don't have time to DIY?
A4: You can find rustic Christmas decor items at various places, including local craft stores, online marketplaces like Etsy, antique shops, and even some larger retail stores. Look for items like wooden ornaments, burlap stockings, and vintage-style decorations.
---
Q5: How can I maintain the natural greenery in my rustic Christmas decor so that it lasts throughout the holiday season?
A5: To keep your natural greenery fresh, regularly mist it with water to prevent it from drying out. Additionally, avoid placing greenery near direct heat sources, such as radiators or fireplaces, and keep it away from drafts.
---
Q6: Can I use a color other than red and green in my rustic Christmas decor?
A6: While red and green are classic rustic Christmas colors, you can certainly incorporate other hues like muted blues, soft grays, or even metallics like copper or bronze for a unique twist on the rustic theme. Just be sure to maintain an overall earthy and cozy feel.
---
Q7: How do I create a rustic table setting for holiday meals?
A7: To create a rustic table setting, use wooden chargers or placemats, burlap table runners, and simple, earthy dinnerware. Add natural greenery, like pine branches and pinecone accents, to complete the rustic look.
---
Q8: Are there any safety precautions to consider when using candles in rustic decor?
A8: Yes, safety is paramount when using candles. Always place candles on stable, heat-resistant surfaces and keep them away from flammable materials. Never leave candles unattended, and consider using flameless LED candles as a safer alternative.
---
Q9: Can I mix and match different rustic elements in my decor?
A9: Absolutely! Mixing and matching different rustic elements can add depth and character to your decor. Combining wood, burlap, and vintage items can create a visually appealing and eclectic rustic look.
---
Q10: How can I store my rustic Christmas decor items properly after the holiday season?
A10: To store your rustic decor items, carefully wrap fragile items, like ornaments, in tissue paper or bubble wrap. Store them in sturdy containers or boxes, making sure to label them for easy retrieval next year. Keep these items in a cool, dry place to prevent damage.
---
The princess home on Pinterest
Tags :
Holiday Home Tour