Embracing the Beauty of Nature: Natural Christmas Decor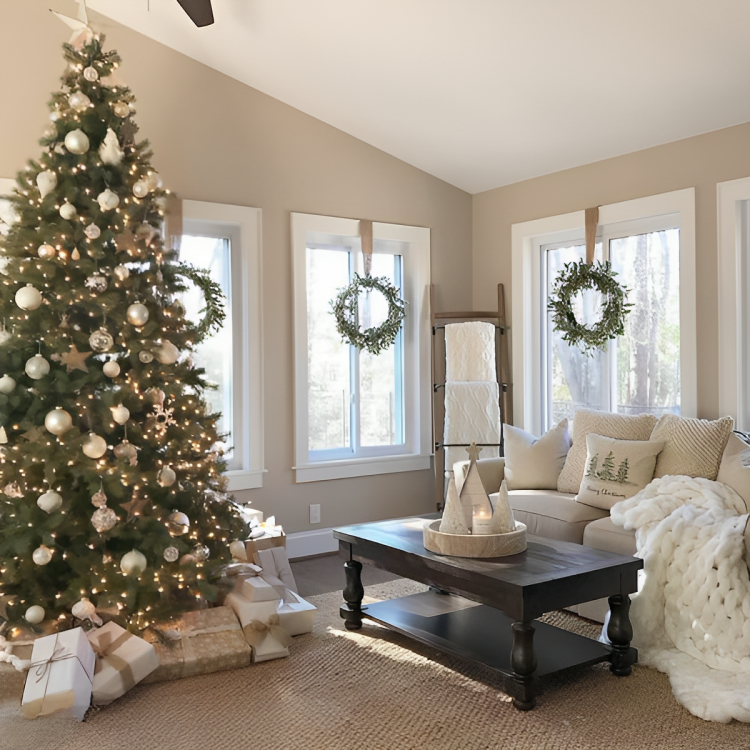 Nature Christmas Decor: Christmas is a time of celebration, joy, and togetherness, and what better way to bring these feelings to life than by incorporating the beauty of nature into your holiday decorations? Natural Christmas decor not only exudes a warm and inviting atmosphere but also serves as a reminder of the wondrous world around us. In this article, we will explore a plethora of ideas for creating stunning natural Christmas decorations that will not only delight your senses but also contribute to a sustainable and eco-friendly festive season.
---
1.Christmas Wreaths
Wreaths have been a symbol of Christmas for centuries, and you can easily make one using natural elements. Gather pinecones, twigs, and evergreen branches from your backyard or a local forest, and arrange them into a beautiful wreath. You can add a touch of elegance with some dried flowers or colorful berries. Hang your wreath on your front door to welcome guests with a touch of natural beauty.
---
2.Rustic Table Centerpieces
Elevate your holiday table with rustic and natural centerpieces. A wooden tray adorned with pine branches, candles, and pinecones creates a charming, rustic look. Add some cinnamon sticks, dried oranges, and cloves for a lovely aroma that will fill the air.
---
3.DIY Ornaments
Get creative and craft your own Christmas ornaments using natural materials. Pinecones can be turned into adorable owls or snowmen, while cinnamon sticks tied with twine make for lovely rustic decorations. Collect acorns, paint them in festive colors, and hang them on your tree for a woodland touch.
---
4.Garland Galore
Garlands can be made from a variety of natural materials. Drape strings of popcorn or cranberries on your tree, or create a eucalyptus garland that not only looks beautiful but also smells amazing. Twine, dried leaves, and dried orange slices can also be woven into stunning garlands for your mantel or staircase.
---
5.Pinecone Decor
Pinecones are versatile and abundant during the holiday season. Dip them in white paint for a snowy effect and use them as table decor. Alternatively, tie them together with ribbon to create charming ornaments or add them to your wreaths and garlands.
---
6.Tree Alternatives
Consider eco-friendly alternatives to traditional Christmas trees. A potted evergreen can be decorated for the holidays and planted in your garden afterward. Branches arranged in a vase or attached to the wall in the shape of a tree can also make for unique and natural Christmas decor.
---
7.Candlelit Magic
Candles evoke warmth and coziness. Place natural beeswax or soy candles in decorative holders made from bark, twigs, or birch logs. Surround them with fresh holly or pine for a stunning centerpiece.
---
8.Foraged Decor
One of the best aspects of natural Christmas decor is the opportunity to forage for materials in your own surroundings. Go on a nature walk and collect fallen branches, pinecones, and evergreen sprigs. Not only is this cost-effective, but it also connects you with the outdoors.
---
9.Sustainable Wrapping
Extend your natural theme to your gift wrapping. Use brown kraft paper and adorn it with twine, sprigs of evergreen, and a cinnamon stick for a rustic and environmentally-friendly touch.
---
10.Bird-Friendly Decor
Help your local birds during the winter by incorporating bird-friendly decorations. Hang birdseed ornaments on your trees and watch as feathered friends come to visit. It's a delightful way to share the season with wildlife.
---
Conclusion
Embracing natural Christmas decor not only adds a touch of rustic charm and elegance to your holiday celebrations but also aligns with eco-conscious living. By using materials from your own surroundings and making sustainable choices, you can create a Christmas atmosphere that is not only beautiful but also gentle on the planet. So, this holiday season, let nature be your muse as you deck the halls with the wonders of the natural world.
"Discover inspiration for Christmas design from nature in a stunning Christmas home tour for Meeghan by CaliGirlInASouthernWorld. Craft a enchanting scenery with holiday decorations that accentuate your unique holiday style."
---
Certainly! Here are some frequently asked questions related to natural Christmas decor, along with their answers:
Q1: Is natural Christmas decor expensive to create?
A1: Natural Christmas decor can be as budget-friendly as you want it to be. Many of the materials, such as pinecones, twigs, and evergreen branches, can be found in your own backyard or local parks for free. You can also repurpose items you already have, like mason jars, for your decor. It's a cost-effective and sustainable option.
---
Q2: Are there any safety concerns with using natural materials in Christmas decor, such as dried leaves or branches?
A2: While natural materials can add beauty to your decor, it's essential to be cautious with fire safety. Ensure that any natural elements near open flames (like candles) are placed a safe distance away to prevent accidents. Also, check that your materials are dry and not prone to mold or decay, as this can affect indoor air quality.
---
Q3: How can I make my natural Christmas decor last longer?
A3: To extend the lifespan of your natural decorations, keep them away from direct sunlight and moisture. If using fresh greenery, mist it lightly with water every few days to maintain its freshness. Dried materials, like pinecones and oranges, will last longer if stored in a cool, dry place when not in use.
---
Q4: Can I use artificial Christmas trees with natural decor?
A4: Absolutely! You can pair artificial Christmas trees with natural decor for a beautiful combination. The artificial tree provides stability and can be reused year after year, while you can adorn it with natural ornaments, garlands, and wreaths to achieve a natural theme.
---
Q5: What are some eco-friendly alternatives to traditional Christmas lights?
A5: To maintain an eco-friendly approach, consider using LED lights, which are energy-efficient and have a longer lifespan. You can also opt for solar-powered outdoor lights, reducing your energy consumption. Additionally, candles in natural holders can provide a warm and sustainable lighting option.
---
Q6: Can I compost my natural Christmas decor after the holiday season?
A6: Yes, many natural Christmas decor elements are compostable. Pine needles, dried leaves, and untreated natural materials can all be composted. Be sure to remove any non-compostable items like ribbons or wires before adding them to your compost pile.
---
Q7: What are some ways to involve kids in creating natural Christmas decor?
A7: Crafting natural Christmas decor can be a fun family activity. Children can gather pinecones, paint them, and turn them into ornaments. They can also help string popcorn and cranberries, or create their own wreaths using age-appropriate materials. It's an excellent opportunity to encourage creativity and an appreciation for nature.
---
Q8: Where can I find natural materials for Christmas decor if I live in an urban area?
A8: Even in urban areas, you can find natural materials for your decor. Visit local parks, nature reserves, or tree-lined streets to collect leaves, branches, and pinecones. Additionally, some garden centers and farmer's markets may sell fresh greenery during the holiday season.
---
By incorporating natural elements into your Christmas decor, you not only create a beautiful and eco-friendly ambiance but also connect with the wonders of the natural world during the holiday season.
---
Tags :
Holiday Home Tour