Fabulous Christmas Decor Inspiration for Your Home"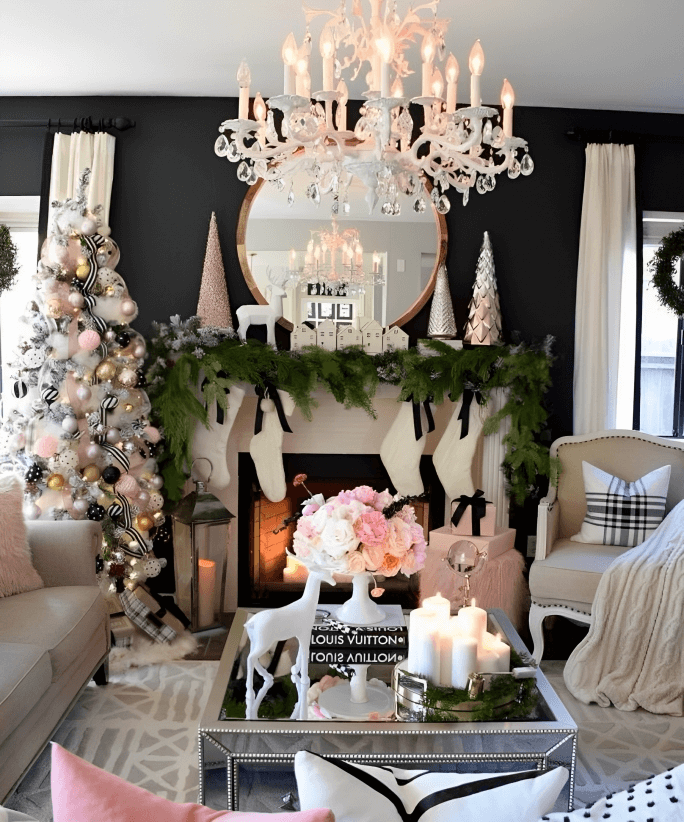 Fabulous Christmas Decor Inspiration : As the holiday season approaches, it's time to transform your home into a winter wonderland filled with festive cheer. Christmas decorations not only add a touch of magic to your living space but also create cherished memories for you and your loved ones. Whether you prefer traditional, modern, or eclectic decor, this article is here to inspire your creativity and help you craft the perfect Christmas ambiance for your home.
---
1.Choose a Theme
Before you dive into decorating, consider selecting a theme that resonates with your personal style. Some popular themes include:
a. Traditional: Embrace the classic red, green, and gold color palette, with plenty of evergreen wreaths, garlands, and vintage ornaments.
b. Modern: Opt for sleek, minimalist decor with a monochromatic or metallic scheme, featuring geometric shapes, metallic accents, and a clean aesthetic.
c. Rustic: Create a cozy, cabin-like atmosphere with wooden accents, burlap, plaid patterns, and natural elements like pinecones and twigs.
d. Whimsical: Let your imagination run wild with colorful and playful decorations, incorporating characters like Santa Claus, snowmen, and reindeer.
e. Vintage: Channel nostalgia by decorating with antique ornaments, vintage-inspired decor, and heirloom pieces passed down through generations.
---
2.Decorate the Christmas Tree
The centerpiece of your Christmas decor is undoubtedly the tree. Regardless of your chosen theme, here are some tree decoration ideas to consider:
a. Lights: Start with a string of white or multicolored lights to give your tree a warm and inviting glow.
b. Ornaments: Mix and match ornaments in various shapes, sizes, and colors. Hang sentimental ornaments and family heirlooms for a personal touch.
c. Tree Topper: Crown your tree with a beautiful topper, whether it's a traditional angel or star or something more unique that fits your theme.
d. Garland: Wrap the tree with garlands made from tinsel, beads, or natural materials like pine branches or cranberries.
e. Ribbon: Add ribbon or bows in complementary colors to create depth and texture on the tree.
---
3.Deck the Halls
Extend your festive decor throughout your home with these additional ideas:
a. Wreaths: Hang wreaths on your front door and throughout your home, using evergreen branches, berries, pinecones, and ribbons.
b. Mantel: Decorate your fireplace mantel with garlands, stockings, and candles. Incorporate your theme by selecting appropriate colors and accessories.
c. Table Settings: Set a festive table for your holiday meals with Christmas-themed tablecloths, placemats, and centerpieces.
d. Lights: String lights indoors, especially around windows and door frames, to create a warm and cozy atmosphere.
e. Outdoor Decor: Don't forget your outdoor space! Line your driveway or walkway with luminaries, place a wreath on the front door, and add lights to your bushes and trees.
---
4.DIY Decorations
Getting creative with do-it-yourself decorations can be a rewarding and cost-effective way to add a personal touch to your home. Consider making your ornaments, wreaths, and centerpieces. Here are a few ideas:
a. Handmade Ornaments: Craft unique ornaments with family photos, paper cutouts, or painted designs.
b. Pinecone Decor: Collect pinecones and turn them into ornaments, wreaths, or place card holders.
c. Mason Jar Crafts: Paint mason jars and use them as candleholders or vases for seasonal flowers.
d. Handcrafted Wreaths: Create a personalized wreath using materials like yarn, fabric, or even old holiday cards.
e. Advent Calendar: Make a DIY advent calendar filled with small treats or activities for each day leading up to Christmas.
---
Conclusion
Christmas is a time for joy, togetherness, and celebration, and your home's decor sets the stage for these memorable moments. Whether you choose a traditional, modern, rustic, whimsical, or vintage theme, the key is to infuse your space with warmth, love, and your unique personality. With a little creativity and inspiration, you can transform your home into a holiday haven that will be cherished by family and friends for years to come. So, go ahead, deck the halls with joy, and make this Christmas season truly magical.
Certainly, here are some frequently asked questions ;
1. How early should I start decorating for Christmas?
The timing for decorating your home for Christmas is a matter of personal preference. Some people start as early as November, while others prefer to wait until December. It's best to consider your schedule and how long you want to enjoy the decorations. The key is to do what makes you feel the most festive.
---
2. What are some budget-friendly Christmas decor ideas?
There are several budget-friendly Christmas decor ideas, such as DIY ornaments, using natural elements like pinecones and branches, repurposing existing decorations, and shopping for decor items during post-holiday sales. You can also consider renting or borrowing decorations to save money.
---
3. How can I store my Christmas decorations to keep them in good condition for the next year?
To store Christmas decorations properly, use airtight containers or plastic bins to protect them from dust and moisture. Wrap fragile items in tissue paper or bubble wrap. Label the containers for easy identification. Store them in a cool, dry place, away from direct sunlight, and avoid storing items in extreme temperatures like attics or basements.
---
4. What are some safety tips for decorating with lights and candles?
When using lights, make sure to inspect them for damaged wires or bulbs before decorating. Always turn off lights and blow out candles when you leave a room or go to bed. Use flameless candles as a safer alternative. Ensure that extension cords and outlets are not overloaded to prevent electrical hazards.
---
5. How can I involve my children in decorating for Christmas?
Decorating for Christmas is a great family activity. You can involve your children by letting them help decorate the tree, make homemade ornaments or crafts, and create their own holiday-themed artwork to display. It's an excellent opportunity to bond and create cherished memories together.
---
6. Are there eco-friendly Christmas decor options available?
Yes, there are several eco-friendly Christmas decor options. Consider using LED lights, which are energy-efficient, and choose natural decorations like wreaths made from sustainably sourced materials. Opt for reusable items, such as fabric bunting and cloth gift wrap, instead of disposable alternatives.
---
7. How can I incorporate my Christmas decor theme into my gift wrapping?
To coordinate your gift wrapping with your Christmas decor theme, select wrapping paper, ribbons, and tags that match your chosen colors and style. For example, if you have a rustic theme, use kraft paper and twine. For a modern theme, opt for sleek, metallic wrapping paper and minimalist bows.
---
8. What's the best way to choose a Christmas tree that lasts throughout the holiday season?
When choosing a Christmas tree, look for one with vibrant green needles that are firmly attached to the branches. Check the trunk for sap and ensure it fits securely in your tree stand. Water your tree regularly to keep it hydrated, as this will help it stay fresh and last longer.
---
9. How can I make my outdoor Christmas decorations withstand winter weather?
Outdoor Christmas decorations can endure winter weather by using durable materials designed for outdoor use. Ensure outdoor lights are rated for cold temperatures, secure decorations to prevent them from blowing away, and store inflatable decorations properly when not in use to prevent damage.
---
10. What's the best way to take down and store Christmas decorations after the holiday season?
When taking down decorations, start by carefully removing ornaments and lights from the tree. Label and organize them in storage containers. Take your time to wrap delicate items, and ensure all decorations are clean and dry before storing them. Store the containers in a cool, dry place until the next holiday season.
---
These FAQs cover various aspects of Christmas decor, from timing and budget-friendly ideas to safety and storage tips, helping you create a festive and enjoyable holiday season.
---
Tags :
Holiday Home Tour