Farmhouse Christmas Home Wonderful Decor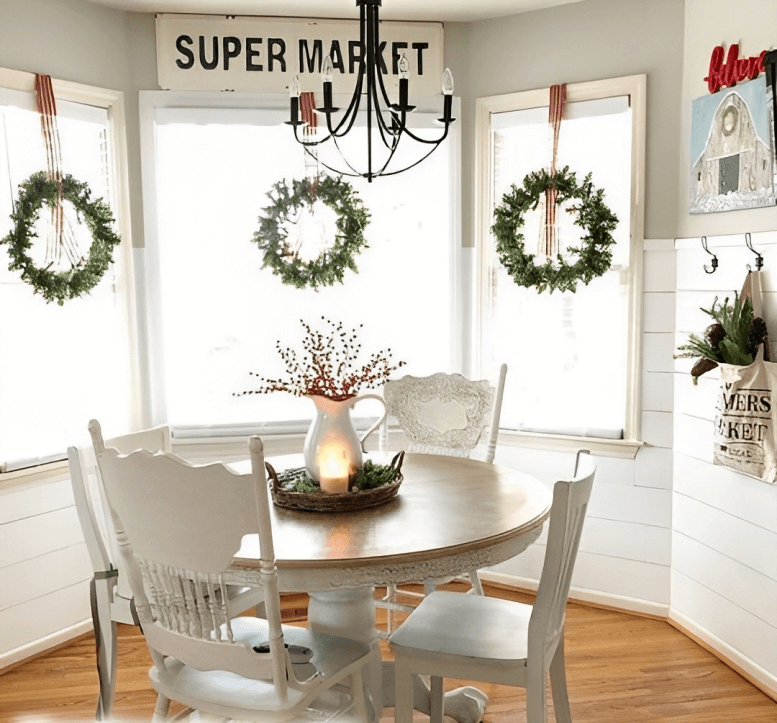 Farmhouse Christmas Home: The holiday season is upon us, and what better way to embrace the spirit of Christmas than by adorning your home with the timeless charm of a farmhouse Christmas decor theme? Farmhouse decor has gained immense popularity in recent years, thanks to its rustic yet cozy appeal. When combined with the festive elements of Christmas, it creates a warm and inviting atmosphere that captures the essence of the holiday season. In this article, we will explore various aspects of farmhouse Christmas decor, from rustic DIY projects to elegant centerpieces, and how you can create a magical wonderland within your own home.
---
1.Embracing Rustic Elegance
The farmhouse style is characterized by its rustic, worn-in look that exudes simplicity and charm. To infuse your home with farmhouse vibes, start by incorporating natural materials like wood, burlap, and galvanized metal. These elements can be seamlessly merged with traditional Christmas decorations to create a harmonious and inviting space.
---
2.The Perfect Palette
When it comes to farmhouse Christmas decor, a neutral color palette reigns supreme. Think whites, creams, soft greys, and muted greens. These colors provide a blank canvas for your festive decorations while maintaining a cozy and rustic ambiance. Incorporate pops of classic reds and rich plaid patterns to infuse your decor with that quintessential Christmas spirit.
---
3.The Heart of the Home: The Christmas Tree
The centerpiece of any Christmas decor is the tree, and a farmhouse-inspired Christmas tree is no exception. Choose a natural-looking tree or opt for a flocked tree to mimic the appearance of freshly fallen snow. Decorate it with a mix of homemade ornaments, vintage baubles, and rustic elements like burlap ribbons and wooden garlands. Top it off with a simple star or a homemade wreath.
---
4.DIY Farmhouse Christmas Decor
One of the joys of farmhouse decor is the opportunity to get crafty. Here are some DIY ideas to infuse your home with a rustic Christmas vibe:
a. Mason Jar Candle Holders:
Fill mason jars with twinkle lights or candles and arrange them as a centerpiece on your dining table or mantle. Tie some twine or plaid ribbon around the neck for added charm.
b. Burlap Stockings:
Create personalized stockings from burlap and embellish them with hand-painted names or stenciled designs.
c. Wooden Pallet Art:
Find an old wooden pallet and turn it into a festive sign by painting a Christmas message or design on it. Hang it on your front porch or in your living room.
d. Homemade Wreaths:
Craft your own wreaths using natural elements like pinecones, holly, and birch branches. Add a burlap bow for that rustic touch.
---
5.Cozy Farmhouse Furnishings
Farmhouse decor is all about creating a warm and inviting atmosphere. Layer your living spaces with cozy blankets and plump throw pillows in neutral hues. Swap out your everyday decor for items that exude holiday charm, like plaid tablecloths, cable-knit stockings, and festive dishware.
---
6.Farmhouse-Inspired Tablescapes
Set a picturesque table for your Christmas gatherings with farmhouse-inspired tableware. Consider using vintage plates, mason jar drinking glasses, and tarnished silverware. Create a stunning centerpiece with a wooden tray filled with candles, pinecones, and greenery. Incorporate natural elements like fresh eucalyptus sprigs and twine-wrapped napkin rings for an authentic farmhouse touch.
---
7.Outdoor Elegance
Extend the farmhouse Christmas decor theme to your outdoor spaces. Adorn your front porch with a rocking chair draped with a plaid blanket, a wreath on the door, and a lantern with a flickering candle. Illuminate walkways with mason jar luminaries and string lights for a cozy and inviting entrance.
---
8.A Rustic Christmas Kitchen
The heart of the home, the kitchen, should not be overlooked. Hang wreaths or garlands above cabinets, and display vintage cookie jars filled with holiday treats. Consider baking gingerbread cookies or constructing a gingerbread house to not only decorate your kitchen but also engage in a fun holiday activity.
---
Conclusion
A farmhouse Christmas home is a magical wonderland of wonderful decor that captures the essence of the holiday season with rustic elegance. By embracing the charm of natural materials, a neutral color palette, and DIY projects, you can create a warm and inviting atmosphere that will make your home a cozy retreat for family and friends during the holidays. So, gather your loved ones, sip on some hot cocoa, and revel in the beauty of your farmhouse-inspired Christmas wonderland.
Exploring a Farmhouse Christmas home tour is a source of great excitement for me. I'm thrilled to offer you some Christmas inspiration. You don't need to venture far to immerse yourself in the festive atmosphere. Simply introduce a stunning Christmas tree, and you'll instantly infuse your home with that delightful holiday spirit. This splendid Christmas home, featured for Tiffany by mydiyhappyhome ..perfectly embodies the festive charm.
---
Certainly, here are some frequently asked questions related to farmhouse Christmas decor, along with their answers:
Q1: How can I incorporate a farmhouse Christmas decor theme into a small space or apartment?
A1: Farmhouse Christmas decor can be adapted to fit small spaces or apartments with a few adjustments. Opt for a smaller Christmas tree or even a tabletop tree. Use wall space to hang wreaths and create rustic wall art. Decorate with smaller farmhouse-style items like mason jar candle holders or burlap stockings to maintain the theme without overwhelming the space.
---
Q2: What are some affordable ways to achieve a farmhouse Christmas look?
A2: Achieving a farmhouse Christmas look on a budget is absolutely possible. Consider these budget-friendly options:
DIY decorations: Create your own ornaments, wreaths, and table centerpieces using inexpensive materials like burlap, pinecones, and twine.
Thrift stores and garage sales: Hunt for vintage or rustic items that can be repurposed as Christmas decor.
Nature-inspired decor: Incorporate natural elements like pine branches and pinecones, which are often free or very low-cost.
---
Q3: Can I use colored decorations in a farmhouse Christmas decor theme?
A3: While farmhouse decor often emphasizes neutral and muted colors, you can absolutely incorporate colored decorations. To maintain the farmhouse aesthetic, use colors that complement the rustic look, such as deep reds, forest greens, or classic plaids. These colors can add a festive touch without straying too far from the farmhouse style.
---
Q4: How can I make my farmhouse Christmas decor unique and personalized?
A4: Personalizing your farmhouse Christmas decor can make it even more special. Here are some ideas:
Create custom ornaments with family photos or meaningful quotes.
Hand-paint signs or messages on wooden pallets.
Add personal touches to stockings, like initials or names.
Incorporate heirloom decorations or sentimental items into your decor.
Q5: Are there any safety considerations when using candles and lights in farmhouse Christmas decor?
A5: Safety is paramount when using candles and lights. Here are some tips:
Use flameless LED candles to mimic the warm glow of real candles without the fire risk.
Ensure that all electrical lights and cords are in good condition and not damaged.
Never leave candles or lights unattended, especially if you have young children or pets in the home.
Consider using timers for lights to automatically turn them off at bedtime.
---
Q6: How can I store my farmhouse Christmas decor for the next year?
A6: Proper storage ensures that your farmhouse Christmas decor remains in good condition. Here's how:
Invest in clear plastic bins to keep ornaments, wreaths, and other items visible and protected.
Wrap fragile items in bubble wrap or tissue paper.
Label each bin to make it easy to find specific decorations next year.
Store your decor in a cool, dry place to prevent damage from moisture or extreme temperatures.
---
With these answers to frequently asked questions, you'll be well-prepared to embark on your farmhouse Christmas decorating journey and create a cozy, festive atmosphere in your home.
---
Tags :
Holiday Home Tour