The Christmas Balcony Decor Trend: Elevate Your Festive Spirit
Balcony Decor Trend: As the holiday season approaches, many people are looking for new and creative ways to deck the halls and spread the Christmas cheer. One exciting trend that has gained significant popularity in recent years is the art of decorating balconies for Christmas. This trend has captured the hearts of urban dwellers and those with limited indoor space, offering a wonderful opportunity to extend the festive spirit beyond the living room. In this article, we will delve into the Christmas balcony decor trend, providing you with a comprehensive guide on how to transform your outdoor space into a winter wonderland.
The Christmas balcony decor trend is a fantastic way to spread holiday joy and make the most of your outdoor space during the festive season. With the right elements, including lighting, greenery, personalized touches, and DIY creations, you can transform your balcony into a winter wonderland that will delight both you and your neighbors. Whether you live in a bustling city or a cozy suburban neighborhood, a beautifully decorated Christmas balcony will make your home feel like a magical retreat during this special time of year. So, start planning your balcony decor now and let your creativity shine this Christmas season.
---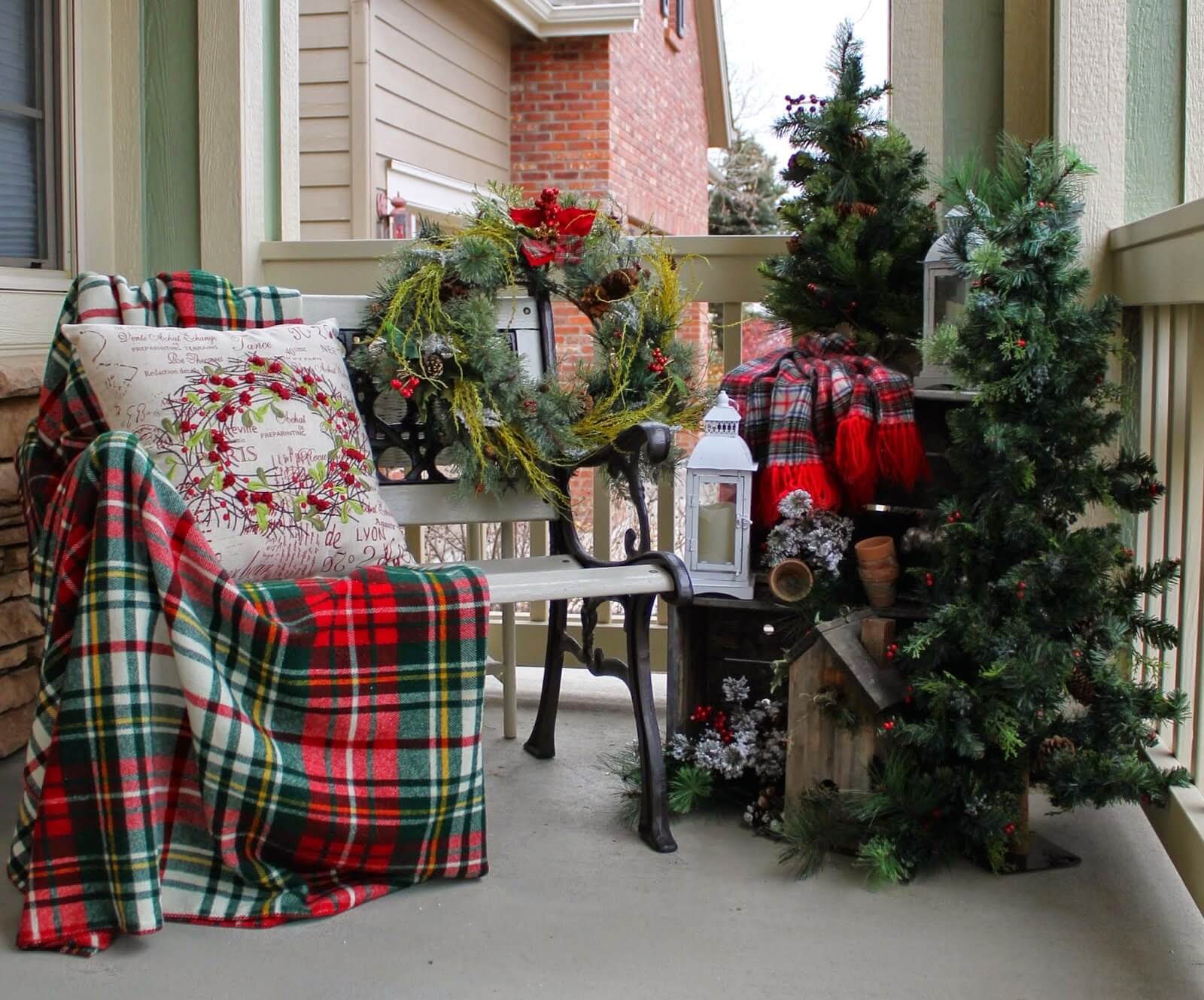 1.Embrace the Wintery Aesthetic
The first step in creating a beautiful Christmas balcony is to embrace the wintery aesthetic. This means incorporating elements that reflect the essence of the season. Think about using a color palette that includes traditional holiday colors like red, green, and white. To evoke the chill of winter, you might also incorporate silver and blue. Snowflakes, evergreen wreaths, and icicle lights are wonderful additions to create a frosty atmosphere..
---
2.Choose the Right Lighting
When it comes to balcony decor, lighting plays a crucial role. You can opt for string lights, which can be wrapped around railings, hung from the ceiling, or draped along the balcony's edge. Twinkling lights not only create a warm and inviting ambiance but also resemble the stars in the night sky, adding to the magic of Christmas.
---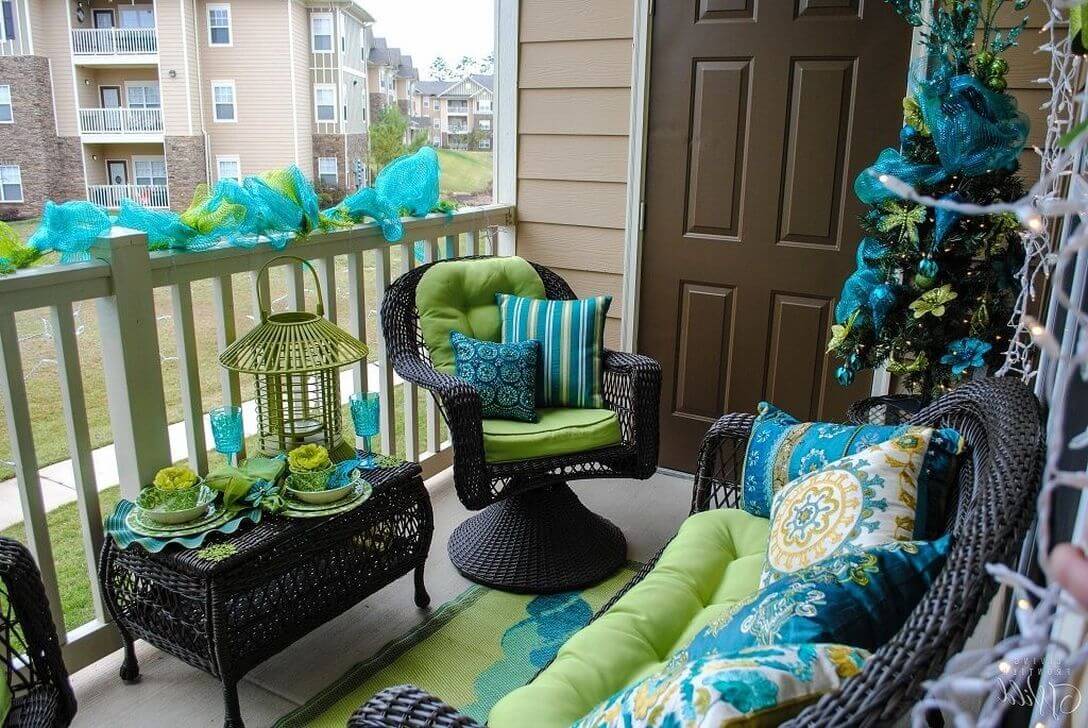 3.Invest in Quality Outdoor Decor
Since your balcony will be exposed to the elements, it's essential to invest in high-quality, weather-resistant decorations. Durable wreaths, sturdy outdoor ornaments, and waterproof cushions for outdoor furniture are essential components of your Christmas balcony decor. This way, your decorations will remain intact throughout the holiday season, regardless of rain, snow, or wind.
---
4.Greenery and Foliage
One of the best ways to make your Christmas balcony come alive is by incorporating greenery and foliage. Potted evergreen trees, such as mini Christmas trees or dwarf spruces, can be placed on the balcony. Hanging baskets with pine branches and mistletoe add a natural touch to your decor. Consider using garlands of artificial or real greenery to drape along railings or across the balcony's perimeter.
---
5.DIY Decorations
For those who enjoy a hands-on approach to decorating, creating DIY decorations can be a fun and rewarding project. Handcrafted ornaments, stockings, and even a handmade wreath can add a personal touch to your Christmas balcony. Crafting your own decorations not only allows for creativity but also ensures that your decor is unique and meaningful.
---
6.Festive Furniture
Your balcony decor can be elevated by adding festive furniture. Consider replacing your regular outdoor furniture cushions with holiday-themed ones, complete with Christmas patterns or colors. If space allows, add a small table and chairs, where you can enjoy hot cocoa or mulled wine while taking in the festive atmosphere.
---
7.Personalized Touches
Don't forget to add personalized touches to your Christmas balcony decor. Hanging stockings with the names of family members or placing personalized ornaments on the tree adds a warm and welcoming feel. Personalized items make your balcony decor more special and meaningful.
---
8.Window Decals
To create a magical and inviting atmosphere from both inside and outside your home, apply Christmas-themed window decals. These decals are an excellent way to add a festive touch to your balcony without taking up extra space.
---
9.Ambient Music and Scents
Enhance your Christmas balcony experience by playing ambient holiday music through outdoor speakers. The sounds of classic carols or crackling fireplaces can set the perfect mood. Additionally, consider using scented candles or diffusers with holiday scents like pine, cinnamon, or gingerbread to fill the air with the delightful aromas of the season.
---
10.Safety First
While decorating your Christmas balcony, it's important to prioritize safety. Ensure that any electrical connections for lights are weatherproof, and avoid overloading circuits. Be cautious when using open flames, such as candles, and never leave them unattended. Also, secure decorations to prevent them from being blown away by strong winds.
---
11.Outdoor Rugs:
Consider adding an outdoor rug with festive designs or colors to your balcony. This not only adds warmth and comfort but also provides a delightful visual element.
---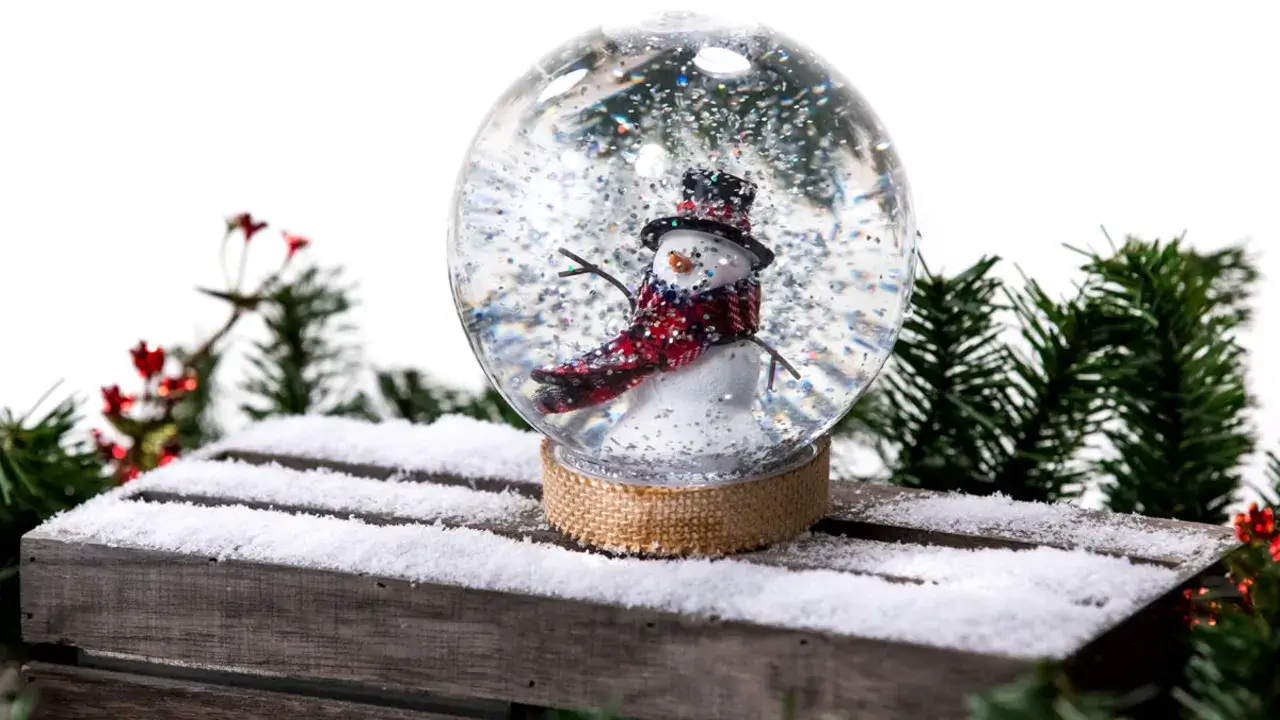 12.Snow Globes:
Decorative snow globes can be a charming addition. Place a few on your balcony table or shelves to create a whimsical winter scene.
---
13.Balcony Tree:
If space allows, set up a small Christmas tree on your balcony. You can decorate it with miniature ornaments and lights, making it a focal point of your decor.
---
14.Lanterns:
Hang or place lanterns around your balcony, especially those with holiday-themed cutouts or designs. They can hold candles or LED lights for an enchanting glow.
---
15.Oversized Ornaments:
Large, colorful Christmas ornaments can be hung from your balcony ceiling or placed strategically around the space for a bold and eye-catching statement.
---
16.Window Boxes:
If you have a railing or a window box on your balcony, fill it with seasonal flowers or greenery like poinsettias, holly, or even faux red berries.
---
17.Mini Fireplace:
Create a cozy atmosphere with a small, portable electric fireplace. Place it on a safe surface, and it can provide warmth and a charming visual element.
---
18.Nutcrackers and Toy Soldiers:
Place a couple of tall nutcrackers or toy soldiers near your balcony entrance to welcome guests and add a touch of tradition.
---
19.Projector Lights:
Use projector lights to display Christmas-themed images or animations on a nearby wall or surface. This can create a dynamic and captivating effect.
---
20.Christmas Banners:
Hang festive banners or garlands with holiday messages or greetings across the front of your balcony.
---
21.Twinkling Curtains:
Install sheer, twinkling curtains or fabric panels to add a touch of elegance and shimmer to your balcony decor.
---
22.Winter Wildlife:
Incorporate figurines or statues of winter animals like deer, penguins, or polar bears to bring a touch of nature to your decor.
---
23.Advent Calendar:
Create an outdoor advent calendar with small, weatherproof boxes or pockets, each containing a surprise or treat for each day leading up to Christmas.
---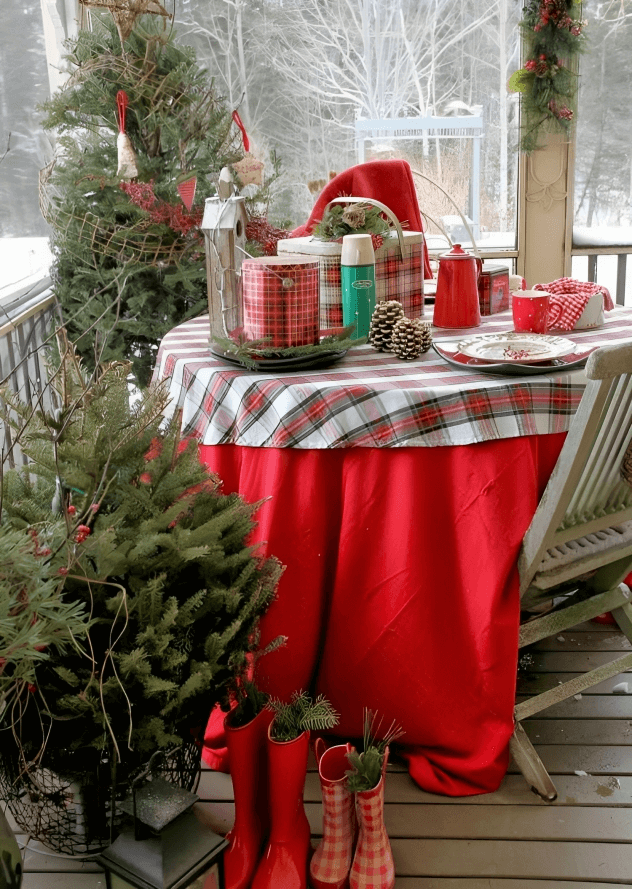 24.Hot Beverage Station:
Set up a hot cocoa or mulled wine station with a thermos, mugs, and various toppings like marshmallows, whipped cream, and cinnamon sticks.
---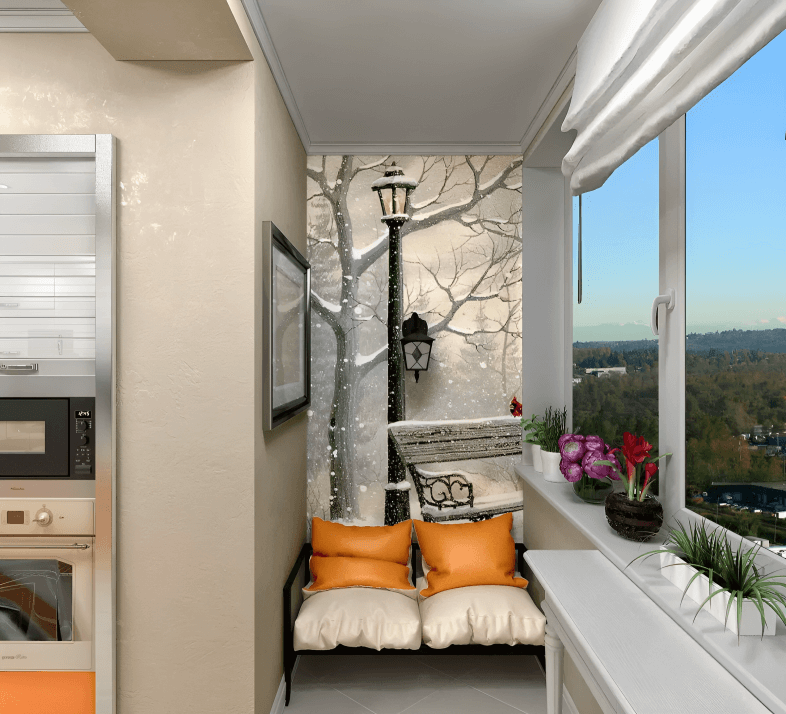 25.Outdoor Art:
Consider adding framed artwork or holiday-themed prints to your balcony walls for a personalized touch.
---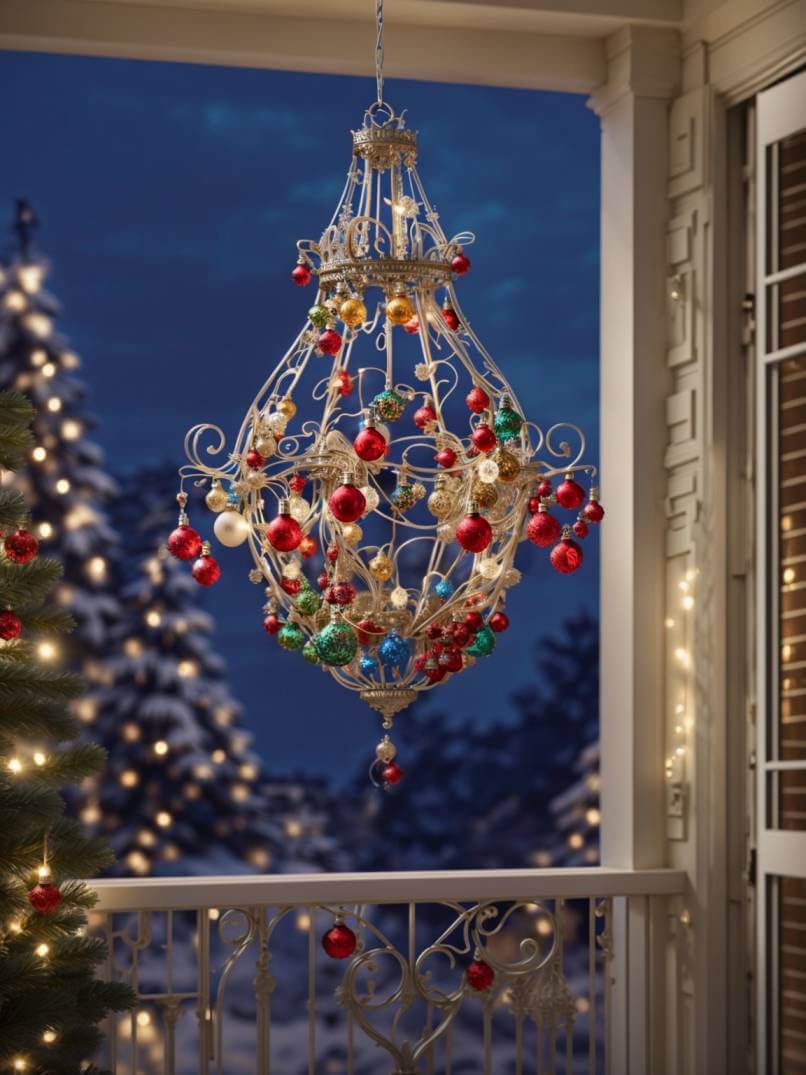 26.Wreath Chandelier:
Hang a beautiful wreath from the ceiling and add some hanging ornaments or ribbons to create a wreath chandelier effect.
---
27.Vintage Decor:
Incorporate vintage or antique Christmas decorations for a touch of nostalgia. Items like antique sleds or vintage signs can add character to your balcony.
---
28.Falling Snow Effect:
If it doesn't snow in your area, create the illusion of falling snow with a snowfall light projector. This can make your balcony feel like a winter wonderland.
---
29.Christmas Village:
Set up a miniature Christmas village on a small table or shelf, complete with tiny houses, figurines, and LED streetlights.
---
30.Wrapping Paper Display:
Hang rolls of festive wrapping paper on your balcony walls, allowing guests to choose their wrapping paper for gifts or adding a colorful backdrop to your decor.
---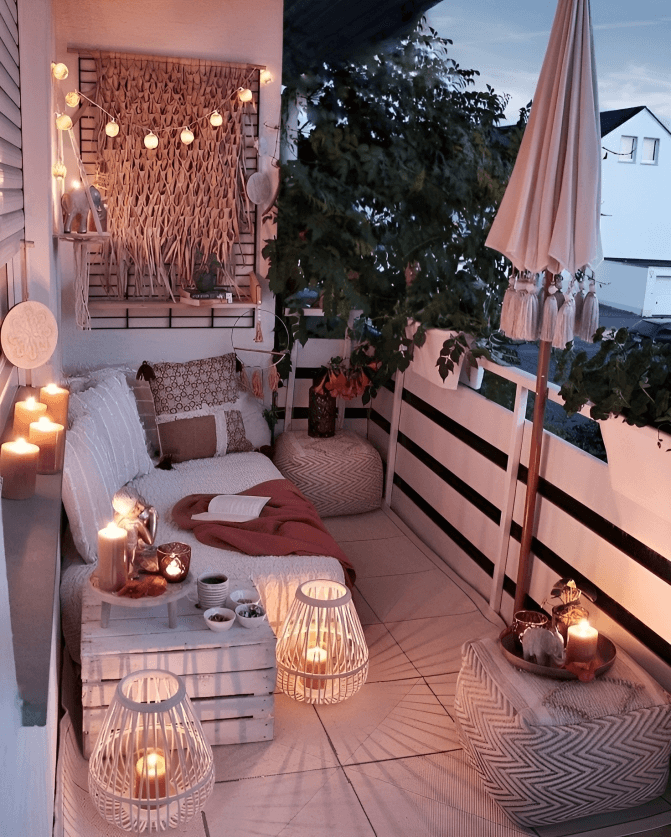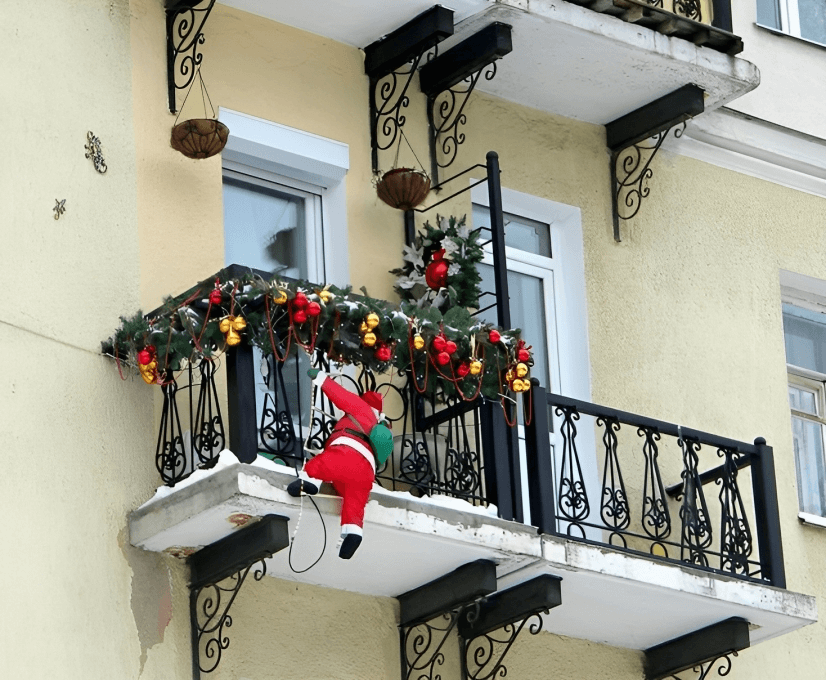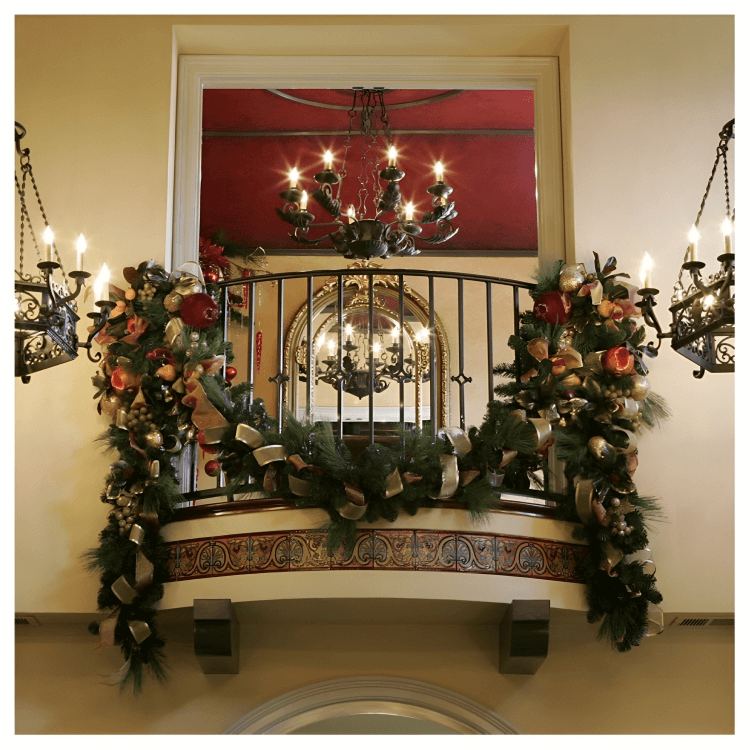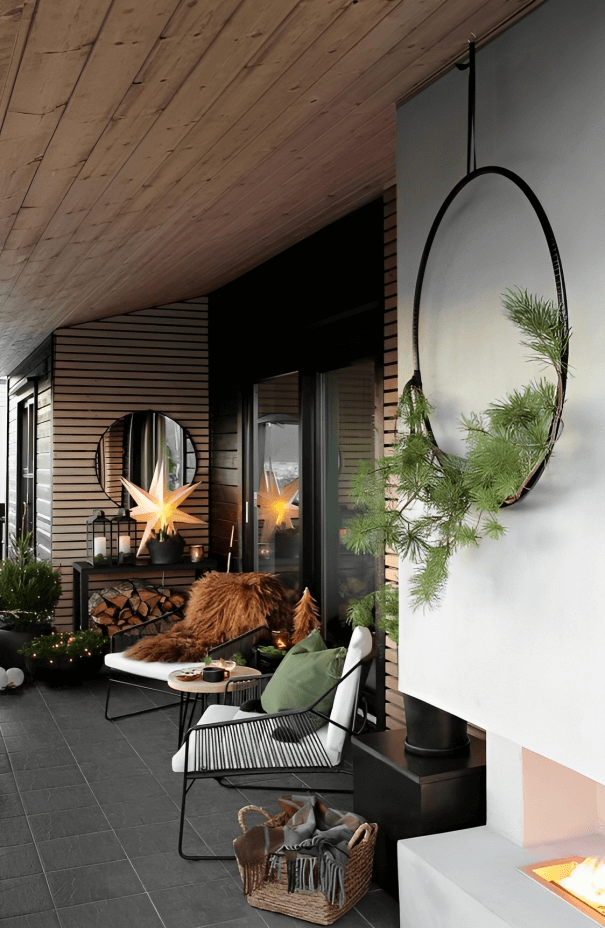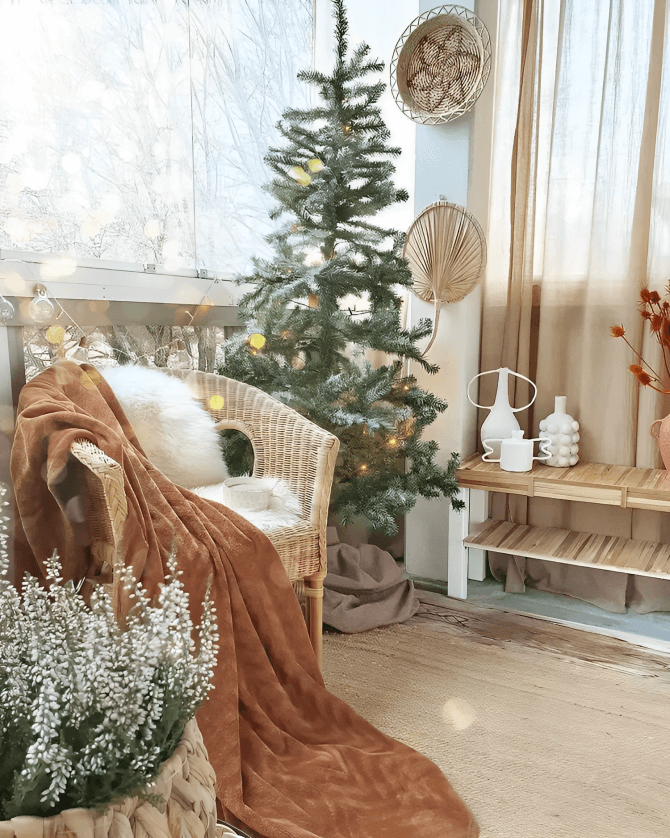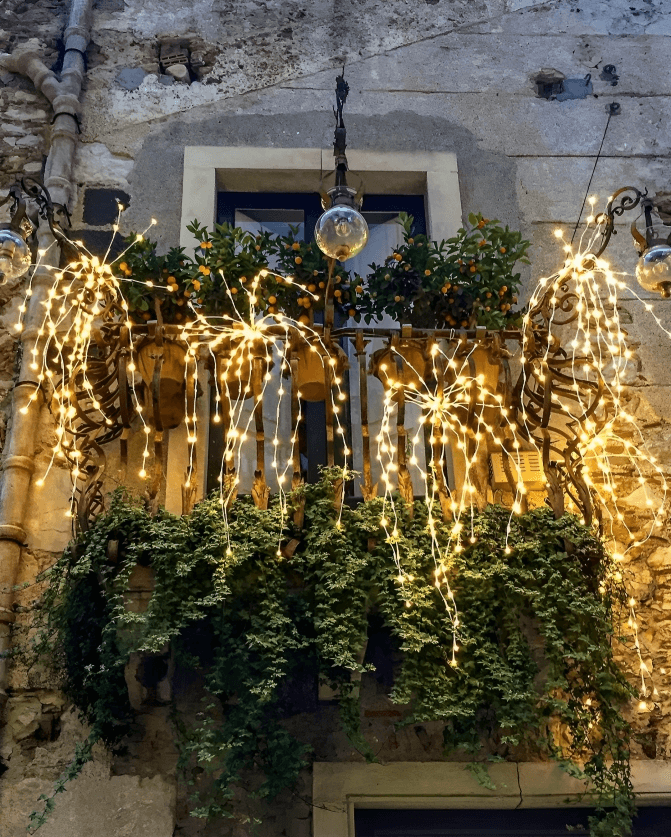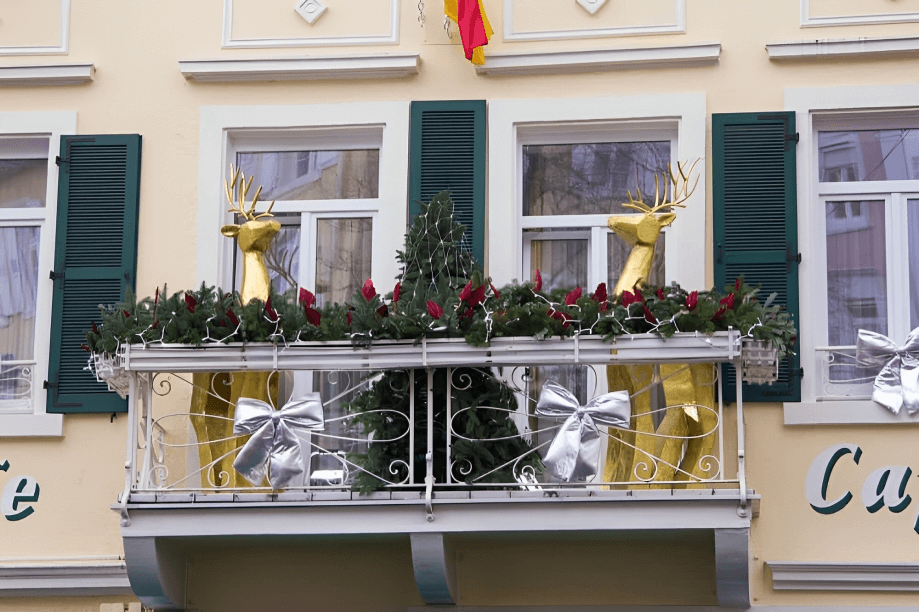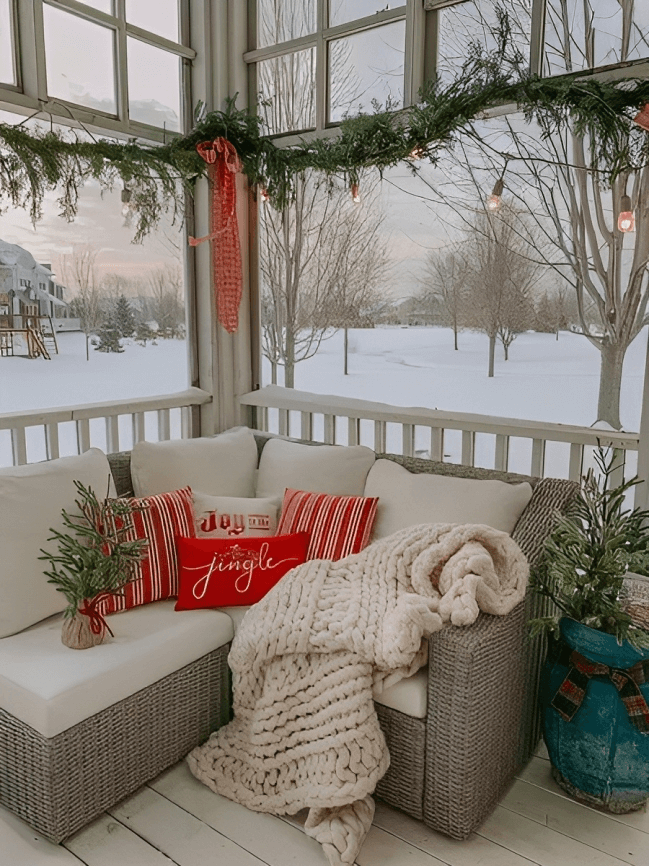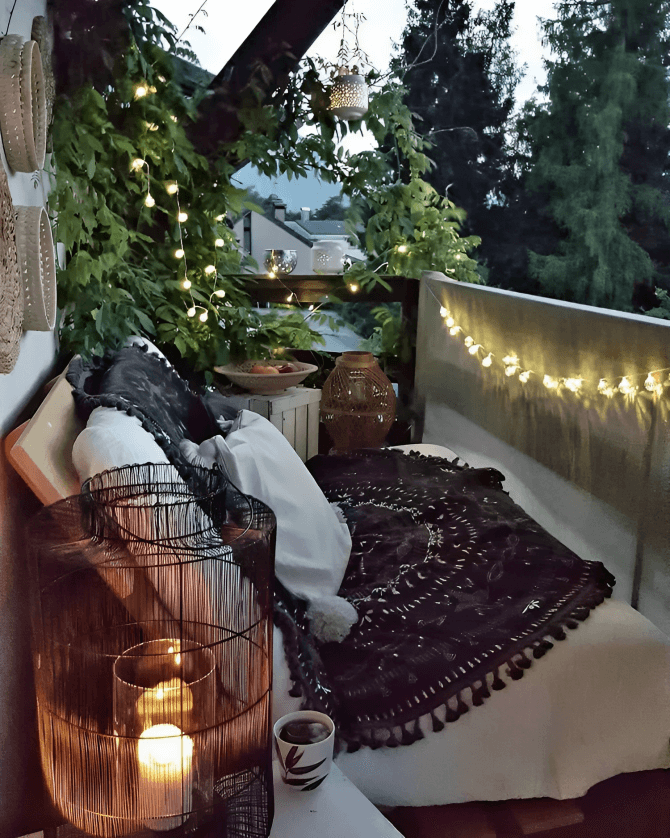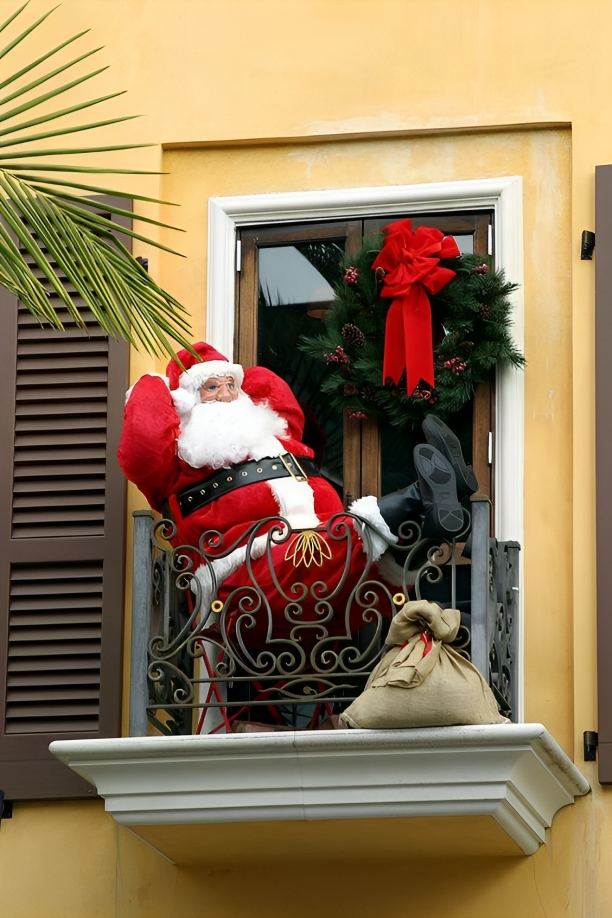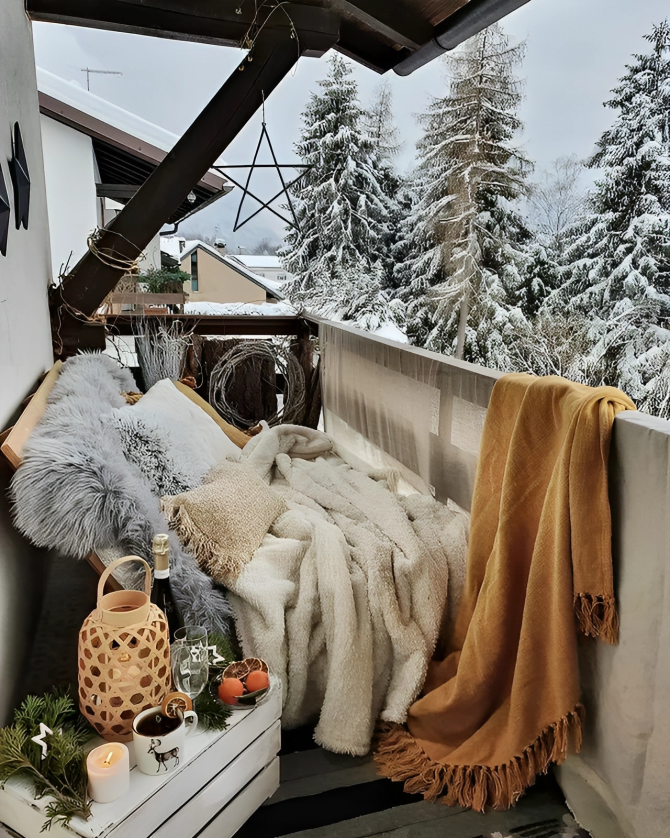 Remember that your Christmas balcony decor should reflect your personal style and preferences. Feel free to mix and match these ideas to create a unique and inviting holiday space that brings joy to you and those who visit your home during the holiday season.
---
Certainly! Here are some frequently asked questions related to decorating your balcony for Christmas and their answers:
1. Can I decorate my balcony for Christmas if I live in an apartment?
Absolutely! Balcony decorating is a wonderful way to bring the holiday spirit to your apartment. Just be sure to check your apartment complex's rules regarding decorations and adhere to them.
---
2. How can I ensure my Christmas balcony decor survives winter weather?
To make your decor weather-resistant, invest in high-quality outdoor decorations, use waterproof materials, secure items properly, and bring in any delicate or valuable pieces when extreme weather conditions are expected.
---
3. What are some space-saving ideas for small balconies?
For small balconies, consider vertical decorations like hanging ornaments, compact Christmas trees, and wall-mounted wreaths. You can also use space-saving furniture, like foldable chairs or tables.
---
4. Can I use real greenery for my Christmas balcony decor, or should I opt for artificial?
Both real and artificial greenery can be used. Real greenery gives an authentic feel but requires maintenance. Artificial options are durable and low-maintenance, making them ideal for long-lasting decor.
---
5. How can I make my Christmas balcony decor pet-friendly?
If you have pets, avoid using decorations that they may be tempted to chew on, and secure items to prevent them from knocking anything over. Opt for pet-safe materials when crafting or buying decor.
---
6. What safety precautions should I take when using lights on my balcony?
Ensure that any electrical connections are weatherproof, use outdoor-rated extension cords, and avoid overloading circuits. Be cautious with open flames and never leave candles or open flames unattended.
---
7. How can I incorporate sustainability into my Christmas balcony decor?
You can use eco-friendly decorations made from natural materials, choose LED lights for energy efficiency, and make DIY decorations using recycled or upcycled items to reduce your environmental footprint.
---
8. Can I decorate my balcony for Christmas on a budget?
Yes, you can decorate on a budget by using DIY projects, repurposing items you already have, and shopping for discounted or second-hand decorations. Creativity and resourcefulness can help you achieve a festive look without breaking the bank.
---
9. What are some ideas for making my Christmas balcony decor unique and personal?
Personalize your decor by adding items with sentimental value, incorporating handmade decorations, and displaying ornaments or symbols that hold special meaning to you and your family.
---
10. How can I ensure that my Christmas balcony decor is well-lit at night?
Use a combination of string lights, lanterns, and LED candles to create an inviting atmosphere. Consider outdoor spotlights or projectors to highlight specific elements of your decor.
---
Remember that the key to a stunning Christmas balcony decor is your creativity and personal touch. Whether you have a small space or a large balcony, you can make it festive and inviting with the right decorations and a bit of holiday spirit.
---
Tags :
Holiday Tips & Ideas