Farmhouse Country Chic: Embracing Gorgeous Decor with Rustic Elegance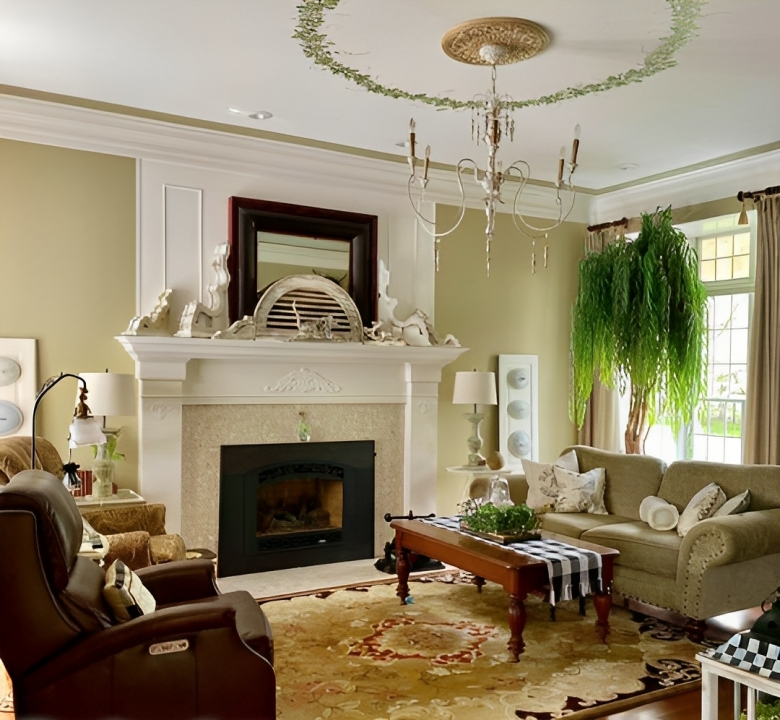 Farmhouse Country Chic: The timeless charm of farmhouse country chic decor has been capturing hearts and homes for generations. This style effortlessly blends rustic simplicity with elegant elements, creating a warm and inviting atmosphere that feels both cozy and sophisticated. Whether you're looking to transform your entire home or add a touch of countryside charm to a single room, this decorating style offers endless possibilities for creating a space that radiates beauty and comfort. In this article, we will explore the key elements, design principles, and DIY tips to help you achieve the gorgeous decor of farmhouse country chic.
---
1.The Essence of Farmhouse Country Chic
Farmhouse country chic decor draws inspiration from the rustic charm of rural farmhouses and the timeless appeal of vintage finds. It is a style that embraces imperfections, celebrates handmade craftsmanship, and pays homage to the past. Here are some key characteristics of this decor style:
---
Natural Materials: Wood, stone, and natural fabrics like linen and cotton are essential components. Reclaimed wood and weathered finishes add a sense of history and authenticity.
Neutral Color Palette: Soft, muted colors dominate the palette, with whites, creams, beiges, and pale pastels setting the tone. These hues create a serene and timeless ambiance.
Vintage and Antique Elements: Incorporating vintage furniture, distressed finishes, and antique accessories adds character and history to the space.
Open Shelving: Open shelves with rustic brackets not only provide storage but also serve as an opportunity to display cherished items and collections.
Textured Fabrics: Layering different textures such as burlap, jute, and distressed leather adds depth and coziness to the decor.
Simple, Unadorned Lines: Furniture with clean, simple lines is favored, with a focus on functionality and comfort.
Floral and Botanical Accents: Incorporating fresh or faux flowers and greenery brings a touch of nature indoors.
---
2.Key Elements of Farmhouse Country Chic Decor
To achieve the gorgeous decor of farmhouse country chic, consider these essential elements:
Barn Doors:

Barn doors are a quintessential farmhouse feature that can be used as a room divider, closet door, or decorative accent.

Farmhouse Sink:

A deep, apron-front sink adds functionality and a vintage touch to the kitchen.

Farmhouse Table:

A large, sturdy farmhouse dining table with distressed finishes and ample seating is a focal point in the dining room.

Mason Jar Lighting:

Mason jar pendant lights or chandeliers add a touch of rustic charm to any room.

Shiplap Walls:

Installing shiplap or using shiplap wallpaper on walls adds a rustic backdrop to your decor.

Exposed Beams:

If your home has exposed ceiling beams, leave them exposed or consider adding faux beams for an authentic look.

Vintage Signs:

Decorative signs with inspirational quotes, farm-related phrases, or simply the name of your homestead can be charming additions.
---
3.Mixing Modern and Vintage
While farmhouse country chic decor is rooted in vintage aesthetics, it doesn't mean you can't incorporate modern elements. In fact, blending the old with the new can create a more balanced and eclectic look. Here are some ways to achieve this harmony:
Modern Furniture:

You can introduce modern furniture pieces in neutral colors that seamlessly blend with the farmhouse decor.

Industrial Touches:

Industrial-style lighting fixtures, bar stools, or shelving can add a contemporary edge.

Minimalist Accents:

Incorporate minimalist decor elements like simple vases, clean-lined mirrors, or abstract art.
---
4.DIY Tips for Farmhouse Country Chic Decor
If you're on a budget or want to infuse a personal touch into your decor, consider these DIY ideas:
Chalk Paint Furniture:

Give old wooden furniture a distressed look using chalk paint and sandpaper.

Create Rustic Signs:

Design and create your own rustic signs using reclaimed wood and stencils.

Farmhouse Wreaths:

Craft wreaths using dried flowers, twine, and grapevine for a charming door or wall decoration.

Repurpose Items:

Transform old crates, baskets, or wooden ladders into functional decor pieces.

Handmade Textiles:

Make your own throw pillows, table runners, or curtains using burlap, linen, or other natural fabrics.
---
Conclusion
Farmhouse country chic decor is a timeless and versatile style that can turn any space into a haven of rustic elegance. Whether you live in a rural farmhouse or a city apartment, you can embrace the charm of this decorating style by incorporating natural materials, vintage finds, and a neutral color palette. Remember to balance vintage and modern elements to create a harmonious and personalized look. With a bit of creativity and some DIY projects, you can transform your home into a gorgeous farmhouse country chic retreat that radiates warmth and beauty.
---
"Inspiring farmhouse country decor provides a wonderful source of inspiration. The comfortable and laid-back ambiance of vintage decor, combined with rustic elements, is beautifully embodied in the home decor style of Timothy A. Moore, as featured on Forever Decorating This home decor exudes a charming and informal allure."
---
Certainly! Here are some frequently asked questions related to farmhouse country chic decor along with their answers:
1. What is the main difference between farmhouse decor and farmhouse country chic decor?
Farmhouse decor typically emphasizes a more rustic and utilitarian aesthetic, whereas farmhouse country chic decor combines rustic elements with vintage and elegant touches. Farmhouse country chic often incorporates softer colors and antique finds for a cozier and more refined look.
---
2. Can I achieve farmhouse country chic decor on a tight budget?
Yes, you can achieve farmhouse country chic decor on a budget. Look for thrift store or second-hand furniture, use DIY techniques like distressing and chalk painting, and focus on small, impactful changes like adding vintage accessories or textiles.
---
3. What are some easy ways to add farmhouse country chic touches to my home without a complete renovation?
You can start by incorporating key elements like vintage signs, mason jar lighting, and open shelving. You can also change the color palette to softer, neutral shades and use rustic accents like wooden trays, distressed mirrors, or farmhouse-style textiles.
---
4. Are there specific color schemes that work best for farmhouse country chic decor?
Yes, a classic color scheme for this decor style includes whites, creams, beiges, and pale pastels. These soft, neutral colors create a serene and timeless ambiance. However, you can also introduce subtle pops of color through decor accessories or fresh flowers.
---
5. Can I mix farmhouse country chic decor with other styles, like modern or industrial?
Absolutely! Mixing styles can create a unique and eclectic look. To blend farmhouse country chic with modern or industrial elements, choose neutral or muted colors, incorporate clean lines, and add modern or industrial accents through lighting fixtures, furniture, or decor pieces.
---
6. What are some common mistakes to avoid when decorating in the farmhouse country chic style?
One common mistake is over-cluttering the space with too many vintage or rustic elements. It's important to strike a balance between vintage and modern elements to avoid an overly dated look. Additionally, be mindful of not using overly bold or bright colors, as they can disrupt the serene atmosphere of this decor style.
---
7. Can I achieve a farmhouse country chic look in a small apartment or space with limited natural light?
Yes, you can adapt farmhouse country chic decor to smaller spaces and rooms with limited natural light. Use lighter paint colors to brighten the space, incorporate mirrors to reflect light, and choose smaller-scale furniture to maximize space. Additionally, consider adding artificial lighting, such as mason jar pendant lights, to create a cozy atmosphere.
---
8. What are some tips for maintaining the rustic charm of farmhouse country chic decor over time?
To maintain the rustic charm, regularly inspect and treat wooden furniture to prevent damage or wear. Dust and clean vintage accessories and textiles with care. Consider rotating or updating decor pieces to keep the look fresh while preserving its cozy appeal.
---
9. Can I incorporate farmhouse country chic decor into my outdoor spaces?
Yes, you can extend the farmhouse country chic style to your outdoor areas. Use wooden furniture, vintage garden tools, and weathered finishes for outdoor seating and dining areas. Consider adding floral arrangements, lanterns, and rustic outdoor lighting to create an inviting ambiance.
---
10. What are some sources for finding vintage and farmhouse-style decor pieces?
You can find vintage and farmhouse-style decor pieces at thrift stores, antique shops, online marketplaces (such as Etsy and eBay), local flea markets, and even through DIY projects. Additionally, many retailers offer farmhouse-inspired decor collections.
---
Remember that decorating in the farmhouse country chic style is about expressing your personality and creating a space that feels warm, inviting, and comfortable. Don't be afraid to put your own unique twist on this classic decor style!
---
Tags :
FarmHouse Tour