The difference between ceramic & porcelain 
The difference between ceramic & porcelain 
Difference between ceramic & porcelain 
Flooring is one of the most important occupations of home owners when finishing the new house or renewing the old house, and it is the front of the house, so many people want to make the floors of their homes look beautiful.
Choosing the right tile for completing your home decor is puzzling, given the competition between different types of floors, especially ceramics and porcelain.
We will show you the difference between ceramic and porcelain, which is better, through this article, to choose the best one for you
The difference between ceramic and porcelain in manufacturing :
There are some obvious differences between ceramic and porcelain, which appear in the components and the method of manufacture, so we will present the difference between them as follows:
 Ceramics is a mixture of a group of materials consisting of cement, clay, and glass, without any kind of mineral or inorganic material being included in its manufacture, where ceramics are called in the name of porcelain, so it is worth noting that ceramics is distinguished from other building materials , Unable to handle heavy weights or pressure and high temperatures.
As for porcelain, it is considered a type of ceramic that does not differ greatly in composition, it is a material that is made of clay according to the required form, and it is left for several days in the sun to dry completely, and it enters the oven to get rid of any small percentage of water in the porcelain pieces, Then it is stained with different dyes, and painted with a thick layer of glass, which is known as enamel, and it enters again into the convection oven, in order for the dyes to stick to the pottery and melt the layer of enamel on it to fix the dyes, and this makes it one of the types of ceramics that can withstand high temperatures.
What is the difference between ceramic and porcelain ?
There are many differences between ceramic and porcelain, and it can be observed through the components that make up both ceramic and porcelain. The ceramic does not contain in its components any kind of mineral and non-metallic materials, unlike porcelain, it contains mineral and non-metallic materials, but it is It is distinguished from ceramics by its ability to withstand the highest temperatures. It is worth noting that both ceramics and porcelain are included in construction work, but porcelain differs in use from ceramics somewhat.
What is the difference between porcelain and ceramic in floors ?
In terms of density and porosity, according to floor or porcelain tiles
Porcelain tiles are more dense and less porous than ceramic tiles, which makes porcelain able to repel liquids and resist stains and facilitate the cleaning process of the tiles and the inability of the liquid material to penetrate the outside of it makes it difficult to stick stains with it and spoil its external appearance and also protect it from the harmful use of detergents continuously.
Although it is common to use ceramic tiles for floors inside the house, porcelain has proven to be better, especially in more active places such as roads, bathrooms and kitchens.
Flooring ability to absorb water
International standards for the manufacture of porcelain tiles require that the percentage of absorption of water be less than 1%, while the proportion of ceramic tiles absorption of water is usually more than 3%.
Therefore, it is preferable to use porcelain tiles for floors outside the house to withstand the rain and changing weather factors, unlike ordinary ceramic tiles.
Durability and shelf life of ceramics and porcelain
Porcelain has proven to be the most durable material among all types of floors, and this is confirmed by the American Society for Testing Materials as well.
Porcelain tiles are more durable, crack and crack resistant than ceramic.
Therefore, porcelain is suitable for shops, commercial malls and other active places where it can withstand the passage of heavy equipment and crowds of people daily without causing problems to it.
 Fire resistance property
Porcelain is one of the raw materials that do not burn easily in normal conditions. Therefore, floors covered with porcelain can limit the spread of fire throughout the place in the event of a fire out of control.
 Floor color fastness
Ceramic tile colors are the most stable, they do not happen to fade when exposed to the sun or with the passage of time, so ceramic is the perfect choice for those who always care about the stability of the colors of the tiles.
But porcelain is also an industrial material that prints the color we want and the shape we want. It is scratch resistant and has a great resistance ability.
Ease of cutting and forming floor tiles
What we mentioned before, ceramics are less dense and tough than porcelain but, porcelain is formed in all ways whether large or small pieces and multiple shapes of square and hexagon and other different forms due to the possibility of cutting porcelain "laser cut" or the so-called marble cutting be cut 90 degrees, either Ceramics There is always a curvature on the ends, which forces us at the installation stage to make a space between the ceramic pieces.
Among the most important forms to talk about, are porcelain and ceramic in the form of parquet
The porcelain always gives a very close shape to the natural parquet because the angle meets the opposite of the ceramic, which requires leaving a distance, so porcelain is recommended in this case.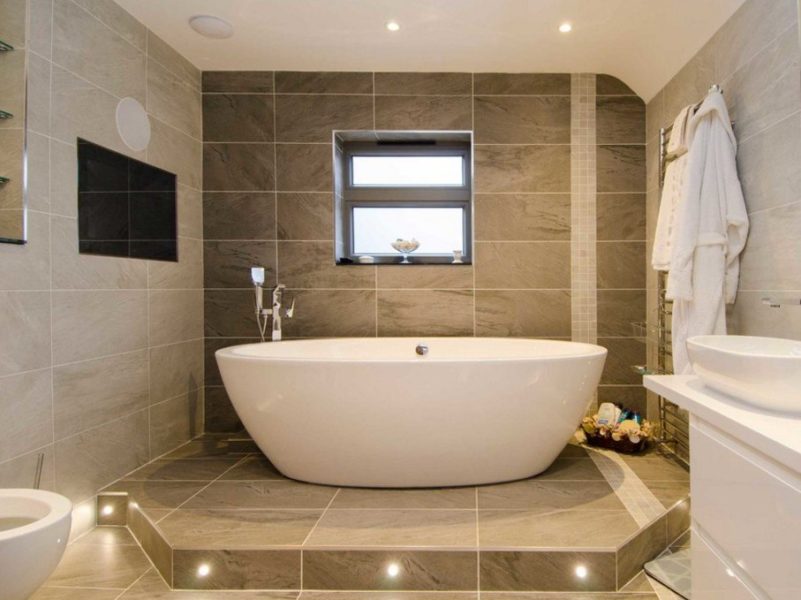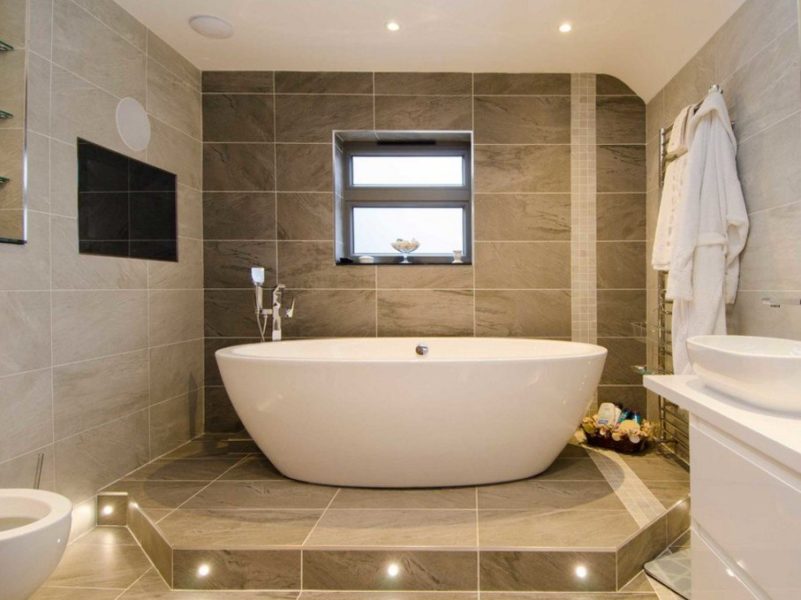 Floor transparency
Porcelain tiles are more transparent than ceramic tiles. Porcelain is distinguished by its ability to reflect light, so it looks bright and pure and increases the lighting of the place.
The cost of ceramic and porcelain
The cost of purchasing and installing good porcelain tiles is higher than ceramic tiles.
Although there are some types of porcelain that are inexpensive compared to others, we do not advise you to buy them because they do not conform to the international standards for the manufacture of porcelain and poor quality.
As for ceramic tiles, its prices are cheaper and there are many types of similar quality. You can choose from them as appropriate to your budget.
But in the end it is possible to provide the best at a good price, the prices are constantly changing and the quality offered by the porcelain is worth.
 Cleaning ceramic and porcelain floors
The porcelain porosity and its ability to repel liquids and resist stains makes it much easier to clean and maintain bright all the time than ceramics, porcelain does not require the use of strong detergents or much effort to clean it from dust or stains, unlike ceramics.
Conclusion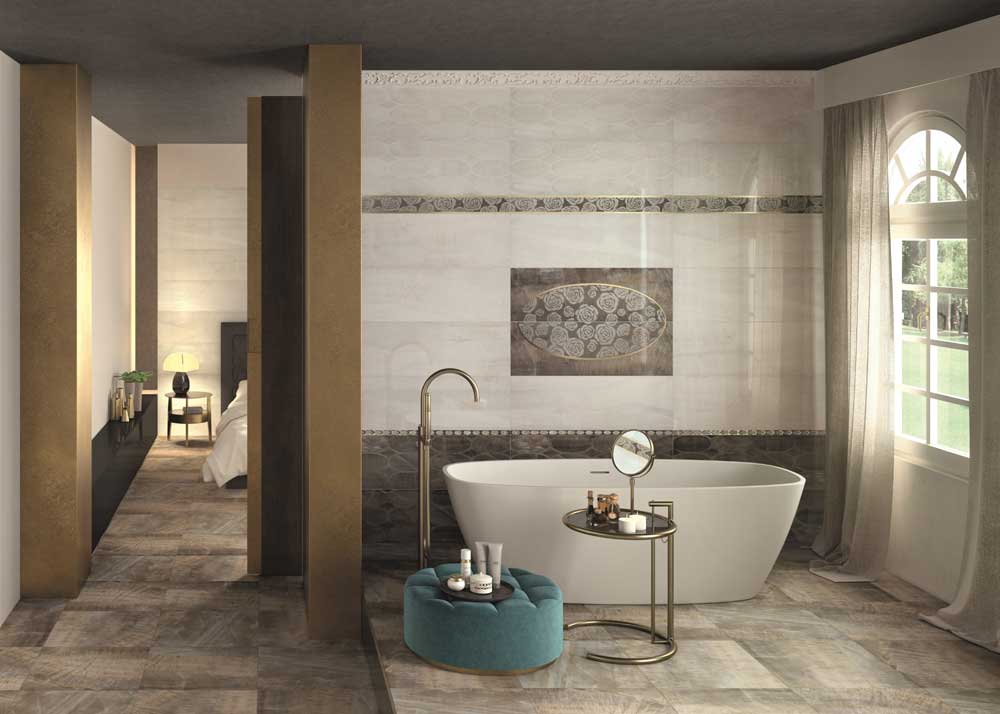 Porcelain is able to repel liquids and resist stains.
Porcelain is easier to clean than ceramic.
Porcelain is best for bathroom, kitchen, balconies, front of home and home areas
because it can withstand water and not absorb it.
Porcelain tiles are more durable, crack and crack resistant than ceramic, and withstands fire.
Ceramic is more stable in color than porcelain, but on porcelain it is possible to
print any shape or color similar to normal.
Ceramics are cheaper than porcelain and the cost of installation is lower as well.
Porcelain is easier to cut at an angle of 90 degrees.