Creating a Romantic Cottage Easter Decor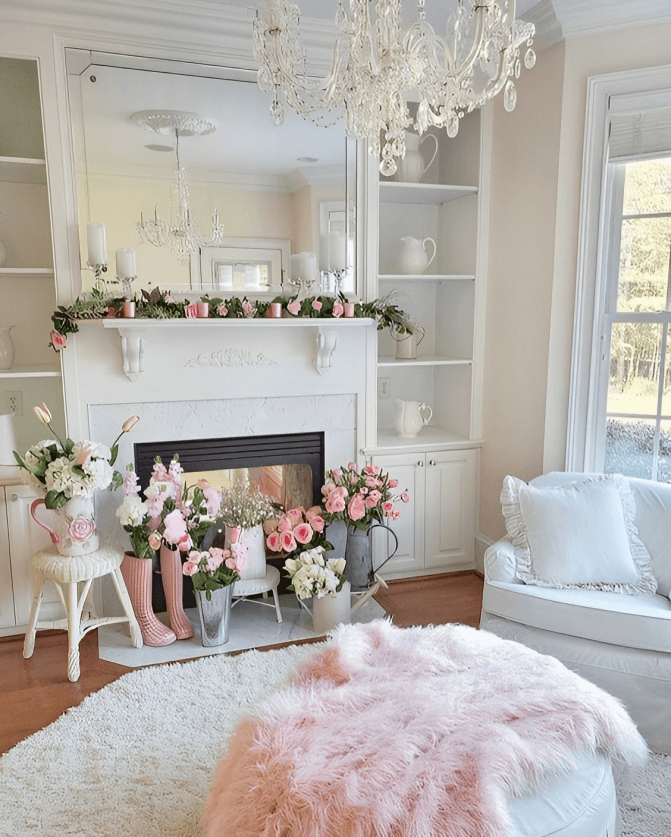 Romantic Cottage Easter Decor; Easter is a season that brings with it a sense of renewal, hope, and joy. What better way to celebrate this beautiful holiday than by adorning your cottage with romantic Easter decor? In this detailed article, we will explore various ideas and tips to transform your cottage into a charming and inviting Easter haven. From delicate pastel color schemes to whimsical bunny motifs, we'll cover everything you need to create a romantic cottage Easter decor that will enchant your family and guests.
---
1.Choose a Soft Pastel Color Palette
The foundation of any romantic Easter decor is the color palette. Opt for soft pastel colors like pale pinks, light blues, mint greens, and buttery yellows. These colors not only symbolize the freshness of spring but also create a calming and romantic atmosphere in your cottage.
---
2.Decorate with Fresh Flowers
Fresh flowers are a quintessential element of romantic cottage decor. Incorporate seasonal blooms like tulips, daffodils, and hyacinths into your Easter decor. Arrange them in vintage vases, mason jars, or rustic baskets to add a touch of natural elegance to your cottage.
---
3.Embrace Vintage and Shabby Chic Decor
Give your cottage a romantic flair by incorporating vintage and shabby chic elements. Antique lace tablecloths, distressed wooden furniture, and weathered picture frames can add a nostalgic charm that complements the Easter theme perfectly.
---
4.Create a Whimsical Easter Tree
Consider creating a whimsical Easter tree as a centerpiece for your cottage decor. Hang delicate hand-painted Easter eggs, miniature bird nests, and tiny bunnies on branches adorned with twinkling fairy lights. This whimsical touch will capture the essence of Easter's magic.
---
5.DIY Easter Crafts
Engage in some DIY Easter crafts to personalize your decor further. Craft paper or fabric bunting with Easter-themed patterns, create your own egg ornaments, or paint decorative signs with uplifting Easter messages. These handmade elements will infuse your cottage with a unique and sentimental touch.
---
6.Bunny and Chick Accents
Easter is synonymous with bunnies and chicks. Incorporate these adorable creatures into your decor through plush toys, figurines, or even on your tableware. These whimsical accents will make your cottage feel like an Easter wonderland.
7.Easter Wreaths
Welcome guests to your cottage with a charming Easter wreath on your front door. Crafted from faux spring blossoms, pastel ribbons, and Easter-themed ornaments, a wreath adds an inviting and festive touch to your cottage's exterior.
---
8.Easter Brunch Table Setting
If you plan to host an Easter brunch, pay special attention to your table setting. Use vintage china, elegant linen napkins, and floral centerpieces to create a romantic and inviting atmosphere. Consider adding personalized place cards and Easter-themed candles for an extra touch of sophistication.
---
9.Ambient Lighting
Enhance the romantic ambiance in your cottage with soft, ambient lighting. Choose pastel-colored or vintage-style lampshades, and use string lights, lanterns, or candlelit chandeliers to create a warm and cozy atmosphere that's perfect for Easter gatherings.
---
10.Easter Scents
Complete the sensory experience by incorporating Easter scents into your cottage decor. Light floral-scented candles or use essential oil diffusers with fragrances like lavender, rose, or fresh linen to evoke a feeling of relaxation and serenity.
---
Conclusion
Transforming your cottage into a romantic Easter haven is a delightful and creative endeavor. By carefully selecting a pastel color palette, embracing vintage elements, and incorporating Easter-themed decor, you can create a charming and inviting space that captures the essence of this joyous holiday. Whether you're celebrating with family or enjoying a quiet Easter retreat, your cottage will radiate warmth, love, and the magic of Easter.
Join us for a delightful journey through farmhouse Easter decor, where we'll explore simple and cost-effective ideas to adorn your home for the spring season. happydaysfarm will be your gracious host, offering a complete home tour filled with inspiration. Let's celebrate spring with these accessible and budget-friendly decorating tips."
---
Certainly! Here are some frequently asked questions related to creating a romantic cottage Easter decor, along with their answers:
Q1: Where can I find vintage and shabby chic decor items for my Easter cottage decor?
A1: You can often find vintage and shabby chic decor items at antique stores, thrift shops, flea markets, and online marketplaces like Etsy. These places offer a wide variety of items such as distressed furniture, antique lace, and weathered picture frames that can add a nostalgic charm to your cottage decor.
---
Q2: How can I make DIY Easter crafts without prior crafting experience?
A2: DIY Easter crafts can be enjoyable for beginners too. Start with simple projects like decorating Easter eggs with paint or markers, creating paper bunting with Easter-themed patterns, or painting decorative signs. There are plenty of online tutorials and crafting kits available to help you get started.
---
Q3: What are some creative ways to incorporate bunnies and chicks into my Easter cottage decor?
A3: You can incorporate bunnies and chicks into your decor through plush toys, figurines, or even as prints on cushions and tableware. Consider placing them in vignettes, such as a bunny figurine surrounded by fresh flowers or a chick-themed centerpiece.
---
Q4: Are there any safety considerations for using candles in my Easter cottage decor?
A4: Safety is paramount when using candles. Always keep candles out of reach of children and pets, and never leave them unattended. Consider using flameless LED candles or battery-operated fairy lights to create the same cozy ambiance without the risk of an open flame.
---
Q5: Can I adapt these ideas for a small cottage or apartment with limited space?
A5: Absolutely! You can adapt these ideas for smaller spaces by choosing smaller decor items and being mindful of scale. For instance, opt for mini Easter wreaths, smaller floral arrangements, and compact table settings to suit the available space in your cottage or apartment.
---
Q6: How can I make my Easter cottage decor more eco-friendly?
A6: To make your decor more eco-friendly, consider using natural and sustainable materials such as bamboo or wooden decor items. Use fresh flowers and potted plants that can be replanted after the holiday season. Additionally, try to upcycle or repurpose items you already have rather than purchasing new ones.
---
Q7: What are some budget-friendly alternatives for creating a romantic cottage Easter decor?
A7: If you're on a budget, you can still create a charming Easter decor by opting for DIY projects, shopping at thrift stores, and using items you already have creatively. Repurpose and recycle existing decor elements to keep costs low while achieving a romantic and inviting atmosphere.
---
Q8: Can I mix and match different pastel colors for my Easter decor?
A8: Yes, you can mix and match different pastel colors to create a visually appealing and unique Easter decor. Just ensure that the colors complement each other and maintain an overall soft and harmonious color scheme. Experiment with various pastel shades to achieve the desired romantic look.
These FAQs and answers should help you get started on your journey to create a beautiful and romantic cottage Easter decor.
---
Tags :
Spring Home Tour