Elegant Cottage Home Bright Decor For Spring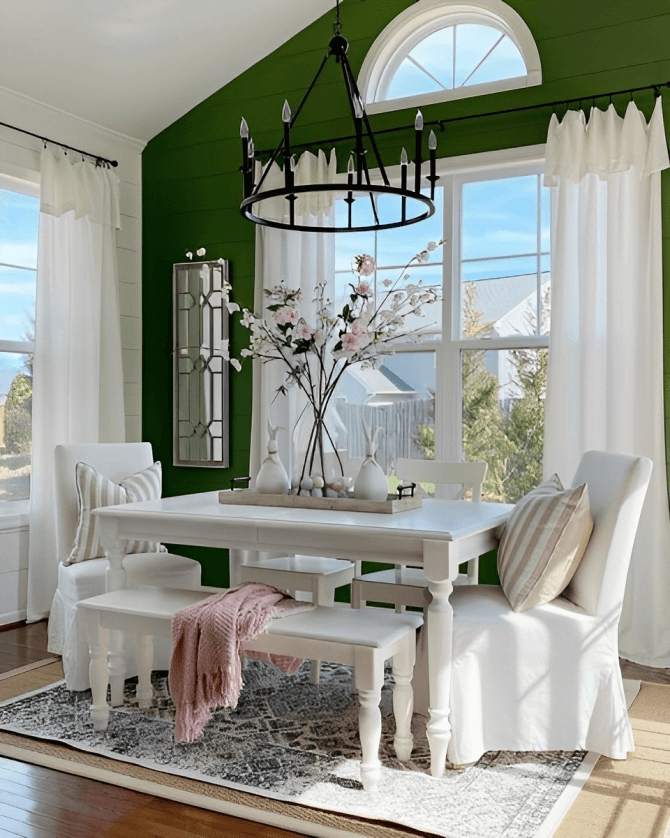 Bright Decor for Spring; As the days grow longer and the chill of winter begins to recede, there's a palpable sense of renewal in the air. Spring is a season of rebirth and rejuvenation, and what better way to celebrate its arrival than by giving your cottage home a fresh and vibrant makeover? In this article, we'll explore the world of elegant cottage decor with a focus on bright and cheerful accents that will bring the essence of spring into your living spaces.
---
1. Embrace Soft Pastel Hues
One of the hallmarks of spring is its soft, pastel color palette. Embrace this by incorporating shades of baby blue, mint green, pale pink, and buttery yellow into your cottage decor. Whether it's through wall paint, upholstery, or decorative accents like throw pillows and curtains, pastel hues will instantly infuse your home with a sense of lightness and serenity.
---
2. Floral Prints Everywhere
Spring and flowers are synonymous, so it's only natural to adorn your cottage home with floral prints. Opt for floral-patterned wallpaper, upholstery, or bedding to bring the beauty of the outdoors inside. Large floral arrangements in vases and potted plants can also add a burst of color and fragrance to your living spaces.
---
3. Light and Airy Fabrics
Swap out heavy drapes and curtains for lightweight, sheer fabrics. Flowing curtains made of chiffon or linen not only allow more natural light to flood in but also create an airy, breezy atmosphere. Consider using light, gauzy fabrics for tablecloths and slipcovers as well to maintain a consistent springtime vibe.
---
4. Wicker and Rattan Furniture
Wicker and rattan furniture are quintessential elements of cottage decor. Their natural textures and light, breezy appearance perfectly complement the bright and airy aesthetic of spring. Think about incorporating wicker chairs, coffee tables, or even a rattan headboard for your bedroom.
---
5. Vintage and Shabby Chic Accents
Cottage decor often leans towards the vintage and shabby chic style. Scour antique shops and flea markets for weathered wooden furniture, distressed mirrors, and vintage knick-knacks that add character to your space. Painting old furniture in pastel hues can breathe new life into tired pieces.
---
6. White as a Dominant Color
White is the ultimate backdrop for a spring-inspired home. Whether it's white-washed walls, crisp white linens, or white kitchen cabinets, this clean and classic color will make your cottage feel fresh and inviting. White also helps accentuate other springtime colors and decor elements.
---
7. Fresh Flowers and Greenery
Nothing says spring like a bouquet of freshly picked flowers. Place vases of tulips, daffodils, or daisies on your tables and windowsills. Consider planting a small indoor herb garden in your kitchen, not only for their fresh scent but also for culinary use.
---
8. Decorative Birdcages and Bird Motifs
Birds are a symbol of spring and new beginnings. Incorporate decorative birdcages into your decor, filling them with faux birds or candles. Bird motifs on cushions, wall art, and even dishes can also add a charming touch to your cottage home.
---
9. Open Shelving and Display Cabinets
Consider swapping out traditional kitchen cabinets for open shelving or glass-fronted display cabinets. This not only adds a touch of cottage charm but also encourages you to showcase your favorite spring-themed dishware and decor.
---
10. Don't Forget the Outdoor Spaces
Extend the springtime vibe to your outdoor spaces. Arrange outdoor furniture in pastel hues on your porch or patio. Hang string lights and add potted plants to create an inviting atmosphere for outdoor gatherings.
In conclusion, transforming your cottage home into a bright and elegant spring haven is all about embracing the spirit of the season. Soft colors, floral patterns, natural textures, and vintage accents all work together to create a space that feels like a breath of fresh air. With these decor ideas, your cottage will be a welcoming retreat that celebrates the beauty and vitality of spring all year round. So, go ahead and bring the outdoors in – your cottage will thank you for it!
---
"Various design projects that incorporate a blend of modern styles, such as classic, minimalism, modernist aesthetics, or eclecticism, can serve as a source of inspiration for your home's renovation or at least for a specific room. The captivating tour of Becca Bertotti's modern and elegant cottage home on adventuresindecorating1 is bound to offer a wide array of vivid and unique images showcasing living rooms, dining areas, and kitchens. I'm confident that within this diverse collection, you'll discover an interior that aligns with your personal preferences."
---
FAQs about Elegant Cottage Home Decor for Spring
1. How can I incorporate spring decor into my cottage home on a budget?
You can achieve a spring-inspired look on a budget by focusing on small changes, such as adding fresh flowers, switching out throw pillows and curtains, and repurposing or upcycling existing furniture. Thrift stores and flea markets can also be great sources for affordable vintage decor.
---
2. What are some eco-friendly ways to decorate my cottage for spring?
Consider using sustainable and eco-friendly materials in your decor, such as bamboo or reclaimed wood furniture. Opt for organic fabrics like cotton or linen, and use energy-efficient lighting. Additionally, shop for second-hand or locally sourced decor items to reduce your carbon footprint.
---
3. How can I maintain the spring decor theme throughout the year?
While spring decor is associated with pastel colors and floral patterns, you can maintain the theme year-round by using more neutral base colors like white and incorporating seasonal accents. For summer, add brighter colors; for fall, consider warm, earthy tones, and for winter, introduce cozy textures like faux fur and knits.
---
4. What are some tips for caring for indoor potted plants and herb gardens in a cottage home?
Ensure your potted plants receive adequate sunlight and water. Rotate them occasionally to encourage even growth. Herbs need well-draining soil and regular pruning to promote healthy growth. Keep an eye out for pests and address them promptly with natural remedies like neem oil or soap water.
---
5. Can you suggest some cottage-inspired DIY projects for spring decor?
Certainly! You can create DIY projects like making floral wreaths, repainting old furniture in pastel colors, crafting decorative birdcages from wire, or sewing your own floral-patterned throw pillow covers. There are endless creative possibilities to personalize your cottage decor.
---
6. What are some other ways to make a cottage home feel cozy in spring?
To add extra coziness to your cottage in spring, consider adding soft, plush throws, and rugs. Incorporate scented candles or diffusers with fresh and floral fragrances. Hang artwork or photographs that evoke pleasant memories of springtime adventures.
---
7. How can I incorporate sustainable and eco-friendly practices into my cottage decor for spring?
You can opt for eco-friendly paint and finishes, choose furnishings made from sustainable materials, and repurpose or upcycle old items instead of buying new ones. Additionally, focus on energy-efficient lighting and use natural ventilation to reduce the need for artificial cooling.
---
8. Are there any specific cottage styles that work well with spring decor?
Spring decor can complement various cottage styles, including English cottage, coastal cottage, and rustic cottage. The key is to adapt the color palette and decor elements to suit your preferred cottage style while incorporating spring-inspired accents.
---
9. What are some alternatives to fresh flowers for adding a springtime feel to my cottage?
If fresh flowers aren't readily available, consider using high-quality silk or faux flowers. They offer the same vibrant colors and can be a lasting springtime addition. You can also display seasonal fruits in decorative bowls for a colorful and natural touch.
---
10. How can I make my cottage's outdoor space inviting for spring gatherings?
To make your outdoor space inviting, invest in comfortable outdoor furniture, add outdoor cushions and pillows in spring colors, and hang string lights or lanterns for a warm and welcoming atmosphere. Potted plants and flowering shrubs can provide a natural backdrop.
---
Tags :
Spring Home Tour