Spring Wreath Ideas So Inspiring, You'll Want to DIY Today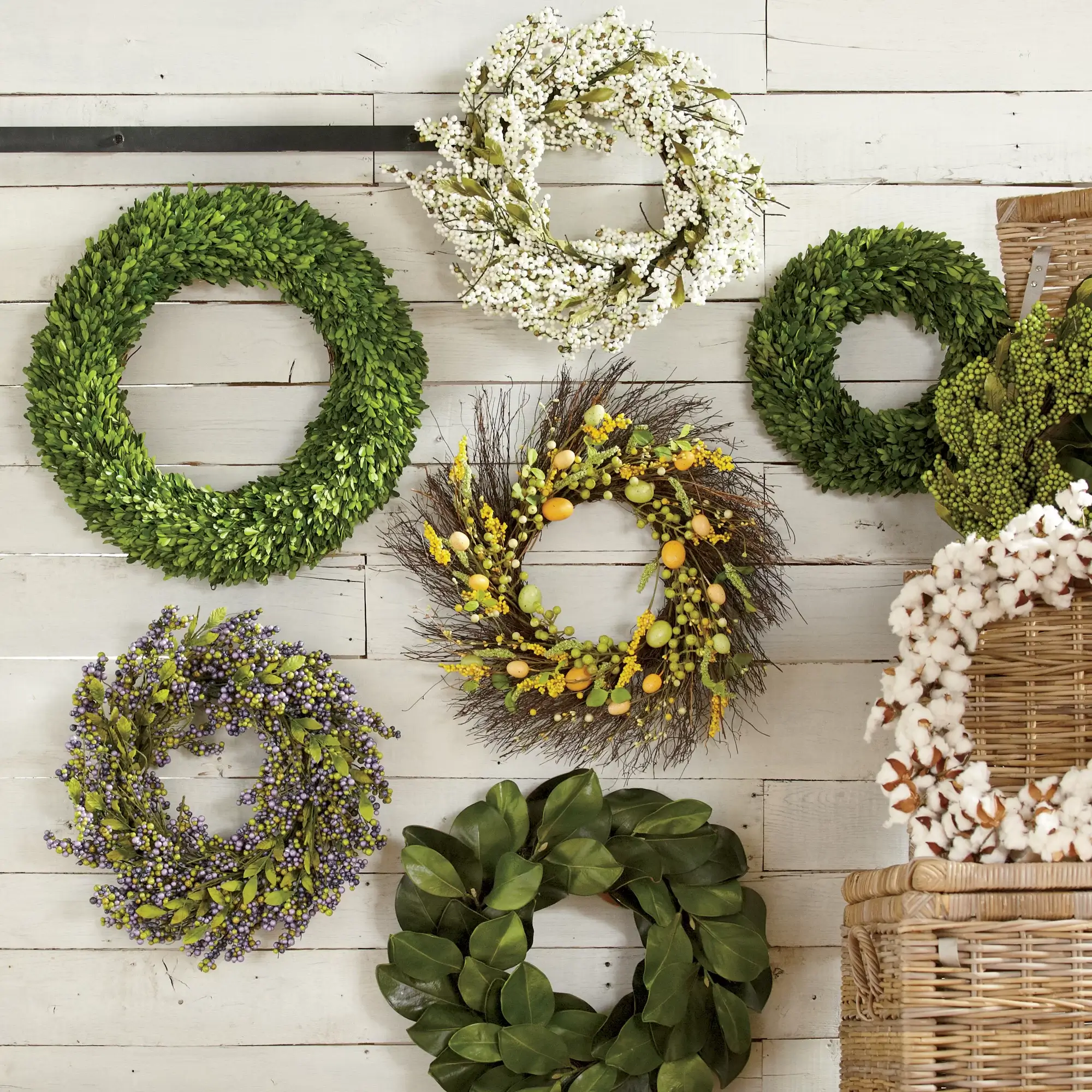 Spring Wreath Ideas ; As winter bids adieu and nature awakens from its slumber, the arrival of spring brings forth a burst of colors, fragrances, and a renewed sense of vitality. To celebrate this season of rejuvenation, many people adorn their homes with vibrant decorations, and one timeless way to do so is by crafting or purchasing a beautiful spring wreath. Spring wreaths are not only a symbol of the changing seasons but also a welcoming gesture to guests. In this article, we will explore a plethora of inspiring spring wreath ideas that will spark your creativity and leave you eager to embrace the season.
---
1.Floral Elegance
Let's start with a classic yet timeless choice: the floral wreath. Spring is the season of blooming flowers, and incorporating an array of colorful blossoms into your wreath is sure to capture the essence of spring. Consider combining various flowers like tulips, daisies, peonies, and hydrangeas for a lush and visually appealing wreath. Add some faux greenery, such as eucalyptus leaves or ferns, for an extra touch of elegance.
---
2.Bird's Nest Wreath
Birds symbolize renewal and rebirth, making them a perfect addition to your spring wreath. Craft a charming bird's nest wreath by securing a small faux nest to your wreath base and embellishing it with artificial eggs and tiny feathered friends. This delightful wreath will evoke feelings of warmth and serenity.
---
3.Herb-Infused Wreath
For a wreath that not only looks but also smells amazing, consider an herb-infused wreath. Combine fragrant herbs like rosemary, lavender, and thyme to create a wreath that fills the air with delightful scents every time you approach your door. This wreath is not only visually appealing but also functional, as you can snip off herbs for cooking throughout the season.
---
4.Butterfly Bliss
Spring brings the return of butterflies, a symbol of transformation and beauty. Incorporate faux butterflies into your wreath for a whimsical touch. You can choose from a variety of butterfly species and colors to match your personal style. Pair them with vibrant silk flowers for a wreath that's a true ode to spring's vibrancy.
---
5.Monogram Wreath
Add a personalized touch to your spring wreath by incorporating your initial or family monogram. Wooden or metal letters can be painted in spring-inspired colors and attached to the wreath base. Surround the letter with flowers, greenery, and other decorative elements for a customized and welcoming entryway decoration.
---
6.Succulent Splendor
Succulents have gained immense popularity in recent years due to their low maintenance and unique beauty. Create a spring wreath with a modern twist by using artificial succulents. Combine different shapes, sizes, and colors of succulents on a grapevine or foam wreath base for a contemporary and long-lasting spring decoration.
---
7.Upcycled Umbrella Wreath
Get creative and upcycle an old umbrella into a delightful spring wreath. Remove the fabric from the umbrella frame and attach it to a circular wreath base. Fill the fabric with faux flowers, greenery, and decorative elements. Hang the umbrella wreath upside down for a whimsical and eye-catching display.
---
8.Garden-Inspired Wreath
Emulate the beauty of a flourishing garden by creating a wreath adorned with miniature garden tools, tiny pots, and artificial flowers. This garden-inspired wreath captures the essence of spring's bounty and makes for a charming and unique decoration.
---
9.Citrus Sensation
Citrus fruits are synonymous with freshness and zest, making them perfect for a spring wreath. Incorporate artificial lemons, limes, or oranges into your wreath design. Pair them with vibrant flowers or greenery for a cheerful and citrus-infused welcome.
---
10.Rustic Wildflower Wreath
Capture the untamed beauty of spring's wildflowers by crafting a rustic wreath using dried or faux wildflowers. A grapevine or twig wreath base pairs perfectly with these charming blooms. This wreath exudes a natural, country-inspired charm that's hard to resist.
---
Conclusion
Spring wreaths are more than just decorations; they are expressions of our excitement for the rejuvenation of nature and the arrival of warmer, brighter days. With these inspiring spring wreath ideas, you have the perfect opportunity to infuse your home with the essence of spring. Whether you choose the classic elegance of floral wreaths, the whimsy of bird's nest wreaths, or the uniqueness of citrus-infused wreaths, your creation will surely brighten your space and welcome the season with open arms. So, roll up your sleeves, gather your materials, and let your creativity blossom as you embark on your spring wreath crafting journey.
Q1: How do I choose the right flowers for a spring wreath?
Choosing the right flowers for your spring wreath depends on your personal style and the overall look you want to achieve. Consider using a mix of spring blooms like tulips, daisies, peonies, and hydrangeas for a vibrant and lush wreath. You can also add faux greenery like eucalyptus leaves or ferns to enhance the wreath's elegance and texture.
---
Q2: Can I make a herb-infused wreath using real herbs?
Yes, you can certainly make a herb-infused wreath using real herbs. However, keep in mind that real herbs will eventually wilt and dry out. If you want a long-lasting wreath, consider using artificial herbs or a mix of real and faux herbs. This way, you can enjoy the fragrance and appearance of fresh herbs without worrying about them wilting.
---
Q3: How do I attach a monogram letter to my wreath?
To attach a monogram letter to your wreath, you can use floral wire, hot glue, or a combination of both. If the letter is wooden or metal, you can use floral wire to secure it to the wreath base. Alternatively, you can use hot glue to attach it directly to the wreath. Be sure to position the letter where you want it before attaching it, and allow any glue to dry completely before hanging your wreath.
---
Q4: Are succulent wreaths difficult to maintain?
Succulent wreaths are relatively low-maintenance compared to live succulent gardens. Since artificial succulents are used, there's no need to worry about watering or sunlight. Simply hang your succulent wreath in a shaded or indoor area to keep it looking fresh and vibrant throughout the spring season.
---
Q5: Can I create a garden-inspired wreath with real garden tools and pots?
Yes, you can create a garden-inspired wreath using real garden tools and pots. However, keep in mind that using real items may make your wreath heavier and more susceptible to wear and tear. You can attach these items securely to the wreath base using wire or hot glue. If you prefer a lighter and more durable option, consider using miniature faux garden tools and pots.
---
Q6: How can I prevent artificial citrus fruits on my wreath from fading?
To prevent artificial citrus fruits on your wreath from fading, it's a good idea to store the wreath in a cool, dry place when not in use. Direct sunlight and excessive heat can cause fading over time. Additionally, you can apply a clear protective spray, like a UV-resistant clear coat, to the citrus fruits to help preserve their vibrant color.
---
Q7: Can I make a rustic wildflower wreath using real dried wildflowers?
Yes, you can create a rustic wildflower wreath using real dried wildflowers. Dried wildflowers add a lovely natural touch to your wreath. To do this, gather an assortment of dried wildflowers, secure them to your wreath base using floral wire or hot glue, and arrange them to achieve your desired rustic look. Keep in mind that dried flowers are fragile, so handle them gently during the crafting process.
---
Tags :
Spring Tips & Ideas