How to Make Beautiful Valentine's Day Decoration: A Step-by-Step Guide
Valentine's Day Decoration: Valentine's Day is the perfect occasion to express your love and affection for that special someone in your life. While it's a day traditionally associated with romance and affection, it's also an opportunity to get creative and make your surroundings reflect the love you share. One way to do this is by crafting beautiful Valentine's Day decoration that can set the mood and make your celebration even more special. In this article, we'll provide a step-by-step guide on how to create stunning Valentine's Day decoration that will add a touch of romance to your home.
Valentine's Day is a time to celebrate love, and what better way to do so than by creating beautiful decorations that set the mood and make the day even more special? Whether you choose to make garlands, love notes, centerpieces, wreaths, or luminous displays, crafting your own decorations can be a rewarding and heartfelt way to show your love and affection. By following the step-by-step guide provided in this article, you can make this Valentine's Day truly memorable with beautiful decorations that reflect your love and creativity. Happy crafting, and happy Valentine's Day!
---
Materials You'll Need
Before diving into the creative process, gather the necessary materials to bring your Valentine's Day decoration to life. Here's a list of some essential items to have on hand:
Red, pink, and white construction paper
Scissors
Glue or double-sided tape
Craft ribbon
Glitter
Cardstock or poster board
Markers or pens
Craft glue
Heart-shaped stencils or templates (optional)
String lights (optional)
Now that you have your materials ready, let's explore some creative and beautiful Valentine's Day decoration you can make.
---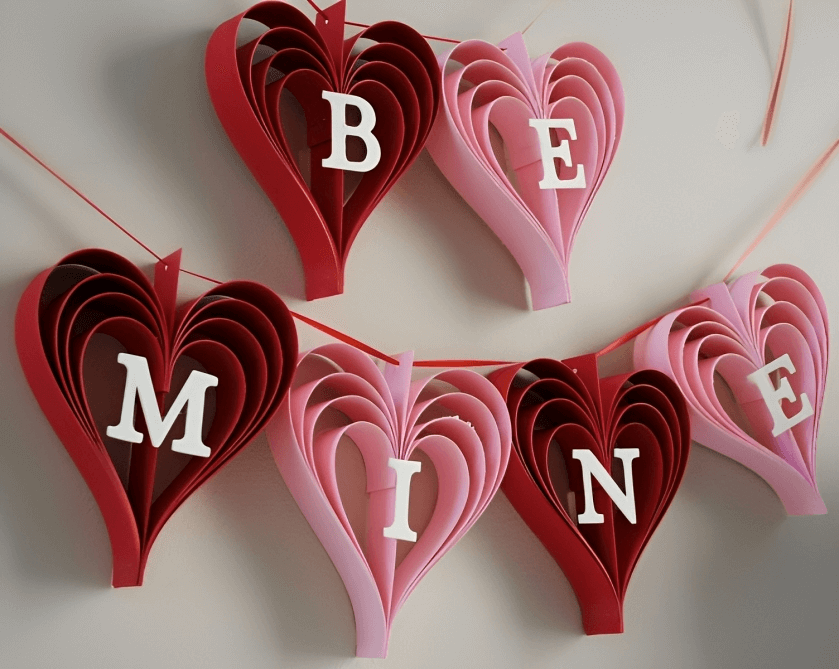 1.Heartfelt Garlands
Garlands are a classic and simple way to decorate your home for Valentine's Day. Cut heart shapes from red, pink, and white construction paper in various sizes. You can use stencils or freehand the hearts for a more organic look. Once you have a collection of hearts, string them together using craft ribbon, leaving equal spaces between each heart. You can add a touch of sparkle by sprinkling some glitter over the hearts before attaching them to the ribbon. Hang the garland across doorways, mantels, or windows to instantly infuse your space with love.
---
2.Handmade Love Notes
Crafting personalized love notes is a sweet and sentimental way to express your affection on Valentine's Day. Take cardstock or poster board and cut it into small rectangles. Decorate each note with heartfelt messages, drawings, or love quotes using markers or pens. You can get as creative as you like, adding embellishments and decorative elements. Place these love notes in various spots around your home, such as on the dining table, on the bed, or inside a handcrafted Valentine's Day card.
---
3.Heartwarming Centerpieces
Valentine's Day is a perfect occasion to create beautiful centerpieces for your dining table. Begin by gathering a selection of glass vases or jars. Fill them with red, pink, or white flowers, such as roses, carnations, or tulips. You can also add small heart-shaped decorations to the vases for a more thematic look. Consider placing these centerpieces on a table adorned with a red or white tablecloth for an added touch of elegance.
---
4.Luminous Love
If you're looking to create a warm and romantic atmosphere, incorporate string lights into your Valentine's Day decor. You can use clear string lights or those with red or pink bulbs for added charm. Drape them over a headboard, mirror, or around a doorway for a soft and inviting glow. To enhance the romance, cut out small paper hearts and attach them to the string lights using craft glue.
---
5.Love-Infused Wreaths
Wreaths are versatile decorations that can be used for various occasions, including Valentine's Day. Create a heart-shaped wreath base using poster board or cardboard. Then, cover it with red, pink, or white construction paper hearts. Add some glitter for extra shimmer, and finish the wreath by tying a ribbon at the top for hanging. You can place these wreaths on your front door, above the fireplace, or anywhere else that needs a touch of Valentine's Day charm.
---
6.Sentimental Photo Collages
Create a photo collage that showcases your journey as a couple. Collect your favorite pictures together and arrange them in the shape of a heart on a poster board or canvas. This sentimental decoration not only adds a personal touch but also serves as a wonderful conversation starter.
---
7.Romantic Candlelit Dinner
Creating a romantic atmosphere for a special Valentine's Day dinner is a classic way to celebrate the occasion. Set the mood by placing candles around the dining area. Use elegant candle holders and choose scented candles with romantic fragrances like rose, lavender, or vanilla. The warm, flickering light will add an intimate touch to your evening.
---
8.Love-Struck Table Settings
When setting the table for your Valentine's Day dinner, pay attention to the details. Use red or pink tableware, such as plates, napkins, and tablecloths. Fold the napkins into heart shapes or add small heart-shaped confetti for a loving touch. Place a single red rose or a small bouquet in a vase at each place setting for an extra dose of romance.
---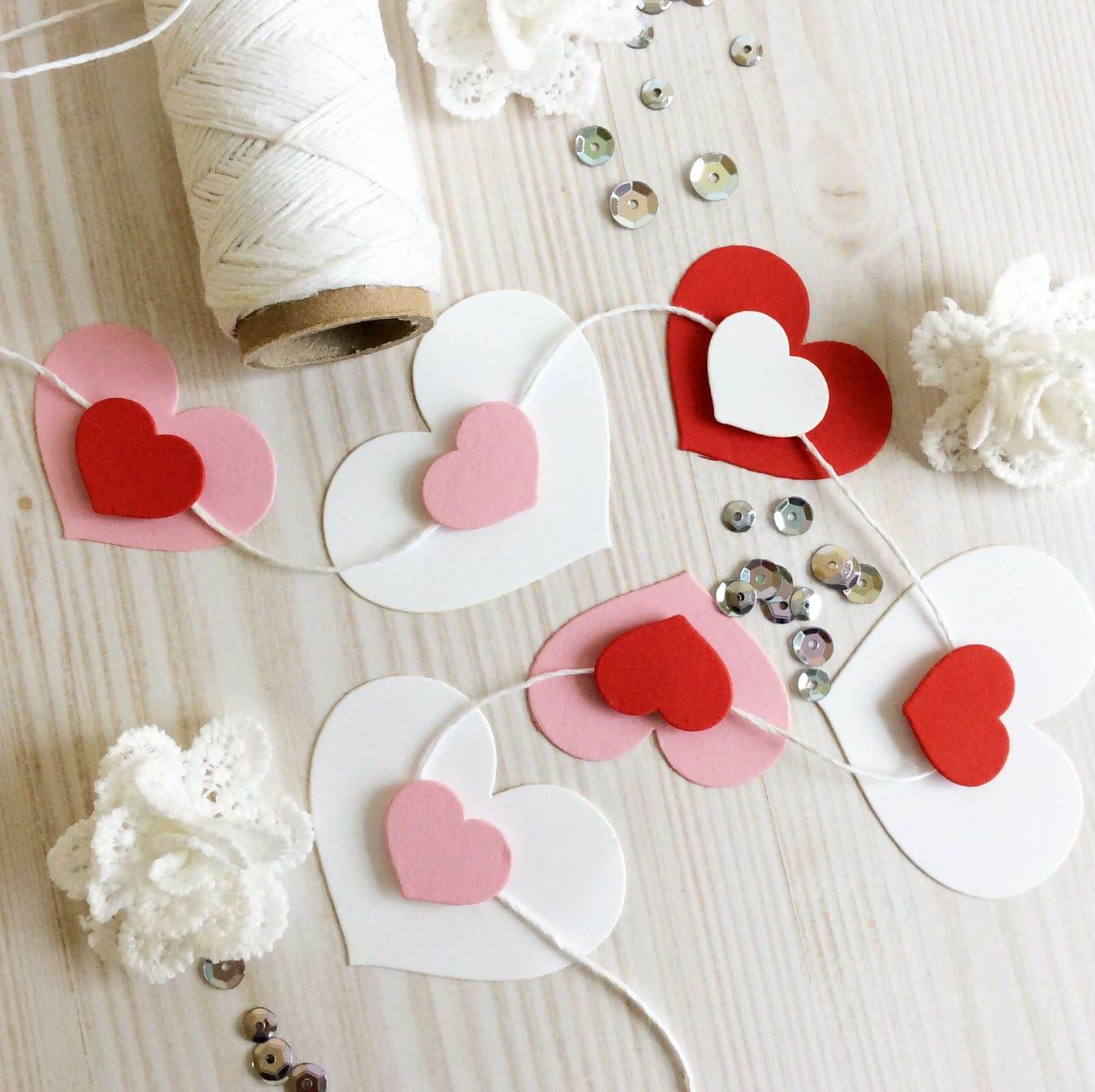 9.Hanging Paper Hearts
Cut out paper hearts in various sizes and colors, then attach strings to them to create hanging decorations. You can hang these hearts from the ceiling, chandeliers, or light fixtures. They'll sway gently, creating a whimsical and dreamy ambiance. To make them even more captivating, add a dash of glitter or write sweet messages on them.
---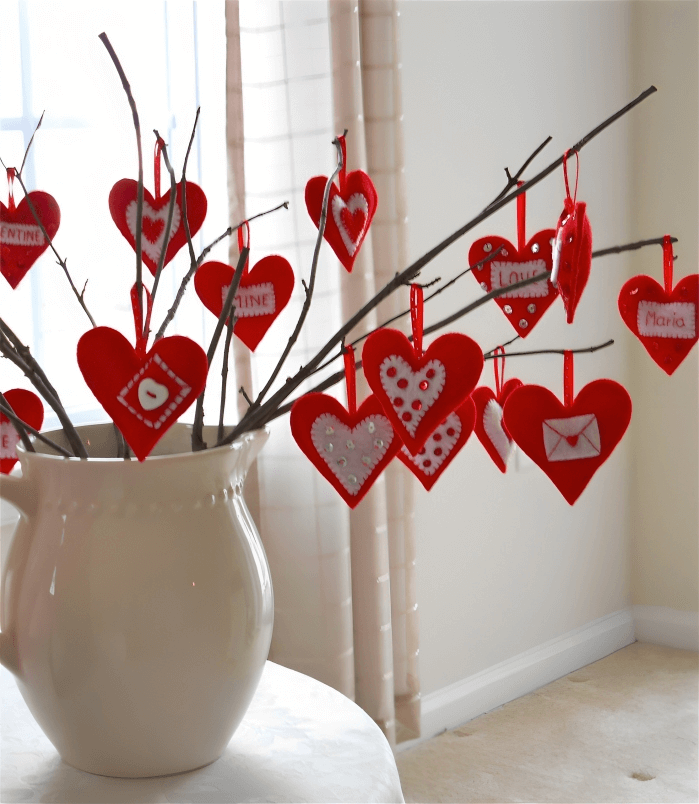 10.Love Tree
Create a "Love Tree" by collecting branches from your yard or local craft store. Place the branches in a vase or pot, and decorate them with heart-shaped ornaments made of paper or felt. Attach photos of special moments or love notes to the branches with ribbon or twine. This decorative tree serves as a meaningful and visually striking centerpiece for your home.
---
11.Framed Love Quotes
Find or create beautiful love quotes and print them out on decorative paper. Place them in elegant frames and position them around your living space. This not only adds an artistic touch but also encourages reflection on the power of love and affection.
---
12.Heart-Shaped Balloons
Balloons are an excellent way to add a festive and romantic element to your decor. Invest in heart-shaped balloons in various shades of red and pink. You can create balloon bouquets or arches to adorn your home. To make them more personalized, write loving messages on the balloons with a marker.
---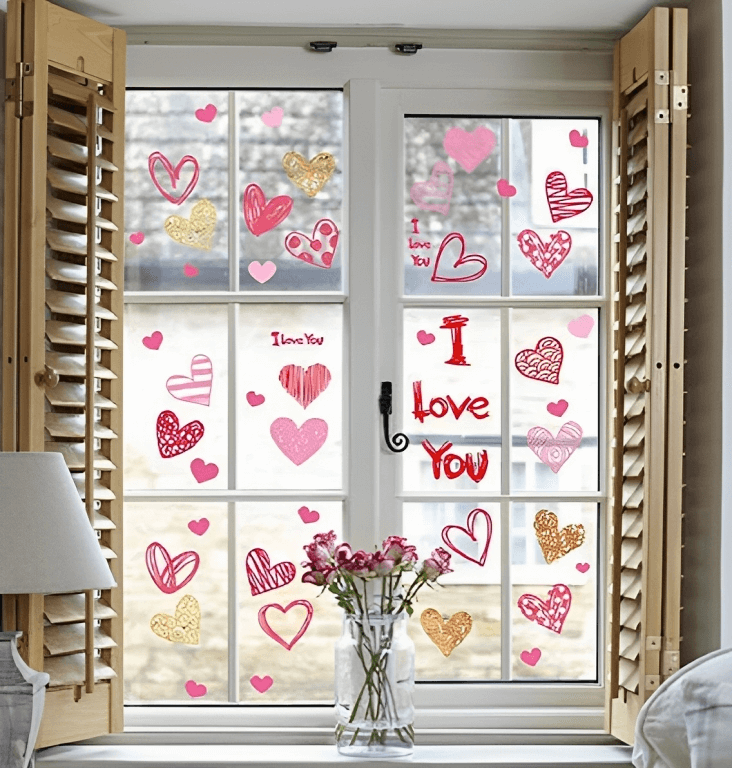 13.Window Clings
Use window clings or removable decals to decorate your windows with romantic imagery. These can include hearts, Cupid, lovebirds, or any other Valentine's Day symbols. The soft natural light will shine through them, creating a delightful effect.
---
In conclusion, Valentine's Day is a time to celebrate love in all its forms, and decorating your home with these creative and beautiful ideas can make the day even more special. Whether you choose to craft garlands, centerpieces, wreaths, or add intimate lighting, the key is to express your love and affection for your special someone in a way that reflects your personal style and the uniqueness of your relationship. With these additional ideas, you'll be well-prepared to make your Valentine's Day celebrations both beautiful and memorable.
---
Certainly! Here are some frequently asked questions related to creating beautiful Valentine's Day decoration, along with their answers:
Q1: What are some affordable materials I can use to create Valentine's Day decorations?
A1: You don't need to break the bank to create beautiful Valentine's Day decoration. Affordable materials like construction paper, craft ribbon, and markers are readily available at craft stores or online. You can also repurpose items you have at home, like glass jars or unused frames, to create stunning decor without spending much.
---
Q2: Can I make these decorations with my kids as a family activity?
A2: Absolutely! Crafting Valentine's Day decorations can be a wonderful family activity. It's a great opportunity to bond with your children and create cherished memories together. You can adapt the projects to be kid-friendly by using safety scissors, non-toxic glue, and age-appropriate designs.
---
Q3: How can I store and reuse these decorations for future Valentine's Days?
A3: To store and reuse your decorations, consider keeping them in a labeled container or zip-lock bags to protect them from dust and damage. Store garlands by gently coiling them, and be sure to remove any glitter if you used it to avoid a mess. Store framed love quotes and sentimental photo collages in a safe place, and you can use them as part of your Valentine's Day decor in the future.
---
Q4: Can I adapt these decorations to suit a romantic dinner for two at home?
A4: Certainly! You can adapt these decorations to create a romantic ambiance for a special dinner at home. Set the table with heart-shaped napkins, candlelight, and soft music. Use heart-themed centerpieces and hang paper hearts or string lights to create an intimate atmosphere that's perfect for a romantic evening.
---
Q5: Where can I find inspiration for creating my own love notes or love quotes for decorations?
A5: Inspiration for creating your own love notes or love quotes can come from various sources. Consider your own feelings and experiences, famous love poems, literature, or even your partner's favorite romantic movies or songs. Personalized and heartfelt messages often resonate the most.
---
Q6: How can I ensure my decorations are eco-friendly and sustainable?
A6: To make your Valentine's Day decorations more eco-friendly, consider using recycled materials, such as old newspapers or magazines. You can also repurpose items from around your home. After the holiday, store the decorations carefully for reuse in the future, reducing waste and making your celebrations more sustainable.
---
Q7: What are some tips for ensuring my decorations are safe, especially when using candles or lights?
A7: Safety is crucial when using candles or lights in your decorations. Always keep candles away from flammable materials, and never leave them unattended. Opt for battery-operated candles if you have concerns about open flames. When using string lights, ensure that they are in good condition and don't overload electrical outlets. Turn them off when not in use to prevent overheating.
---
Q8: Can I personalize these decorations to make them more unique?
A8: Absolutely! Personalization is a great way to make your Valentine's Day decorations unique and special. You can add your names, initials, or important dates to various items, like love notes, framed photos, or heart-shaped ornaments. This personal touch adds an extra layer of sentimental value to your decor.
---
These frequently asked questions and their answers should help you navigate the process of creating beautiful Valentine's Day decorations with confidence and creativity. Have fun crafting and celebrating this special day with your loved one!
---