27 Best Dining Room Table Ideas Beautiful Centerpieces
27 Best Dining Room Table Ideas Beautiful Centerpieces
Dining Room Table Ideas : The dining room table is undoubtedly the heart of any home, serving as a space for not only meals but also meaningful gatherings and conversations. While the choice of table and chairs plays a crucial role in the overall aesthetic, the centerpiece truly takes center stage, adding a touch of elegance and personality to the space. In this essay, we will explore a range of creative dining room table ideas that can transform an ordinary dining area into a captivating and inviting environment.
Apart from the dining table and chairs, there isn't much else that contributes to the ambiance of a dining room. While there might be occasional additions like a stylish bar cart or an elegant display cabinet for dinnerware, it's generally accepted that the table takes center stage. Even if it's not the sole space available for decorative items, the dining table serves as the primary focal point and is often the initial element that catches the eye upon entering the room. Thus, ensuring its tasteful decoration holds significant significance. Much like how you meticulously style your coffee table, giving special attention to adorning your dining room table is equally essential. In the following sections, discover a variety of Dining Room Table Ideas and advice, allowing you to recreate the ones you admire the most.I hope you find inspiration in these Dining Room Table Ideas.
1. Natural Elegance:
One of the most timeless and charming ways to adorn a dining room table is by embracing the beauty of nature. A rustic wooden table can be complemented with a centerpiece of fresh flowers arranged in a simple yet striking vase. This natural arrangement not only brings a burst of color and fragrance to the room but also creates a serene ambiance that encourages relaxation and connection.
2. torch and Light:
For an enchanting and cozy atmosphere, candles can work wonders as dining table centerpieces. Whether placed in delicate holders or floating in water-filled vessels, the soft glow of sets a warm and intimate tone. This choice is perfect for romantic dinners or intimate gatherings, evoking a sense of tranquility and togetherness.
3. Artistic Flair:
Injecting a dose of creativity into the dining room can be achieved through unique and artistic centerpieces. Sculptures, art pieces, or decorative bowls filled with polished stones or seashells can serve as intriguing focal points. Such centerpieces not only reflect your personal taste but also spark interesting conversations among your guests.
4. Seasonal Delights:
Adapting your centerpiece to reflect the changing seasons is a delightful way to keep your dining room decor fresh and captivating. During the autumn months, consider using a collection of pumpkins, gourds, and fall leaves, while winter may call for a centerpiece featuring pinecones, evergreen branches, and twinkling fairy lights. Embracing the seasons in your centerpiece adds a dynamic element to the dining experience.
5. Minimalist Sophistication:
In the realm of interior design, less is often more. A minimalist approach to dining room table centerpieces can exude elegance and sophistication. A single, well-chosen element, such as a sleek vase with a single stem or a carefully placed succulent, can create a striking impact, allowing the space to breathe and giving a modern touch to the room.
---
1-Assorted Candlesticks
Designed by Martha Mulholland for Jacey Dupree, this dining room table is spruced up with a collection of candlesticks and a lush bouquet of flowers. It strikes a nice balance between formal and casual.
---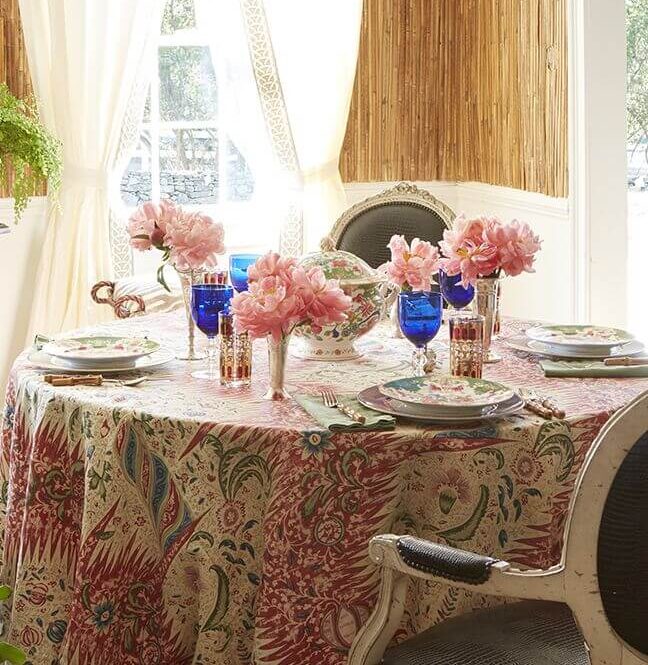 2-Colorful Glasses
Instead of one big central vase, designer and homeowner Brittney Bromley scattered several smaller silver vases and filled them with the same florals that playoff there color scheme of the tablecloth.
---
3-Give Your Wreath New Life
Wreaths aren't just for hanging on the front door. Place one around a cluster of candles so that it turns into a makeshift centerpiece.
---
4-Collected Ceramics
In a minimalist dining room, use your table to show off your favorite ceramic pieces. Here, in a dining room designed by Workstead, bowls and vases bring character.
---
5-Make Flowers Last
A dried flower arrangement like this one requires zero maintenance while still making your dining table look beautiful. Choose an assortment of colors that complement your décor and furniture, whether that means opting for something neutral or bold.
---
6-Sculptural Place Settings
Everything in this dining room designed by Cara Fox was inspired by the tableware on display in the corner, from the prints and color scheme to the traditional floor and ceiling paint embellishments. As for the dining table, scalloped edges set the tone for rounded placemats and ruffled bowls.
---
7-Take the Cake
Keep a cake stand on hand and fill it with your favorite sweet treats or simply use it as a decorative item—you can place other small items on top. It's a win-win.
---
8-A Collection of Florals
A collection of vases make this classic dining table in a home by Alexandra Kaehler feel fresh and full of life. We love that the floral arrangements are all coordinated while the vases are a variety of heights and shapes for both cohesion and variation.
---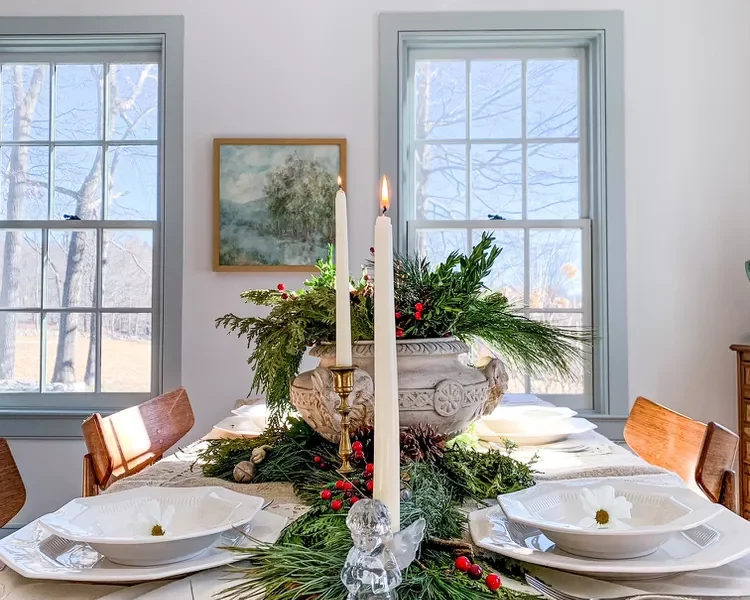 9-Invest in a Vessel
A vessel like this one can be repurposed season after season. Use it to house evergreens in the winter and then place gourds inside when fall arrives.
---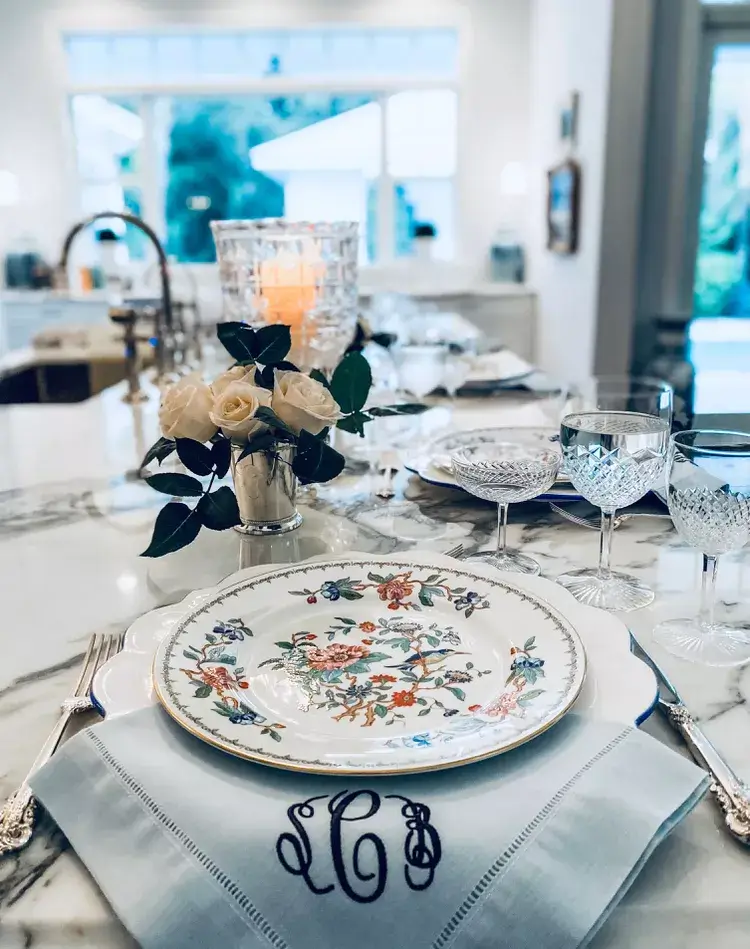 10- Twist on a Vase
Look inside your pantry and see what items you can repurpose as décor. Julep cups, for example, can double as vases when you entertain—there's no need to purchase something brand new.
---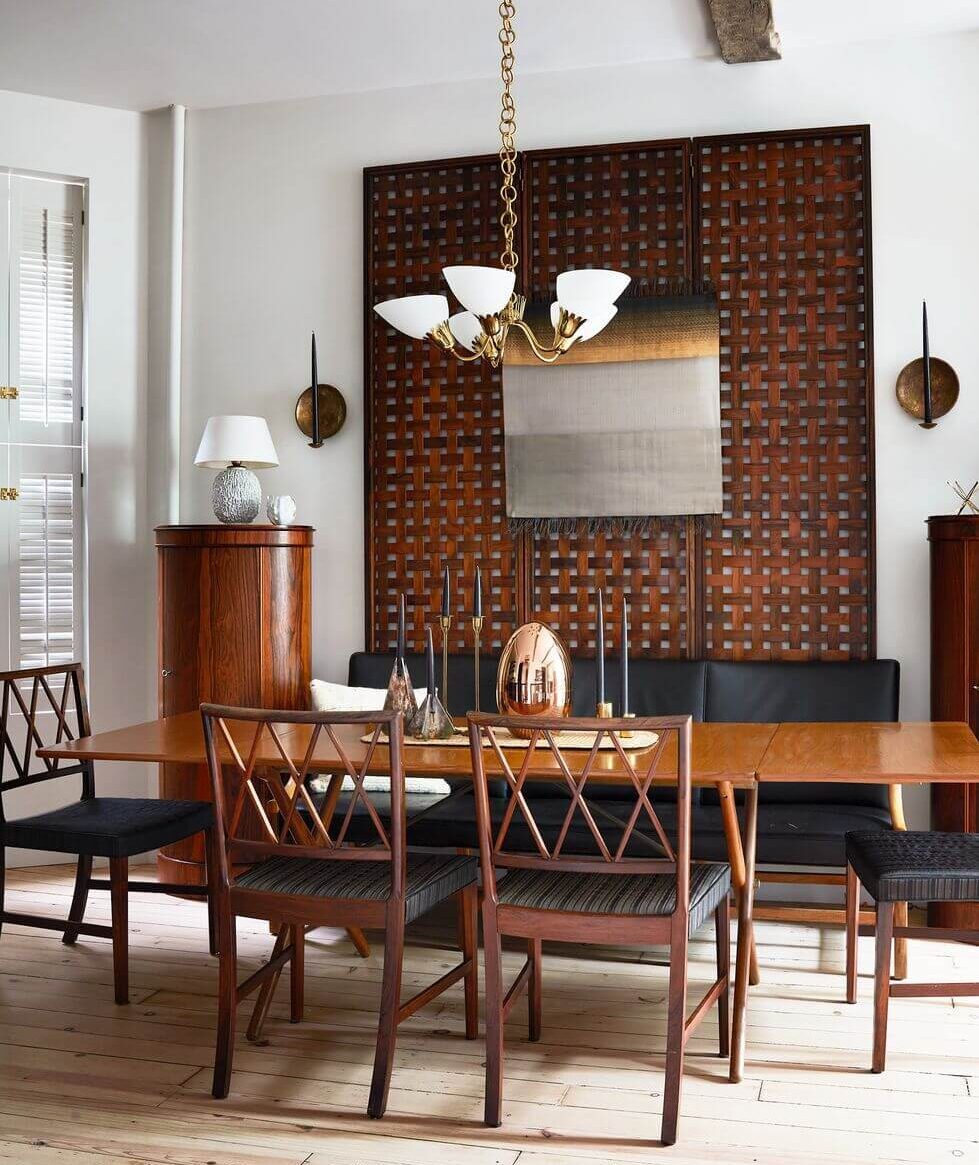 11-Metal Figurines
A large rose gold egg figurine steals the spotlight on this vintage Hans Wagner dining table in a space designed by Shawn Henderson. Picking up the bronze sconces, pendant, and candlestick holders, Henderson proves that mixing metals and woods (dark mahogany cabinets, distressed beam overhead, whitewashed oak floors, and rosewood screen) is a strong way to deepen the soul of the room while sticking to a simple palette.
---
12-Garden Figurines
Stone bird figurines animate this large dining table in a farmhouse designed by Hadas Dembo of Mise en Scène Design. A vintage french chandelier (hanging where there was once a hayloft) sets a dainty tone, while the durable furniture adds an air of sensibility. The tabletop itself is a marble fragment sourced from an old chocolate factory in Vermont. A pitcher full of fresh-cut flowers is the perfect fit for a formal yet storied and cozy farmhouse dining room.
---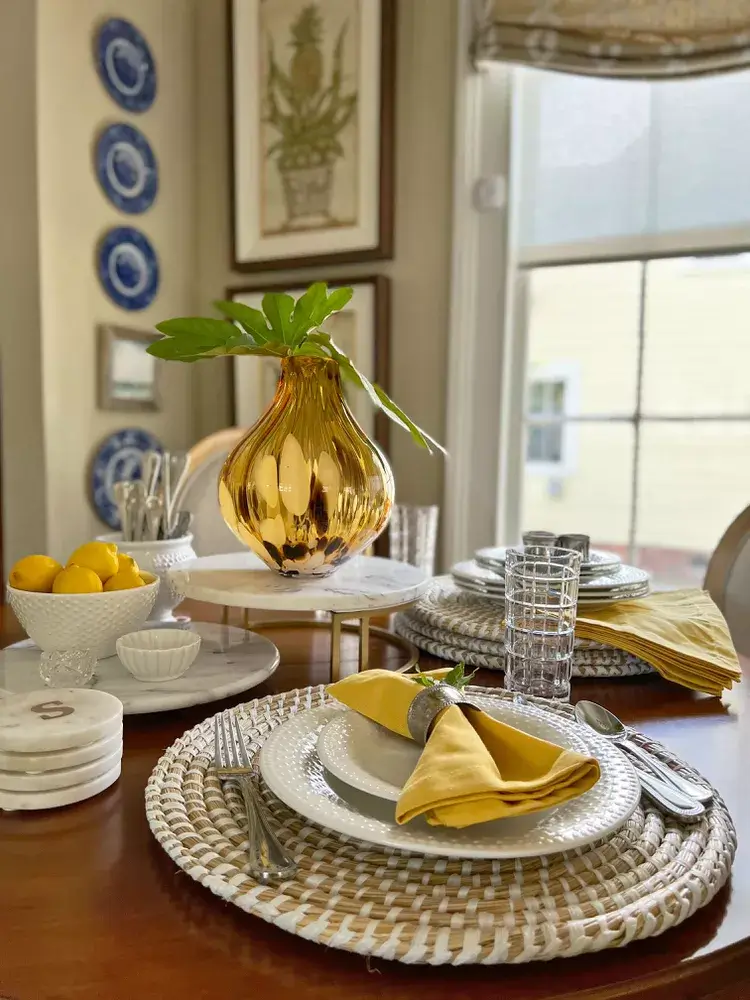 13-Bust Out a Pedestal
One Coast Design Add height to your table with trivets and pedestals. This way, everyone can still admire your decor as plates are being passed.
---
14-Go Farmhouse
A woven basket is a great decorative piece to set out on a farmhouse-inspired table. Pair it with a checkered table runner and some ceramic vessels and you're golden.
---
15- Household Item
Lazy Susan's are more than just practical, they can be decorative, too. Use one as an alternative to your standard tray and fill it with accent pieces as well as go-to spices and seasonings.
---
16-Stay Modern
In this modern home, tall empty vases look sophisticated atop this round table surrounded by curved chairs.
---
17-Think Tall
Fill a tall pedestal with decorative beads and place it in the center of your dining table for an artful yet simple centerpiece.
---
18-Be a Bit Boho
Love boho style? Bring some pampas grass into your dining room. It will add instant height and texture to the table.
---
19-Introduce Air Plants
A bowl full of air plants adds color to this neutral dining room and is appropriate all year long.
---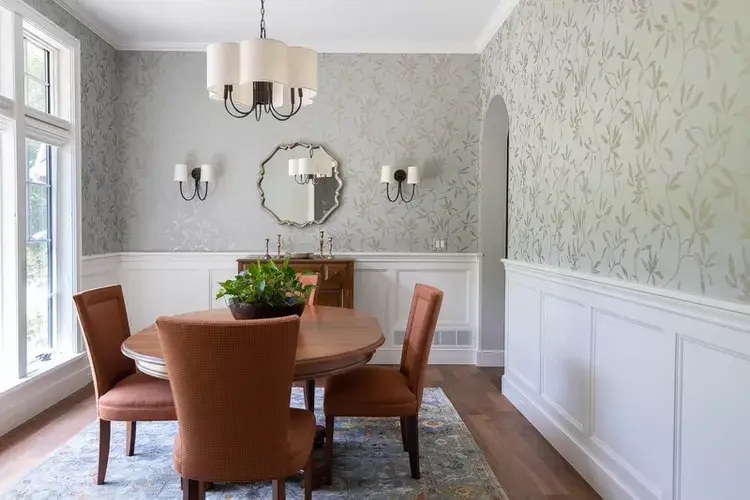 20-Showcase a Face Plant
Plant lovers, we know you can't get enough of scattering green friends all throughout the house. Place a favorite plant (a pothos, perhaps?) in a table-sized pot and enjoy watching it grow over time.
---
21-Choose Chic Candles
We see a lot of taper candles displayed on dining tables, but pillar look excellent, too. Choose candles in a color that will really pop—in this dining space, black complements the sideboard and dining chairs perfectly.
---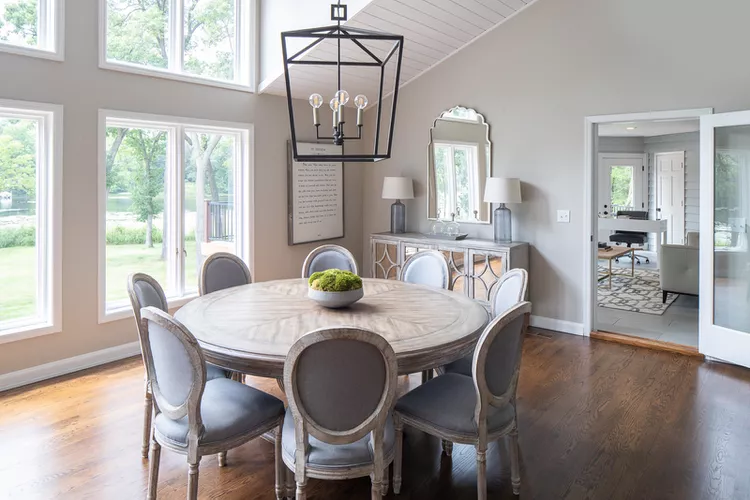 22-Bring Nature Indoors
A bowl of moss helps to bring the outdoors inside but requires very little maintenance. It also adds textural intrigue and color to any table.
---
23-Get Funky
If traditional candle holders don't speak to your decor style, go ahead and get funky with some curved pieces. These add a welcome eclectic touch to the dining table.
---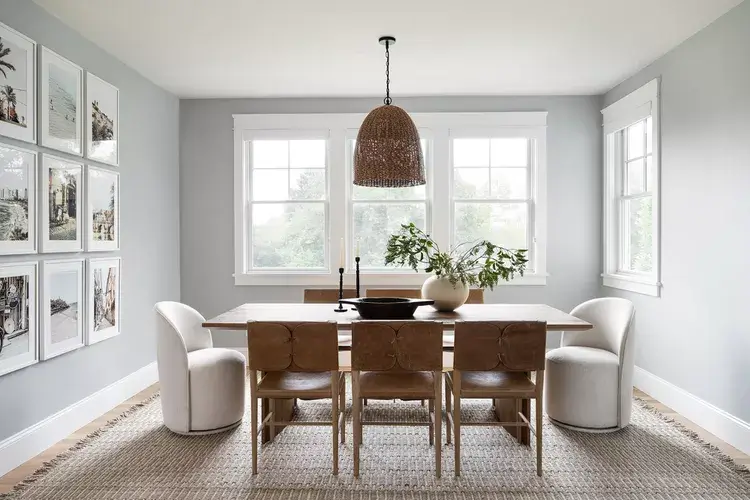 24- Match Decorative Items
Who says you have to pick just one object to feature on your dining table? If you love , vases, ceramic dishes, and more, create a little vignette using several of your favorite finds.
---
25-Fresh Flowers
Fresh flowers instantly brighten up any area of the home and your dining table is no exception. Whether you can trim clippings from your own backyard garden or make a ritual out of visiting the farmer's market every weekend, you'll thank yourself later when you can enjoy beautiful blooms every time you sit down to eat.
---
26-Fruit in a Nice Bowl
There's no reason your dining table decor can't also be practical. Fresh fruits and vegetables add color and texture to any table—corral some of yours in a nice bowl or basket for storage that doubles as art.
---
27-Group Together Vases
Collect small vases? Give them the VIP treatment by displaying them all together on the dining table. Even when they're not filled with flowers or branches, they still make an artful statement.
---
In conclusion, the dining room table centerpiece holds the power to transform a functional space into a visually appealing and emotionally resonant environment. Whether inspired by nature, artistic expressions, or seasonal variations, the options for creating beautiful dining table centerpieces are endless. By carefully selecting and crafting centerpieces that align with your style and preferences, you can create a dining area that not only satisfies the senses but also fosters a sense of connection and shared experiences among family and friends. So, the next time you gather around the table for a meal, consider the impact of a thoughtfully designed centerpiece in elevating the entire dining experience.