Transform Your Home with Charming Farmhouse Fall Decor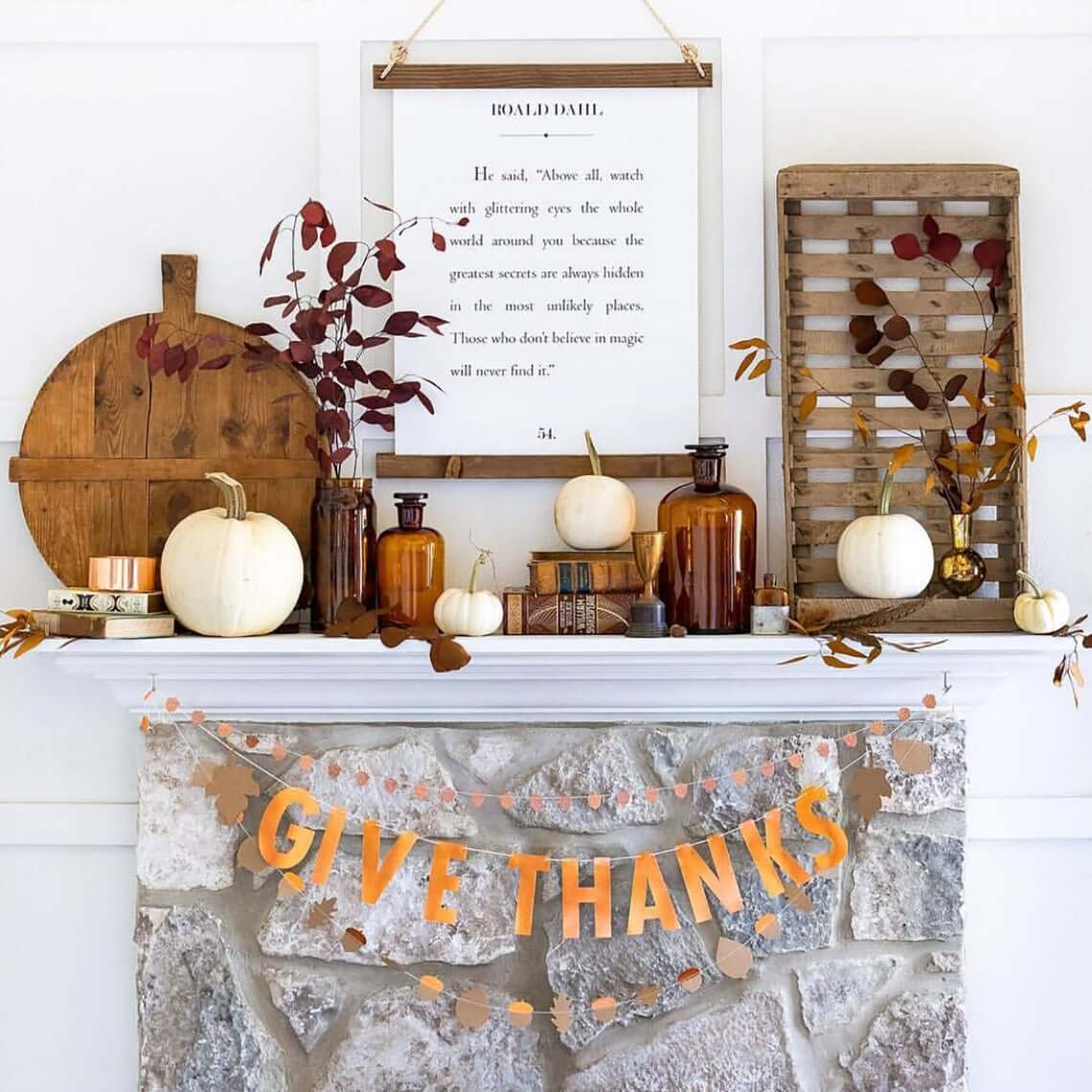 Farmhouse Fall Decor: As the crisp autumn breeze sweeps through the trees and leaves turn brilliant shades of red, orange, and yellow, it's time to embrace the cozy and inviting atmosphere of fall. One of the most delightful ways to welcome this season into your home is by decorating with farmhouse-inspired fall decor. The combination of rustic charm and seasonal warmth creates a welcoming and comforting ambiance that's perfect for gatherings, family dinners, and enjoying the beauty of autumn. In this article, we'll explore various farmhouse fall decor ideas and tips to help you transform your living space into a picturesque autumn retreat.
Embracing the farmhouse fall decor style is a wonderful way to celebrate the beauty and warmth of the autumn season. By combining warm colors, rustic elements, cozy textiles, and natural accents, you can transform your home into a welcoming retreat that captures the essence of fall. Whether you're hosting a Thanksgiving dinner or simply want to enjoy the coziness of the season, farmhouse fall decor is a timeless and charming choice that will leave you and your guests feeling right at home. So, gather your favorite fall-inspired decorations and get ready to create a picturesque farmhouse retreat that embodies the spirit of autumn.
---
1.Warm Color Palette
The first step in creating a farmhouse fall aesthetic is choosing a warm color palette that reflects the changing leaves and the coziness of the season. Think about incorporating earthy tones like rust, mustard yellow, deep red, and warm browns. These colors will evoke the feeling of a crisp autumn day and set the tone for your fall decor.
---
2.Rustic Wooden Elements
Farmhouse decor is synonymous with rustic charm, and what better way to achieve this than with wooden elements? Incorporate wooden furniture, picture frames, and shelving units into your fall decor. Consider using reclaimed wood for a weathered, vintage look. Wooden signs and crates can also add a touch of authenticity to your farmhouse decor.
---
3.Cozy Textiles
As temperatures drop, it's essential to introduce cozy textiles into your decor. Plaid throws, cable-knit blankets, and fluffy pillows in fall-inspired colors like deep green or burnt orange can instantly warm up your space. Drape these textiles over your furniture or use them as accents to create a welcoming atmosphere.
---
4.Natural Elements
Bring the beauty of the outdoors inside by incorporating natural elements into your fall decor. Display decorative gourds, pumpkins, and pinecones on tables and shelves. Consider creating a stunning centerpiece by arranging a bouquet of fall flowers like sunflowers, dahlias, and mums in a rustic vase or mason jar. These touches of nature will add authenticity and charm to your farmhouse decor.
---
5.Wreaths and Garlands
Adorn your doors and mantels with fall-themed wreaths and garlands. Opt for wreaths made from dried leaves, wheat, or burlap bows. Intertwine them with string lights for a cozy, twinkling effect. Garlands made from faux fall foliage can also be draped along stair railings, mantelpieces, or hung above doorways to create a warm and inviting entryway.
---
6.Vintage Farmhouse Finds
Visit local antique shops or flea markets to discover vintage farmhouse decor pieces. Old wooden crates, enamelware, and aged metal signs can add character to your fall decor. These unique finds tell a story and blend seamlessly with the rustic farmhouse aesthetic.
---
7.Candles and Lanterns
Create a warm and intimate atmosphere with candles and lanterns. Place pillar candles in mason jars, wooden candle holders, or vintage lanterns. Scented candles with aromas like cinnamon, apple, or pumpkin spice can also enhance the fall ambiance and evoke memories of cozy evenings by the fire.
---
8.Farmhouse-Inspired Furniture
Consider investing in farmhouse-style furniture pieces to complete your fall decor. Distressed wood dining tables, ladder-back chairs, and rustic buffets can set the stage for memorable fall gatherings. Choose furniture with a weathered finish to achieve that authentic farmhouse look.
---
9.Seasonal Art and Prints
Swap out your existing artwork for seasonal prints that capture the essence of fall. Framed prints featuring autumn landscapes, farm animals, or vintage harvest scenes can be a charming addition to your decor. Alternatively, create your own farmhouse-inspired artwork for a personal touch.
---
10.Table Settings and Dinnerware
Elevate your fall gatherings with farmhouse-inspired table settings. Use rustic charger plates, linen napkins, and mason jar glasses. Add seasonal touches with pumpkin-shaped plates, leaf-patterned dishes, or wooden placemats. Incorporate a burlap table runner and a centerpiece featuring fall florals for a stunning dining experience.
Certainly, let's delve further into some specific ideas and tips for each aspect of farmhouse fall decor:
11.Front Porch and Entryway Decor
Extend your farmhouse fall decor to your front porch and entryway to create a warm and inviting first impression. Consider placing hay bales, wooden crates, or vintage milk cans as rustic props. Arrange pumpkins, cornstalks, and mums in various sizes for a charming display. Hang a fall wreath on your front door, and don't forget to add a cozy welcome mat.
12.Farmhouse Kitchen
The kitchen is the heart of many homes, and it's a great place to infuse farmhouse charm. Swap out your regular kitchen towels and oven mitts for ones with fall-inspired patterns. Display seasonal produce like apples and pears in rustic baskets or wooden bowls. Consider a table runner with a plaid or checkered pattern to tie the whole look together.
13.Mantel Display
The mantel is a focal point in many living rooms, making it an ideal spot for a farmhouse fall display. Arrange a combination of fall-themed decor like candlesticks, pumpkins, and vintage books. Layer in a few picture frames showcasing family photos taken during past autumns for a personal touch. Finish it off with a garland of fall foliage draped gracefully across the mantel.
14.Farmhouse Lighting
Upgrade your lighting fixtures to enhance the farmhouse fall decor. Opt for pendant lights with a rustic or industrial design in finishes like bronze or black. You can also replace lampshades with burlap or linen ones to create a warm, diffused glow that complements the season.
15.DIY Farmhouse Decor
For a personal and budget-friendly touch, consider creating your own farmhouse fall decor. Craft a burlap banner with stenciled fall messages or create rustic wooden signs with autumn quotes. Crafting can be a fun and creative way to customize your decor and involve the whole family.
16.Farmhouse Bathroom
Extend your fall decor to the bathroom by adding simple touches like autumn-scented hand soaps and hand towels. Consider incorporating a wooden or metal frame mirror for a rustic look. A vase of dried flowers or a small pumpkin on the bathroom counter can add subtle yet effective seasonal flair.
17.Farmhouse Bedroom
Create a cozy farmhouse retreat in your bedroom with fall-themed bedding, such as plaid or quilted comforters. Add accent pillows in warm colors and patterns. Consider a wooden headboard or a DIY reclaimed wood wall for an authentic farmhouse touch. A woven or braided rug by the bedside can also bring warmth and texture to the room.
18.Farmhouse Dining
If you have a separate dining room, use it as an opportunity to fully embrace the farmhouse fall decor. Set the table with vintage dinnerware, wooden chargers, and cloth napkins in autumn shades. A hanging chandelier with candle-style bulbs can add a touch of rustic elegance. Create a centerpiece with a wooden tray filled with candles, pumpkins, and greenery.
19.Scents and Aromas
Don't forget to engage the senses when decorating. Use scented candles, diffusers, or potpourri to fill your home with the delightful aromas of fall. Fragrances like apple cinnamon, pumpkin spice, and cedarwood can instantly evoke the feeling of a cozy farmhouse retreat.
20.Maintaining Simplicity
One of the key principles of farmhouse decor is simplicity. Avoid overcrowding your space with too many decorations. Opt for a few well-chosen pieces that make a statement and create a cozy, uncluttered atmosphere.
Conclusion
Farmhouse fall decor offers a perfect blend of rustic charm and seasonal warmth. Whether you're decorating your entire home or just a few key areas, these ideas and tips will help you infuse your space with the inviting ambiance of autumn. From your front porch to your bedroom, let the colors, textures, and elements of fall inspire your farmhouse decor, making your home a welcoming and cozy retreat for the season. Enjoy the beauty and comfort of fall as you embrace the timeless charm of farmhouse style.
---
Certainly, here are some frequently asked questions related to farmhouse fall decor and their answers:
Q1: How can I achieve a farmhouse fall decor look without completely redecorating my home?
A1: You can achieve a farmhouse fall decor look without a complete overhaul by incorporating small changes. Start with warm color accents, like throw pillows and blankets in fall colors. Add natural elements like pumpkins, and swap out your regular art with seasonal prints. These subtle changes can create a cozy fall atmosphere without a major renovation.
---
Q2: Where can I find farmhouse-style furniture and decor items?
A2: You can find farmhouse-style furniture and decor items at a variety of places. Consider visiting antique shops, flea markets, or thrift stores for unique vintage pieces. For new items, home decor stores often carry farmhouse-inspired furniture and accessories. Online retailers and marketplaces also offer a wide range of options to suit your style and budget.
---
Q3: Can I mix and match different farmhouse styles in my fall decor?
A3: Yes, mixing and matching different farmhouse styles can create a charming and eclectic look. Combining rustic elements with modern farmhouse touches or adding a touch of industrial farmhouse can add depth and character to your decor. The key is to maintain a cohesive color palette and balance the elements for a harmonious overall look.
---
Q4: How can I make my farmhouse fall decor more personal?
A4: Personalize your farmhouse fall decor by incorporating family photos into your displays. Use photo frames with rustic or vintage designs to match the decor style. You can also create DIY decor items with personal touches, like hand-painted signs or homemade wreaths. Adding personal items that have sentimental value can make your fall decor uniquely yours.
---
Q5: What are some budget-friendly ways to decorate my home for fall?
A5: There are plenty of budget-friendly ways to decorate your home for fall. Consider DIY projects using materials like burlap, twine, and natural elements like leaves and pinecones. Shop at discount stores, thrift shops, and garage sales for affordable farmhouse-style decor pieces. Also, repurpose items you already own by giving them a fall-inspired makeover with paint or fabric.
---
Q6: How can I transition my farmhouse fall decor into the holiday season?
A6: Transitioning your farmhouse fall decor into the holiday season is easy. Swap out some fall elements with winter or holiday-themed decor, such as adding wreaths with red berries and pine boughs or incorporating Christmas lights. You can also introduce seasonal tableware and accessories for Thanksgiving and Christmas gatherings while keeping the rustic farmhouse vibe intact.
---
Q7: Are there any safety considerations when using candles in my fall decor?
A7: When using candles in your fall decor, safety is paramount. Ensure candles are placed in stable holders and positioned away from flammable materials like curtains or dried leaves. Never leave lit candles unattended, and consider using flameless LED candles for a safer alternative, especially if you have children or pets in your home.
---
Q8: Can I use artificial fall foliage in my decor, or should I stick to real leaves and flowers?
A8: Using artificial fall foliage is a practical choice, as it requires less maintenance and won't wilt. High-quality artificial foliage can look remarkably realistic. However, mixing in some real leaves, flowers, or pumpkins can add an authentic touch and natural fragrance to your decor.
---
Q9: How can I make my farmhouse fall decor eco-friendly?
A9: To make your farmhouse fall decor more eco-friendly, consider using sustainable and biodegradable materials, such as organic cotton textiles or natural jute twine. Use reusable or recyclable items whenever possible and opt for vintage or upcycled decor pieces to reduce environmental impact. After the season, compost natural decor elements like pumpkins and leaves instead of discarding them.
---
Q10: Can I incorporate my existing farmhouse decor into my fall decor?
A10: Absolutely! Your existing farmhouse decor can serve as a fantastic foundation for your fall decor. Enhance it by adding seasonal touches like fall-colored textiles, wreaths, and centerpieces. This way, you can seamlessly transition your home from one season to another without a complete overhaul.
---
Remember that farmhouse fall decor is all about creating a warm and welcoming atmosphere, so don't be afraid to get creative and make it your own. Whether you're on a budget or have a flair for DIY projects, there are endless possibilities to bring the charm of autumn into your home.
---
Tags :
Fall Tips & Ideas