Balcony Christmas Decorations Exciting  Inspiring Ideas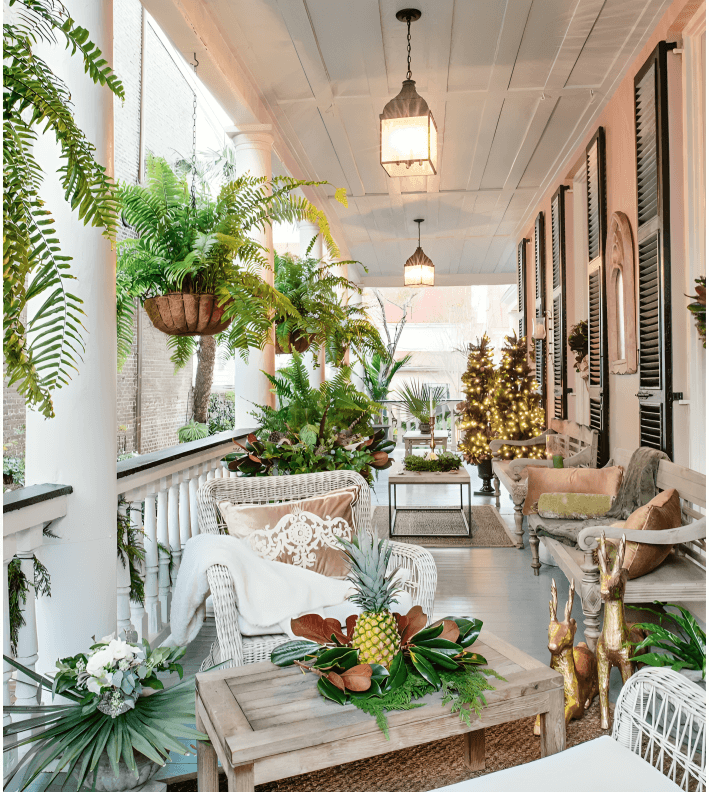 Balcony Christmas Decorations: Christmas is a time of joy, warmth, and togetherness. While most of us focus on decorating the interiors of our homes, we often overlook an exciting canvas for creativity – our balconies. Balcony Christmas decorations can not only bring the festive spirit to your home but also spread holiday cheer to your neighbors and passersby. In this essay, we will explore a variety of exciting and inspiring ideas for balcony Christmas decorations, ranging from traditional to modern, DIY to store-bought, and low-budget to extravagant.
---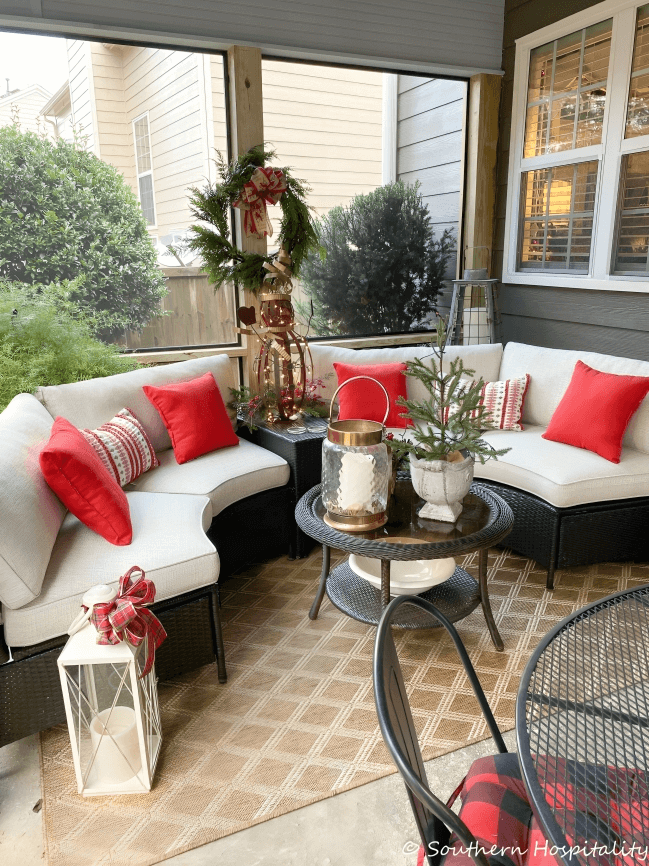 1.Traditional Elegance
Classic Wreaths and Garlands: One of the most timeless and elegant balcony decorations is the use of wreaths and garlands. Adorn your balcony railings with evergreen wreaths and string garlands along the edges to create a charming, classic look. You can even add some red ribbons and twinkling lights for extra festive flair.
Candles and Lanterns: Illuminate your balcony with the warm glow of candles and lanterns. Place them strategically on tables or hang them from hooks. Opt for scented candles to create a cozy atmosphere that captures the essence of the season.
Nutcrackers and Figurines: Display traditional Christmas figurines like nutcrackers, Santa Claus, and reindeer on your balcony. These figurines not only add a festive touch but also serve as conversation pieces.
---
2.Modern Minimalism
Monochromatic Elegance: For a sleek and modern look, stick to a monochromatic color scheme. Choose one dominant color, and decorate your balcony with ornaments, lights, and ribbons in that color. This minimalist approach can be both stylish and captivating.
Floating Ornaments: Create a magical effect by suspending oversized ornaments in the air using clear fishing line. These floating decorations will give your balcony a whimsical and enchanting atmosphere.
Fairy Lights and Starbursts: Embrace the power of LED lights by draping your balcony with strings of fairy lights and starburst lights. They can transform even the smallest balcony into a radiant wonderland.
---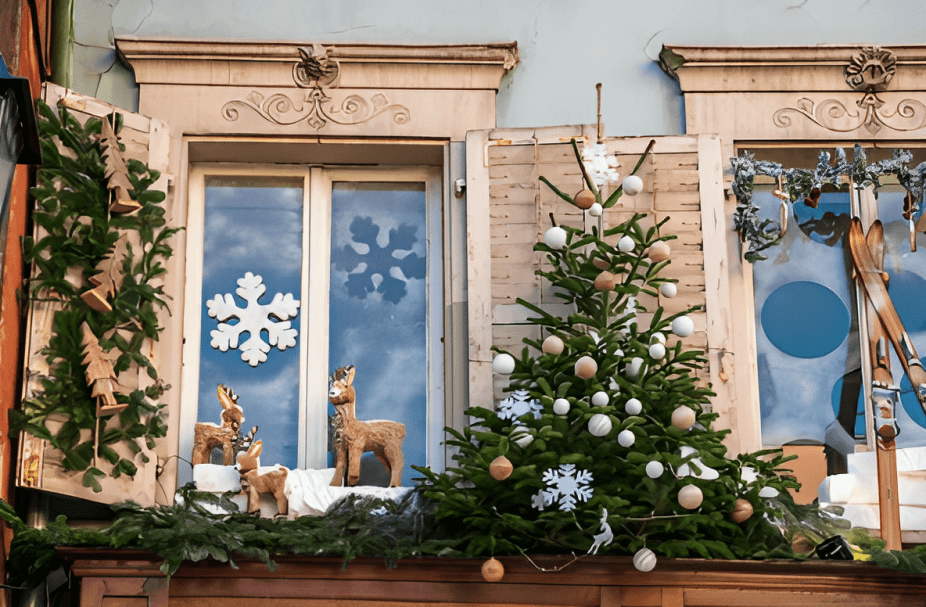 3.DIY Delights
Handmade Ornaments: Get crafty by making your own Christmas ornaments. Create personalized designs. These unique decorations will add a personal touch to your balcony.
Pinecone Creations: Collect pinecones and turn them into charming decorations. Paint them in festive colors, dust them with glitter, or wrap them in ribbon. Pinecones are versatile and eco-friendly options for DIY enthusiasts.
Repurposed Pallet Trees: Transform wooden pallets into Christmas trees by attaching lights and ornaments. This sustainable and budget-friendly project can be a striking centerpiece for your balcony.
---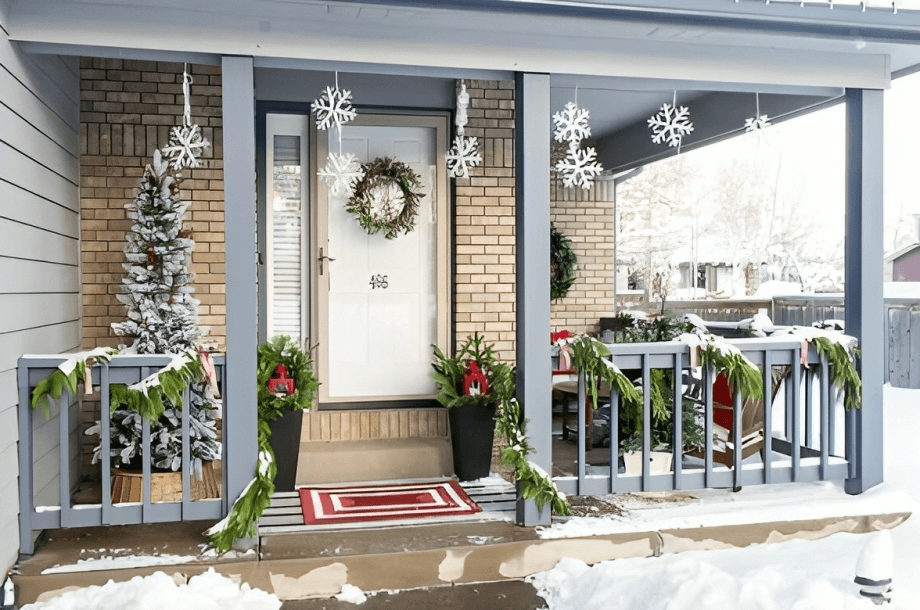 4.Budget-Friendly Beauty
Paper Snowflakes: A classic DIY project, paper snowflakes are both easy to make and budget-friendly. Hang them from your balcony ceiling to create a winter wonderland.
Twine and Burlap: Use natural materials like twine and burlap to create rustic decorations. Craft twine-wrapped stars, burlap wreaths, or even a burlap tree skirt. These materials are not only affordable but also add a charming, homespun feel to your balcony.
---
Conclusion
Balcony Christmas decorations provide an opportunity to infuse the holiday spirit into your outdoor space, allowing you to share the joy of the season with your neighbors and passersby. Whether you opt for traditional elegance, modern minimalism, DIY delights, or budget-friendly beauty, there are endless exciting and inspiring ideas to explore. So, this holiday season, let your balcony become a festive beacon of cheer, welcoming the magic of Christmas into your home and community.
---
Here are some frequently asked questions .
Q1: How can I ensure the safety of my balcony Christmas decorations?
A1: Safety is paramount when decorating your balcony for Christmas. To ensure safety, avoid overloading electrical outlets, use outdoor-rated extension cords and lights, and keep flammable materials away from heat sources. Secure decorations to prevent them from falling in windy conditions, and regularly inspect and replace damaged or worn-out decorations.
---
Q2: What are some eco-friendly options for balcony Christmas decorations?
A2: To make your balcony decorations more eco-friendly, consider using natural materials like pinecones, twigs, and burlap. Repurpose items you already have, such as old pallets, to create sustainable decorations. LED lights are energy-efficient and have a lower environmental impact compared to traditional incandescent lights.
---
Q3: Can I decorate my balcony if I have limited space?
A3: Absolutely! Even if you have limited balcony space, you can still create a festive atmosphere. Consider using space-saving decorations like wall-mounted wreaths or vertical hanging ornaments. Miniature Christmas trees or potted plants can also add holiday charm without taking up too much room.
---
Q4: Are there any tips for protecting balcony decorations from harsh winter weather?
A4: Winter weather can be tough on outdoor decorations. To protect them, choose decorations designed for outdoor use. Consider using waterproof storage containers to protect delicate items during the offseason. Removing decorations during particularly harsh weather or using weather-resistant materials can help extend their lifespan.
---
Q5: What lighting options work best for balcony Christmas decorations?
A5: LED lights are a popular choice for balcony decorations because they are energy-efficient and come in various colors and styles. Fairy lights, starburst lights, and icicle lights can add a magical touch to your balcony. Solar-powered lights are an eco-friendly option for balconies that receive ample sunlight.
---
Q6: How can I involve my family in decorating the balcony for Christmas?
A6: Decorating the balcony can be a fun family activity. Assign different tasks to family members, such as making DIY ornaments, stringing lights, or arranging decorations. It's a great opportunity to bond, get creative, and share the joy of the holiday season.
---
Q7: Can I mix and match different decoration styles on my balcony?
A7: Mixing and matching decoration styles can create a unique and eclectic look for your balcony. Just be mindful of color coordination and overall visual harmony. Try to find a unifying element, such as a dominant color or theme, to tie the decorations together.
---
Q8: Are there any guidelines for balcony decorating in apartment complexes or shared spaces?
A8: When decorating a balcony in an apartment complex or shared space, it's essential to check with your property management or homeowner's association for any specific rules or guidelines regarding decorations. Respect your neighbors' space and preferences, and avoid decorations that may cause disruptions or safety concerns.
---
Q9: How can I store my balcony Christmas decorations after the holiday season?
A9: Proper storage is crucial to ensure the longevity of your decorations. Use airtight containers, plastic bins, or storage bags to protect ornaments from dust and moisture. Label the containers to make it easier to find specific items next year. Store delicate items with care, such as wrapping glass ornaments in tissue paper.
---
Q10: Can I incorporate live plants into my balcony Christmas decorations?
A10: Yes, live plants can add a fresh and festive touch to your balcony decorations. Consider using potted evergreen trees, holly bushes, or poinsettias. Just remember to water them regularly and ensure they receive adequate sunlight to keep them looking vibrant throughout the holiday season.
---
Tags :
Holiday Tips & Ideas