21 Decorating outdoors for fall a wonderful ways
Decorating outdoors for fall : As the crisp air and vibrant foliage of fall arrive, it's time to transition our living spaces to reflect the warmth and coziness of the season. The great outdoors beckon with their own charm, providing ample opportunities for creative and inviting decorations. Whether you have a sprawling garden, a cozy patio, or a simple balcony, this article presents a myriad of ideas to help you transform your outdoor spaces into autumnal havens.
With these Decorating outdoors for fall can fully embrace the beauty of autumn and make the most of the season's inviting charm. From welcoming entryways to cozy nooks, let the warmth of fall's colors and textures transform your outdoor spaces into places of comfort and joy for both you and your loved ones.
---
1-Welcoming Entryway:
Start your fall decorating journey at the entrance of your home. Consider placing a rustic wooden sign with "Welcome" or a fall-inspired greeting. Adorn your front door with a seasonal wreath made of dried leaves, pinecones, and burlap bows. Adding a couple of potted mums or pumpkins on either side of the door enhances the welcoming ambiance.
---
2-Pumpkin Paradise:
Pumpkins are synonymous with fall. Arrange a variety of pumpkins, from traditional orange ones to white and green ones, on your porch steps or in a wheelbarrow for a charming display. Carve intricate designs or simply paint them with metallic hues for an elegant touch.
---
3-Cozy Seating Nook:
Extend your living space by creating a cozy seating area outdoors. Place plump cushions and cozy throws on your outdoor furniture, inviting family and friends to enjoy the cool evenings by a warm fire pit. Incorporate natural elements like wooden crates or baskets for storage while adding to the rustic feel.
---
4-Foliage and Florals:
Capitalize on the rich colors of autumn leaves and flowers. Decorate your outdoor tables with centerpieces featuring dried branches, vibrant foliage, and autumnal blooms like chrysanthemums, sunflowers, and marigolds. Consider incorporating seasonal fruits like apples, pears, and mini pumpkins for a pop of color.
---
5-Lantern Illumination:
Embrace the early nights of fall by illuminating your outdoor space with lanterns. Use LED candles or string lights within lanterns to create a warm and inviting glow. Hang lanterns from tree branches or shepherd's hooks, or place them strategically along pathways for both aesthetic and functional lighting.
---
6-Harvest Dining:
Host an intimate harvest-themed dinner party outdoors. Set a picturesque table with fall-themed tablecloths, napkins, and place settings. Use wooden chargers and bring out your best autumn-inspired dishes. A centerpiece of fresh produce, gourds, and candles can truly set the scene.
---
7-Crisp Cornstalks and Hay Bales:
Incorporate elements of rural charm by stacking hay bales and leaning cornstalks against your porch or patio railings. These simple additions bring the feeling of a countryside harvest right to your doorstep.
---
8-DIY Scarecrows:
Get creative with scarecrows! Craft your own scarecrow using old clothing and straw, and give it a unique personality. Position your scarecrow in a playful pose, holding a pumpkin or an apple basket for a delightful touch.
---
9-Nature's Art Gallery:
Celebrate the changing leaves by transforming them into artistic displays. Press colorful leaves between glass panes and place them in the garden or hang them as window decorations. This DIY approach allows you to preserve nature's beauty as a lasting decoration.
---
10-Outdoor Fireplace or Fire Pit:
Extend your outdoor enjoyment into the cooler months by creating a cozy gathering space around a fireplace or fire pit. Arrange comfortable seating around the fire and provide blankets for added warmth. Roasting marshmallows and sharing stories is the perfect way to spend a fall evening.
---
11-Autumnal Arbors:
If you have a pergola or arbor in your outdoor space, adorn it with strings of faux fall leaves, twinkling lights, and drape cozy blankets over the seating area underneath. This creates an enchanting retreat where you can unwind surrounded by the colors of fall.
---
12-Hayrack Planters:
Replace your summer planters with hayrack planters filled with fall favorites like ornamental cabbages, pansies, and ivy. These planters bring texture and color to your outdoor space while providing an opportunity for unique arrangements.
---
13-Wagon Displays:
Repurpose an old wagon as a charming focal point in your outdoor décor. Fill it with an assortment of pumpkins, gourds, and decorative squash. Add a touch of whimsy by incorporating a scarecrow or arranging a mini pumpkin patch.
---
14-Fall Themed Signage:
Craft or purchase wooden signs with autumnal quotes or phrases like "Harvest Blessings" or "Fall in Love." Place these signs strategically throughout your outdoor space to infuse it with a cozy and welcoming atmosphere.
---
15-Cornucopia of Plenty:
Display a cornucopia filled with an abundance of seasonal fruits, vegetables, and nuts as a captivating centerpiece. This symbol of bounty brings a sense of gratitude and the spirit of harvest to your outdoor gatherings.
---
16-Leaf Pile Seating:
Gather a pile of colorful leaves and arrange them into a cozy seating area for picnics or stargazing. Lay down blankets and cushions atop the leaves to create a comfortable and picturesque space.
---
17-Hanging Gourd Planters:
Hollow out small gourds or pumpkins and transform them into hanging planters for succulents or small fall flowers. Hang these charming planters from tree branches or pergolas to add a touch of whimsy to your outdoor space.
---
18-Harvest Moon Lanterns:
Create ethereal lanterns inspired by the harvest moon. Paint round lanterns with soft gold and warm orange hues. Place battery-operated candles inside and hang them around your outdoor space to evoke the gentle glow of the autumn moon.
---
19-Rustic Farm Stand Display:
Set up a rustic farm stand-inspired display showcasing fresh seasonal produce, homemade jams, and baked goods. Add a touch of authenticity with wooden crates and chalkboard signs that list your offerings.
---
20-Autumn Bird Sanctuary:
Provide food and shelter for your feathered friends by placing bird feeders and baths throughout your outdoor space. Choose bird feeders in fall-themed shapes like acorns or leaves to blend seamlessly with your seasonal décor.
---
21-Porch Swing Retreat:
Transform your porch swing into a cozy retreat by adding plaid blankets, throw pillows, and cushions in warm fall colors. Enjoy the cool breeze and changing leaves as you swing gently amidst the beauty of autumn.
Decorating outdoors for fall is a wonderful way to embrace the season's beauty and create a cozy and inviting atmosphere around your home. Here are some ideas to help you get started:
---
---
---
---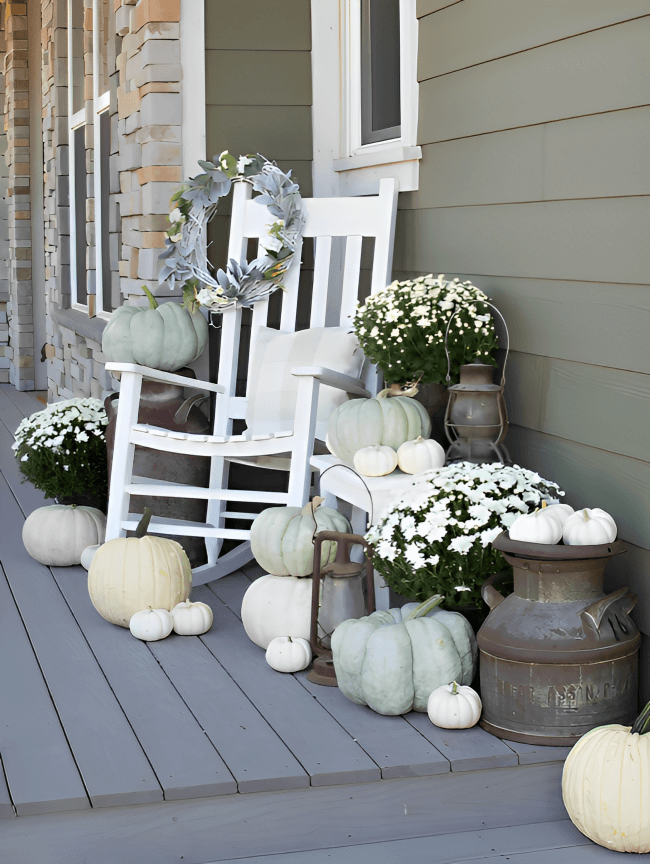 ---
---
---
---
---
---
---
---
---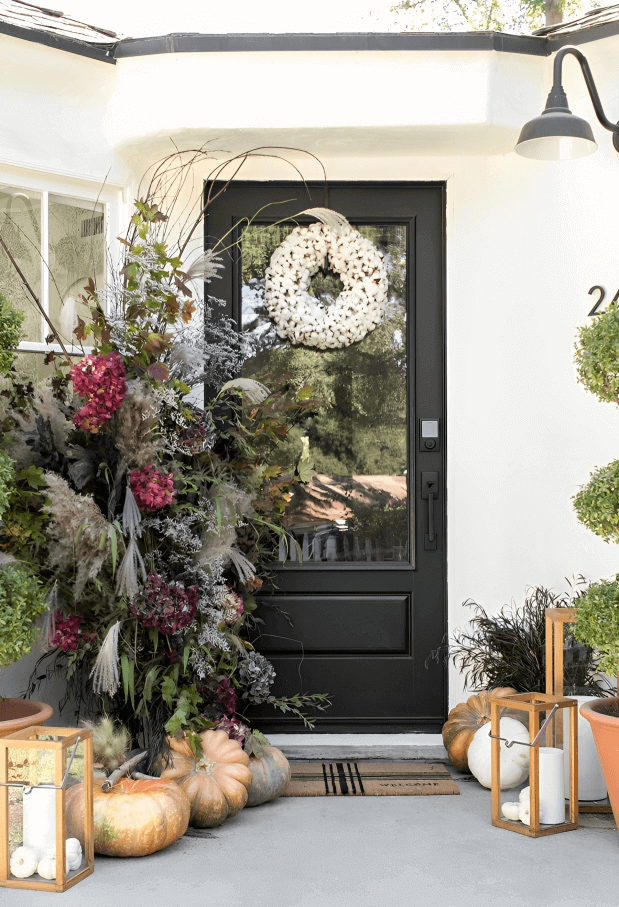 ---
---
---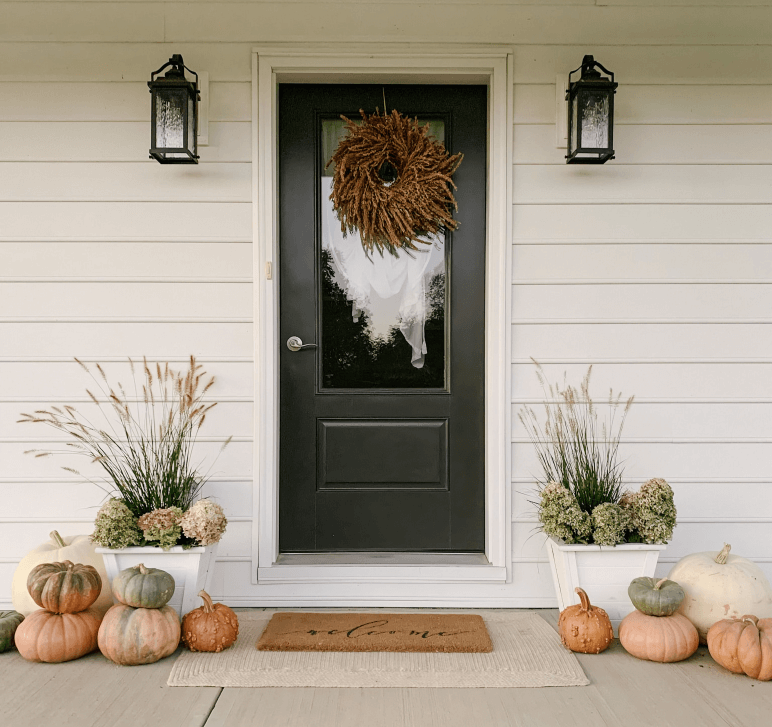 ---
---
---
---
---
---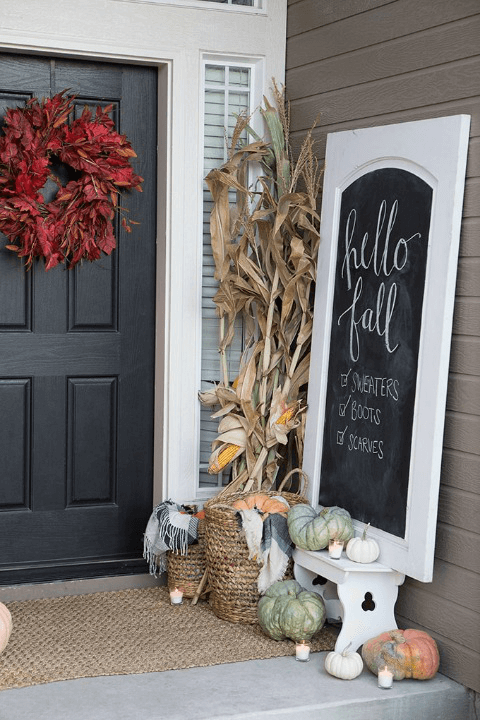 ---
---
With these decorating outdoors for fall , you have an array of options to create a captivating and inviting outdoor space that truly captures the essence of the season. From hayrack planters to rustic farm stand displays, each idea allows you to infuse your unique style into your outdoor décor while celebrating the warmth, colors, and charm of fall.
Here are some frequently asked questions about outdoor fall decorating.
Q1: When is the best time to start decorating outdoors for fall?
A: It's ideal to start decorating for fall when the weather starts to cool down and the leaves begin to change, typically around late September or early October. This timing allows you to capture the essence of the season and enjoy your decorations for several weeks.
---
Q2: What are some cost-effective ways to decorate for fall outdoors?
A: There are plenty of budget-friendly options for fall decorating. Collect fallen leaves, pinecones, and branches from your own yard to create DIY decorations. Utilize items you already have, like lanterns, baskets, and outdoor furniture, and simply add seasonal touches like pumpkins and foliage.
---
Q3: How can I protect my outdoor decorations from the elements?
A: To protect your outdoor fall decorations, consider using weather-resistant materials such as synthetic pumpkins, outdoor fabrics, and sealed wooden signs. Store fragile decorations indoors during heavy rain or storms, and bring in items that could be damaged by frost.
---
Q4: Can I use real pumpkins and gourds for outdoor decorations?
A: Absolutely! Real pumpkins and gourds add an authentic touch to your outdoor fall décor. Keep in mind that these natural decorations will eventually decay, so you may need to replace them as the season progresses.
---
Q5: How can I incorporate safety into my outdoor fall decorations?
A: Safety is crucial when decorating outdoors. Ensure that pathways are well-lit to prevent accidents during the darker evenings. If using open flames like candles or lanterns, make sure they are placed on stable surfaces and kept away from flammable materials.
---
Q6: What are some tips for transitioning my outdoor space from Halloween to Thanksgiving decorations?
A: To transition from Halloween to Thanksgiving, remove any spooky or Halloween-specific decorations and focus on elements that evoke a harvest or gratitude theme. Swap out Halloween colors like orange and black for warm, earthy tones, and incorporate elements like cornucopias, wreaths, and seasonal signs.
---
Q7: How can I make my outdoor space cozy for fall evenings?
A: Create a cozy ambiance by adding outdoor blankets, cushions, and throws to your seating areas. Consider using outdoor heaters or fire pits to provide warmth, and use soft lighting with lanterns or string lights to create a welcoming glow.
---
Q8: What types of plants and flowers are best for fall outdoor decorations?
A: Chrysanthemums, pansies, ornamental cabbage, and asters are popular fall flowers that bring vibrant colors to your outdoor space. Incorporate ornamental grasses, colorful foliage plants, and seasonal berries for additional texture and visual interest.
---
Q9: How can I involve my children in outdoor fall decorating activities?
A: Get your kids involved by having them help with pumpkin decorating, leaf collecting, or crafting scarecrows. You can also plan a family activity like creating a DIY bird feeder or painting rocks with fall-inspired designs to place around your outdoor space.
---
Q10: Can I mix fall decorations with my existing outdoor décor?
A: Absolutely! Your fall decorations can complement your existing outdoor décor. Consider incorporating fall colors like rich oranges, deep reds, and warm browns into your existing color palette. This will create a seamless transition between your regular outdoor setup and your fall decorations.
---
Remember that outdoor fall decorating is all about embracing the beauty and charm of the season. Feel free to adapt these ideas and answers to your unique style and preferences, making your outdoor space a reflection of your creativity and love for autumn.
The princess home on Pinterest
Tags :
Fall Tips & Ideas