Autumnal Affluence: Elegant Fall Decor Ideas for a Glamorous Home
Elegant Fall Decor Ideas: As the days grow shorter and the leaves begin to change, there's a certain magic in the air that signals the arrival of autumn. Fall is a season that captivates our senses with its rich colors, crisp air, and the promise of cozy moments to come. It's a time to welcome the change of seasons with open arms, and what better way to do so than by adding elegant touches and creating special moments that celebrate the beauty of fall? In this article, we'll explore various ways to embrace the season and make it truly memorable.
---
1. Decorate with Nature's Bounty
One of the simplest and most elegant ways to welcome fall into your home is by decorating with nature's bounty. Gather an assortment of colorful leaves, pinecones, acorns, and branches to create stunning autumn-inspired centerpieces and decorations. Arrange them in vases, bowls, or even as part of a wreath to infuse your living spaces with the warm and inviting hues of fall.
---
2. Warm Up with Cozy Textiles
As the temperatures drop, it's time to bring out your favorite cozy textiles. Layer your sofas and chairs with plush throw blankets and cushions in autumnal colors like deep reds, burnt oranges, and earthy browns. Adding a few faux fur or knit pillows can instantly transform your living room into a snug and inviting haven.
---
3. Light Up the Season
Fall is the perfect time to set the mood with ambient lighting. Swap out your bright, summer lights for warmer, softer options. Consider investing in some elegant candleholders and scented candles that evoke the scents of fall, such as cinnamon, apple, and pumpkin spice. The flickering candlelight will create a warm and inviting atmosphere in your home.
---
4. Create a Seasonal Tablescape
Whether you're hosting a special dinner or simply enjoying a meal with your family, a beautifully set table can make the occasion feel even more special. Incorporate fall-themed dinnerware, napkins, and table runners to create a stunning tablescape. Don't forget to add a vase of fresh fall flowers as a centerpiece, or even a small pumpkin or gourd for an extra touch of seasonal charm.
---
5. Savor Seasonal Flavors
Fall is a season of culinary delights, with a bounty of seasonal ingredients waiting to be enjoyed. Embrace the flavors of fall by cooking up dishes like roasted root vegetables, hearty soups, and apple or pumpkin pies. Hosting a dinner party with a menu featuring these autumnal flavors is a great way to bring friends and family together for a memorable evening.
---
6. Explore the Great Outdoors
Fall's crisp air and vibrant foliage make it an ideal time to explore the great outdoors. Plan a day trip to a nearby park or nature reserve to take in the beauty of the changing leaves. Pack a picnic basket filled with your favorite fall treats and enjoy a leisurely meal surrounded by nature's splendor. Don't forget to bring a camera to capture the breathtaking scenery.
---
7. Host a Fall-Themed Gathering
Whether it's a small get-together with friends or a larger family gathering, hosting a fall-themed event can be a memorable way to celebrate the season. Consider activities like apple picking, pumpkin carving, or a cozy bonfire with s'mores. Encourage guests to embrace the spirit of fall by wearing their favorite cozy sweaters and scarves.
---
8. Embrace Seasonal Fashion
Fall fashion offers an opportunity to showcase your personal style while staying warm and comfortable. Invest in classic pieces like cozy knit sweaters, stylish boots, and versatile scarves. Rich jewel tones and earthy neutrals are perfect for fall, and layering your outfits not only keeps you warm but also adds an extra touch of elegance.
---
9. Enjoy a Special Fall Spa Day
Pamper yourself with a special fall-themed spa day at home. Create a relaxing atmosphere with scented candles and soothing music. Indulge in skincare treatments using products infused with fall scents like pumpkin or cranberry. A warm bath with bath salts can be a perfect way to unwind on a chilly fall evening.
---
10. Capture the Moments
Lastly, don't forget to capture the special moments of fall. Whether you're taking photos of your home's autumn décor, your outdoor adventures, or the gatherings you host, these snapshots will serve as cherished memories of this beautiful season.
---
Here are some important tips for choosing colors and coordinating them with accessories.
**Simple changes to renovate your home decor To welcome fall 
interior decoration experts explains that renovating the decoration of the house brings many ideas that allow you to choose what suits different tastes; So that this season does not pass without feeling it, and to find harmony in the warm autumn atmosphere.
**welcome the warm earth colors
With the approach of autumn, we can say goodbye to the bright and cold colors that dominated the summer decoration, to welcome the warm earth colors that suggest warmth and intimacy that every housewife can apply to feel that the atmosphere of the house is has become more aesthetic. , distinguished and sophisticated.
---
**Warm colors
Yellow is one of the colors most associated with fall, and it has many shades. But when it is chosen as a decorative color; You should choose a matte gold color for the color of the walls, and choose the parquet floor in the color of light wood, in addition to choosing yellow for the curtains and lighting furniture Exquisite decoration full of warmth and elegance .
---
**The brown color,
The bedroom can have a warm, autumnal atmosphere with brown on one side and creamy beige on the rest, complemented by a natural wood parquet floor. A dark brown wooden background behind the bed adds a cozy touch. Throughout the house, you can infuse autumn colors by changing pillows and small rugs.
---
**The color
The color orange gives a nice and glamorous touch to the decoration in general, being able to be chosen in a light degree as a background color for one of the sides of the room with the introduction of light beige and brown with it for the colors. of the furniture, because the presence of the three together gives an elegant appearance; As they go very well with each other, choose brown for the pots and light beige for the rest of the accessories.
---
**Autumnal decoration par excellence
For more sense of the autumnal atmosphere ; A medium-sized mirror with a leaf-shaped wood-colored frame can be placed and hung to complement the room's decor.
**Golden frames
Choose frames in gold to match the rest of your fall home decor ..Swap photo frames and mirror frames so that their colors match the fall colors. Frames can be chosen in gold or earth tones to match the rest of the home decor.
---
**
Paintings that change the atmosphere of the house
On the wall of the main entrance of the house you can display some paintings or decorative pieces that represent the autumn time, which changes the general atmosphere of the house immediately, the autumn colors are coordinated between earthy, red, orange, gold and brown; It gives the place a warmth and a touch of romance, and the housewife has the freedom to choose between oil paintings that carry images of nature or paintings that are characterized by abstract art.
---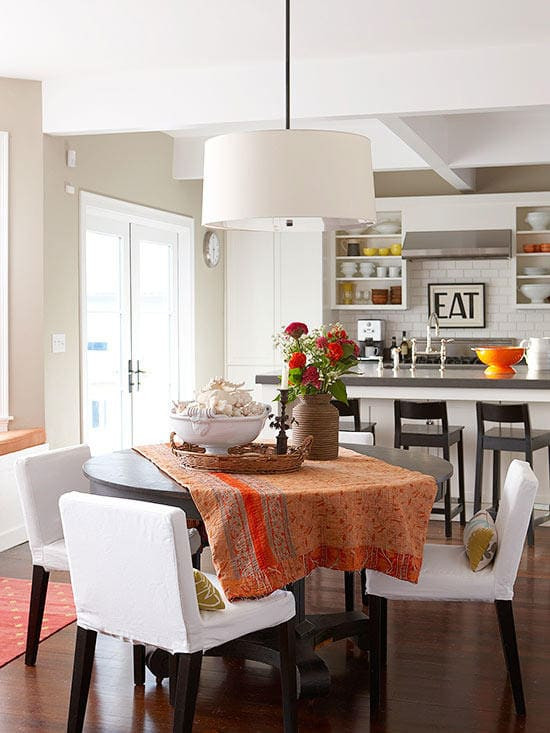 **
Fall decoration for dining table centerpiece
The decorator Kamoni points out that the dining table is also an essential focus of the autumn decoration of the house, whether the choice is classic or modern between the antiques or the main decorative pieces of that room; The use of red and yellow colors gives the desired visual effect, being able to use tablecloths and tablecloths with autumn touches in all its colors.
---
**
The lamps have a romantic effect.
swap cool blue lights for warm yellow ones; The color of the light has a great impact on the decoration and the atmosphere of the home. The lampshades can be chosen in warm earth tones.
In addition, the use of bright and shiny lighting units gives a wonderful glow to the place when the sun begins to set. In addition to paper lamps that are lit with candles and create an atmosphere of romance on the balcony.
---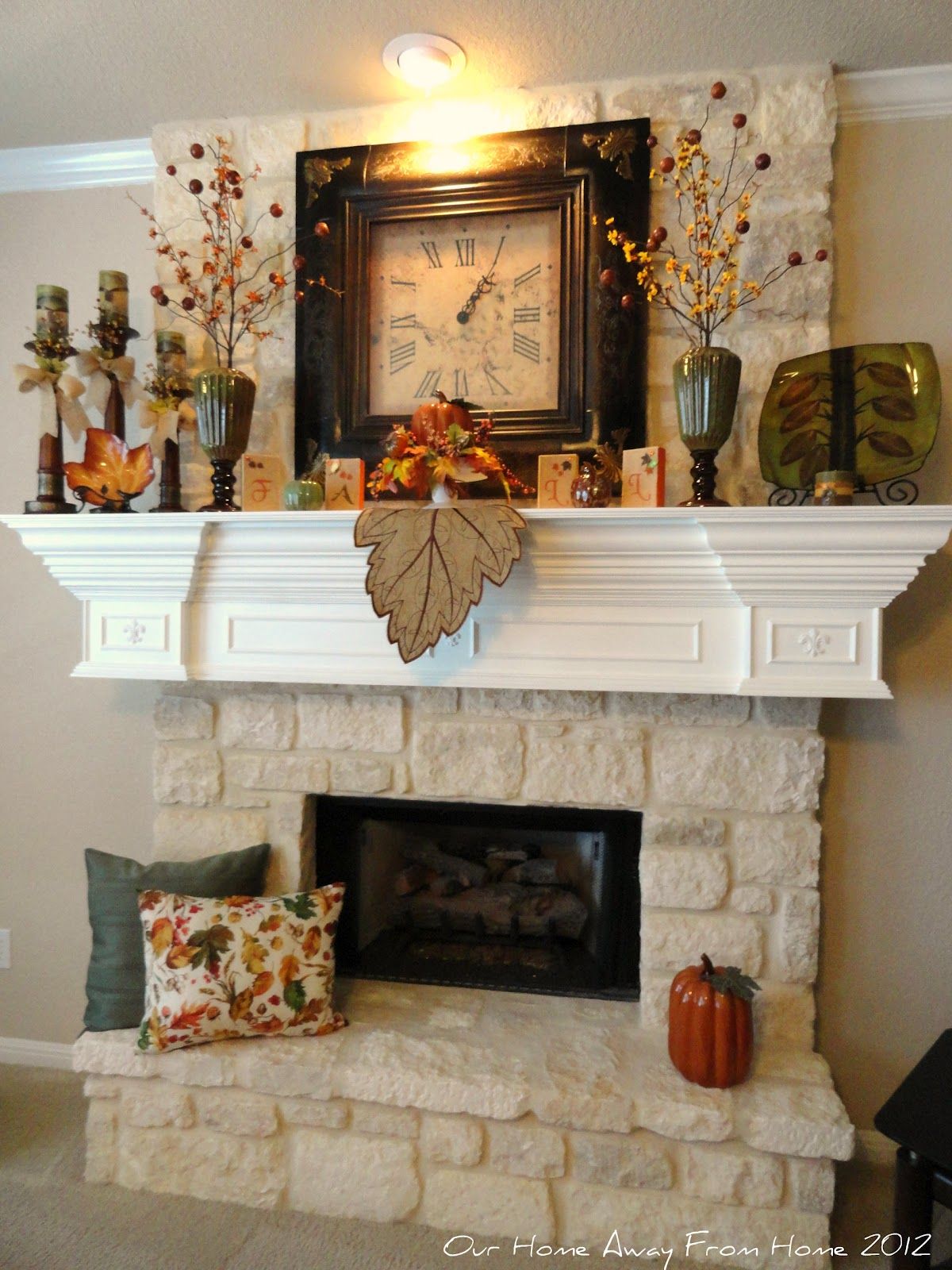 **
Private corner around the fireplace
The private corner around the fireplace is the most awaited place to renew yourself with the arrival of autumn. As for the private corner around the fireplace, it is the most awaited place to renew yourself with the arrival of autumn. It is possible to collect dried leaves from the garden or suitable dried flowers of fall colors and put them in transparent pots or vases in various corners around the place with the use of various shapes of colored candles.
---
**Plants are one of the most important fall decorations.
The use of natural and climbing plants – as decoration on the external or internal balcony of the house – is a beautiful idea, in addition, dried corn stalks or dried plums in pots can be placed on the front door of the house.
---
**
Colorful covers and pillows
The shape of the light colored blankets should be coordinated on the sofas or in the bamboo baskets that are used in the living room, being able to renew the pillows or put special covers in autumnal colors such as purple red and gray, especially in the corner of reading, to give privacy to the place in the cold of autumn.
---
**
Autumn has a special aroma
Autumn, with its crisp air and vibrant foliage, is a season that appeals to our senses in many ways. Among its many sensory pleasures, the distinctive scent of autumn stands out as something truly special. The fragrance of this season can be both comforting and invigorating, and one of the delightful ways to enhance it is by incorporating oils, incense, and natural spices like cinnamon, cloves, and nutmeg into your environment.
---
**
Warm decorative blankets
Ready-made furniture covers can be used and are available at low cost to cover the furniture, and the colors of these covers are a mix of fiery, earthy and cold, and many of them carry various decorative shapes to suit all tastes, plus a few Autumn colors in every room of the house by changing the colors of the pillows, and small carpet pieces.
---
**
Thick curtains keep you warm
Attention should be paid to the fact that the curtains used in the house vary according to the seasons, so now is the time to remove the light and soft curtains and use thick fabrics such as velvet or any other fabric of various thicknesses and colors. to your taste. the autumnal atmosphere and to keep the room warm from the pangs of the cold, taking into account the consistency of the color of the curtain with the color of the decoration and furniture of the room.
---
**
Painting the walls with autumn colors
Decorating expert Kamoni suggests using modern fall hues to paint your home's walls, such as yellow, orange, burgundy, and green. Consider changing the facade wall color or using wallpaper with autumn designs like leaves and branches for a modern look. Avoid making drastic changes to the entire house decor for each season to save time and effort.
---
And he advises to apply simple and inexpensive ways to renew the decoration, since it is much more important than changing the decoration completely, being careful not to make mistakes in the decoration of the home. In addition, staying away from boredom and negative environments in the house is very necessary, while giving a distinctive touch to the place.
In conclusion, fall is a season worthy of elegant celebration. Whether you choose to decorate your home with natural elements, savor seasonal flavors, or host gatherings with loved ones, there are countless ways to embrace the beauty of autumn. By taking the time to infuse your life with the magic of fall, you'll create lasting memories and make this season truly special. So, welcome fall with open arms and savor every moment it has to offer.
---
FAQs Related to Welcoming Fall with Elegant Touches & Special Moments
Q1: How can I incorporate fall colors into my home decor?
A1: You can incorporate fall colors into your home decor by adding touches of rich and warm hues such as deep reds, burnt oranges, earthy browns, and dark greens. Use throw blankets, cushions, table linens, and decorative items in these colors to infuse your living spaces with the essence of fall.
---
Q2: What are some ideas for fall-themed gatherings or parties?
A2: Fall-themed gatherings can include activities like apple picking, pumpkin carving, bonfires with s'mores, or even a cozy indoor movie night with autumnal snacks. You can also plan a harvest dinner party with a menu featuring seasonal dishes like roasted vegetables, hearty soups, and fall-inspired desserts.
---
Q3: Are there any specific scents I should look for in fall candles and room fragrances?
A3: Fall candles and room fragrances often feature scents like cinnamon, apple, pumpkin spice, vanilla, and warm spices. These fragrances can help create a cozy and inviting atmosphere in your home that aligns with the season.
---
Q4: What are some essential fall fashion items to have in my wardrobe?
A4: Essential fall fashion items include cozy knit sweaters, stylish boots, versatile scarves, and comfortable jeans or pants. Don't forget to layer your outfits to stay warm and stylish during cooler weather.
---
Q5: How can I make the most of the fall foliage and outdoor activities?
A5: To make the most of the fall foliage and outdoor activities, plan a day trip to a nearby park, forest, or nature reserve. Bring along a camera to capture the vibrant colors of the leaves. Consider activities like hiking, picnicking, or simply enjoying a leisurely walk in nature.
---
Q6: Can you suggest some fall-themed recipes for a dinner party?
A6: Certainly! Some fall-themed recipes for a dinner party could include:
Roasted Butternut Squash Soup
Baked Chicken with Apple and Sage
Maple-Glazed Carrots
Creamy Pumpkin Risotto
Apple Crisp with Vanilla Ice Cream
These dishes showcase the flavors of fall and can make your dinner party a delightful culinary experience.
---
Q7: What are some creative ways to use fall foliage for home decor?
A7: Creative ways to use fall foliage for home decor include making wreaths, centerpieces, garlands, and table settings. You can also press colorful leaves and frame them as wall art or use them to create decorative candleholders. The possibilities are endless.
---
Q8: How can I create a spa day with fall-themed treatments at home?
A8: To create a fall-themed spa day at home, use skincare products with scents like pumpkin, cranberry, or cinnamon. Draw a warm bath with bath salts, light scented candles, and play soothing music. Treat yourself to facials, body scrubs, and moisturizing treatments to relax and rejuvenate.
---
Q9: What are some tips for photographing fall moments and foliage?
A9: When photographing fall moments and foliage, consider the following tips:
Use soft, natural lighting, such as during the "golden hour" shortly after sunrise or before sunset.
Focus on capturing the vibrant colors of the leaves.
Experiment with angles and perspectives to create visually interesting compositions.
Include people or objects in the frame for scale and context.
Use a tripod for steady shots, especially in low light conditions.
---
Q10: How can I make fall memories last beyond the season?
A10: You can make fall memories last beyond the season by creating a photo album, scrapbook, or digital photo gallery to preserve your favorite moments. Additionally, consider turning some of your fall-themed crafts or decorations into keepsakes that you can use in future autumns, helping to recreate the special memories.
---
Tags :
Fall Tips & Ideas