Best Pumpkin Decor Ideas Elegant For Fall
Best Pumpkin Decor Ideas Elegant For Fall
Elegant Pumpkin Decor Ideas: Creative Ways to Decorate Pumpkins, A Festive Guide
Get ready to dive into the world of pumpkin decorating, where creativity knows no bounds! In this comprehensive guide, we'll share a variety of unique and exciting ways to transform ordinary pumpkins into stunning works of art. Whether you're preparing for Halloween, Thanksgiving, or simply want to embrace the fall spirit, these ideas will inspire you to elevate your pumpkin decoration game.
---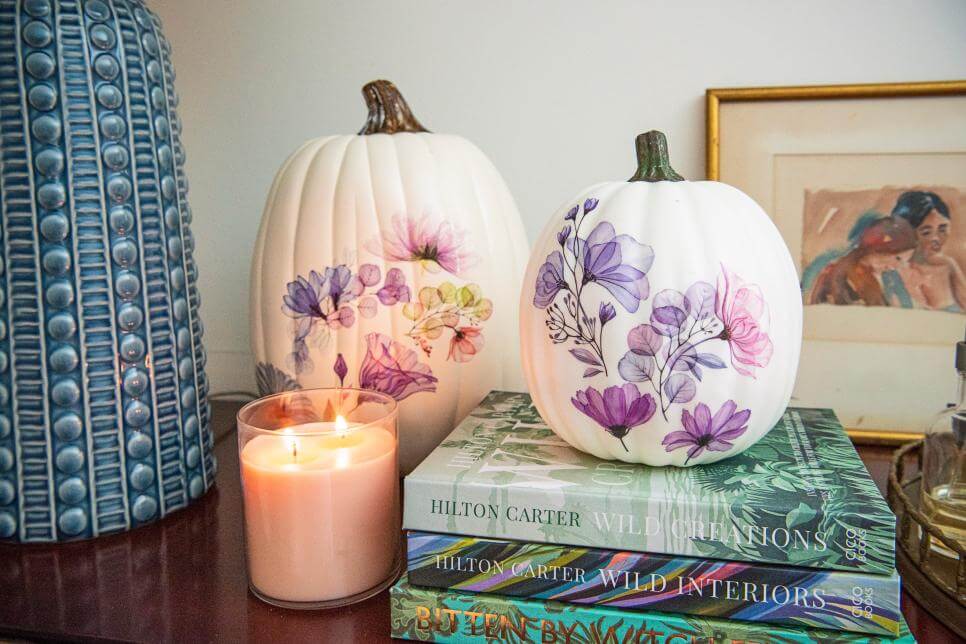 Temporary Tattoo Pumpkin
Try something new this Halloween season and decorate your pumpkins with temporary tattoos. With just a few simple steps of placing and pressing the tattoos onto the pumpkin with a damp cloth, you can achieve trendy decor in minutes — without the hefty retail store price tag.
---
These pumpkins are ready for a party! This metallic confetti design adds a festive touch.
---
Cozy up a plain pumpkin with an old or thrifted sweater that'll bring amazing texture to any fall vignette. Use a faux pumpkin for a trendy take on traditional fall decor that you can display through Thanksgiving.
---
Blooming Floral Pumpkin
Give your old autumn wreath a new lease on life by using its blooms to decorate white pumpkins. Use craft scissors to prune your wreath for the best autumnal blooms, and attach them to the pumpkins using hot glue.
---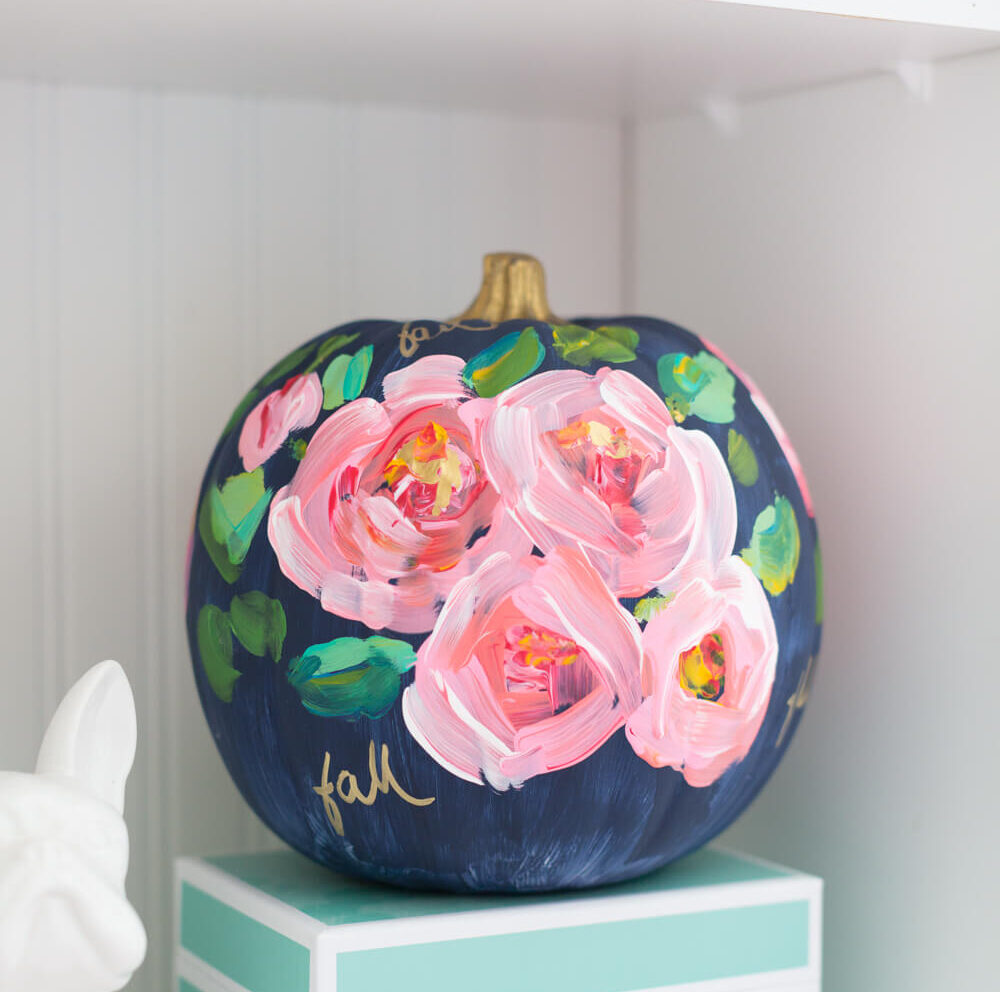 You might be thinking that if you don't know how to paint, you can't decorate a pumpkin using this method. But that's the thing! This is really
easy beginner painting
, and Lucy is going to show you how. These craft pumpkins can be customized to suit any decor style or color.
---
Pressed-Flowers Pumpkin
Channel your inner flower child with this pumpkin adorned with pressed blooms. To achieve this whimsical look, use a paintbrush to apply a coat of decoupage glue to a real or faux pumpkin. Next, use a pick-up tool such as tweezers to carefully place dried, pressed flowers onto the pumpkin in your desired pattern. Seal the design with another coat of decoupage glue, and let it dry before displaying.
---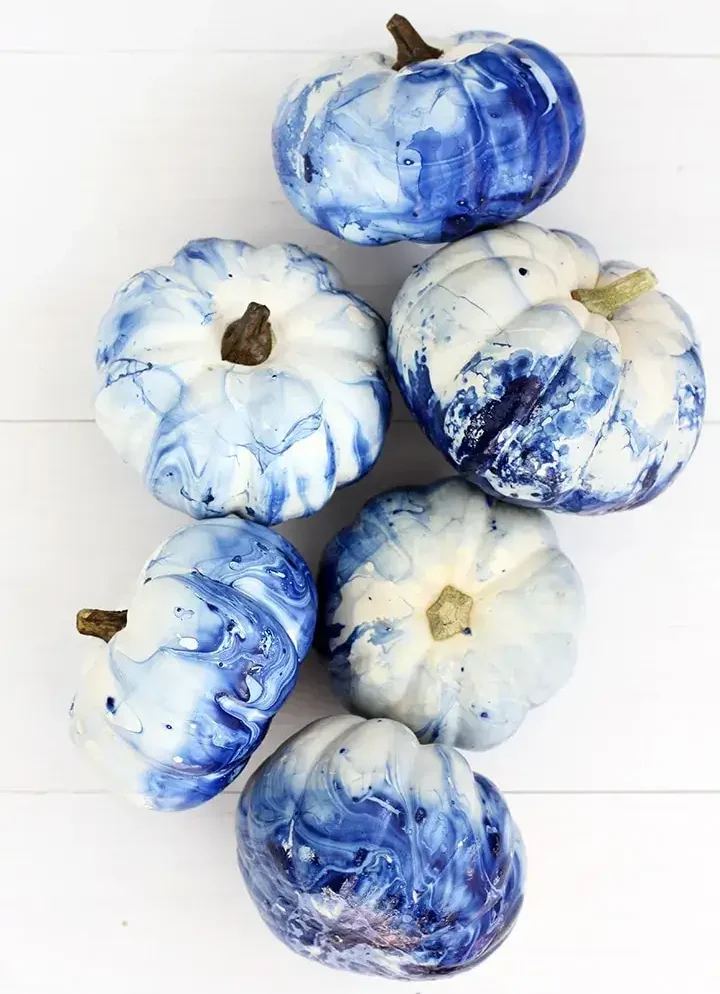 Do you have a thing for indigo? Decorate pumpkins with nail polish using a marbled effect! This is so simple, and so unique.
---
So pretty bubbling pearl pumpkin ,This is so beautiful. Just imagine using these pumpkins as decoration for wedding or proms.
---
These cool painted galaxy pumpkins remind me of a night sky! Keep them on your porch for Halloween decor. No crafting
---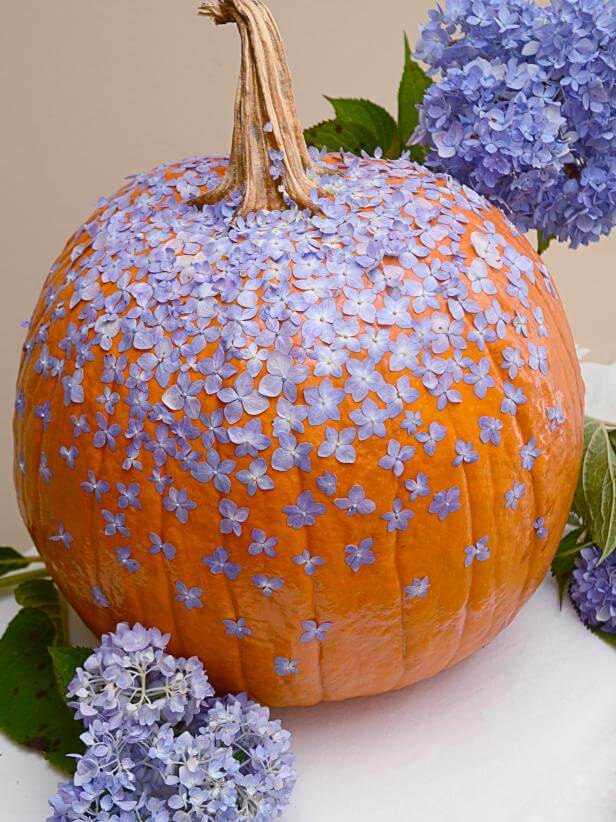 Floral Decoupage 
Decorate your pumpkin with a beautiful shower of dainty, dried flowers. Press a collection of summer flowers in the pages of old books, then use a decoupage technique to attach them to a real or faux pumpkin for a pretty, ombre effect.
---
A little glitz and glam can make almost anything look sophisticated, and these gilded metallic-foil pumpkins are so gorgeous, people will think that you bought them to decorate your home for fall. After painting your faux pumpkins with chalky paint, coat each pumpkin with adhesive and press on a metallic foil sheet for the chicest .
---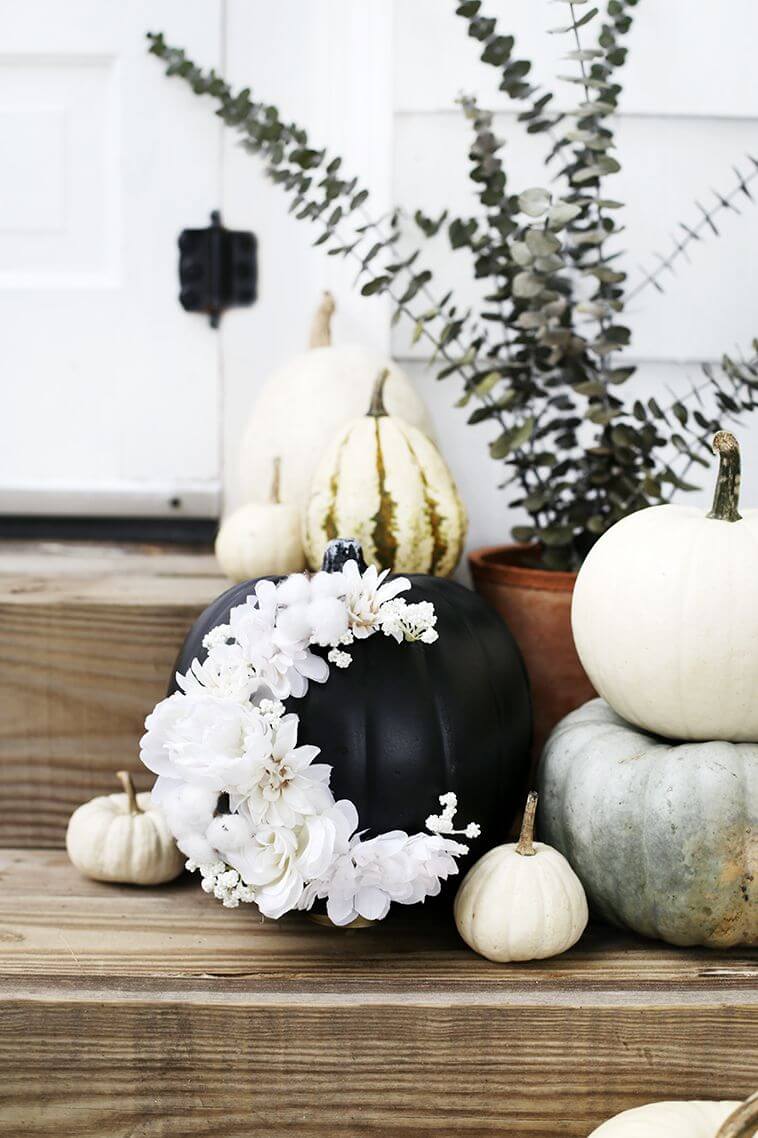 Spotlight the moon on your pumpkin this season. With a craft pumpkin and faux flowers, you can create a design you'll use year after year.
---
---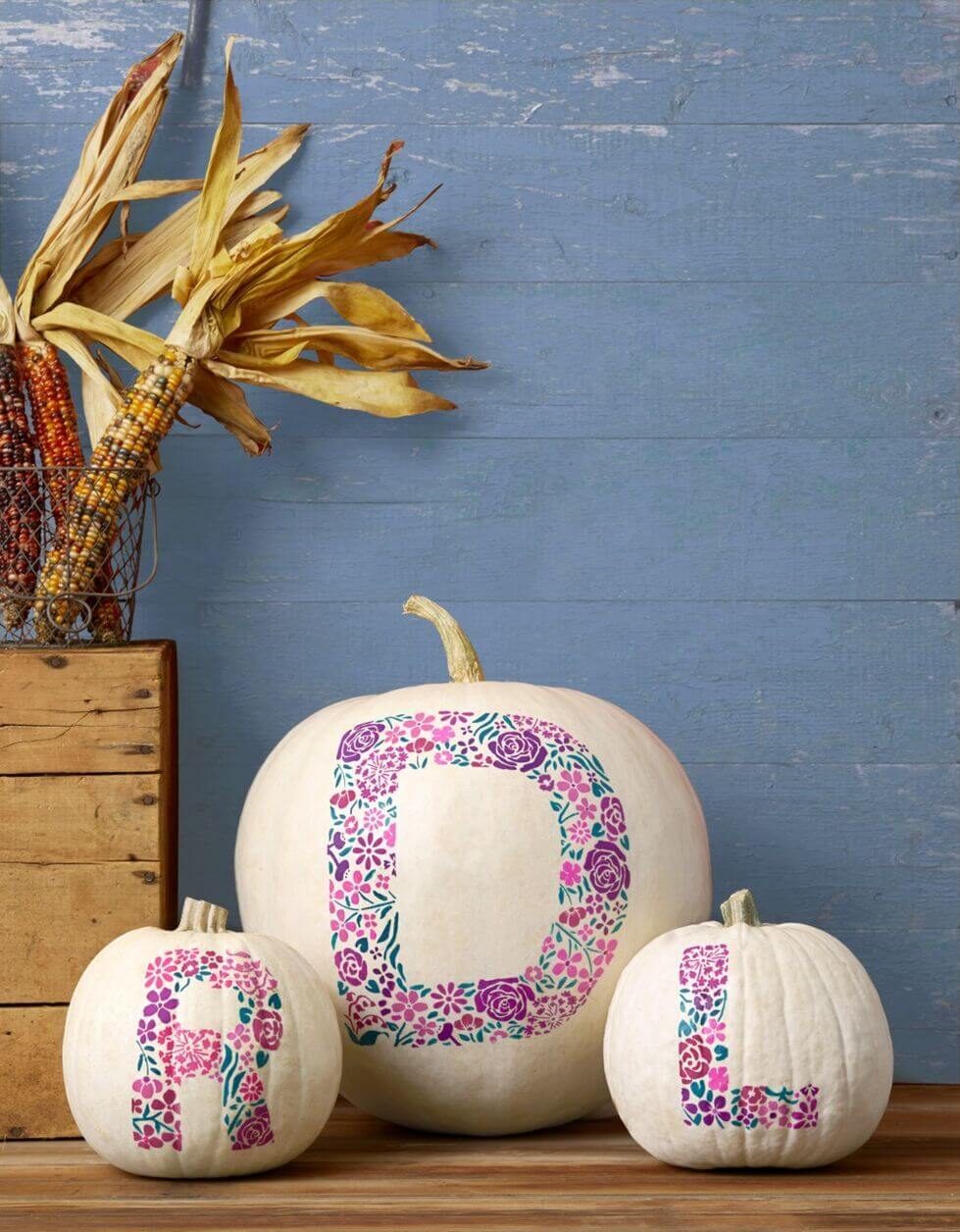 Floral Monogram Pumpkins
To start, draw thick block letters on each pumpkin and outline them with painter's tape. Then tape flower stencils inside the letters and use a foam stippler to dab paint onto the pumpkin to fill in the stencil. Only remove the tape once the paint is dry.
---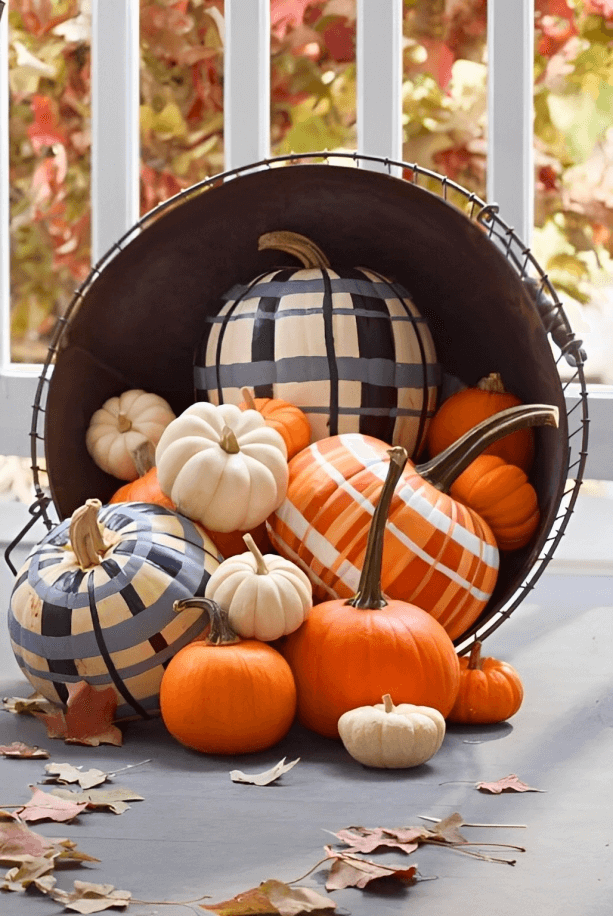 Rad in Plaid Pumpkins
Fall means there's plaid just about everywhere, and that includes your pumpkins! Get yourself some orange and white pumpkins and use duct tape to paint on the cozy designs.
---
Glitz Pumpkin
Give faux pumpkins a glamorous makeover with gold, silver and copper leaf. They'll add just the right amount of sparkle to a fall display or Thanksgiving centerpiece.
---
Get Out Your Paint
Painting your pumpkins will surely add a personal touch to your home's décor. If you aren't super creative or don't feel confident in your ability to paint a nice design, try using a stencil. Painted pumpkins allow you to match the design style of your home, and are a fun activity to do to get the fall season started.
---
Cinderella's carriage 
Bibbidi bobbidi boo! With the right supplies and a little Halloween magic, you can make this carriage fit for a Disney princess. Attach apples at the base of an oval pumpkin with toothpicks to act as wheels and paint a door and windows on both sides. Use the gold paint to add detail to the wheels and door, tie a red bow on top, and the transformation is complete!
---
This Tiffany pumpkin uses the famous jewelry store's signature robin's-egg blue to evoke the little blue box that we all swoon over. A super easy and elegant option, this look calls for Tiffany-blue spray paint, a faux or real pumpkin, and white satin ribbon.
---
It doesn't get more classic than this monogram pumpkin decorating idea. Use a word processor program to create a monogram and print. Place a piece of transfer/graphite paper beneath the printed monogram and tape both to the pumpkin. Trace the monogram onto the pumpkin and fill it in with paint.
---
Transferware Pumpkins
Grab the Mod Podge. A simple trip to the color copier is all it takes to "transfer" your transferware collection to a pumpkin. Simply make a color copy of a your favorite plates and trays, then cut the paper into strips and adhere to a pumpkin or gourd with the Mod Podge.
---
Lace Embellished 
This pretty pumpkin will look right at home on your holiday table or lining a kitchen shelf.
Make the pumpkin: Separate sections of lace trim or use flower appliqués and attach to pumpkins with hot-glue.
---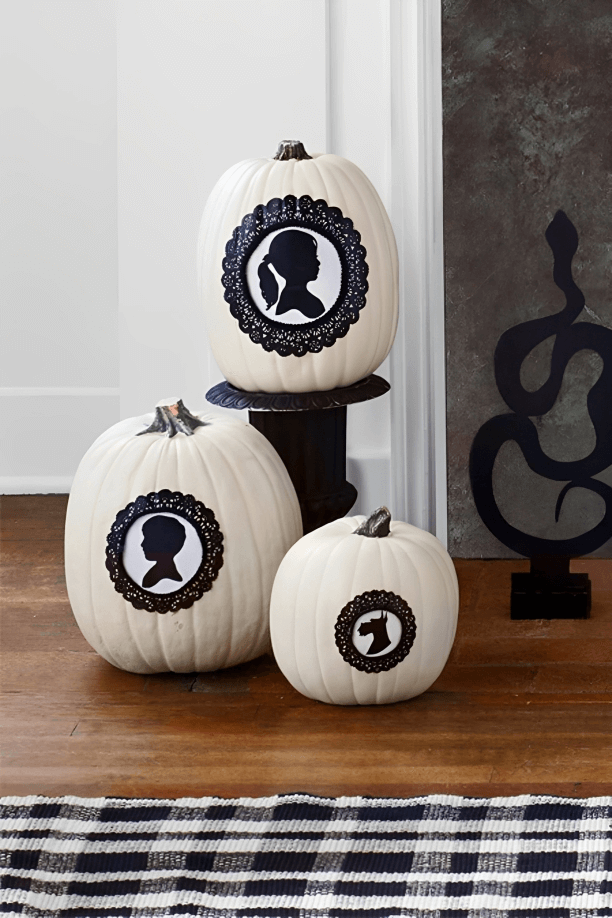 Silhouette Pumpkins
Photograph your subject from the side. Scale photo as needed, then cut out profile. Trace and cut profile from black craft paper. Using Mod Podge, adhere cutout to a white paper circle cut to fit interior of a black doily. Secure unit to pumpkin. Glue trim to edge of white paper.
---
Green Scene
We produced this pastoral idyll by photocopying toile fabric. To re-create the effect, begin by painting a faux pumpkin with two coats of flat acrylic paint, in a shade that matches the background of your fabric; let dry. Meanwhile, photocopy the fabric in color, making enough copies to completely cover your Funkin and resizing the pattern if desired (we shrunk this one by 25 percent). Cut out individual scenes from the toile, leaving about a quarter inch of white space around each. Using our easy découpage technique, cover the entire Funkin.
---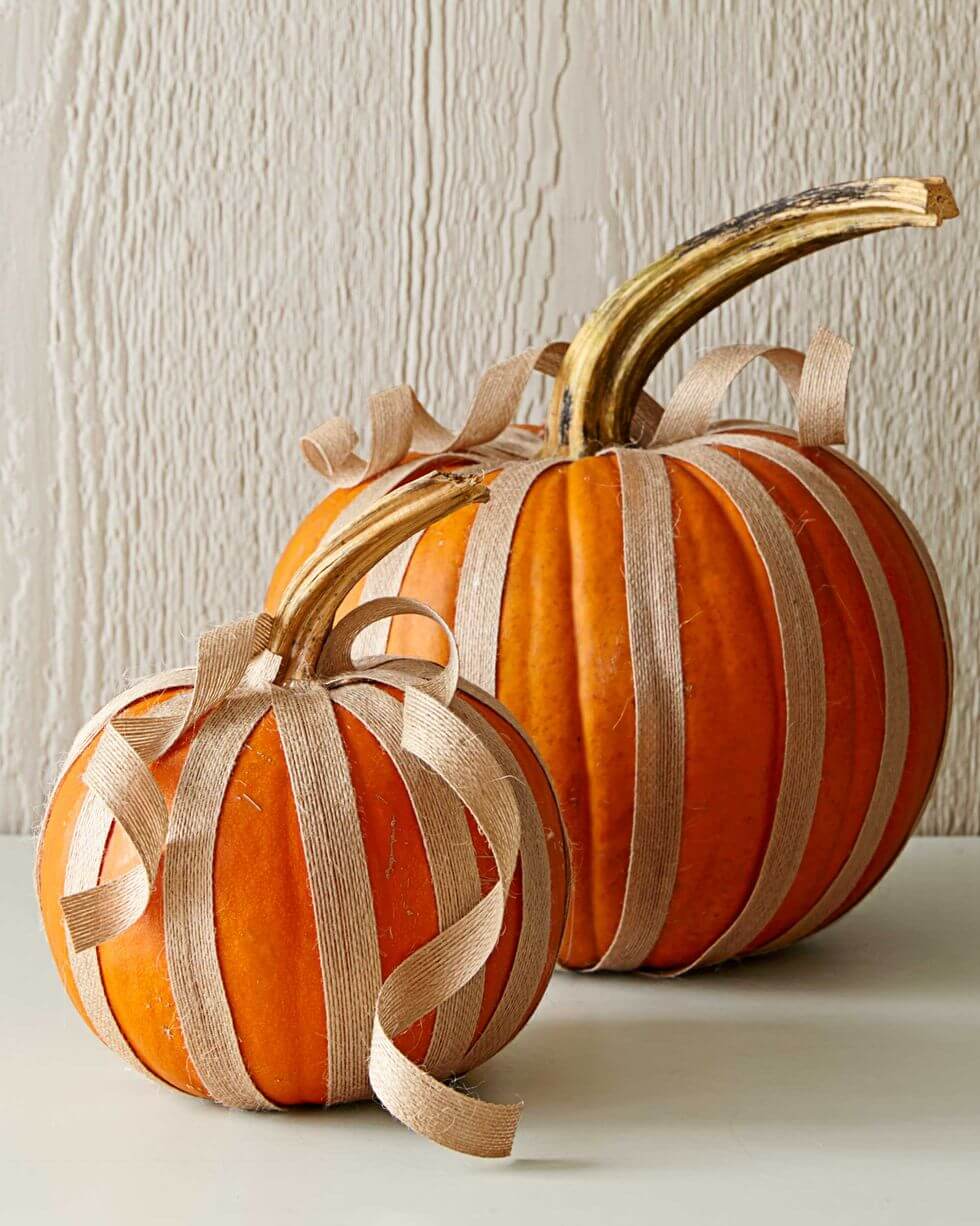 Burlap Ribbon
Tie on country charm with this rustic fabric. Secure a strip of narrow burlap ribbon to the top of the shell using hot-glue, then run ribbon along the side of the pumpkin and secure it to the bottom with glue. Repeat as desired. Twist ribbon to add two curled tendrils at the top. Secure with hot-glue. (Wired or coiled ribbon will hold its shape best.)
---
Decoupaged Pumpkin
This gourd gets its graphic appeal from Pictorial Webster's—a volume filled with cool black-and-white illustrations. Choose your favorite drawings from the book (we used approximately 120 for a medium-size Funkin, or faux pumpkin), then photocopy them onto off-white cover stock paper. Next, carefully tear out each photo-copied image, leaving about half an inch of white space around it. (The rough edges will give your finished product added interest.) Using our découpage technique, cover an entire Funkin with the images, overlapping their edges as you work.
---
Fast Floral Pumpkin
Adhere temporary tattoos to your white pumpkin, as you would on skin. Join a ring of floral selects together for this botanical look.
---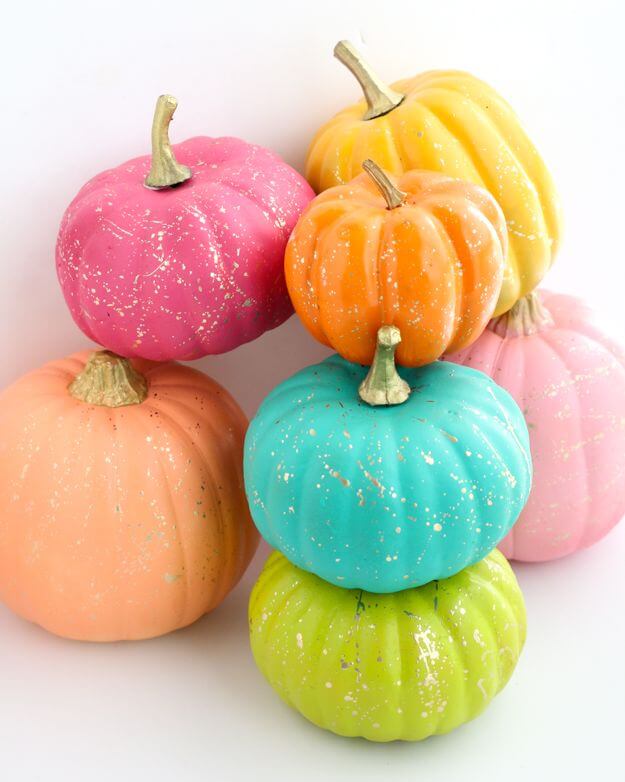 Go for the gold this Halloween—vibrant gourds look even more striking with a bit of shimmer.
---
Forego real or plastic pumpkins for foam ones to create this cozy display. Add jute twine, burlap ribbon, and raffia ribbon for organic accents.
---
No matter how you choose to decorate your pumpkins, have fun and let your creativity shine!
Here are some additional tips for decorating pumpkins:
Start by cleaning the pumpkin and removing any blemishes.
If you are carving the pumpkin, use a sharp knife and be careful not to cut yourself.
If you are using paint, make sure to use acrylic paint that is specifically designed for pumpkins.
If you are using a stencil, be sure to apply the paint evenly so that the design does not bleed.
If you are using string art, be sure to use a strong thread or yarn that will not break easily.
If you are using decoupage, be sure to use a decoupage medium that is specifically designed for pumpkins.
If you are using pom-poms, be sure to use a hot glue gun to attach them to the pumpkin.
If you are using fabric, be sure to use a fabric glue that is specifically designed for pumpkins.
If you are using stickers, be sure to apply them to a clean and dry surface.
I hope these ideas help you create beautiful and festive pumpkins for your Halloween celebration!
Tags :
Fall Tips & Ideas