Elegant 34 Fall Wreath Ideas for Your Front Door
Elegant 34 Fall Wreath Ideas for Your Front Door
Elegant Fall Wreath Ideas : As the vibrant colors of summer give way to the warm and cozy hues of autumn, it's time to embrace the changing season by adorning your front door with a stunning fall wreath. Fall wreaths not only welcome guests with their charming appeal but also capture the essence of the season's beauty. In this article, we'll explore a myriad of elegant fall wreath ideas that will add a touch of sophistication and warmth to your home's exterior.
---
1.Classic Harvest Charm:
Embrace the timeless beauty of fall by opting for a classic harvest-themed wreath. Combine dried corn husks, miniature pumpkins, and rustic burlap ribbons to create a wreath that pays homage to the season's agricultural richness. Incorporating deep reds, oranges, and browns will infuse your front door with a warm and inviting atmosphere.
---
2.Rustic Elegance:
For a wreath that exudes rustic elegance, use natural materials like twigs, pinecones, and dried leaves. Incorporate feathers, wheat stalks, and cotton bolls for a touch of whimsy. Add a burlap bow or a lace ribbon to strike a perfect balance between rugged and refined.
---
3.Glamorous Metallics:
Elevate your fall decor by incorporating metallic elements into your wreath. Think gold and copper-painted leaves, mini pumpkins adorned with metallic accents, and glistening berries. These glamorous touches will catch the sunlight and create a dazzling display on your front door.
---
4.Whimsical Woodland Fantasy:
Transport your front door into a whimsical woodland realm with a wreath inspired by enchanted forests. Use faux moss, miniature toadstools, and woodland creatures like squirrels or owls. The addition of fairy lights can add a magical glow to your wreath during the evening hours.
---
5.Monochromatic Elegance:
For a more subdued yet elegant look, consider a monochromatic wreath. Choose a single color, such as rich burgundy or deep plum, and create a wreath using various shades and textures within that color scheme. This minimalist approach can make a striking statement on any front door.
---
6.Autumn Harvest Cornucopia:
Embrace the symbolism of abundance with a cornucopia-inspired wreath. Incorporate artificial fruits, vegetables, and nuts that are reminiscent of a bountiful harvest. A wreath like this not only looks visually appealing but also carries a meaningful message of gratitude and plenty.
---
7.Lush Velvet and Silk:
Add a touch of opulence to your fall decor by using luxurious materials like velvet and silk. Create a wreath featuring silk autumn leaves, velvet ribbon bows, and perhaps even a few velvet pumpkins. This approach brings a sense of elegance and refinement to your front door.
---
8.Farmhouse Chic:
Capture the essence of farmhouse chic by incorporating elements like reclaimed wood, galvanized metal accents, and cotton stems. Pair these with traditional fall foliage and muted tones to achieve a wreath that perfectly balances rustic charm with modern elegance.
---
As the leaves begin to change and the air turns crisp, welcoming the fall season with an elegant wreath on your front door is a wonderful way to celebrate nature's beauty. From classic harvest themes to modern metallics and rustic elegance, the options are limitless. Whichever style you choose, these elegant fall wreath ideas are sure to transform your front door into a captivating autumnal gateway that delights both you and your guests.
---
---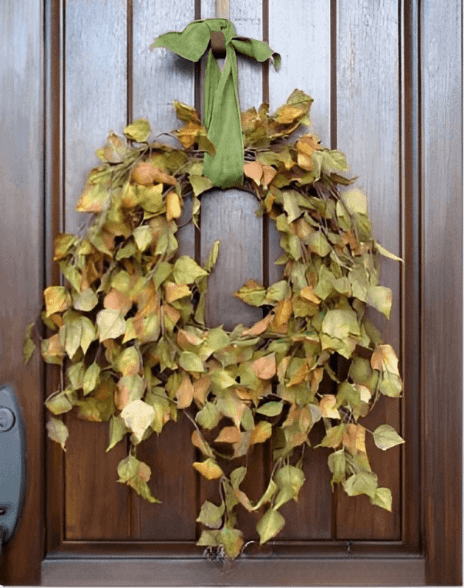 ---
---
---
---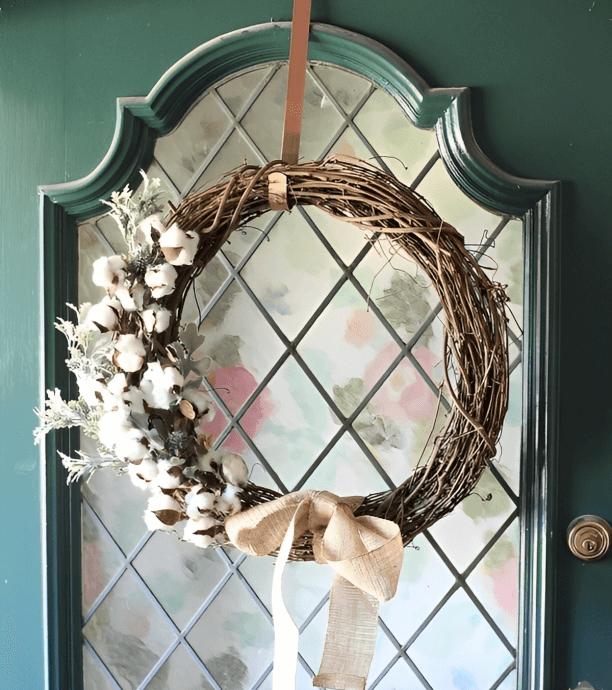 ---
---
---
---
---
---
---
---
---
---
---
---
---
---
Certainly, here are some frequently asked questions about fall wreaths for your front door, along with their answers:
1. Q: How do I hang a fall wreath on my front door?
A: You can hang a fall wreath using a wreath hanger that fits over the top of your door. Alternatively, you can use an adhesive hook that is designed for outdoor use. Make sure to clean the door surface before attaching the hook or hanger to ensure a secure hold.
---
2. Q: Can I make my own fall wreath?
A: Absolutely! Making your own fall wreath can be a fun and creative project. You can gather natural materials like leaves, pinecones, and twigs, or use artificial elements like silk flowers and decorative accents. There are plenty of DIY tutorials available online to guide you through the process.
---
3. Q: How can I keep my fall wreath looking fresh throughout the season?
A: To maintain the appearance of your fall wreath, avoid exposing it to direct sunlight or harsh weather conditions. If you're using natural materials, consider giving the wreath a light spritz of water every few days to keep it hydrated. If your wreath includes fabric elements, be cautious of rain and moisture.
---
4. Q: Can I use a fall wreath indoors?
A: Absolutely! Fall wreaths can be a beautiful addition to your indoor decor as well. Hang them on interior doors, above mantels, or as wall decorations in your living spaces to infuse your home with a cozy autumn ambiance.
---
5. Q: What size should my fall wreath be?
A: The size of your fall wreath depends on the dimensions of your front door. Generally, a wreath with a diameter of 18 to 24 inches works well for most standard-sized doors. However, larger doors can accommodate larger wreaths, and smaller doors may look best with smaller wreaths.
---
6. Q: How do I store my fall wreath after the season is over?
A: To preserve your fall wreath for future years, store it in a cool, dry place where it won't be exposed to humidity or extreme temperatures. You can place it in a wreath storage box or hang it in a closet. If your wreath includes fragile elements, consider wrapping it in tissue paper for added protection.
---
7. Q: Can I update my fall wreath for other seasons?
A: Absolutely! Many wreaths are versatile and can be adapted for different seasons. You can remove or replace certain elements, such as berries or leaves, to transform your fall wreath into a winter, spring, or summer wreath.
---
8. Q: Where can I find unique and elegant fall wreaths?
A: You can find fall wreaths at a variety of places, including craft stores, home decor shops, and online marketplaces. You can also explore local farmers' markets, artisan fairs, and even consider commissioning a wreath from a local floral designer.
---
9. Q: How can I choose a fall wreath that matches my home's style?
A: Consider the overall aesthetic of your home when choosing a fall wreath. If your home has a rustic vibe, opt for natural materials and earthy tones. For a more modern look, lean towards metallic accents and contemporary designs. Choose a wreath that complements your home's color scheme and architecture.
---
10. Q: When is the best time to hang a fall wreath on my front door?
A: The best time to hang your fall wreath is usually in late September or early October, when the fall season is in full swing. However, you can hang it as soon as you start feeling the autumn vibe, and you can leave it up until Thanksgiving or even through the entire fall season.
---
Tags :
Fall Tips & Ideas