Fall Door Decor Welcoming with Style & Charm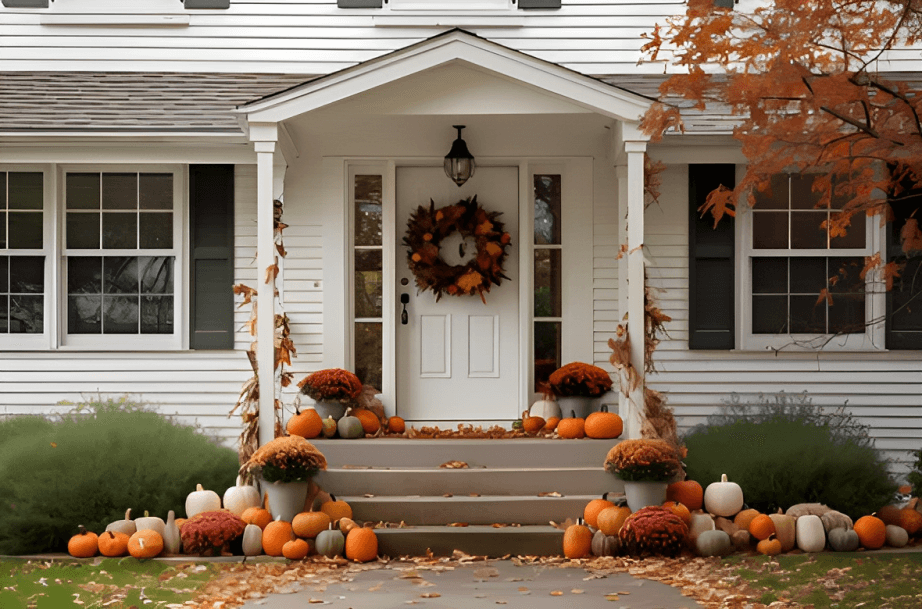 Fall door decor: As the summer heat gradually yields to the cool, crisp air of autumn, homeowners across the country eagerly prepare to embrace the season of change. Fall is a time for pumpkin-spiced lattes, cozy sweaters, and, of course, transforming our homes into warm and inviting spaces. One delightful way to usher in the season is by adorning your front door with fall-themed decor. In this article, we will explore the art of fall door decor, from traditional wreaths to innovative and unique ideas that will leave your home radiating autumnal charm.
---
1.The Timeless Wreath
The fall wreath is perhaps the most iconic and enduring symbol of seasonal home decor. Traditionally circular, wreaths can be made from a variety of materials, and fall wreaths are no exception. Natural elements such as dried leaves, acorns, pinecones, and branches are popular choices, lending a rustic, earthy feel to your front door. Combining these elements with vibrant faux foliage and flowers in rich autumnal hues like red, orange, and yellow creates a striking contrast, evoking the stunning colors of fall foliage.
For a more modern twist on the classic wreath, consider using alternative base materials like grapevine, burlap, or even a monogrammed wooden circle. These options allow for more creativity in design and can be easily customized to match your personal style.
---
2.Pumpkin Perfection
Pumpkins are synonymous with fall, and incorporating them into your door decor is a fantastic way to celebrate the season. Large pumpkins can be used as standalone decorations, either stacked or placed alongside other autumnal elements. Alternatively, smaller pumpkins can be arranged in clusters or placed in decorative containers like baskets or crates for a charming and rustic look.
For a creative touch, you can also paint or carve your pumpkins with unique designs, such as intricate patterns or friendly faces. Metallic paints, chalk paint, and acrylics can all be used to add a touch of glamour to your pumpkin decor.
---
3.Leafy Elegance
Autumn leaves are a quintessential symbol of fall, and they make for stunning door decor. Craft a garland of colorful faux leaves and drape it gracefully across your door frame for an elegant and welcoming touch. Alternatively, collect real leaves and press them between wax paper, preserving their vibrant colors and natural beauty before creating your unique leafy masterpiece.
Another leaf-inspired decor idea is to create a wreath composed entirely of leaves. Gather a variety of leaves from your yard or purchase silk leaves in assorted colors, then glue them onto a wreath base or wire frame. This DIY approach allows you to customize the size, color scheme, and leaf types, resulting in a truly one-of-a-kind door decoration.
---
4.Cornstalk Columns
For those looking to bring a bit of the rustic countryside to their front door, consider flanking your entrance with cornstalk columns. Tie together several dried cornstalks with twine or raffia and place them on either side of your door. To enhance the visual appeal, add bunches of dried corn cobs, miniature pumpkins, and sunflowers.
Cornstalk columns are not only aesthetically pleasing but also a nod to the harvest season. They bring a sense of abundance and prosperity to your doorstep, making them a perfect choice for fall.
---
5.Wooden Welcome Signs
Custom wooden signs are a wonderful way to add a personal touch to your fall door decor. Whether you choose to carve or paint a message, your family name, or a warm greeting, these signs exude a sense of hospitality. Consider using reclaimed wood or pallets to achieve a weathered, rustic appearance.
For a cozy farmhouse feel, you can also attach a small chalkboard or letterboard to your sign, allowing you to change the message throughout the season. This way, you can tailor your welcome to match different fall holidays and events.
---
Conclusion
Fall door decor is a delightful way to express your creativity and welcome the change of season into your home. Whether you prefer the timeless beauty of a fall wreath, the rustic charm of cornstalk columns, or the personalized touch of wooden signs, there are endless possibilities for crafting a front door that embodies the spirit of autumn. So, gather your materials, embrace your inner decorator, and let your front door be the canvas for celebrating the beauty and warmth of fall.
Certainly! Here are some frequently asked questions related to fall door decor and their answers:
1. What are some popular color schemes for fall door decor?
Popular color schemes for fall door decor include warm and earthy tones like red, orange, yellow, brown, and deep green. These colors mimic the changing foliage and create a cozy autumn atmosphere.
---
2. Can I use real leaves in my fall door decor?
Yes, you can use real leaves in your fall decor. However, keep in mind that real leaves may not last as long as faux ones. You can press them between wax paper to preserve their colors and use them in wreaths or garlands.
---
3. How can I make my fall wreath last longer?
To prolong the life of your fall wreath, store it in a cool, dry place when not in use. Avoid exposing it to direct sunlight or moisture, as this can cause the materials to fade or deteriorate. If it becomes dusty, gently shake it or use a hairdryer on a low, cool setting to remove the dust.
---
4. Are there any safety concerns with using dried cornstalks and pumpkins in decor?
Dried cornstalks and pumpkins are generally safe for decor use. However, be cautious about keeping them away from open flames or heat sources, as they can be flammable. Also, check pumpkins for any signs of rot or pests before using them in your decor.
---
5. What if I'm not crafty? Can I still have attractive fall door decor?
Absolutely! Many stores offer pre-made fall door decor items, such as wreaths, garlands, and decorative signs. You can also find various options online. These ready-made pieces can be an excellent choice if you're not comfortable with DIY projects.
---
6. Can I combine different fall decor elements, like wreaths and pumpkins, on my front door?
Yes, combining different fall decor elements can create a visually appealing and eclectic look. For example, you can hang a wreath on your door and place pumpkins or other decorations on your doorstep or beside the door for added charm.
---
7. How can I make my fall door decor eco-friendly?
To make your fall door decor more eco-friendly, consider using natural materials like real leaves, twigs, and pinecones. You can also repurpose items from around your home or yard to create unique decor pieces. When the season is over, compost any organic materials to minimize waste.
---
8. Can I leave my fall door decor up all season long?
Yes, you can leave your fall door decor up throughout the entire fall season, which typically spans from late September to late December. However, if you want to transition to winter or holiday-themed decor, it's a good idea to replace or modify your fall decor accordingly.
---
9. What are some creative ways to illuminate fall door decor at night?
You can add a warm and cozy glow to your fall door decor by incorporating battery-operated LED string lights, lanterns, or flameless candles. These options provide safe and beautiful lighting for your decor, enhancing its nighttime appeal.
---
10. Are there any specific guidelines for hanging fall decor on my front door?
When hanging fall decor on your front door, make sure it doesn't obstruct the door's function, such as opening and closing. Use appropriate hooks, hangers, or adhesive materials that won't damage your door's surface. Also, be mindful of local regulations or homeowners' association rules regarding exterior decorations.
---
By following these guidelines and getting creative, you can have a beautiful and inviting front door that captures the essence of fall.
---
Tags :
Fall Tips & Ideas