Fall Mason Jar Decor Bringing Cozy Autumn Vibes to Your Home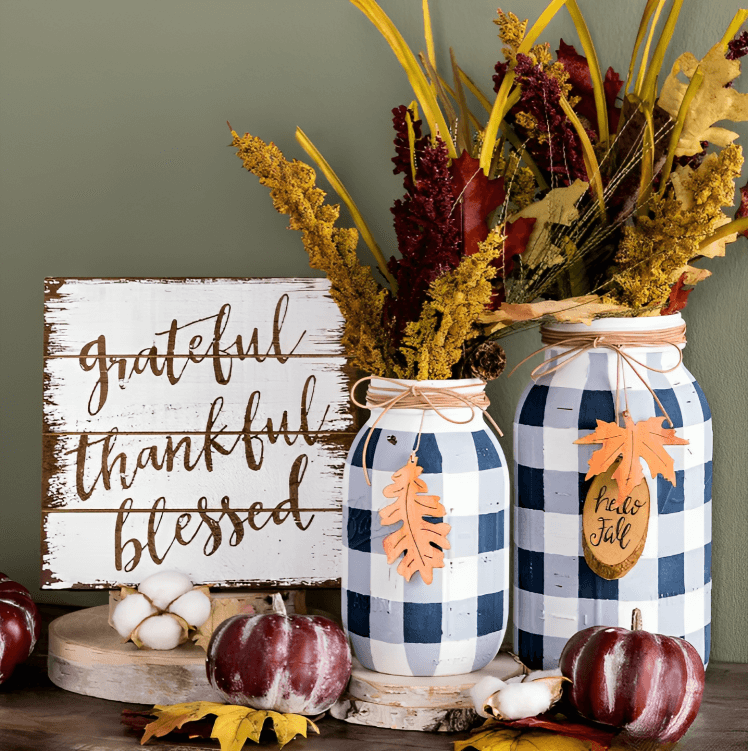 Fall Mason Jars Decor: As the leaves start to change and the air becomes crisper, it's time to embrace the warmth and charm of the fall season in your home decor. Fall offers a unique opportunity to infuse your living spaces with cozy, rustic, and inviting elements, and one versatile and popular choice for achieving this ambiance is Mason jar decor. Mason jars, with their timeless appeal and versatility, can be transformed into beautiful autumn-inspired decorations that instantly elevate the atmosphere of any room. In this article, we will explore a plethora of creative ideas and step-by-step guides for incorporating fall Mason jar decor into your home.
Fall Mason jar decor offers a delightful way to celebrate the beauty and warmth of the autumn season within your home. With these creative ideas and easy-to-follow steps, you can infuse your living spaces with the cozy, rustic charm that makes fall such a beloved time of year. So, gather your Mason jars, embrace your inner DIY enthusiast, and get ready to transform your home into an autumn wonderland. Happy decorating!
---
1.Fall Mason Jar Centerpieces
One of the most popular uses for Mason jars in fall decor is creating stunning centerpieces for your dining table, coffee table, or mantel. You can customize these centerpieces in countless ways to suit your style and preferences.
a. Harvest Vases: Fill Mason jars with an assortment of seasonal flowers, such as sunflowers, dahlias, or chrysanthemums. To enhance the fall vibe, tie twine or burlap around the jar's neck and add a few sprigs of dried wheat or leaves.
b. Candle Holders: Mason jars make perfect candle holders. Place a candle inside and add dried corn kernels or beans around the candle for an attractive and safe arrangement. Alternatively, use battery-operated LED candles for a fire-safe option.
c. Mini Pumpkin Planters: Hollow out small pumpkins and place them inside Mason jars as charming, rustic planters. Fill them with succulents or fall-themed flowers like pansies.
---
2.Mason Jar Lanterns
Add a touch of magic to your outdoor space or porch with Mason jar lanterns. These can be easily hung from tree branches or porch railings to create a cozy, inviting atmosphere.
a. Leaf-Cut Lanterns: Paint your Mason jars in warm autumnal colors, such as deep orange, rich burgundy, or rustic brown. Once dried, use a craft knife to carefully cut out leaf shapes from the paint, revealing the glass underneath. Place candles inside for a stunning glow.
b. Frosted Lanterns: Coat Mason jars with a mixture of glue and water and roll them in Epsom salt for a frosty, ethereal effect. Place candles inside and watch them cast a soft, mesmerizing light.
---
3.Mason Jar Wall Sconces
For a unique and eye-catching addition to your fall decor, consider Mason jar wall sconces. These can be used to illuminate hallways, bedrooms, or living spaces while adding a rustic touch.
a. Fall Foliage Sconces: Attach Mason jars to a reclaimed wooden board and fill them with faux autumn leaves, berries, or pinecones. Insert LED string lights for a cozy, warm glow.
b. Stenciled Silhouettes: Paint Mason jars in fall colors and stencil on silhouettes of autumn elements, such as pumpkins, acorns, or leaves. Place battery-operated candles inside for a safe and charming effect.
---
4.Mason Jar Table Settings
Extend the fall ambiance to your dining table with Mason jar table settings that blend practicality with style.
a. Rustic Utensil Holders: Use Mason jars as utensil holders, filling them with wooden or metal utensils wrapped in burlap or twine. Add a sprig of dried lavender or a cinnamon stick for an extra touch of fragrance.
b. Pumpkin Place Cards: Paint mini Mason jars to resemble pumpkins and add personalized name tags for a unique and festive place card holder.
---
5.Mason Jar Kitchen Decor
Don't forget the heart of your home! Mason jars can be incorporated into your kitchen decor in delightful ways.
a. Spice Storage: Use Mason jars to store your favorite fall spices, such as cinnamon, nutmeg, and cloves. Label them with vintage-style tags or chalkboard paint for a charming look.
b. Autumnal Apothecary: Arrange Mason jars filled with dried beans, grains, or colorful fall candies on your kitchen counters for a rustic, farmhouse-inspired display.
Certainly! Let's delve even deeper into the world of fall Mason jar decor with additional ideas and tips to inspire your seasonal home makeover.
---
6.Mason Jar Flower Arrangements
For an elegant and timeless fall decor element, consider creating Mason jar flower arrangements. These can be placed on countertops, side tables, or even hung as part of a floral garland.
a. Monochromatic Bouquets: Choose a single fall color theme, such as deep reds or rich purples, and create stunning monochromatic bouquets using seasonal blooms like roses, daisies, or zinnias. Place these arrangements in Mason jars for a striking visual impact.
b. Wildflower Meadow: Embrace the untamed beauty of the season by arranging wildflowers in Mason jars. Look for wildflower varieties like asters, black-eyed Susans, and goldenrods to capture that rustic, autumn charm.
---
7.Mason Jar Fall Crafts for Kids
Get the whole family involved in your fall decor endeavors with Mason jar crafts that are fun and easy for kids of all ages.
a. Mason Jar Leaf Luminaries: Collect colorful fall leaves and have kids brush a layer of Mod Podge onto Mason jars. Then, press the leaves onto the jar, covering it completely. Place a battery-operated tea light inside for a magical glow.
b. Mason Jar Scarecrows: Let kids paint Mason jars to look like adorable scarecrows. Add googly eyes, a construction paper hat, and straw-like embellishments for a whimsical touch.
---
8.Mason Jar Fall Wedding Decor
If you're planning a fall wedding, Mason jars can play a significant role in creating a cozy, romantic atmosphere.
a. Aisle Decor: Hang Mason jar lanterns along the aisle for a warm and inviting ambiance. Fill them with candles or fairy lights to guide the way.
b. Centerpieces: Mason jars make excellent rustic centerpieces for fall weddings. Incorporate elements like pinecones, burlap, and fall foliage for a charming, countryside feel.
---
9.Mason Jar Thanksgiving Crafts
As Thanksgiving approaches, use Mason jars to add a touch of gratitude and warmth to your celebration.
a. Gratitude Jar: Encourage guests to express their gratitude by providing them with Mason jars and blank cards to write down what they're thankful for. Collect these notes in a jar, and read them aloud during Thanksgiving dinner.
b. Pumpkin Pie in a Jar: Create delicious pumpkin pies in Mason jars. Layer graham cracker crumbs, pumpkin pie filling, and whipped cream for a delightful and portable dessert.
---
10.Mason Jar Outdoor Fall Decor
Extend your fall decor beyond the interior of your home with outdoor Mason jar creations.
a. Mason Jar Flower Box: Attach Mason jars to the railings of your porch or balcony, and fill them with fall flowers or herbs. This not only adds visual interest but also infuses the air with delightful scents.
b. Glowing Pathway: Line your garden pathway or walkway with Mason jar lanterns filled with candles or LED lights. The soft glow will guide visitors to your doorstep.
---
Conclusion
Fall Mason jar decor is a versatile and charming way to embrace the spirit of the season throughout your home. From tabletop centerpieces to outdoor lanterns, there's no shortage of creative possibilities to explore. Whether you're a seasoned DIY enthusiast or just looking for a fun family activity, Mason jars offer endless opportunities to infuse your living spaces with the cozy, rustic vibes that make fall so special. So, grab your jars, gather your supplies, and let your creativity run wild as you transform your home into a warm and inviting autumn haven. Happy decorating!
---
Certainly! Here are some frequently asked questions related to fall Mason jar decor and their corresponding answers:
Q1: How can I make my Mason jar centerpieces last longer with fresh flowers?
A1: To prolong the freshness of your Mason jar centerpieces with fresh flowers, change the water every two days and trim the stems at an angle to allow better water absorption. Also, keep the jars away from direct sunlight and heating vents to prevent wilting.
---
Q2: Are there any safety concerns with using candles in Mason jar decor?
A2: Safety is paramount when using candles in Mason jar decor. To ensure safety, consider using battery-operated LED candles, which provide a similar warm glow without the risk of fire. If you prefer real candles, ensure they are securely placed and never left unattended while lit.
---
Q3: Where can I find Mason jars for my fall decor projects?
A3: You can find Mason jars at various places, including craft stores, home goods stores, and online retailers like Amazon and Etsy. You might also consider checking thrift stores or asking friends and family if they have any unused jars.
---
Q4: Can I use Mason jar decor for a Halloween-themed setup?
A4: Absolutely! Mason jar decor can be easily adapted for Halloween. Paint jars in spooky colors, add creepy silhouettes, or fill them with candy corn and other Halloween treats. The possibilities are endless for creating a festive Halloween atmosphere.
---
Q5: What are some other ways to incorporate Mason jars into fall decor beyond what's mentioned in the article?
A5: Mason jars are incredibly versatile. You can also use them as candle holders, napkin rings, or to serve warm beverages like spiced apple cider. Get creative and experiment with different ideas to personalize your fall decor.
---
Q6: Can Mason jar decor be used for outdoor fall events like bonfires or picnics?
A6: Yes, Mason jar decor is perfect for outdoor fall events. Mason jar lanterns, filled with candles or LED lights, can create a warm and cozy atmosphere around a bonfire or picnic area. They're also great for adding charm to outdoor dining tables.
---
Q7: How can I make my Mason jar decor more eco-friendly?
A7: To make your Mason jar decor more eco-friendly, consider using reclaimed or vintage Mason jars. You can also repurpose jars from your own kitchen for a sustainable touch. When no longer needed, clean and store your decor items for use in future fall seasons, reducing waste.
---
Q8: Are there any specific Mason jar sizes that work best for certain decor projects?
A8: The choice of Mason jar size largely depends on your project and personal preference. Pint-sized jars are often versatile and suitable for many decor ideas. However, larger quart-sized jars can make more substantial centerpieces, while smaller jelly jars work well for tealight candles or individual place settings.
---
Q9: Can I paint Mason jars to match my specific fall color scheme?
A9: Absolutely! Painting Mason jars allows you to customize them to match your desired fall color scheme. Acrylic paints work well for this purpose, and you can add stencils or freehand designs for a personalized touch.
---
Q10: Can I use real pumpkins in conjunction with Mason jar decor?
A10: Yes, combining real pumpkins with Mason jar decor is an excellent idea. You can use mini pumpkins as accents, place larger pumpkins alongside Mason jar arrangements, or even carve them for a classic autumnal look.
---
These frequently asked questions and answers should help you navigate the world of fall Mason jar decor with confidence and creativity. Happy decorating!
---
Tags :
Fall Tips & Ideas