Fall tablescape 23Elegant Ideas for Your Dining Room
Fall tablescape : As the air turns crisp and the leaves begin to don their vibrant hues, it's time to welcome the enchanting season of fall into our homes. One of the most delightful ways to celebrate the changing season is by adorning our tables with fall-inspired decor. Whether you're hosting a cozy family dinner, a festive gathering with friends, or simply looking to infuse your living space with autumnal charm, fall table decor offers endless creative possibilities. In this article, we'll explore a variety of ideas to help you create captivating and inviting Fall tablescape that capture the essence of fall
Fall tablescape offers a canvas for embracing the warmth and beauty of the season within your home. From natural centerpieces that celebrate the harvest to vintage-inspired table runners and whimsical lanterns, there's a myriad of ways to infuse your table with autumnal charm. By incorporating elements that capture the essence of fall's vibrant colors, textures, and spirit, you can create a captivating and inviting atmosphere that resonates with both guests and family alike. So, let your creativity flourish and embrace the magic of fall as you design your next memorable tablescape.
---
1. Natural Bounty as the Centerpiece
When it comes to Fall tablescape nature provides a wealth of inspiration. Consider using natural elements as the centerpiece of your table. Arrange a selection of freshly harvested apples, pears, and miniature pumpkins in a rustic wooden bowl. Intersperse the arrangement with colorful leaves, acorns, and pinecones for an authentic touch. This organic centerpiece not only celebrates the season's harvest but also brings an earthy warmth to your table.
---
2. Rustic Elegance with Candles and Gourds
For a touch of rustic elegance, combine the soft glow of candles with the charm of gourds and squash. Choose candles in warm, autumnal colors such as deep red, burnt orange, and golden yellow. Arrange them in varying heights along the center of your table. Nestle small pumpkins and gourds among the candles for a cozy and inviting atmosphere that exudes fall's cozy spirit.
---
3. Vintage and Textured Table Runners
A well-chosen table runner can set the tone for your entire Fall tablescape scheme. Opt for runners in rich, textured fabrics like burlap or woven wool. Vintage patterns with muted earth tones can add a touch of nostalgia to your setting. Layer the runner with complementary placemats and napkins to create a harmonious tableau that's both visually appealing and functional.
---
4. Harvest-inspired Tableware
Elevate your Fall tablescape with carefully chosen tableware. Earthy-toned plates, bowls, and utensils can serve as the perfect canvas for your autumn creations. Consider incorporating dishware adorned with motifs like leaves, pumpkins, or woodland creatures for a playful yet sophisticated touch. Copper or gold flatware can add a touch of glamour to the overall arrangement.
---
5. Whimsical Tea Light Lanterns
For a whimsical and enchanting ambiance, incorporate tea light lanterns into your Fall tablescape. Choose lanterns with intricate cutout patterns that cast captivating shadows when the candles are lit. Hang these lanterns above the table or place them at strategic points to infuse your setting with a touch of magic and allure.
---
6. Seasonal Floral Arrangements
While flowers might be more commonly associated with spring, fall offers its own array of unique and captivating blooms. Incorporate flowers like dahlias, chrysanthemums, and marigolds into your fall floral arrangements. Pair them with branches, dried wheat, and eucalyptus for added texture. Arrange the flowers in wooden or ceramic vases to maintain the rustic autumn vibe.
---
7. Playful Pumpkin Place Cards
For a personalized touch, create playful pumpkin place cards. Choose small pumpkins or gourds and attach name cards to them using twine or ribbon. Handwritten calligraphy or elegant fonts can add a touch of sophistication. These charming place cards not only guide your guests to their seats but also double as delightful fall-themed keepsakes.
---
8. Harvest-themed Napkin Rings
Extend your Fall tablescape to even the smallest details with harvest-themed napkin rings. Use twine, ribbon, or even strips of burlap to tie around your napkins, and embellish them with small elements like dried berries, tiny pinecones, or miniature leaves. These charming napkin rings add an extra layer of autumnal elegance to your table setting.
---
9. Earthy Table Settings with Wooden Chargers
Consider using wooden chargers as the foundation for your fall table decor. These natural, earthy elements add warmth and depth to your setting. Place your dinnerware on top of the wooden chargers to create a cozy and rustic aesthetic. They pair wonderfully with almost any fall-inspired color palette.
---
10. Layered Centerpieces for Visual Interest
Create depth and visual interest in your fall table decor by layering different elements in the centerpiece. Start with a table runner or a layer of autumn-colored fabric, and then add varying heights of decor on top. Combine candles, foliage, small pumpkins, and other seasonal items to achieve a dynamic and captivating centerpiece.
---
11. Wine Cork Place Card Holders
For a touch of eco-friendly charm, repurpose wine corks into unique place card holders. Slice a thin slit into the top of each cork to hold a place card, and decorate the corks with small painted designs or leaf imprints. These quirky and resourceful placeholders add a delightful twist to your fall table decor.
---
12. Cozy Blankets on Chair Backs
As the weather gets cooler, consider draping cozy blankets over the backs of chairs at your dining table. This not only adds an extra layer of comfort for your guests but also contributes to the overall fall aesthetic. Choose blankets in warm, textured fabrics like flannel or knit to amplify the inviting atmosphere.
---
13. Pumpkin Ice Bucket for Refreshments
Elevate your fall entertaining game with a pumpkin ice bucket. Hollow out a large pumpkin and insert a container to hold ice and beverages. This creative idea not only serves a functional purpose but also becomes a striking focal point that aligns perfectly with the fall theme.
---
14. Foliage-Adorned Chandeliers
Extend your fall table decor beyond the table itself by incorporating the overhead space. Adorn your chandelier or light fixture with strands of faux foliage, small branches, or leaves. This subtle touch adds an unexpected and enchanting element to your fall-inspired setting.
15. Mixed Textures for a Sensory Experience
Engage multiple senses by incorporating a variety of textures into your fall table decor. Combine smooth ceramic dishes with rough wooden elements, soft fabric napkins, and tactile decorations like pinecones and dried flowers. Creating a sensory-rich environment enhances the overall dining experience.
---
16. Leafy Table Garland
Embrace the natural beauty of fall foliage by creating a stunning leafy table garland. Collect colorful leaves of different shapes and sizes from your backyard or a local park. String them together using twine or fishing line, and drape the garland along the center of your table. This simple yet elegant decoration brings the outdoors inside and adds a touch of organic charm to your setting.
---
17. Harvest-Inspired Centerpiece Tray
Transform a simple wooden tray into a captivating harvest-inspired centerpiece. Arrange an assortment of mini pumpkins, gourds, nuts, and dried corn cobs on the tray. Add a few votive candles or tea lights for a warm glow. Place the tray in the middle of the table, creating a delightful focal point that pays homage to the bounties of fall.
---
18. Fall-themed Glassware
Elevate your fall table decor by selecting glassware that complements the season. Opt for glasses with etched leaf patterns, warm-colored stems, or even glasses shaped like pumpkins. These unique touches bring an extra layer of sophistication to your table setting and enhance the overall autumnal ambiance.
---
19. Woven Placemats with Autumn Accents
Weave in a touch of texture and autumn charm by using woven placemats in your fall table decor. Pair these with solid-colored or patterned cloth napkins that echo the hues of the season. Add a small sprig of fall foliage, a miniature pumpkin, or a cinnamon stick tied with twine to each place setting for an extra dash of charm.
---
20. Seasonal Scented Candles
Enhance the sensory experience of your fall table decor with scented candles that evoke the essence of the season. Opt for fragrances like apple cinnamon, pumpkin spice, or warm vanilla. The gentle aroma of these candles will envelop your dining area, creating an atmosphere of comfort and nostalgia.
---
21. Mini Hay Bale Seating
For an outdoor or rustic-themed fall gathering, consider using mini hay bales as additional seating or as decorative elements. These compact bales can be adorned with cozy blankets or cushions, creating a casual and inviting seating arrangement that aligns perfectly with the fall aesthetic.
---
22. Woodland Creature Accents
Bring a touch of whimsy to your fall table decor with woodland creature accents. Incorporate figurines or small statues of animals like squirrels, owls, or foxes into your centerpiece or table settings. These playful elements infuse a sense of enchantment and storytelling into your decor.
---
23. Autumn-inspired Menu Cards
Continue the theme of fall throughout your dining experience by creating autumn-inspired menu cards. Craft or print menu cards with fall-colored designs and fonts. Add a sprig of dried leaves, a small pinecone, or a seasonal spice like a cinnamon stick or star anise as a decorative touch. Placing these menu cards at each seat adds an element of anticipation and charm.
---
---
---
---
---
---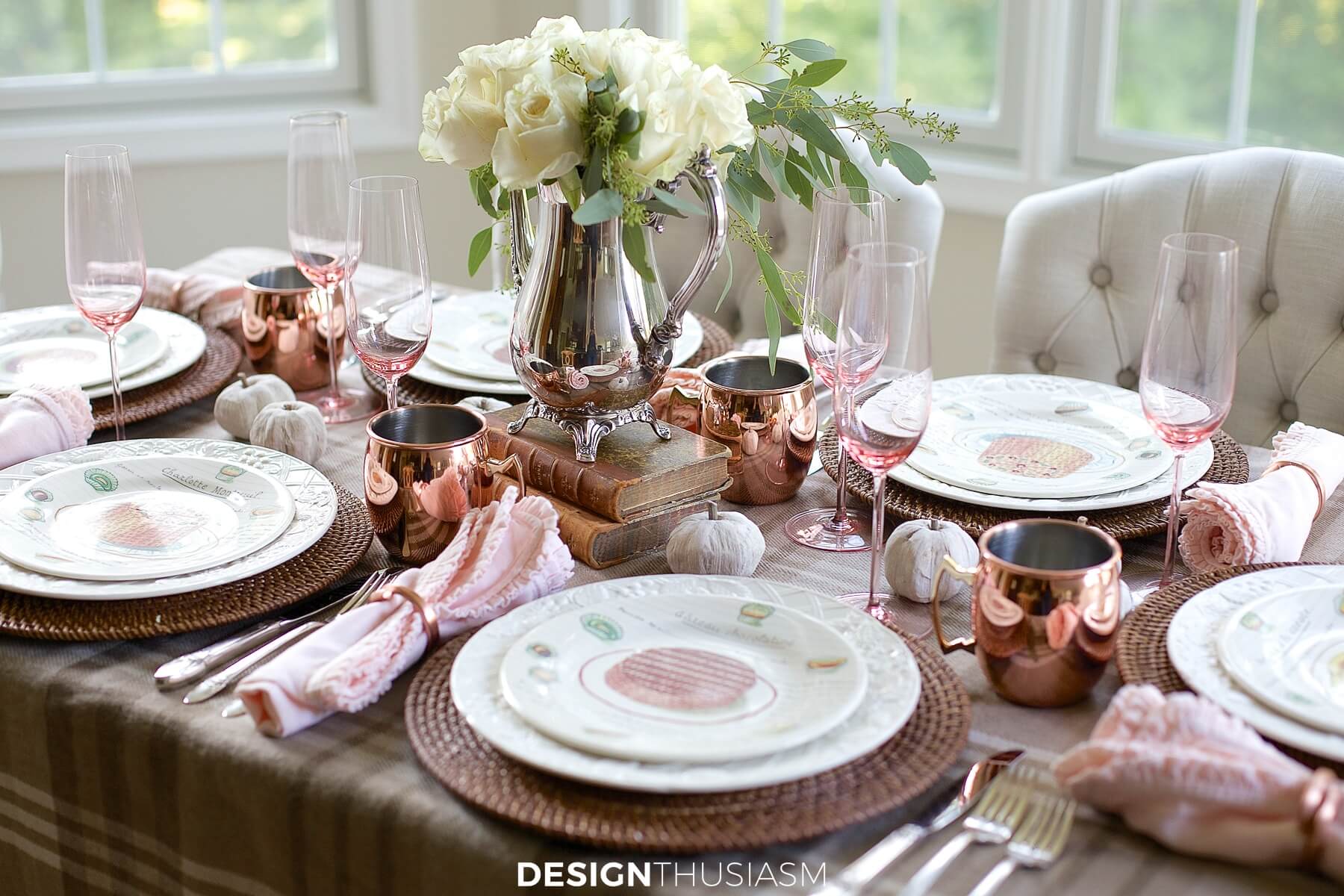 ---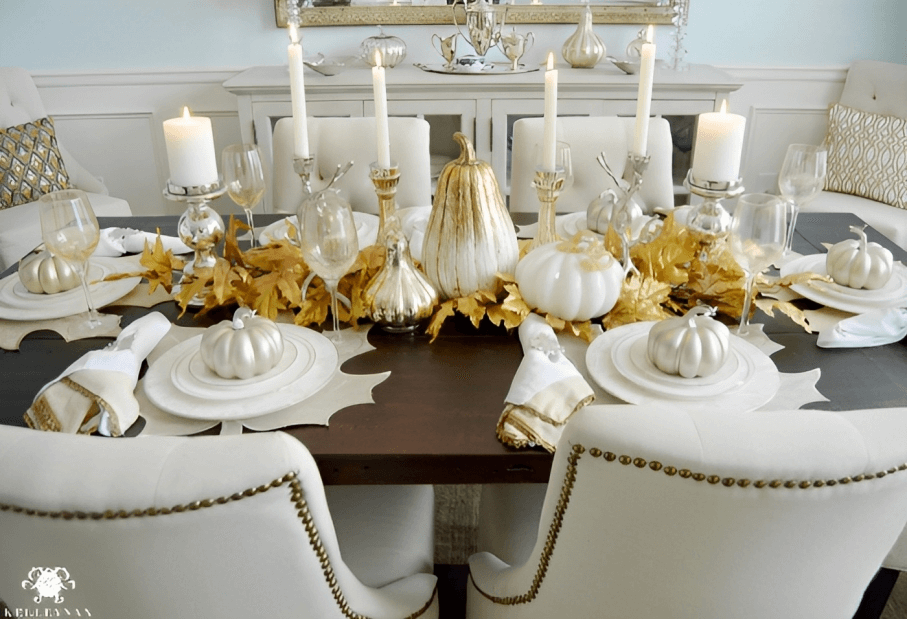 ---
---
---
---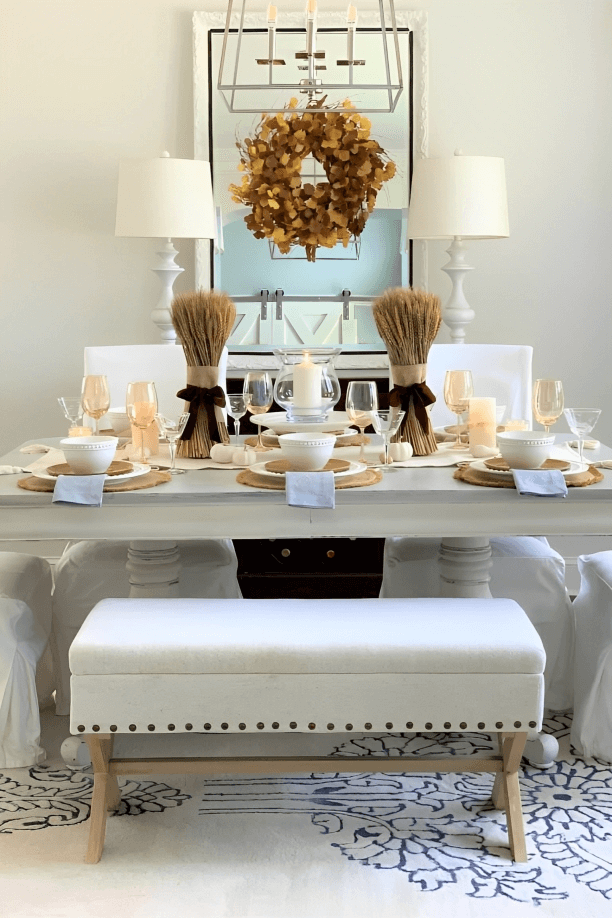 ---
---
---
---
---
---
---
---
---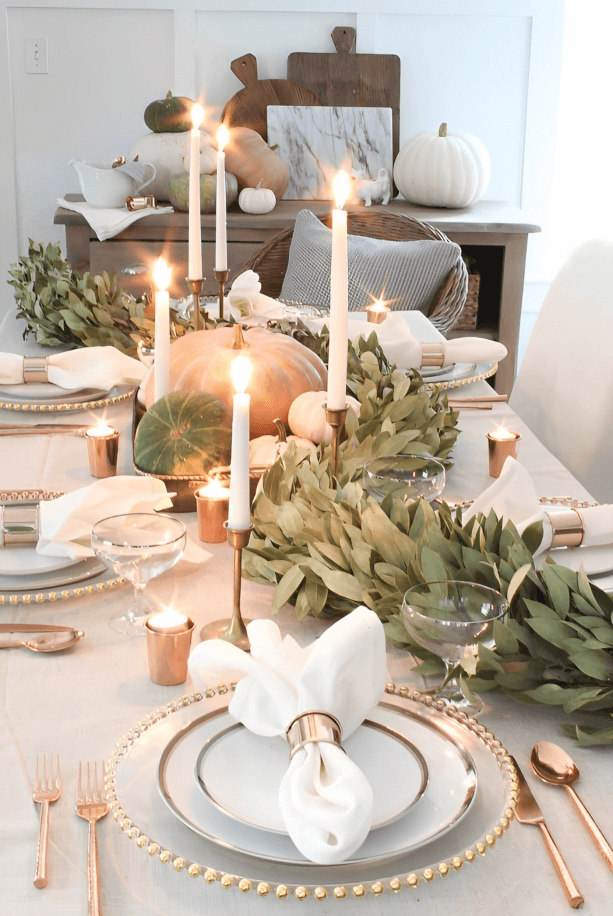 ---
---
Fall table decor invites you to explore the beauty of the season and infuse it into your home. With attention to detail and a creative spirit, you can craft tablescapes that capture the essence of autumn's warmth and vibrancy. From rustic centerpieces to whimsical lanterns and personalized place cards, each element contributes to a visually captivating and inviting atmosphere. By embracing the unique colors, textures, and elements that define fall, you'll create an ambiance that resonates with the magic of the season, making every gathering a memorable and cherished experience.
---
Post frequently asked questions
Q1: What are some easy ways to incorporate fall colors into my table decor?
A1: Fall is all about warm, earthy tones. You can easily infuse these colors into your table decor by using rich reds, oranges, yellows, and browns. Consider using table runners, napkins, and centerpieces in these hues to create a cozy and inviting atmosphere.
Q2: How do I create a fall-themed centerpiece without going overboard?
A2: Creating a balanced centerpiece is key. Start with a focal point, such as a vase of autumn flowers or a grouping of pumpkins. Then, add complementary elements like candles, foliage, and small decorative accents. Keep the arrangement cohesive and harmonious, avoiding overcrowding the table.
Q3: Can I use faux foliage and decorations for my fall table decor?
A3: Absolutely! Faux foliage and decorations can be a convenient and cost-effective option. High-quality faux leaves, pinecones, and other elements can look incredibly realistic and be used year after year. They also eliminate concerns about wilting or decay.
Q4: How can I create a kid-friendly fall table decor?
A4: To make your fall table decor kid-friendly, opt for playful elements like pumpkin-themed place cards, colorful leaf motifs, and easy-to-clean table linens. Consider using plastic or unbreakable dishware to prevent accidents. You can also engage kids by letting them help craft some of the decorations.
Q5: What lighting should I use for my fall table setting?
A5: Soft, warm lighting enhances the cozy feel of fall. Candles in various sizes and heights create an intimate atmosphere. You can also use fairy lights intertwined with your decor for a touch of enchantment. For evening gatherings, consider using lanterns or votive holders to provide a warm and inviting glow.
Q6: How can I incorporate a rustic vibe into my fall table decor?
A6: Rustic decor is a perfect fit for fall. Use wooden chargers, burlap table runners, and earthy textures like jute twine. Choose natural materials like wooden trays, ceramic dishes, and woven placemats. Mixing these elements with vintage or distressed pieces can create a charming rustic ambiance.
Q7: Are there any non-traditional color palettes for fall table decor?
A7: While traditional fall colors are popular, you can explore non-traditional palettes that still evoke the season. Consider using deep plum, sage green, and mustard yellow for a modern twist. These colors can be balanced with neutrals like ivory or gray to create a unique and visually appealing table decor.
Q8: How can I incorporate fall scents into my table decor?
A8: Scented candles and potpourri are excellent choices for introducing fall scents. Opt for fragrances like pumpkin spice, cinnamon, apple, or vanilla. You can also place bowls of potpourri or dried herbs, such as rosemary or cloves, around the table to infuse the air with the comforting scents of fall.
Q9: Can I combine different fall themes in my table decor?
A9: Absolutely! Mixing themes can add depth and interest to your decor. For example, you can combine rustic elements with elegant touches, like using a burlap table runner alongside metallic charger plates. Just ensure that the elements you choose are harmonious and contribute to an overall cohesive look.
Q10: How can I create a cohesive look if I have a small budget?
A10: Creating a cohesive fall table decor on a budget is possible. Focus on DIY projects using natural elements like leaves, pinecones, and twigs. Repurpose items you already have, such as mason jars or glass bottles, as vases or candle holders. Thrift stores and dollar stores can also be great sources for affordable decor pieces.
---
Fall table decor is a wonderful opportunity to celebrate the season's beauty and create a warm, inviting atmosphere for gatherings and meals. From leafy garlands to harvest-themed centerpieces and scented candles, each idea brings its own unique touch to your fall-inspired table setting. By blending natural elements, textures, colors, and even scents, you can craft a captivating and memorable environment that resonates with the enchantment of autumn. Whether you're hosting a small family dinner or a larger gathering of friends, these creative ideas will help you infuse your space with the cozy and magical spirit of fall.
Tags :
Fall Tips & Ideas