Christmas Decorating Guest Bedroom Festive & Comfortable
Christmas Decorating Guest Bedroom: The holiday season is a magical time of year when families and friends come together to celebrate, exchange gifts, and create lasting memories. One of the most cherished traditions during this time is decorating our homes, inside and out, to create a warm and festive atmosphere. While the living room and dining area often take center stage, the guest bedroom should not be overlooked. In this essay, we will explore inspiring ideas for Christmas decorating in the guest bedroom, ensuring it is not only festive but also comfortable for your guests.
Decorating a guest bedroom for Christmas can be a delightful and heartwarming experience. By combining festive decorations with thoughtful amenities and practical considerations, you can create a welcoming and comfortable space that your guests will remember for years to come. Whether your guests are family members, close friends, or even acquaintances, a beautifully decorated guest bedroom can make their holiday visit truly special, leaving them with lasting memories of the magic of Christmas. So, this holiday season, let your guest bedroom be a reflection of the warmth and joy of the season.
---
1. Setting the Foundation: The Right Bedding
A comfortable guest bedroom begins with the right bedding. To infuse the Christmas spirit, consider using festive bedding sets. Opt for cozy flannel or soft microfiber sheets in holiday colors like deep red, forest green, or classic white. Christmas-themed duvet covers, quilts, or comforters featuring images of snowflakes, reindeer, or poinsettias can add a festive touch.
---
2. Welcoming Lighting
Proper lighting sets the mood in any room. In the guest bedroom, create a warm and inviting ambiance with soft, warm-white fairy lights or string lights hung around the room. You can drape them along the headboard, over windows, or around a mirror. Add some decorative Christmas-themed table lamps or bedside candles to create a cozy atmosphere for your guests to unwind.
---
3. Festive Decorations
Christmas Trees:

Consider placing a small, pre-lit Christmas tree in the corner of the room. Decorate it with miniature ornaments, tinsel, and a tree topper. If space is limited, a tabletop tree can be equally charming.

Wreaths:

Hang a beautiful Christmas wreath on the bedroom door or above the headboard. Opt for wreaths adorned with pinecones, red bows, or even tiny ornaments to match the room's theme.

Stockings:

Personalized stockings hung along the mantel or at the foot of the bed can be a delightful touch, creating an anticipation of gift-giving.

Garlands:

Drape festive garlands along the headboard, windowsills, or around the room to infuse more Christmas spirit.

Seasonal Wall Art:

Hang framed Christmas-themed art, such as vintage Santa Claus illustrations or snowy landscapes, to bring the holiday spirit to your guest bedroom.
---
4. Thoughtful Amenities
Cozy Throws:

Place plush and inviting throws or blankets at the end of the bed. Your guests will appreciate the extra warmth on chilly winter nights.

Seasonal Scents:

Enhance the Christmas experience with scented candles or diffusers that evoke the aroma of pine, cinnamon, or gingerbread.

Holiday Reading:

Leave a selection of holiday-themed books or magazines on the bedside table for your guests to enjoy.

Personal Touches

: Consider leaving a handwritten note, a small gift, or a jar of homemade cookies on the nightstand to make your guests feel extra special.
---
5. Practical Considerations
Space Management:

Ensure there is ample storage space for your guests to unpack their belongings, such as a luggage rack or an empty closet with hangers.

Temperature Control:

Make sure the room temperature can be adjusted to your guests' comfort. Provide extra blankets and a fan or space heater if necessary.
---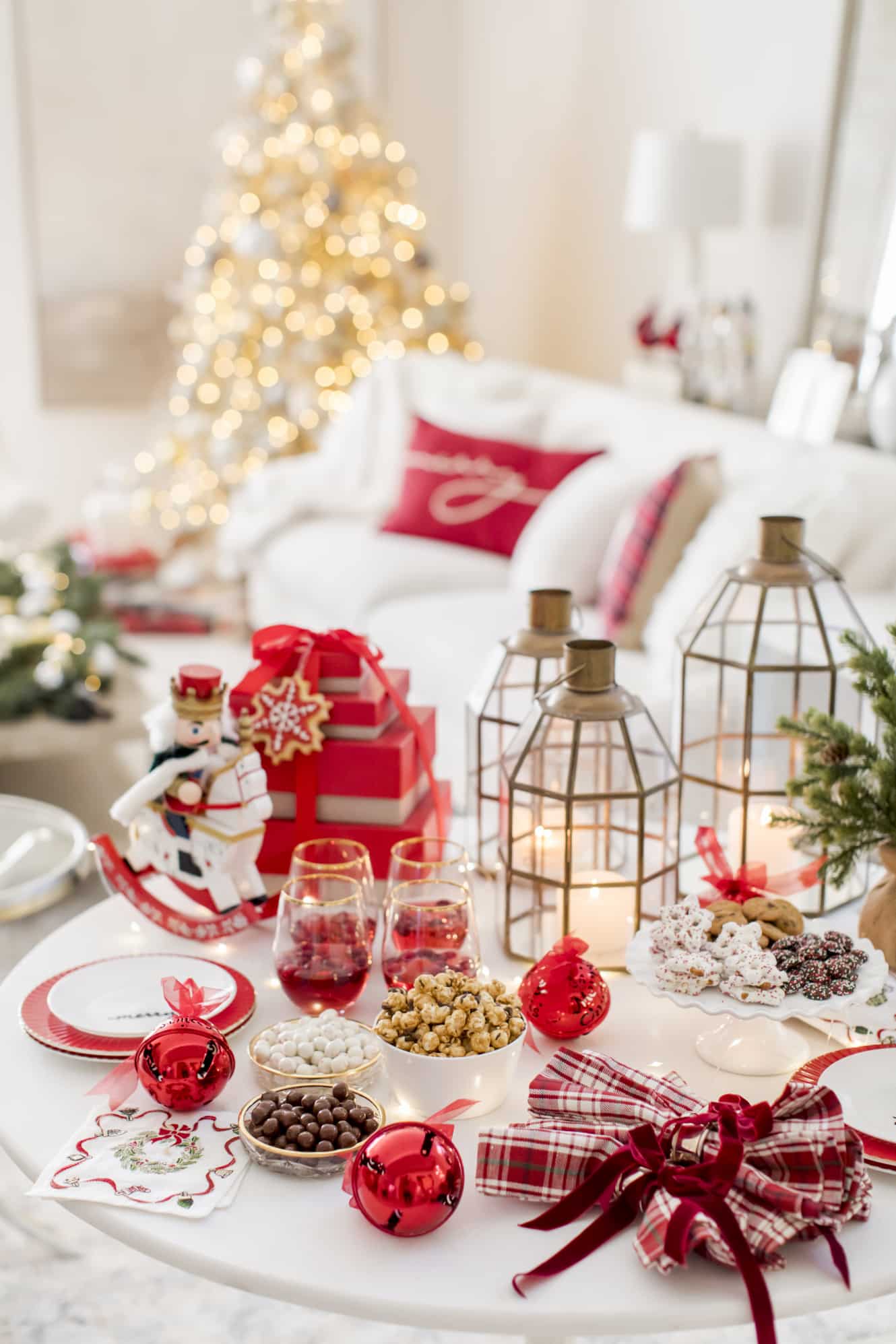 6. Homemade Holiday Crafts
Handmade Ornaments:

Get creative by making your own Christmas ornaments with your guests. Set up a crafting station with supplies like clear glass or plastic ornaments, paint, glitter, and ribbons. Decorating ornaments together can be a fun and memorable activity, and your guests can take their creations home as keepsakes.

DIY Advent Calendar:

Craft a personalized advent calendar for your guests, filled with small surprises or treats for each day leading up to Christmas. This thoughtful gesture adds an extra layer of excitement and anticipation to their stay.

Holiday Centerpiece:

Create a charming holiday centerpiece for the guest room's dining or sitting area. This could be a simple arrangement of seasonal flowers, pinecones, and candles in a festive container.
---
7. Interactive Entertainment
Christmas Movie Night:

Set up a small TV or a laptop with access to streaming services and a selection of classic Christmas movies. Provide popcorn, hot chocolate, and cozy blankets for your guests to enjoy a movie night in the comfort of their room.

Board Games and Puzzles:

Stock the guest room with board games, jigsaw puzzles, or card games that guests can enjoy during their downtime. Encourage them to gather and have a friendly competition or cooperate to complete a challenging puzzle.
---
8. Sustainable Decor
Consider incorporating sustainable and eco-friendly decorations into your guest bedroom's Christmas theme. Opt for reusable ornaments and garlands made from recycled materials. Use energy-efficient LED lights and encourage guests to recycle any wrapping paper or packaging from their gifts.
---
9. Children-Friendly Decor
If you're expecting guests with children, make the guest bedroom extra special for the little ones. Add a small Christmas-themed activity area with coloring books, crayons, and holiday-themed crafts. Include a few children's books with Christmas stories to keep them entertained.
---
10. Music and Sounds
Create a playlist of your favorite Christmas songs or soothing instrumental holiday music to play softly in the background. You can also incorporate nature sounds like crackling fireplaces or falling snow to enhance the festive atmosphere.
---
Conclusion
Decorating a guest bedroom for Christmas provides an opportunity to express your creativity and spread holiday cheer to your loved ones or visitors. By combining the above ideas, you can craft a welcoming, comfortable, and festive space that captures the spirit of the season. Remember that it's the thought and effort you put into creating a memorable experience that will truly make your guests' stay special and heartwarming. So, embrace the joy of decorating and make this Christmas season one to remember in your guest bedroom.
---
Certainly, here are some frequently asked questions :
Q1: How can I make the guest bedroom feel festive without going overboard with decorations?
A1: You can create a festive atmosphere without overwhelming the space by focusing on a few key elements. Choose a Christmas color scheme for bedding and accents, add some subtle holiday-themed decor like a wreath and stockings, and incorporate soft lighting with fairy lights or candles to set the mood.
---
Q2: What are some budget-friendly ways to decorate a guest bedroom for Christmas?
A2: Decorating on a budget is possible. Look for affordable Christmas decor at thrift stores, use what you already have, and consider making DIY decorations. Additionally, you can opt for reusable, classic decor that can be used year after year.
---
Q3: Are there any safety concerns I should be aware of when decorating a guest bedroom for Christmas?
A3: Safety is essential when decorating for the holidays. Make sure that any electrical decorations like string lights are in good working condition and not frayed. Avoid overloading electrical outlets, and always turn off decorative lights and candles when not in use or when you leave the room.
---
Q4: How can I make the guest bedroom comfortable for guests during the winter season?
A4: To ensure comfort during the winter, provide extra blankets and pillows to keep your guests warm. If possible, offer a space heater or fan for temperature control. You can also add blackout curtains to block out early morning sunlight, creating a cozy sleeping environment.
---
Q5: What are some ideas for including children in the guest bedroom decorating process?
A5: To involve children in decorating, consider setting up a crafting station with kid-friendly holiday crafts like decorating ornaments or creating homemade garlands. You can also have them help with arranging stuffed animals or toys in a festive manner.
---
Q6: How can I make the guest bedroom feel more personal and welcoming for individual guests?
A6: To make the guest bedroom feel personal, consider leaving a handwritten note or a small gift that reflects the guest's interests or preferences. You can also provide a selection of reading materials or movies that cater to their tastes.
---
Q7: What can I do to ensure that guests feel relaxed and entertained during their stay in the decorated guest bedroom?
A7: To keep guests relaxed and entertained, provide entertainment options like a TV with streaming services, board games, puzzles, or a selection of books. Consider adding a cozy reading nook with comfortable seating where guests can unwind.
---
Q8: How can I make the guest bedroom environmentally friendly during the holidays?
A8: To make your Christmas decorations more environmentally friendly, opt for reusable decorations made from sustainable materials. Use energy-efficient LED lights and encourage recycling of wrapping paper and packaging.
---
The princess home on Pinterest
Tags :
Holiday Tips & Ideas