Create a Festive Christmas Outside Decor
Inspiring Ideas for Christmas Outside Decor" As the holiday season approaches, it's time to turn our attention to the great outdoors. While indoor Christmas decorations are essential for creating a festive atmosphere, outdoor decor can truly elevate your holiday spirit and welcome guests with warmth and cheer. In this essay, we will explore a multitude of inspiring ideas for Christmas outdoor decor, ranging from traditional to contemporary, DIY to store-bought, and budget-friendly to extravagant, helping you transform your home into a dazzling winter wonderland.
Christmas outdoor decor is a wonderful way to extend the magic of the holiday season beyond the confines of your home. Whether you prefer the traditional elegance of wreaths and garlands, the modern minimalism of LED lights and geometric designs, the DIY delights of handcrafted creations, or budget-friendly options like paper bag luminaries and garland, there's a world of inspiring ideas to explore. This holiday season, let your outdoor decor shine, spreading joy and cheer to all who pass by, and creating lasting memories for your family and guests.
Certainly, let's continue exploring more inspiring ideas for Christmas outdoor decor:
---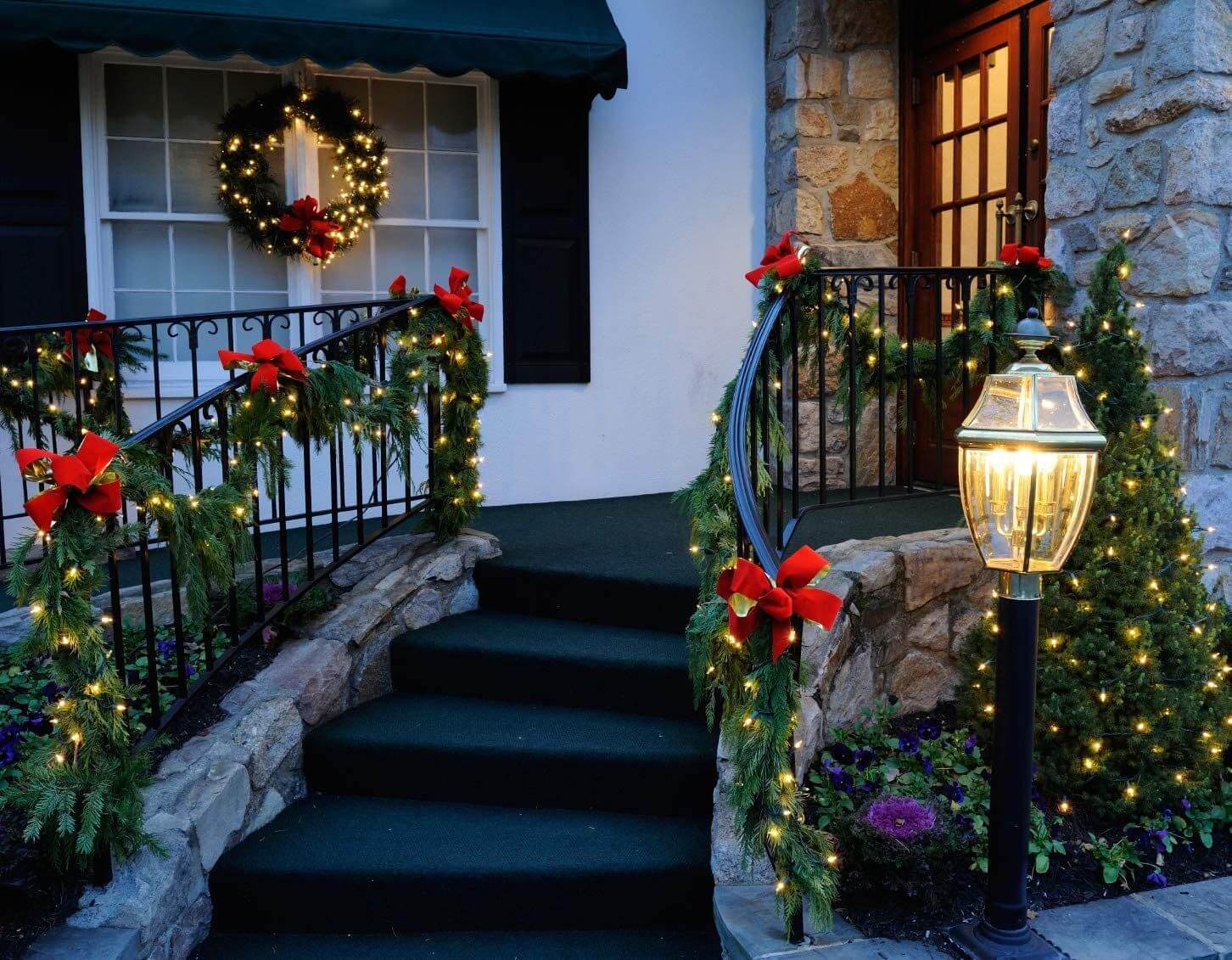 1.Traditional Elegance
Classic Wreaths and Garlands: Start with the basics by adorning your front door with a classic wreath. Pair it with matching garlands along the porch railings and eaves. Use fresh greenery like pine, cedar, and holly for a timeless and elegant look.
Luminous Candlelit Pathways: Line your walkway or driveway with luminous candles or lanterns in various sizes. The warm glow of candles can create a cozy and inviting atmosphere for visitors.
Traditional Inflatables: Traditional outdoor inflatables like Santa Claus, reindeer, or a Nativity scene can add a touch of nostalgia to your decor. These whimsical figures can be placed on your lawn or porch for a festive touch.
---
2.Modern Minimalism
Sleek LED Lights:

Embrace modernity with energy-efficient LED lights. Use them to outline the architectural features of your home, such as the roofline and windows. Choose a single color for a minimalist look or opt for color-changing LEDs for a playful touch.

Geometric Decorations:

Incorporate geometric shapes like oversized stars or abstract sculptures. These contemporary elements can make a bold statement and add a touch of sophistication to your outdoor decor.

Minimalist Wreaths:

Instead of the traditional full wreath, consider minimalist wreaths made of wire, branches, or even succulents. These unique wreaths can be hung on doors, walls, or fences for a modern twist on a classic decoration.
---
3.DIY Delights
Handcrafted Wooden Decor:

Get creative with woodworking by crafting your own outdoor decorations. Design wooden Christmas trees, snowmen, or holiday-themed signs. These personalized touches can showcase your craftsmanship and add character to your outdoor space.

Ice Luminaries:

Craft ice luminaries by freezing water in various-sized containers. Once frozen, remove the ice and place candles inside. These enchanting ice lanterns can line your walkway or be scattered around your yard.

Repurposed Materials:

Turn old items into unique outdoor decor. Paint and repurpose wooden pallets into Christmas trees, use discarded wine bottles for candle holders, or transform worn-out furniture into festive displays.
---
4.Budget-Friendly Beauty
Paper Bag Luminaries:

Create a magical atmosphere with paper bag luminaries. Place small bags filled with sand and a votive candle along your pathways or on your porch. They are cost-effective, easy to make, and have a stunning effect.

Garland and Ornaments:

String inexpensive garlands and large ornaments across your outdoor space. These affordable decorations can instantly add a touch of holiday charm without breaking the bank.

DIY Snowflakes:

Craft paper snowflakes and hang them from trees or eaves using fishing line. These delicate snowflakes can mimic the beauty of real snowfall and are a budget-friendly option.
---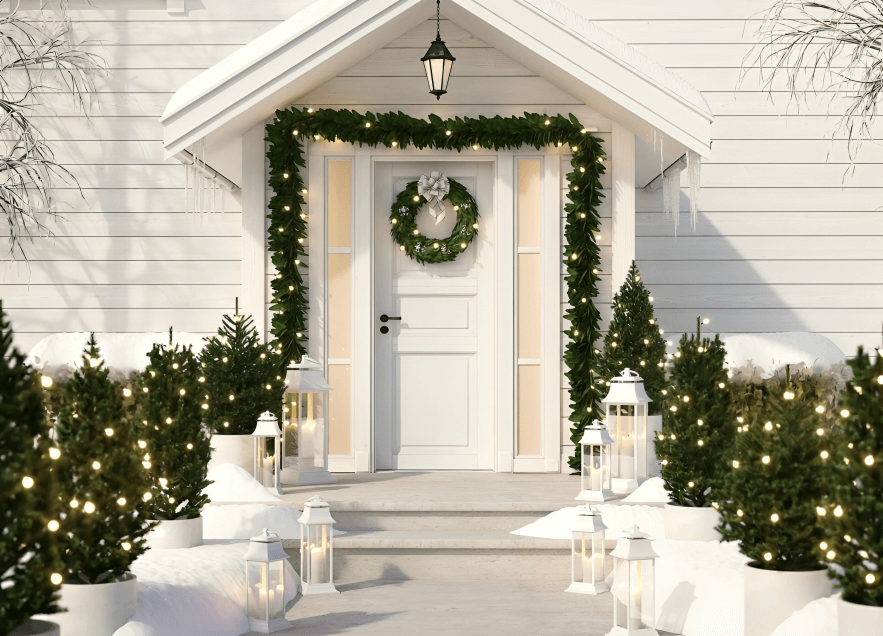 5.Festive Foliage
Topiary Trees: Consider placing topiary trees on either side of your front door or along your porch. These trees can be shaped into classic Christmas forms, such as cones or spirals, and decorated with lights or ornaments for a striking visual impact.
Evergreen Planters: Planters filled with evergreen branches, pinecones, and berries can be strategically placed on your porch or patio. They not only add a pop of color but also emit a delightful holiday scent.
Hanging Baskets: Replace your summer hanging baskets with festive winter versions filled with greenery like ferns, ivy, and holly. Add colorful ribbons or ornaments for a Christmassy touch.
---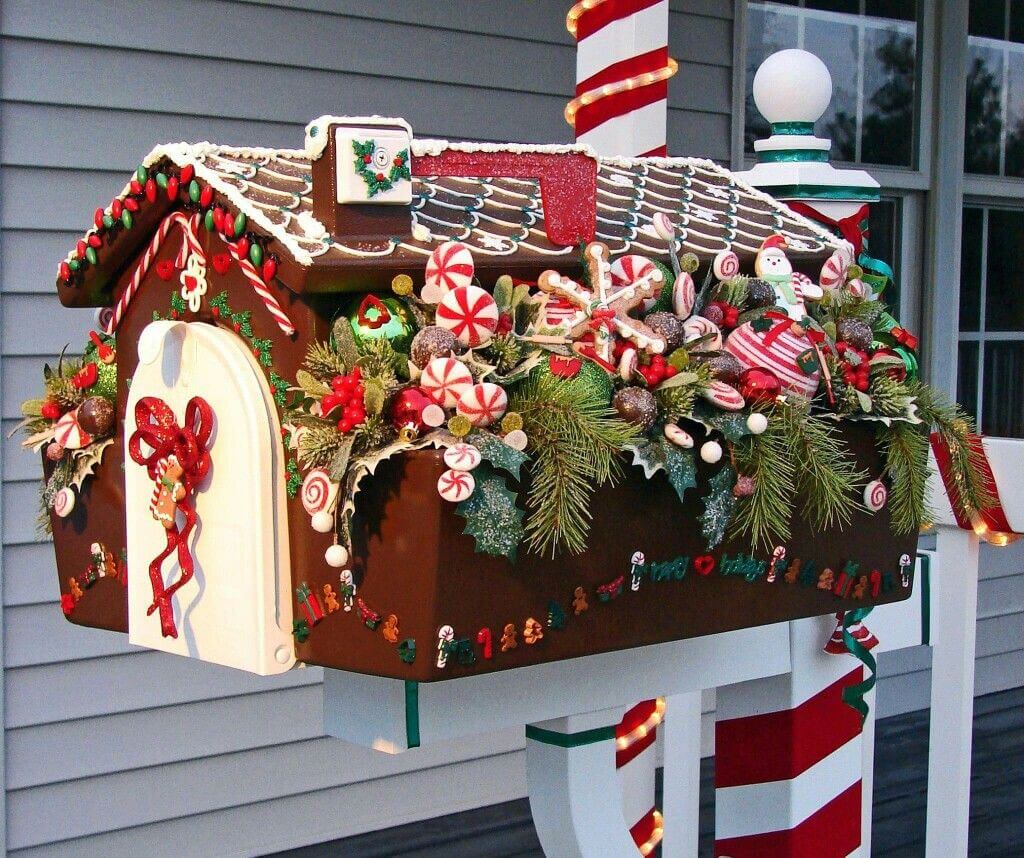 6.Thematic Displays
Gingerbread House: Create a life-sized gingerbread house facade on your porch or front yard using cardboard or wooden cutouts. Decorate it with oversized candy canes, gumdrops, and a frosting-like trim. This whimsical display will delight children and adults alike.
North Pole Mailbox: Craft a North Pole mailbox and place it near your front door. Encourage children to write letters to Santa and "mail" them in this special mailbox. You can even respond to their letters with personalized notes from Santa.
Frozen Wonderland: Take inspiration from the movie Frozen by decorating your outdoor space with icy blue and silver hues. Incorporate snowflake patterns, icicle lights, and life-sized cutouts of Elsa, Anna, and Olaf for a magical Frozen-themed display.
---
7.Interactive Decor
Christmas Countdown: Create a large countdown to Christmas sign in your yard. Each day, move a marker or ornament closer to the big day. It's a fun and interactive way to build anticipation and involve the family in the holiday spirit.
Santa's Footprints: On Christmas morning, surprise your children by leaving "Santa's footprints" in the snow or on your porch. Use boot-shaped stencils and powdered sugar or flour to create the illusion that Santa visited your home.
Music and Light Shows: Set up a synchronized music and light show using smart LED lights and speakers. Program the lights to dance to your favorite holiday tunes, creating a captivating and entertaining outdoor display for your neighbors to enjoy.
---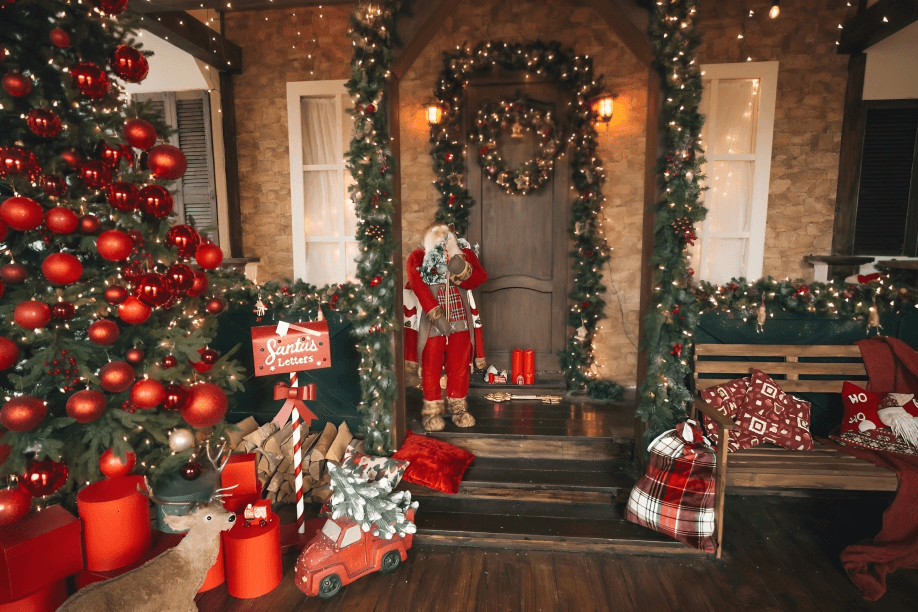 8.Enchanted Garden
Fairy Garden: If you have a garden, transform it into a magical fairy garden with miniature houses, figurines, and tiny lights. Add a sprinkle of artificial snow for a whimsical touch.
Lighted Trees: Wrap outdoor trees with strings of lights to create enchanting glows in your garden. Consider using different colors or alternating between warm white and cool white lights for a dazzling effect.
Ice Skating Rink: If you have space, set up a small ice skating rink in your backyard. Add strings of lights around the perimeter for a picturesque winter scene. This is a unique and memorable outdoor Christmas activity for family and friends.
---
In conclusion, there is no shortage of inspiring ideas to make your outdoor Christmas decor both beautiful and memorable. Whether you prefer the traditional, modern, DIY, or budget-friendly approach, the key is to let your creativity shine and infuse your unique style into your holiday decorations. By doing so, you can create a magical outdoor space that captures the essence of the season and brings joy to all who see it.
---
Here are some frequently asked questions .
Q1: How do I determine the right size of outdoor decorations for my home?
A1: To determine the right size, consider the scale of your home and outdoor space. Large decorations can overwhelm a small house, while small decorations may get lost on a larger property. Measure your outdoor areas and choose decorations that complement the size and style of your home.
---
Q2: Are there energy-efficient options for outdoor Christmas lights?
A2: Yes, LED lights are a popular choice for outdoor Christmas decorations because they are energy-efficient and long-lasting. They consume less electricity than traditional incandescent lights, reducing both energy costs and environmental impact.
---
Q3: How can I protect outdoor decorations from harsh winter weather?
A3: To protect outdoor decorations, consider using weather-resistant or outdoor-rated items. Secure decorations to prevent them from being blown away by strong winds. When not in use, store decorations in a dry, cool place to prolong their lifespan.
---
Q4: Can I decorate outdoor spaces in an apartment or rented property?
A4: Yes, you can decorate outdoor spaces in apartments or rented properties, but it's essential to check with your landlord or property management for any specific rules or restrictions. In most cases, you can use removable and non-damaging decorations, such as wreaths, string lights, and potted plants.
---
Q5: How do I maintain outdoor greenery and plants throughout the holiday season?
A5: To maintain outdoor greenery, keep them well-watered to prevent drying out. Protect plants from extreme cold by wrapping them in burlap or frost cloth. Avoid overdecorating living plants, as excessive weight or decorations can harm them.
---
Q6: What safety precautions should I take when using candles or open flames outdoors?
A6: When using candles or open flames outdoors, ensure they are placed in secure, non-flammable containers. Keep them away from flammable materials and supervise them while lit. Consider using battery-operated LED candles as a safer alternative.
---
Q7: How can I incorporate outdoor Christmas decor into a theme or color scheme?
A7: To incorporate decor into a theme or color scheme, choose decorations that match your chosen theme or color palette. For example, if you're going for a rustic theme, use natural materials like burlap and wood. If you prefer a classic theme, stick to red, green, and gold color schemes.
---
Q8: Can I mix different decoration styles in my outdoor decor?
A8: Mixing different decoration styles can work well if done thoughtfully. It can add visual interest and character to your decor. However, try to find a unifying element, such as a specific color or theme, to tie the various styles together and create a harmonious look.
---
Q9: What should I do with outdoor decorations after the holiday season?
A9: After the holiday season, properly store your outdoor decorations to ensure they remain in good condition for the next year. Use airtight containers, plastic bins, or storage bags to protect them from dust and moisture. Label containers for easy retrieval next year.
---
Q10: How can I involve children in decorating the outdoor space for Christmas?
A10: Decorating outdoors can be a fun family activity. Involve children by letting them help hang ornaments, place lights, or create DIY decorations. It's an excellent way to bond, spark creativity, and share the holiday spirit together as a family.
Remember, outdoor Christmas decor is a wonderful way to spread joy and create a festive atmosphere, and these FAQs can help you navigate common questions and challenges as you plan and execute your outdoor decorations.
---
Tags :
Holiday Tips & Ideas