21 Must-Have Halloween Fireplace Decor Ideas
Halloween, a celebration steeped in history and tradition, offers the perfect opportunity to transform your home into a hauntingly enchanting space. While decorating your entire house is essential, the fireplace often becomes the centerpiece of Halloween decor. Its prominent location and warm, inviting aura make it an ideal canvas for expressing your spooky creativity. In this essay, we will explore a plethora of Halloween fireplace decor ideas, ranging from classic to contemporary, to help you craft an unforgettable atmosphere for this spine-tingling holiday.
Halloween fireplace decor offers an exciting opportunity to unleash your creativity and set the stage for a spooktacular celebration. Whether you opt for traditional, DIY, nature-inspired, or pop culture-themed decorations, remember to prioritize safety when using candles and other open flames. By combining elements from these diverse ideas, you can turn your fireplace into the focal point of your Halloween decor, delighting guests and creating unforgettable memories for this haunted holiday. So, get ready to embrace the spirit of Halloween and let your imagination run wild!
---
1. Traditional Halloween Themes
Haunted Mansion Vibes

Utilize cobwebs, candelabras, and antique-style frames with eerie portraits to create a haunted house aesthetic.
Add some faux flickering candles for an authentic ghostly touch.

Witch's Cauldron

Place a large black cauldron filled with a bubbling dry ice fog in front of the fireplace.
Surround it with broomsticks, spell books, and a witch's hat for a bewitching scene.

Pumpkin Patch Perfection

Cover the mantel with an array of pumpkins, both real and faux, in various sizes and colors.
Incorporate pumpkin-themed decorations like jack-o'-lanterns, pumpkin garlands, and pumpkin spice-scented candles.
---
2. Creative DIY Projects
Glowing Ghosts

Craft simple ghost shapes out of white sheets or tissue paper.
Place battery-operated LED tea lights inside each ghost to create a spectral glow.

Spooky Spell Books

Make vintage-style spell books using old hardcover books.
Add spooky labels, mystical symbols, and aged pages for an authentic touch.

Spider's Lair

Decorate with oversized fake spiders and cobwebs.
Hang them from the mantel, drape them over the fireplace, and even let some "crawl" down the walls.
---
3. Nature-Inspired Decor
Enchanted Forest

Adorn the mantel with faux moss, branches, and twinkle lights.
Place animal figurines like owls and ravens to create a mystical forest atmosphere.

Harvest Abundance

Celebrate the harvest season by using cornstalks, hay bales, and dried corn husks.
Include scarecrows, pumpkins, and gourds for a rustic, autumnal look.
---
4. Pop Culture References
Tim Burton Tribute

Pay homage to Tim Burton's iconic characters like Jack Skellington and the Corpse Bride.
Use black and white stripes, skeleton motifs, and portraits of your favorite Burton characters.

Harry Potter Magic

Transform your fireplace into the Hogwarts Great Hall with floating candles and house banners.
Add a cauldron with a bubbling potion for an extra touch of wizardry.
---
5. Lighting and Atmosphere
Mood-Setting Lighting

Replace regular bulbs with orange or purple ones for an eerie ambiance.
Use string lights, lanterns, and candles strategically to create a spooky glow.

Soundscapes

Play spooky soundtracks or create your own eerie ambiance with sound effects.
The crackling of a fire can add an extra layer of authenticity.
Certainly, let's continue exploring additional Halloween fireplace decor ideas:
---
6. Gothic Glamour
Vampire's Lair

Transform your fireplace into a vampire's sanctuary with deep red and black color schemes.
Use velvet drapes, faux bats, and ornate candleholders to create a luxurious yet eerie atmosphere.

Gothic Artifacts

Decorate with vintage or antique items like old mirrors, candelabras, and ornate frames.
Add black lace or velvet accents to create a Victorian Gothic vibe.
---
7. Outdoor-Inspired Decor
Cemetery Scene

Mimic a spooky graveyard around your fireplace with tombstone props.
Scatter fake bones and skulls in the "graveyard" for an extra touch of macabre.

Eerie Swamp

Create a swampy atmosphere with green lighting, fog machines, and moss-covered branches.
Add plastic alligators and frogs for a haunted bayou theme.
---
8. Kid-Friendly Themes
Friendly Monsters

Use colorful decorations featuring cute monsters, such as Frankenstein and mummies.
Hang kid-friendly Halloween artwork created by your little ones for a personal touch.

Witch's Cottage

Decorate with friendly witches, broomsticks, and bubbling cauldrons.
Incorporate bright and playful colors to make it inviting for children.
---
9. Seasonal Harvest
Apple Orchard

Embrace the autumn season by incorporating apple-themed decor.
Use apple garlands, baskets, and scented candles for a cozy, orchard-inspired feel.

Cornucopia of Plenty

Create a cornucopia display with an abundance of fall fruits, vegetables, and leaves.
Add small scarecrow figurines or pilgrim decorations for a Thanksgiving touch.
---
10. Minimalistic Elegance
Monochromatic Magic

Choose a single color scheme, such as black and white or silver and gold.
Keep decorations minimalistic and sleek for a modern and elegant Halloween fireplace.

Haunted Art Gallery

Hang framed portraits or artwork with eerie subjects like haunted houses or mysterious landscapes.
Keep the rest of the decor simple to let the art take center stage.
---
11. Interactive Decor
Interactive Potion Station

Set up a potion-making station on your mantel.
Provide jars filled with colorful liquids and labeled with spooky names for guests to create their own concoctions.

Halloween Countdown Calendar

Create a fireplace advent calendar with daily surprises leading up to Halloween.
Each day, reveal a new decoration, treat, or spooky activity for your family to enjoy.
---
Certainly, here are more Halloween fireplace decor ideas to help you unleash your creativity and elevate your spooky ambiance:
---
12. Literary Classics
Edgar Allan Poe's Study

Pay homage to the master of macabre by creating a decor inspired by his works.
Use black ravens, quill pens, vintage books, and a "Nevermore" sign.

Sleepy Hollow

Bring the eerie atmosphere of Sleepy Hollow to your fireplace with Ichabod Crane's hat, a pumpkin lantern, and horseman-themed decor.
---
13. Mystical and Magical
Crystal Ball Gazing

Place a crystal ball on your mantel surrounded by candles and mystical objects.
Use smoke or lighting effects to make it appear enchanted.

Enchanted Garden

Decorate with fairy lights, fairy figurines, and mystical creatures like unicorns or dragons.
Add lush greenery and faux mushrooms to create an otherworldly forest.
---
14. Cinematic Inspirations
The Addams Family

Emulate the iconic Addams Family living room with Victorian furniture, portraits, and black roses.
Incorporate creepy and kooky elements like a severed hand or a Thing-inspired decoration.

Stranger Things Upside Down

Create an eerie portal to the Upside Down with flickering Christmas lights and dark, foreboding decor.
Add a Demogorgon silhouette for an authentic touch.
---
15. DIY 3D Effects
Floating Ghosts

Craft three-dimensional ghost figures that appear to float in front of the fireplace.
Attach them to fishing line for a spooky, ethereal effect.

Zombie Apocalypse

Create life-sized zombie silhouettes using cardboard and paint.
Position them around the fireplace as if they're emerging from the depths.
---
16. Haunting Hues
All-Black Elegance

Choose an all-black decor scheme with black candles, black roses, and black velvet drapes.
Silver or gold accents can add a touch of sophistication to the darkness.

Vibrant Gothic

Combine deep, rich jewel tones like burgundy, emerald, and sapphire for a luxurious Gothic vibe.
Use velvet fabrics, jeweled embellishments, and dark, ornate frames.
---
17. Outdoor Adventure
Pirate's Cove

Transform your fireplace into a pirate's treasure trove with old maps, treasure chests, and ship models.
Hang a Jolly Roger flag for authenticity.

Haunted Shipwreck

Decorate with seaweed, barnacles, and shipwrecked artifacts.
Create a ghostly captain figure at the helm for a spine-tingling nautical theme.
---
18. Interactive Entertainment
Halloween Movie Marathon

Set up a cozy viewing area in front of the fireplace with blankets and pillows.
Play classic Halloween movies for a spooky movie night with family and friends.

Fortune Telling

Arrange a fortune-telling area with tarot cards, a crystal ball, and a mysterious fortune teller's costume.
Offer readings for guests as part of your Halloween entertainment.
---
Incorporate these additional Halloween fireplace decor ideas into your Halloween festivities to make your home truly enchanting and memorable. Whether you opt for a theme inspired by literature, movies, or your own imagination, the key is to have fun while creating a unique and immersive experience for your Halloween guests. Happy decorating, and may your Halloween celebrations be filled with spooktacular moments!
---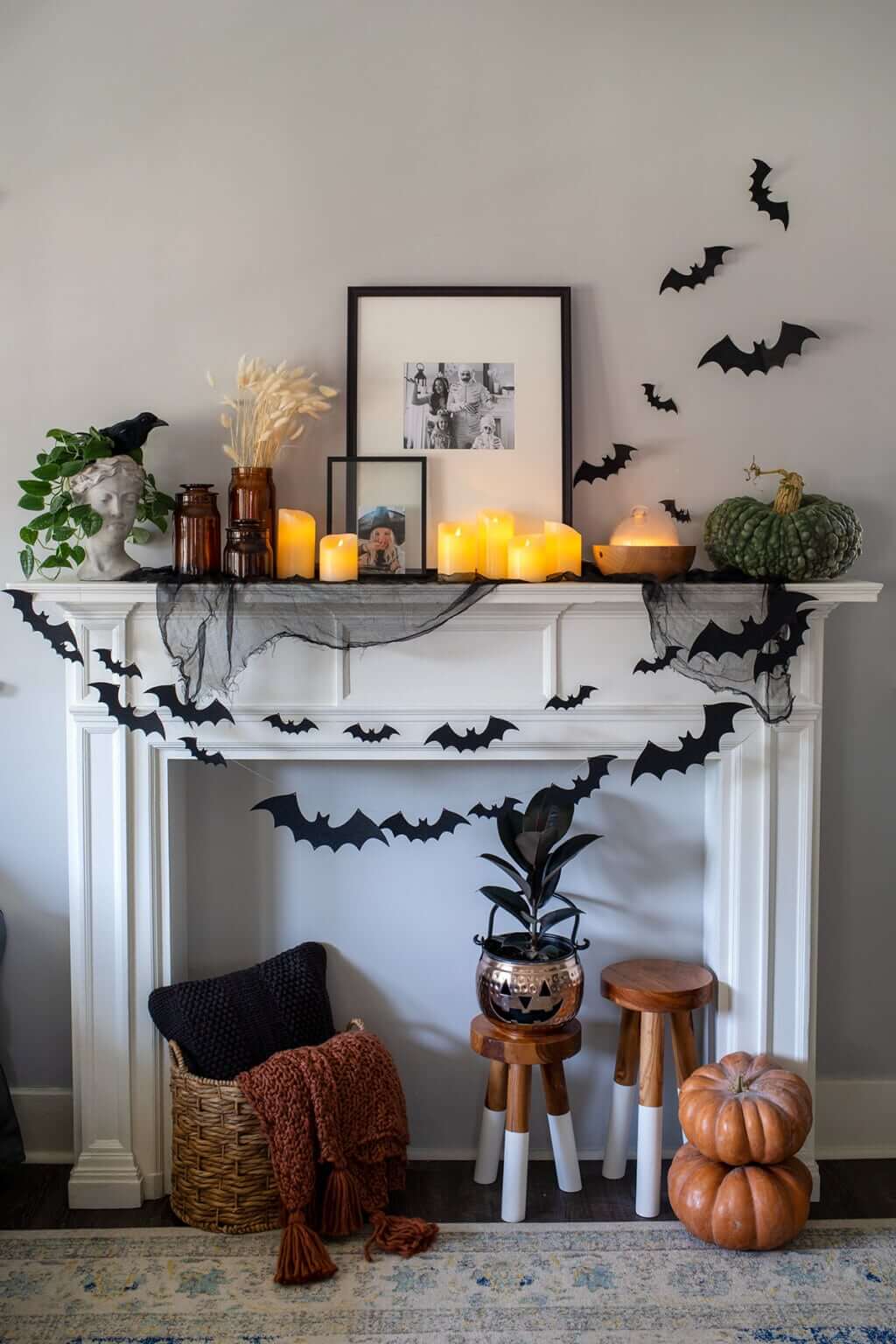 ---
---
---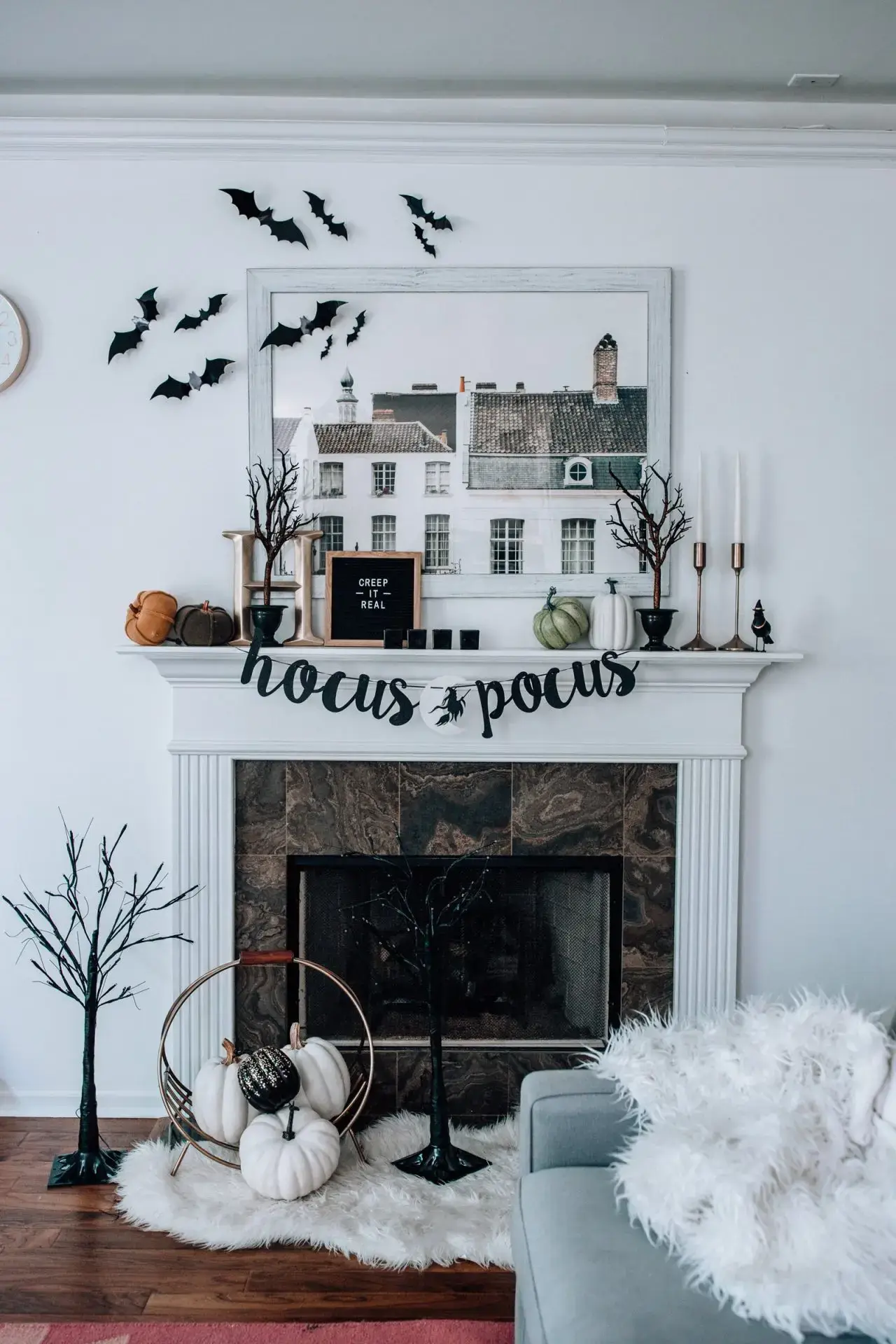 ---
---
---
---
---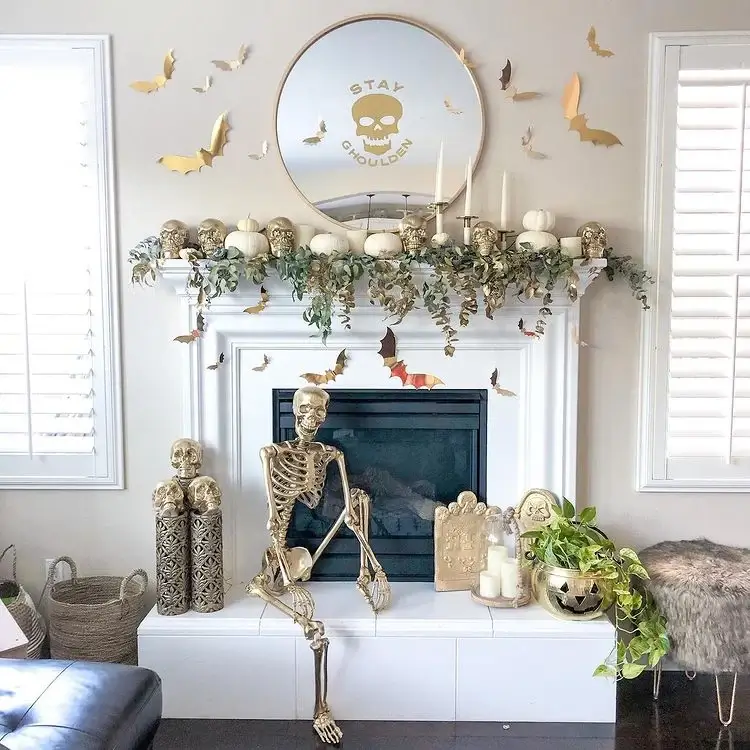 ---
---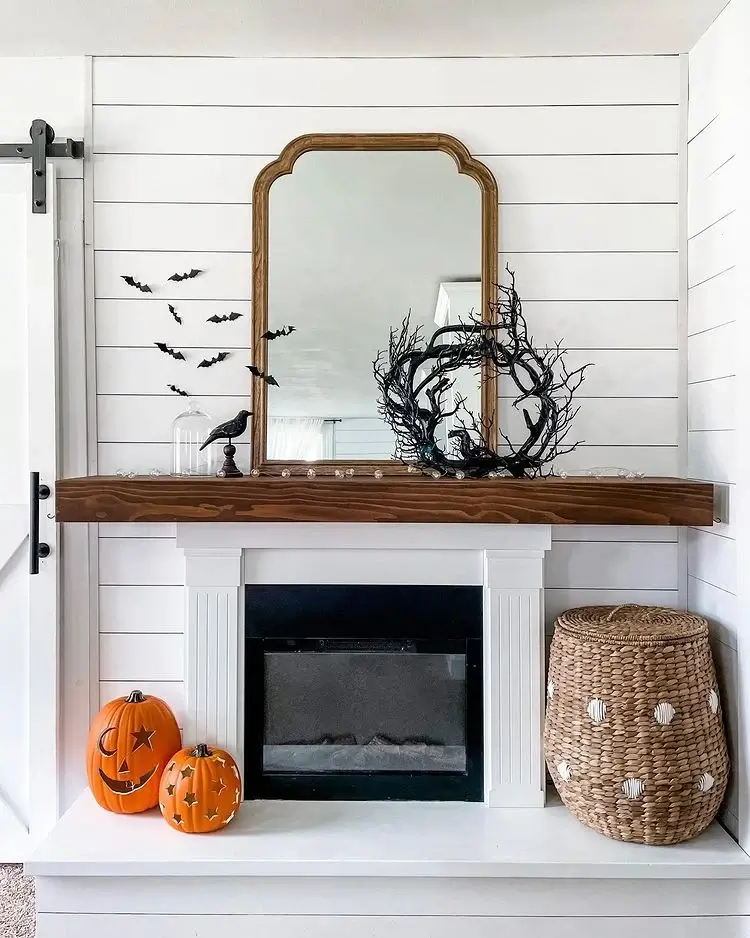 ---
---
---
---
---
---
---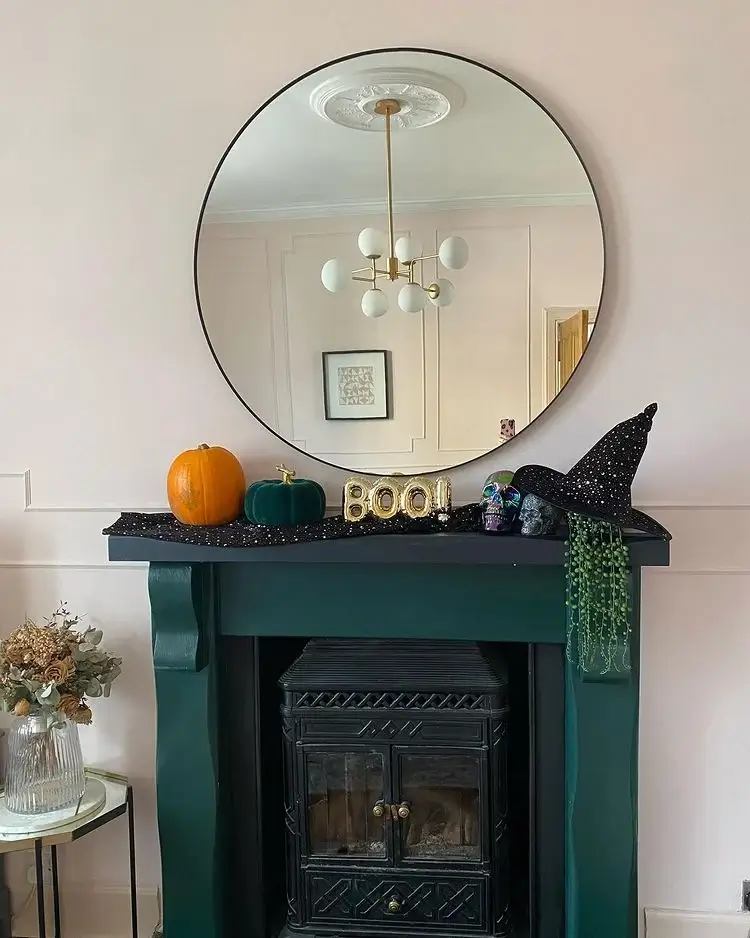 ---
---
---
Certainly, here are some frequently asked questions related to Halloween fireplace decor ideas and their answers:
These additional Halloween fireplace decor ideas should provide you with even more inspiration to create a bewitching atmosphere for the holiday. Remember that the key to successful Halloween decor is to infuse your personality and creativity into the design. Whether you prefer a classic haunted house theme, a whimsical approach for kids, or a contemporary, minimalist style, the possibilities are endless. So, roll up your sleeves, gather your decorations, and let your imagination run wild as you embark on the journey to transform your fireplace into a hauntingly beautiful focal point for Halloween.
Q1: How can I ensure the safety of my Halloween fireplace decor, especially if I'm using open flames like candles?
A1: Safety is paramount when decorating with open flames. Here are some safety tips:
Use battery-operated LED candles or string lights as a safer alternative to real candles.
If using real candles, ensure they are in stable holders and never leave them unattended.
Keep flammable decorations away from open flames.
Make sure your fireplace is clean and free from debris before decorating.
Consider using a fire-resistant hearth rug or mat under decorations.
---
Q2: I have young children. Are there kid-friendly Halloween fireplace decor ideas that won't be too scary?
A2: Absolutely! Kid-friendly Halloween decor can be fun and playful without being overly scary. Consider:
Decorating with cute monsters, friendly witches, and smiling pumpkins.
Incorporating bright and cheerful colors like orange, green, and purple.
Encouraging your children to create their own Halloween artwork to display.
---
Q3: Where can I find materials for DIY Halloween fireplace decor projects?
A3: You can find materials for DIY projects at various places:
Craft stores: These are excellent sources for crafting supplies like paints, fabrics, and decorative elements.
Dollar stores: Many dollar stores offer affordable Halloween decorations and crafting supplies.
Online marketplaces: Websites like Amazon and Etsy have a wide range of Halloween decor items and craft supplies.
---
Q4: How can I create a spooky atmosphere with sound effects for my Halloween fireplace decor?
A4: Creating a spooky soundscape can enhance the ambiance. You can:
Download Halloween sound effects and music from websites or streaming platforms.
Use portable speakers discreetly placed near your fireplace.
Sync the soundscape with your decorations and lighting to create an immersive experience.
---
Q5: Can you suggest some budget-friendly Halloween fireplace decor ideas?
A5: Certainly! Here are some budget-friendly ideas:
DIY decorations using items you already have, like old books or cardboard.
Shop at thrift stores for affordable vintage or Halloween-themed decor.
Use natural elements like leaves, branches, and pinecones for a rustic and cost-effective look.
Repurpose decorations from previous years to save on costs.
---
Q6: How early should I start decorating my fireplace for Halloween?
A6: The timing of your decorations is a matter of personal preference. Some people start decorating in early October to enjoy the spooky atmosphere for as long as possible, while others prefer to wait until closer to Halloween. It ultimately depends on how eager you are to embrace the Halloween spirit!
---
Q7: Can you suggest some Halloween fireplace decor ideas that are suitable for small spaces?
A7: Of course! For small spaces, consider:
Miniature Halloween-themed decorations like tiny pumpkins or candles.
Wall decals or removable adhesive decorations to save floor space.
Creating a vertical display on your mantel to maximize space while still making a statement.
Remember that adapting the decor to your specific space and preferences is key to creating a memorable Halloween fireplace display.