25 Halloween Decorations Easy and Elegant Ideas for Celebration
Halloween is a time of year when creativity knows no bounds, and decorating your home can be both a fun and satisfying endeavor. Whether you're hosting a haunted house party, welcoming trick-or-treaters, or simply getting into the spooky spirit of the season, crafting easy and elegant Halloween decorations can set the perfect atmosphere. In this essay, we will explore a variety of DIY Halloween decoration ideas that are not only simple to create but also exude an air of sophistication and style.
---
1. Elegant Pumpkin Displays
Golden Glamour Pumpkins: Start with a collection of pumpkins in various sizes and spray-paint them in metallic gold or silver hues. Add a touch of elegance by using adhesive rhinestones, lace, or ribbon to create unique patterns and designs on the pumpkins. These shimmering gourds can be displayed as centerpieces or placed strategically around your home.
Chalkboard Pumpkins: Paint pumpkins with chalkboard paint and use chalk markers to draw intricate designs, spooky messages, or classic Halloween images. These versatile pumpkins can be updated with new designs throughout the season, and they make great conversation starters.
---
2. Illuminating Elegance
Candlelit Lanterns: Create an eerie ambiance by repurposing old glass jars into charming lanterns. Paint the jars in muted, spooky colors like deep purple, dark green, or matte black. Place a tea light inside each jar, and watch as the flickering candlelight casts eerie shadows on your porch or mantelpiece.
Elegant DIY Candelabras: Craft your own candelabra by spray-painting old candleholders in matte black or antique gold. Replace the candles with black or deep red taper candles for a touch of sophistication. These can be placed on dining tables or mantels to create a Gothic, elegant atmosphere.
---
3. Natural and Elegant Decor
Botanical Wreaths: Craft a wreath using dried flowers, eucalyptus, or twigs, adding a few faux black roses for a subtle nod to the Halloween theme. Hang it on your front door or use it as a striking centerpiece on your dining table.
Elegant Bat Decor: Create elegant paper bats using black cardstock or velvet paper. Hang these bats from your ceiling at different heights using clear fishing line. They will appear to be gracefully suspended in mid-air, adding an enchanting and eerie touch to your decor.
---
4. Spooky Elegance Indoors
Classy Gothic Centerpieces: Transform your dining table with a Gothic-inspired centerpiece. Use a black lace table runner, elegant black or silver candleholders, and deep purple or blood-red flowers for an opulent, yet haunting display.
Elegant Potion Bottles: Repurpose empty glass bottles into spooky potion bottles. Label them with mysterious concoctions, such as "Witches' Brew" or "Eye of Newt," using calligraphy or elegant fonts. These bottles can be placed on shelves or tables for a sophisticated Halloween touch.
---
1.Broom-Turned-Chandelier
Cast a spell over your dining room table by suspending a witch's broom from the ceiling. Carefully balance mason jars from the handle for added mood lighting.
2.Spiderweb Pumpkin
Let's put a spin on traditional pumpkin carving — cut out an oval shape in the front of your pumpkin instead of carving out the top. Scrap out the seeds and pulp. Spray paint the entire pumpkin black (be careful around the stem).Then, use an awl tool to punch holes around the edge of the opening. Thread string through the holes to create a web. Finish your Halloween creepy pumpkin by hot gluing a plastic spider to the web.
---
3.Creepy Candles
Give your home a haunted makeover with this simple DIY. Use bright red candlesticks in matte black candle holders, and then add drips of red hot glue to resemble dripping blood. And enjoy the spooky Halloween
---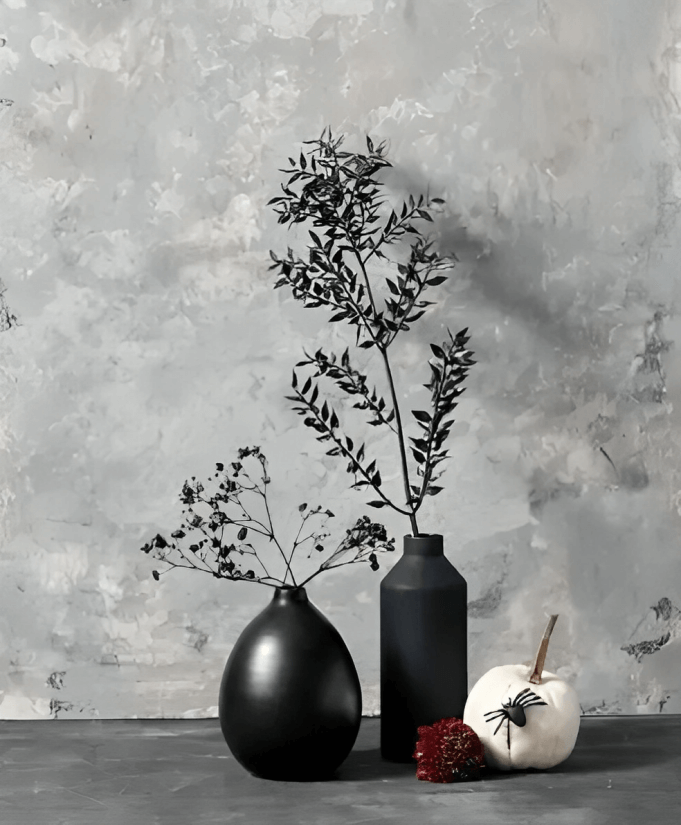 4.Painted Baby's Breath
Instantly add some drama to your space by spray painting branches of dried baby's breath black and using them as your Halloween centerpiece.
---
5.Halloween Bar Cart
Wrap large helium balloons with tulle. Tie ribbon at the base and trim the skirt as needed. To dress up ordinary liquor bottles, print retro labels on sticker paper and attach.
---
6.Tombstone Chair Covers
Print out the tombstone templates and cut out designs with scissors or a craft knife so you can use them as stencils. Place your template centered on your pillow case in the position that feels right and tape or pin the corners down to keep in place. Dip a foam craft brush in a small amount of black fabric paint and dab it gently onto the fabric where you have placed the stencils. Less is more! Let dry completely.
---
7.Snake Wreath
Spook the neighbors in Halloween with this snake-laden wreath. To make it, weave plastic snakes, from large to small, between the wreath's twigs, repeating until you use all of the rubber snakes. Use hot glue as needed to attach them to the wreath.
---
8.Feather Wreath
Give a feather wreath a dark twist by covering a grapevine wreath form with black spray paint. Add a bit of craft glue to the ends of craft feathers and dress them up with glitter. Once they're dry, dip the quill of each feather in glue and tuck them into the wreath form. To finish the look, use wire to attach a faux black crow.
---
9.Bug Art Display
Download and print out our Halloween bugs and ID tags artwork onto cardstock. Carefully cut out the bug shapes and tags with scissors, then fold the bugs at the joints to create dimension. (We use a bone folder for crisp edges, but you can also use the back of a scissor or an old pen that's run out of ink!) Use a glue stick or glue dots to attach the bugs to the backing of a variety of shadowbox frames (we lined all of our frames with white paper for consistency). Glue on the ID tags and hang your creepy crawlies with Command strips. Add extra bugs that have "escaped" to the outside of the frames and the wall using removable glue dots.
---
10.Pumpkin Diorama
If you love nothing more than an over-the-top look, fill a carved pumpkin with everything from reindeer moss and twigs to mini headstones. Don't forget the full moon (a Ping-Pong ball that you can easily hang from a thin string).
---
11.halloween Cupcake 
You likely have everything you need in the house already to create these stylish pumpkins. Once you gather your tools, begin by folding cupcake liners in half. Starting at the top of the pumpkin, attach a matte black folded cupcake liner as close to the stem as you can with double stick tape. Overlap liners slightly as you fill a vertical line in to the bottom. Using the metallic folder liners, make another vertical row being sure to overlap slightly to get a nice textured look making sure the rounded edges are what show. Repeat steps until you completely cover your pumpkin.
---
12.Black Magic Frame
Coat a vintage frame in black spray paint and let it dry. Print butterfly images and Halloween-appropriate calligraphy art (think "Beware!") on card stock. Cut them out and place them on your frame. Use ribbon to hang your new creation.
---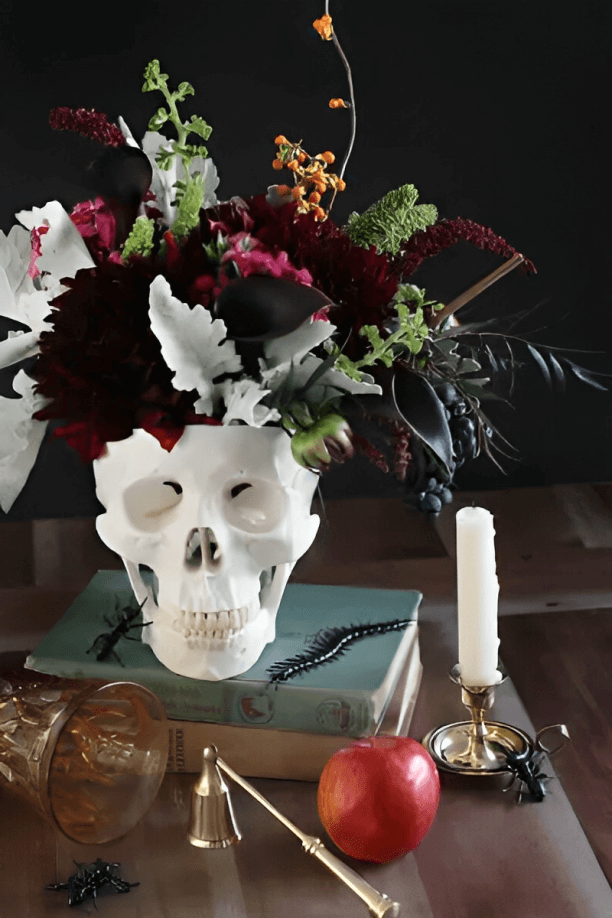 13.Skull Centerpiece
Give your Halloween table an otherworldly touch that would make Morticia Addams proud. Put a cup inside of a faux skull (make sure it has a removable top), then use tape to create a grid on its rim. This will help your flowers and greenery to stay put. Fill ⅔ with water and place your large flowers and greenery in the grid. Complete the arrangement by adding your delicate flowers. To help your floral centerpiece last longer, be sure to remove any leaves or extra stems that sit below the water line.
---
14.Batty Staircase
Your staircase is a focal point in your house, so you might as well give it the Halloween treatment. Weave twigs through the banister, and then scatter paper bats throughout to up the spook factor.
---
15.Spider Web Pumpkin
For a spooky yet glam look, use gold glitter to create a spiders web on a white pumpkin. Don't forget to add a few gold spiders.
---
16.Branch Centerpiece
No Halloween season is complete without a thrilling party to celebrate the occasion. And what is a Halloween party without the right decorations? Get creative with themed centerpieces, table settings, and party favors that match the spooky ambiance. Set up a themed photo booth where guests can capture their memorable moments in Halloween costumes amidst the haunting backdrop of decorations. Remember, the atmosphere you create will make your party an experience that lingers in the memories of your guests.
Just spray paint tree branches with as many layers as you need so they're completely covered. Then, let them dry and place in a vase. The best part? This Halloween-themed centerpiece is practically free since the materials come from your own backyard.
---
17.Pumpkin Mule Cups
Cut a jack-o'-lantern face out of black window clings to transform your copper mule cups into mini pumpkins. Then cheers to your crafting skills by whipping up a seasonal cocktail.
---
18.Creepy Lamp
Once you step inside, let the magic of Halloween decorations enchant your living space. From ghoulish wall hangings and sinister portraits to cobweb-covered furniture, there are countless ways to turn your home into a haunted manor. Dim the lights and place flickering candles to create an eerie glow, or use black lights to give an otherworldly effect to the setting. Don't forget to hang a few bat cutouts or a friendly ghost or two from the ceiling. The aim is to strike the perfect balance between spooky and fun. Creepy Lamp from The Yellow Cap Cod .
---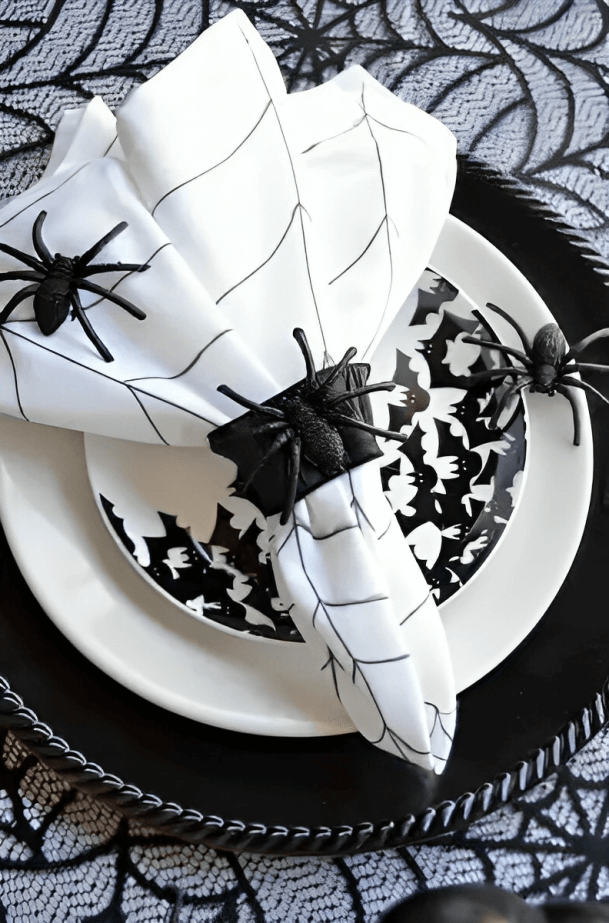 19.Spiders web Napkins 
Wow your dinner guests with these Spiders web Napkins With Sparkly Spiders Napkin Rings. Use a pen to draw a spiders web design on the front of cloth napkins. Let them sit for at least two hours to dry the napkins before pot them on the table.
---
20. Spider Web Glasses
Give plastic or glass tumblers a Halloween makeover by drawing spider web patterns with puff paint. Serve neon-colored, Halloween drinks, like orange soda, for a pop of color.
---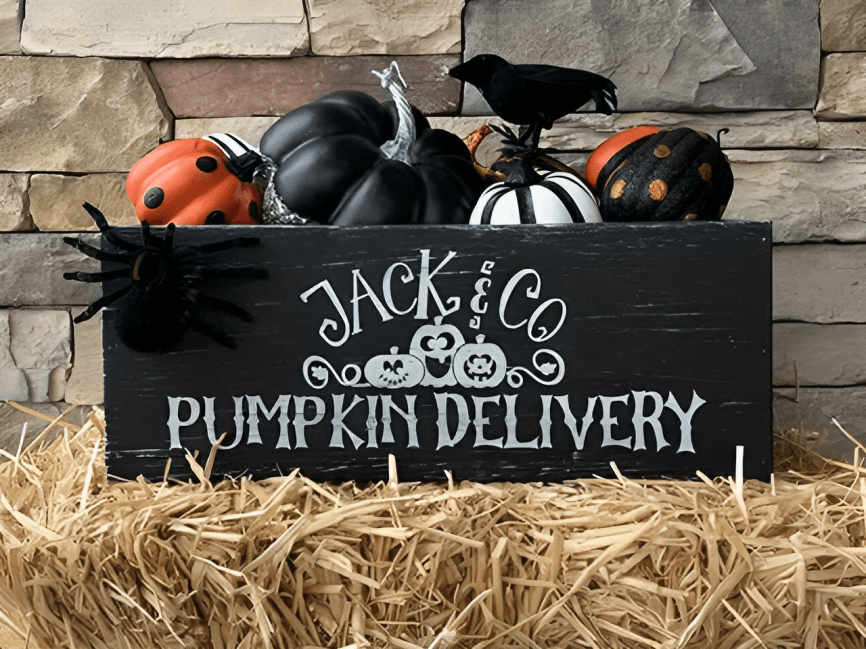 21.Halloween Box
Time is flying and it's time to start putting out the Halloween decor. This week, I'm working on my front porch decorations.
---
22.Spooky Gallery Wall
Your usual wall art just won't do for a haunted house. Have your kids to pose for spooky portraits before framing the black-and-white prints in tilted frames.
---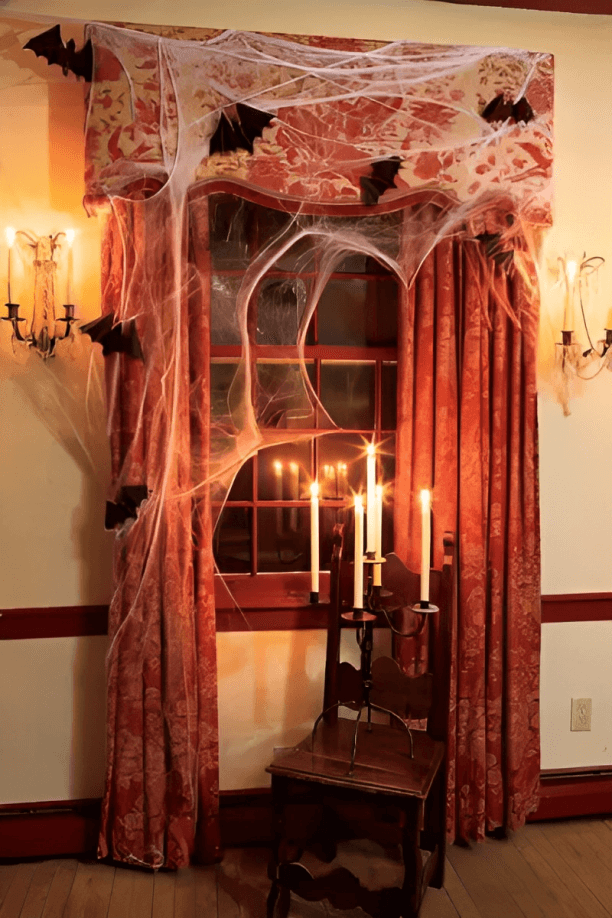 23.Webbed Windows
Decorating for Halloween is an art that knows no bounds. The vast array of decorations available is bound to bewitch you. From hauntingly lifelike ghosts to sinister skeletons, the choices seem almost endless. Traditional items such as witches' hats, black cats, and spiderwebs never fail to add a touch of classic spookiness to any setting. For those who prefer a more modern approach, LED-powered decorations that emit an eerie glow are gaining popularity. Embrace the season's festive colors like orange, black, and deep purples to truly set the stage for a Halloween extravaganza.
Use candlelight to create dark shadows in the corners. Here, ghostly white tapers in a flea market candelabra enhance the creepiness of cobwebs and flying bats.
---
24.Bubbling Witch's Cauldron
Serve your party punch in this as-real-as-it-gets cauldron. Stick the cauldron inside a grapevine wreath, and then dress the sides with paper flames. Throw some dry ice inside for a smokey effect, and then see how many people dare try what's inside.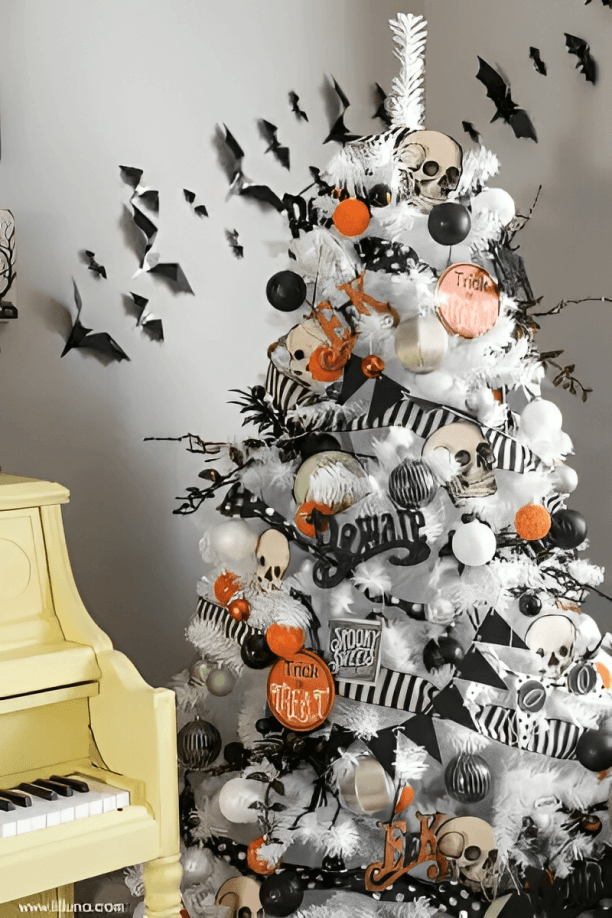 25.White Tree
Transform a winter white piece into a spooktacular statement with pops of orange and eerie paper decorations. Polka dot-printed ribbons and pennant garland ensures this tree looks fun—not frightening.
---
Conclusion
Halloween decorations need not be gaudy or over-the-top. With a touch of creativity and some simple materials, you can craft easy and elegant decor that will elevate your Halloween celebrations to a new level of sophistication. From chic pumpkins to hauntingly beautiful botanical wreaths, these ideas offer a balance between spooky and stylish. So, embrace your inner decorator and make this Halloween a truly enchanting and elegant affair. Your guests will be spellbound by the refined ambiance you create, and you'll have a Halloween to remember for years to come.
---
Here are some frequently asked questions related to the topic of "Halloween Decorations:
Q1: How can I make my Halloween decorations look elegant without spending a fortune?
A1: You can achieve an elegant Halloween decor on a budget by using simple materials like spray paint, candles, and craft paper. Focus on colors like gold, silver, black, and deep red for a sophisticated touch. Incorporating DIY elements and repurposing items you already have can also save money.
---
Q2: Can you suggest some easy and elegant outdoor Halloween decoration ideas?
A2: Certainly! Consider using stylish pumpkins, candlelit lanterns, and elegant wreaths for outdoor decor. You can also use natural elements like dried flowers and twigs. Placing elegant bats on your porch or in your garden can add a spooky yet sophisticated touch.
---
Q3: How do I create an elegant Halloween centerpiece for my dining table?
A3: To create an elegant Halloween centerpiece, consider using a black lace table runner, chic candleholders in black or metallic tones, and deep-colored flowers. This combination will give your dining table a Gothic and opulent feel.
---
Q4: What are some tips for incorporating elegance into Halloween decor without making it too spooky?
A4: To maintain an elegant but not overly spooky decor, focus on muted colors, such as deep purples, rich reds, and metallics. Incorporate elegant patterns like lace or damask, and opt for subtle Halloween elements like pumpkins or potion bottles with stylish labels.
---
Q5: How can I make my Halloween decorations more personalized?
A5: You can personalize your Halloween decorations by incorporating your own creative touches. For example, use calligraphy or elegant fonts to create custom labels for potion bottles. You can also choose colors and materials that align with your personal style and preferences to make your decor uniquely yours.
---
Q6: Are there any safety considerations when using candles in Halloween decorations?
A6: Yes, safety is paramount when using candles in your Halloween decorations. Always use flameless LED candles or ensure that open flames are placed in secure containers. Keep decorations away from flammable materials and never leave candles unattended.
---
Q7: What are some eco-friendly Halloween decoration ideas?
A7: You can create eco-friendly Halloween decorations by using natural materials like dried leaves, twigs, and pinecones. Repurpose old items for your decor and consider using energy-efficient LED lights instead of traditional incandescent bulbs.
---
These frequently asked questions and answers should help you as you plan your Halloween decorations, making them both easy to create and elegantly spooky.
---