How to Throw a Pink Halloween Party That's Both Spooky & Stylish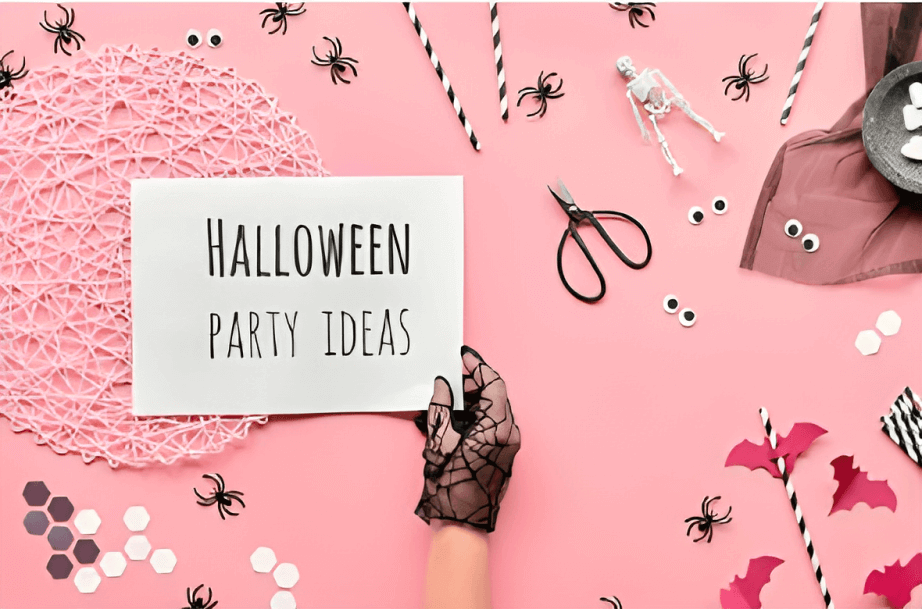 ---
Pink halloween party : Halloween, a holiday traditionally associated with all things dark and eerie, has been evolving over the years. People are increasingly looking for ways to infuse their Halloween celebrations with creativity and style, breaking away from the conventional orange and black color scheme. One unique and delightful trend that has emerged is the "Pink Halloween Party." This unconventional twist combines spooky elements with a touch of elegance and femininity. In this essay, we will explore the art of throwing a Pink Halloween Party that's both spooky and stylish, offering tips on decorations, costumes, food, and entertainment to ensure your celebration is a memorable and Instagram-worthy event.
In the world of Halloween celebrations, the Pink Halloween Party stands out as a remarkable fusion of spooky and stylish. With careful planning, attention to detail, and creativity, you can throw a party that not only celebrates the spirit of Halloween but also showcases your unique sense of style. From invitations to decorations, costumes to food, and entertainment, every aspect can be customized to create an unforgettable experience that's both eerie and elegant. So, gather your ghouls and ghosts, and prepare to host a Pink Halloween Party that will leave your guests spellbound and eager for the next year's celebration. Happy haunting!
---
1. Setting the Spooky Yet Stylish Tone
To start planning your Pink Halloween Party, you need to establish the right atmosphere. Balancing spooky and stylish is crucial, and you can achieve this through:
Invitations: Send out stylish pink-themed invitations featuring elegant spooky motifs like lace, elegant fonts, and subtle hints of dark accents.
Color Palette: Choose a palette that combines shades of pink with contrasting elements like black, gold, or silver. This blend will provide the perfect balance between spooky and stylish.
---
2. Decorations: Creating a Hauntingly Elegant Ambiance
Decorations play a pivotal role in setting the mood for your Pink Halloween Party. Combine traditional Halloween elements with chic decor to achieve the right look:
Balloon and Streamer Combinations: Create a striking visual impact by using pink balloons paired with black or metallic streamers. Hang them throughout your venue to add a festive and spooky touch.
Elegant Tablescapes: Use pink tablecloths, black tableware, and gold or silver accents to set a stylish dinner table. Add a touch of spookiness with black candle holders and pink or black candles.
Floral Arrangements: Incorporate dark and dramatic blooms like black roses, deep purple dahlias, and dark calla lilies into your floral arrangements. These contrast beautifully with the pink theme.
Lighting: Dim the lights and use pink or purple LED string lights to create a mysterious and enchanting atmosphere. Candlelit lanterns and candelabras can add a touch of sophistication.
---
3. Costumes: Dressing the Part
Encourage your guests to embrace the theme by suggesting elegant yet spooky costume ideas:
Vampires and Vixens: Classic vampire costumes with a pink twist can be both elegant and eerie. Think flowing velvet capes, blood-red accessories, and pale makeup with a hint of pink.
Gothic Elegance: Gothic-inspired costumes with lace, corsets, and dark makeup can be adapted to fit the pink theme, creating a hauntingly stylish look.
---
4. Food and Drinks: A Feast for the Eyes and Palate
Pink and Black Treats: Serve a variety of pink and black appetizers and desserts. Examples include pink macarons, black forest cupcakes, and raspberry-filled black velvet cake.
Signature Cocktails: Create spooky yet stylish cocktails with pink hues. Consider a "Bloody Blackberry Martini" or a "Pink Poison" cocktail.
---
5. Entertainment: Keeping the Party Alive
Spooky Playlist: Curate a playlist featuring eerie, yet danceable tunes. Classics like "Thriller" by Michael Jackson and "Somebody's Watching Me" by Rockwell are must-haves.
DIY Haunted House: Set up a mini haunted house in your backyard or a designated room, incorporating pink lighting and decorations for a unique and chilling experience.
---
6. Activities and Games: Keeping the Spook Alive
Potion Mixing: Set up a potion mixing station where guests can concoct their own spooky cocktails or non-alcoholic potions. Provide colorful mix-ins like edible glitter and dry ice for added flair.
Tarot Card Reading: Hire a tarot card reader to give guests mysterious readings. This adds an element of intrigue and mystique to your party.
Scavenger Hunt: Organize a Halloween-themed scavenger hunt in your decorated space. Provide clues related to the pink and spooky theme and have a small prize for the winning team.
---
7. Party Favors: Leaving a Memorable Impression
Send your guests home with stylish and spooky party favors:
Customized Treat Bags: Fill pink goody bags with treats like pink and black candies, mini bottles of themed cocktails, or spooky trinkets like miniature crystal balls or tarot cards.
Scented Candles: Give guests elegant scented candles in black or pink jars with spooky labels, so they can continue the Halloween spirit at home.
---
8. Photography and Social Media
Encourage your guests to capture the night's moments and share them on social media. Create a custom hashtag for your party to track all the posts. Set up a spooky yet stylish photo booth with pink and black props for unforgettable snapshots.
6. Safety and Comfort
Ensure the safety and comfort of your guests by providing a designated driver or ride-sharing information for those who may overindulge in spooky cocktails. Keep the venue well-lit to prevent accidents, and have a first-aid kit on hand for any minor mishaps.
---
Here are some ideas for a pink Halloween party:
Use pink and black decorations throughout your party space.
Decorate with pumpkins, bats, and other spooky creatures, but in pink.
Put up Halloween-themed posters or signs in pink.
Set up a spooky tablescape for your party.
Play Halloween music in the background.
Light candles or lanterns to create a spooky atmosphere.
Wear a pink costume to get into the spirit of Halloween.
Serve pink Halloween-themed food and drinks, such as pink lemonade, pink cupcakes, or pink popcorn.
Play Halloween party games and activities, such as bobbing for apples, carving pumpkins, or telling ghost stories.
I hope these ideas help you throw a spooky-sweet pink Halloween party!
---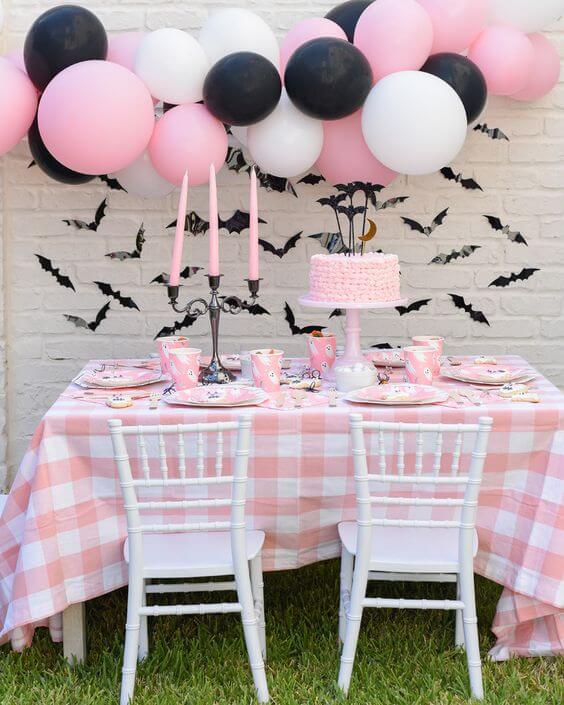 ---
---
---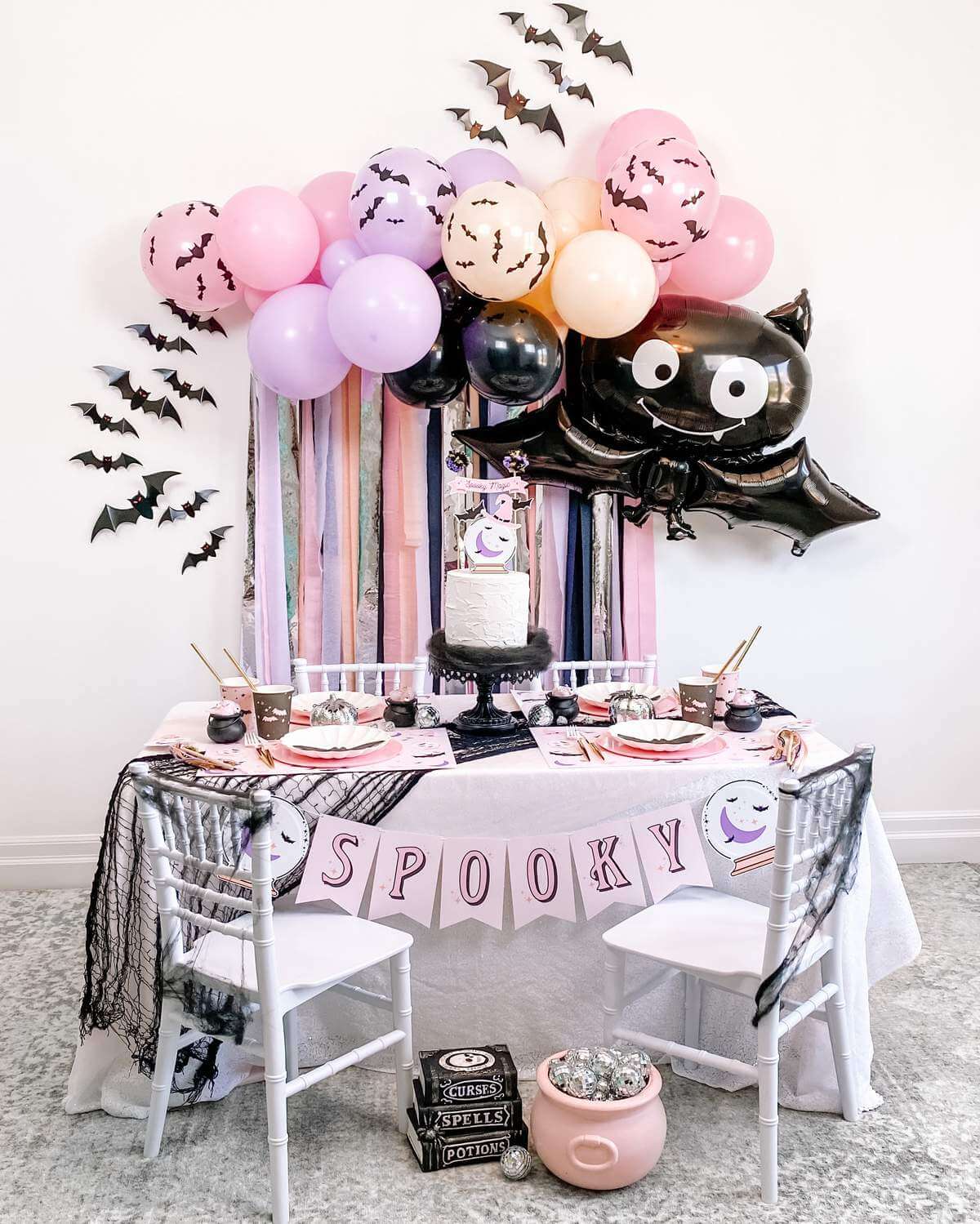 ---
---
---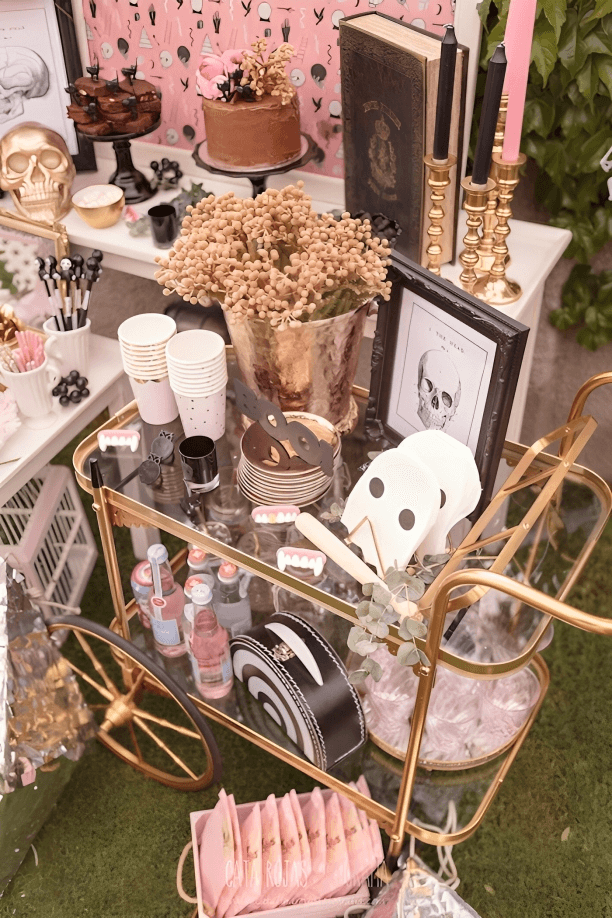 ---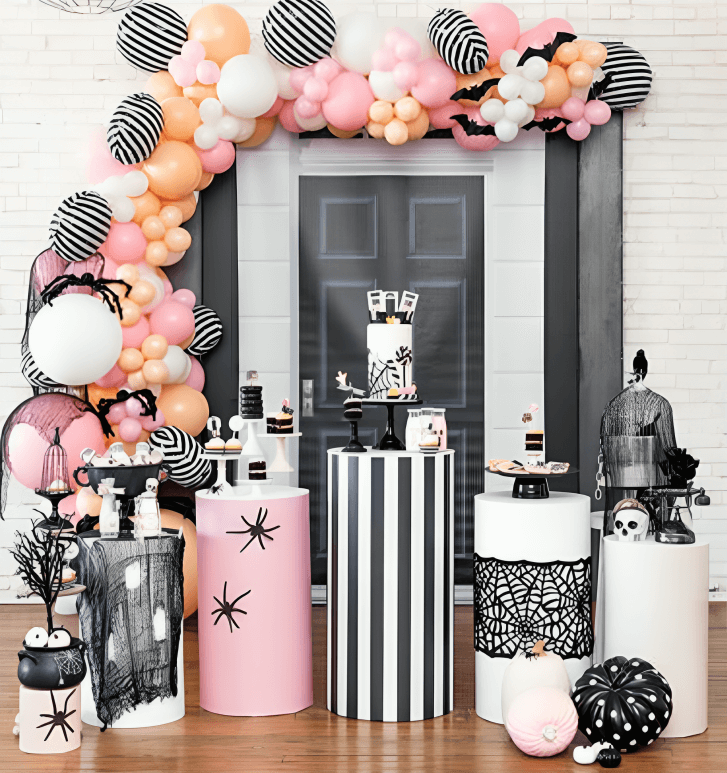 ---
---
---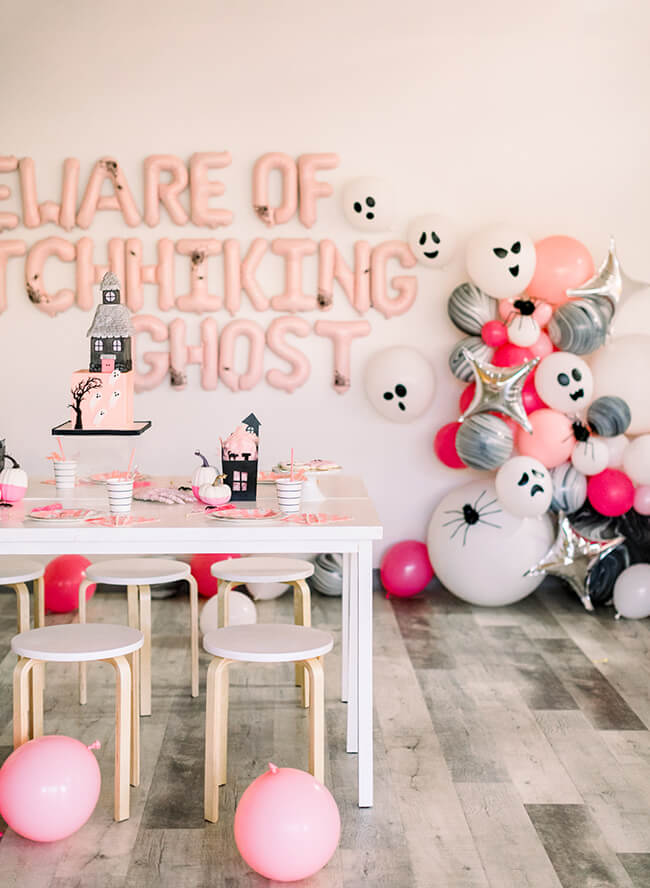 ---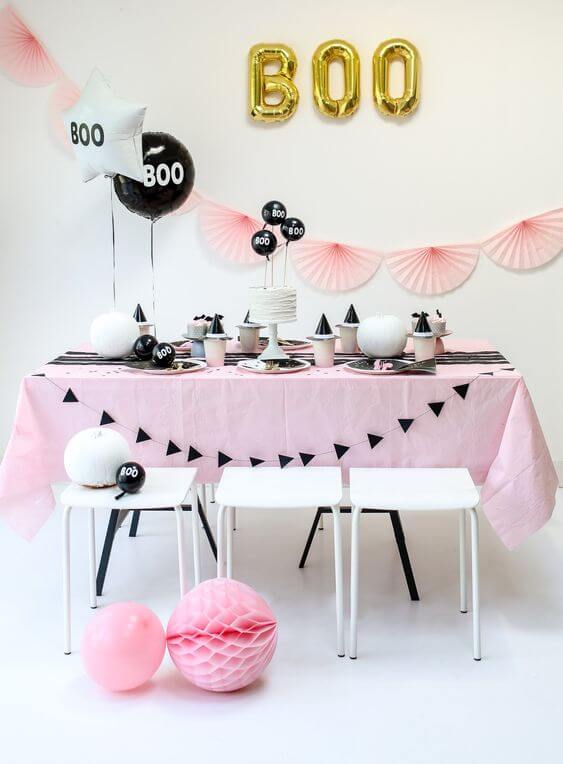 ---
---
---
---
---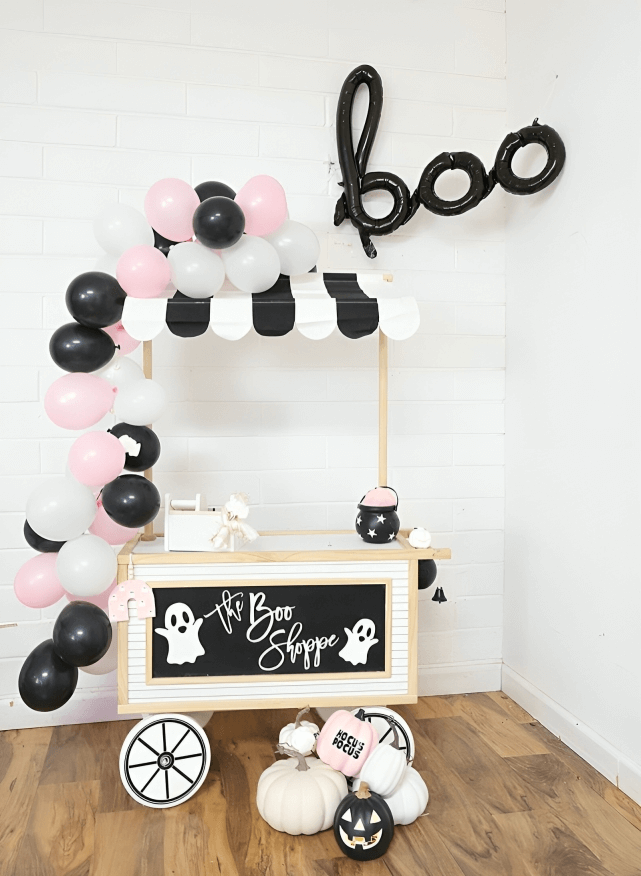 ---
No source
---
---
---
---
---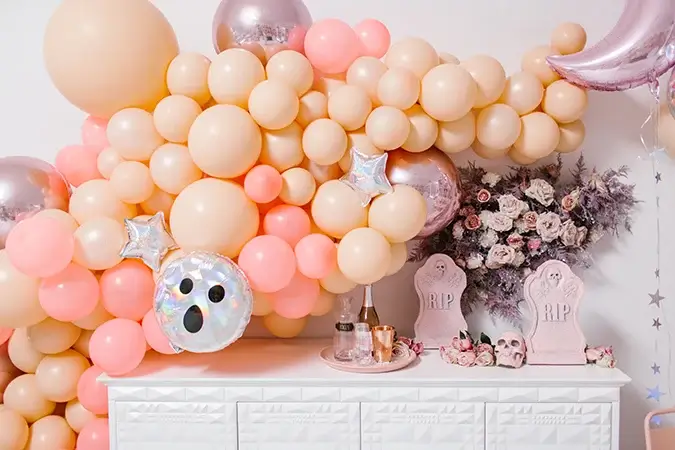 ---
In conclusion, hosting a Pink Halloween Party that's both spooky and stylish is all about striking the right balance between elegance and eerie charm. By carefully planning your decorations, costumes, food, drinks, entertainment, and party favors, you can create an unforgettable experience for your guests. This unique twist on the traditional Halloween celebration will leave your friends and family talking about your party for years to come. Embrace the pink Halloween theme, and let your creativity shine as you craft a night of enchanting memories and delightful spookiness. Cheers to a hauntingly stylish celebration!
---
Certainly, here are some frequently asked questions related to throwing a Pink Halloween Party that's both spooky and stylish, along with their answers:
Q1: Can I host a Pink Halloween Party without it feeling too girly or over the top?
A1: Absolutely! The key to a successful Pink Halloween Party is finding the right balance between pink and spooky elements. Incorporating dark accents like black, gold, or silver, along with elegant and eerie decorations, will prevent the party from feeling overly girly and maintain a stylish, Halloween-appropriate atmosphere.
---
Q2: What are some costume ideas for a Pink Halloween Party that are both spooky and stylish?
A2: Some costume ideas include Gothic-inspired outfits with lace and dark makeup, vampire costumes with pink accents, or even elegant witches with pink hats and accessories. The goal is to combine traditional spooky elements with a touch of pink elegance.
---
Q3: How can I make spooky yet stylish cocktails for my Pink Halloween Party?
A3: To create spooky cocktails with a pink twist, you can use ingredients like berry-infused spirits, grenadine for a blood-red effect, or even pink-colored liqueurs. Garnish with blackberries, edible glitter, or dry ice for a hauntingly stylish presentation.
---
Q4: Is it possible to decorate on a budget for a Pink Halloween Party?
A4: Yes, you can decorate on a budget by utilizing DIY decorations, such as crafting your own pink and black streamers, or repurposing existing decorations with a touch of pink. Thrift stores often have items that can be spray-painted to fit your theme without breaking the bank.
---
Q5: What's the best way to create a spooky yet stylish atmosphere with lighting?
A5: Dim the lights and use pink or purple LED string lights to create a mysterious and enchanting atmosphere. Candlelit lanterns and candelabras with black or dark-colored candles can add a touch of sophistication and spookiness.
---
Q6: Are there any alternative activities for a Pink Halloween Party besides the usual costume contest and dancing?
A6: Absolutely! You can set up a potion mixing station, hire a tarot card reader for mysterious readings, organize a Halloween-themed scavenger hunt, or create a spooky DIY haunted house to keep your guests entertained and engaged throughout the evening.
---
Q7: How can I make sure my Pink Halloween Party is Instagram-worthy?
A7: To make your party Instagram-worthy, set up a stylish photo booth with pink and black props, encourage guests to use a custom party hashtag, and ensure that your decorations and food presentation are visually stunning. This will inspire your guests to capture and share the memorable moments.
---
These frequently asked questions and their answers should help you plan and execute a Pink Halloween Party that's both spooky and stylish with confidence and ease.
---